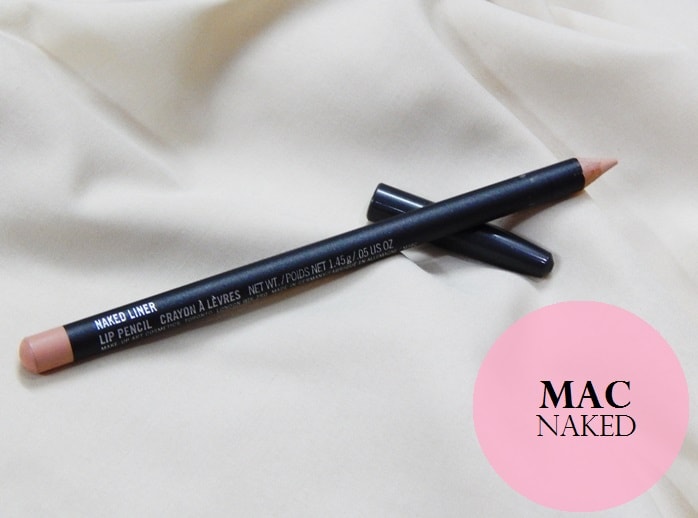 Review, Swatches, Price MAC Naked Liner Lip Pencil
By Contributor: Sanchita
Hola pretty ladies! There are some products which you are just desperate to buy and when that's not available, it makes you even more desperate to buy them. One such is the MAC naked lip liner. I have been longing this pretty one since forever but it is just not available in India. Well the primary reason is that Naked is not a regular kind of shade and pulling it off isn't a cakewalk too as its a beige nude shade. Nevertheless, I spent a humongous amount to ship this lip pencil for the sole reason that I wanted it. I was pretty sure of what MAC delivers as a quality and therefore I had no second thoughts about it. Let's start with the review and swatches.
MAC Claims: A pencil designed for shaping, lining or filling in the lip. Lip Pencils

have a smooth, creamy texture that is perfect for lining the lips or filling them in. They are available in a wide selection of colors that each work well with many different lipstick shades. MAC lip liner in Naked is from the Mac too fabulous collection.
The mac lip liner comes in a long sleek black wooden pencil with sharpen-able feature and a cap that shuts tightly. The pencil is quite long compared to other lip liners available in India and it would last forever for me.
The shade of the lip liner is Peach-beige with slight baby pink undertones and the color somewhat resembles the NC15 skin tone of MAC. Well, the color cannot be worn alone as it will totally wash out any Indian skin tone. However, it can be used to cover up the blemishes or as a lip primer underneath a lip color.
The texture of the mac lip pencil is extremely smooth and glides easily over the lips without any tugging or pulling. It settles into a matte finish without drying the lips and doesn't accentuates the fine lines. Removal of dead flakes over the lips are necessary for proper application.
The pigmentation is superb! As we all know MAC is known for the quality, single swipe of MAC Naked pencil gives you the exact color you require. I never required more than 2 swipes in total. The staying power is 3-4 hours when worn alone and underneath a lipstick it helps staying for 5-6 hours which is truly laudable in my opinion.
The price is definitely a questionable factor when it comes to judge the product. The naked liner isn't a product to be worn regularly or worn alone therefore splurging totally on such an unconventional product would be a risk.
As the color isn't quite popular among the Indian skin tones, it is not quite available as well. When I couldn't get my hands on it from Delhi as well as Mumbai, I had to order it online.
GOOD POINTS of MAC Naked Liner Lip Pencil:
Nice and sleek packaging.
Smooth texture and easily applicable.
Can be applied without any tugging or pulling.
Settles into a matte finish without drying the lips.
Doesn't accentuates the fine lines.
Awesome pigmentation.
Elongated staying power.
BAD POINTS of MAC Naked Liner Lip Pencil:
The color. It will wash out any Indian skin tone.
Pricey for a lip liner you can't use every day.
Price in India: Rs.1400 + tax for 1.45 g
VNA Rating: 4/5
Final Word: Well, do not go for this color as it will wash out big time but yes MAC provides an array of colors to choose from. This lip pencil can only be used as a concealer or primer sort of.
Read More:
How To Apply Red Lipstick Perfectly
8 Shades Bobbi Brown Art Sticks
Lipstick Collection of Beauty Blogger
Colorbar Definer Lip Liner 011 Mad Me Pink
Lakme 9 to 5 Lip Liner Brick Rose
L'Oreal Color Riche Extraordinaire Lipcolor Plum Quartet
L'Oreal Colour Riche Extraordinaire Lipcolor Coral Encore
Bollywood Actresses and their Favourite Lipsticks
Faces Ultime Pro Lip Creme Fuchsia Sparkler, Nude Mojito
Have you used MAC Naked Liner Lip Pencil? Share your reviews with us.