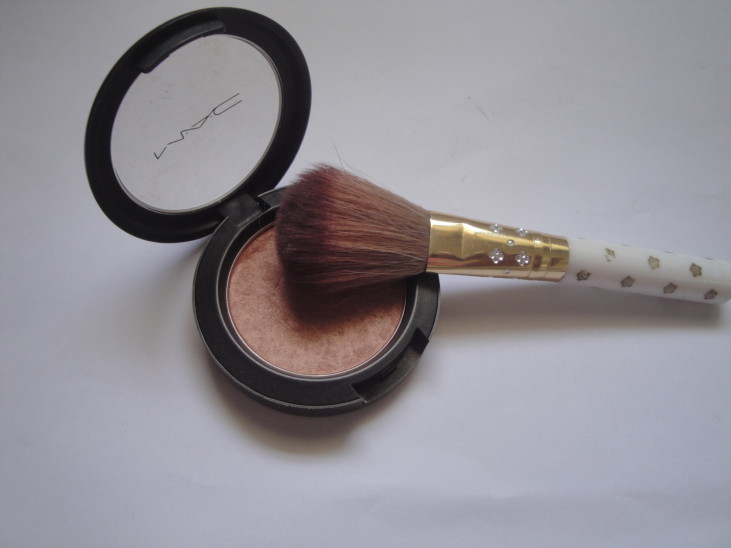 Reviews, Swatches, Dupes, Price of MAC Margin Frost Powder Blush
I have a secret affair with BLUSHES…Not one, but many! Yes, I am a complete blush addict, and I love discovering new shades and experimenting with them! I own oodles of blushes and can never get enough of them! Today, I'll review and swatch one the most stunning blushes I own from mac cosmetics, that is, MAC Margin Blush in Frost finish! This was my very first purchase from MAC cosmetics. I have had this blush for ages, and I just cannot stop loving it! Its a frost formula meaning it can double up as your highlighter as well.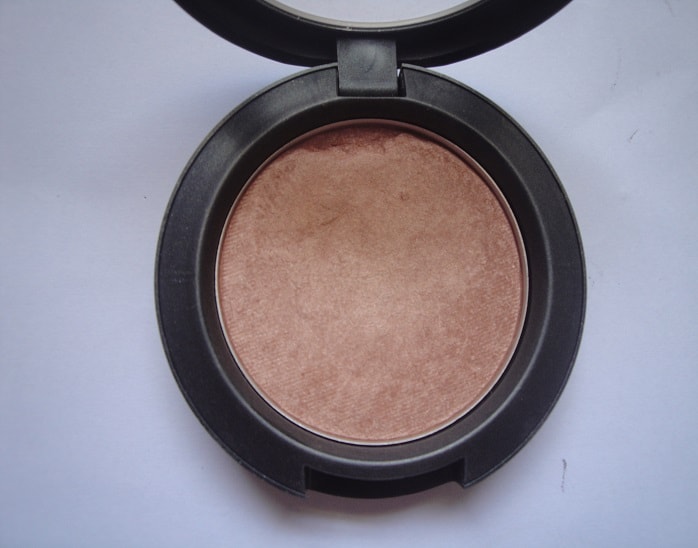 My Review of the MAC Margin Blush:
Packaging: This baby is packed in a nice round pot, in black. The blush lid is transparent with MAC embedded on top of it; the bottom showcases the name of the shade. I like how the packaging is really sturdy. I have dropped it a gazillion times, and it never broke (touch-wood!) Also, being a very compact size, the mac blush is easy to carry
around in your purse! I like how you can replace the blush with a new one every time you run out of it!
Application: Working with powder blushes was never this easy. The frost formula is beautiful and goes on smoothly. It allows you to work directionally, and is – too!  But try not to go overboard with them, especially if you have problems with open pores or acne, as it tends to accentuate them!
Finish: The finish of this frost blush is beautiful, despite it being a powder blush; it is not powdery at all. Margin blush has a soft creamy texture, which goes on the cheeks beautifully! The glow it imparts lasts all day and makes the skin look dewy… so if you are looking for that sun-kissed glow, go for it! You will not need an extra highlighter when you use mac margin. Also, if you are scaring away from the shimmer particles in it, they do not appear glittery at all. Mac margin blush blends like a dream.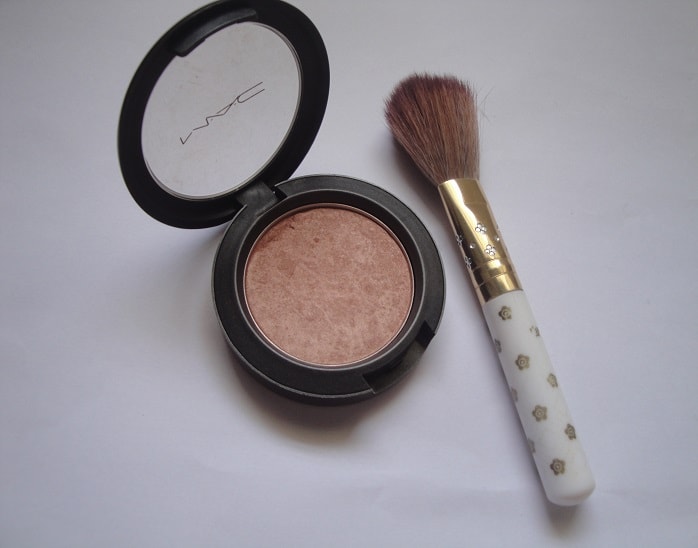 Color: I would call mac margin a beautiful warm-toned, bronzy gold with peachy undertones. The mac blush has teeny tiny shimmer particles that add a frosted look to the skin, adding to the beauty of the blush. On my NC 40 skin, the frost finish blush looks more of a highlighter, which adds a beautiful healthy glow. This is the perfect blush when your skin needs that instant pick-me-up! It suits almost every skin tone and great to be teamed up with a soft day look or a dramatic Smokey look!
Fragrance: This mac blush does not really have an fragrance to it. So, sensitive noses, grab it without worrying about the scent.
Pigmentation: I would not say that the margin blush is opaque. It gives a nice sheen to the cheeks, without looking over-the-top. However, just because I said its sheer, do not go over and over applying it.
Longevity: Being a MAC blush, the staying power is superb as expected out of the brand. I have worn this to college and I have worn it to weddings, it does last for a good eight hours on the skin. Also, margin frost does leave a slight glow after fading away, so, even if you don't see the color on your cheek, you will surely notice that glow-from-within sheen!
Price: It is priced at INR 1450 in India and $41 in the United States!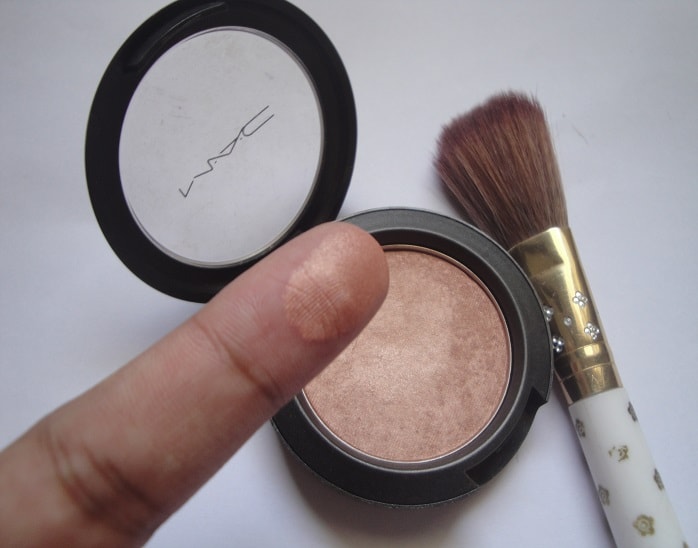 Pros of the MAC Margin Frost Powder Blush:
Beautiful color
Works as a highlighter
Suits almost every skin color
Is not powdery
Gives that sun-kissed look
Has a nice finish
Good for both dramatic and soft looks
Lasts long
Travel friendly
Leaves a pretty sheen even when it begins to fade
Sturdy packaging
Build-able and blend-able
Cons of the MAC Margin Frost Powder Blush:
Too pricey
May accentuate pores if used in excess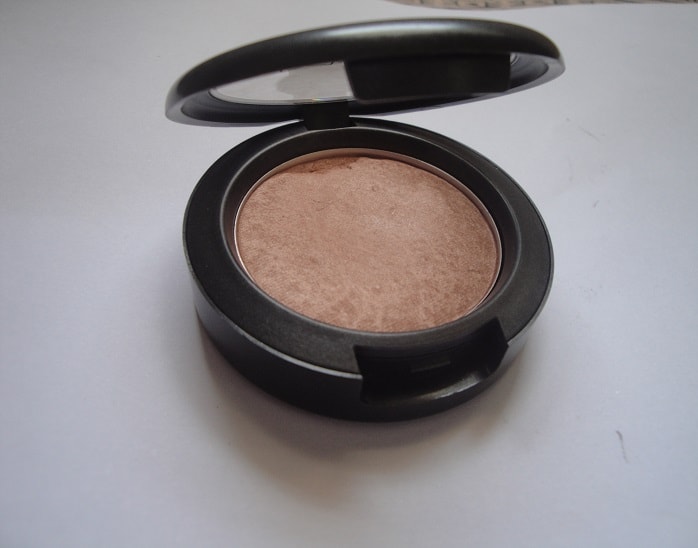 Price in India: Rs.1450
VNA Rating: 4.5/5
Dupe: Milani Berry Amore Blusher
Recommendation: Girls, you need this blush in your life!
Final Verdict: I am completely in love with this mac blush and to all the blush lovers like me, you will not regret getting it. This color is perfect for summers, and I've had mac margin for about two years and you can see how much I have left in the pan. I have not even hit pan, even after using it the most. The color is amazing for the gold brown finish. Despite the high price tag, I would definitely repurchase this beauty!
Read More:
Have you used MAC Margin Frost Powder Blush? Share your reviews with us.