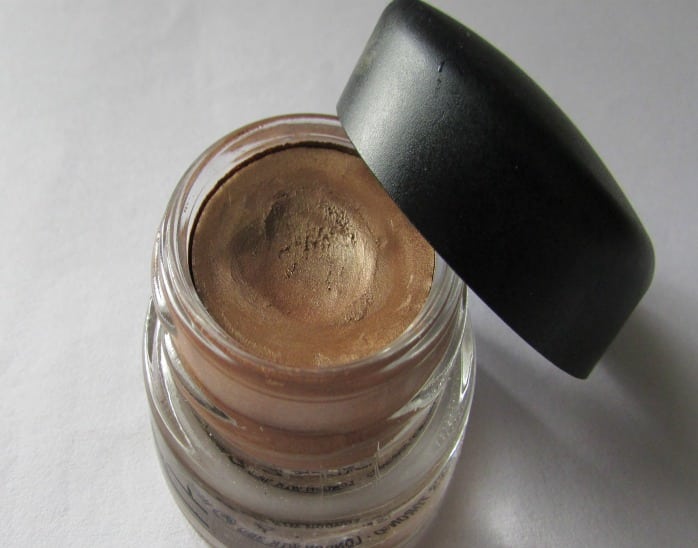 Review, Swatches, Dupes, Price of MAC Indianwood Pro Longwear Paint Pot
MAC paint pots are a must have products in any make up artist's collection. These are long-wearing cream eye shadows which can be used on their own or under other formulas which have a poor pigmentation. Paint pots come in a range of shades but the most famous ones for Indian skin tones are are painterly, constructivist, groundwork and Indianwood. These shades work be autifully with Indian skin tones as eye shadows or primers
too. I am going to
review and swatch MAC Indianwood Pro Longwear paint pot
today.
There are total 8 shades in this Pro Longwear paint pot range available in India:
Bare Study- Beige shade with gold shimmer
Constructivist- Shimmery brown with red tones
Quite Natural – Chocolate brown
Painterly – Whitish nude shade
Soft ochre – Yellowish beige
Groundwork – Taupe
Rubenesque – peach with golden shimmer
Indianwood – Metallic antique bronze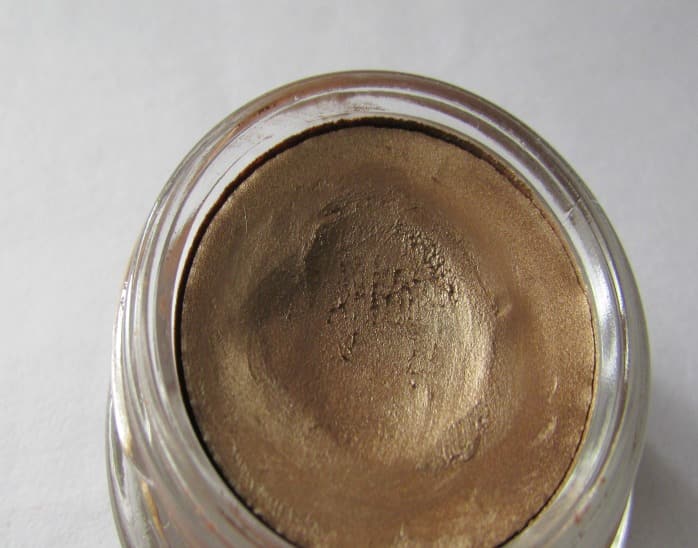 My Review of MAC Indianwood Paint Pot:
MAC Paint pot in Indianwood comes in a classic black MAC packaging with a screw cap. The glass packaging makes the product bulky to carry and there is always a fear of dropping it and breaking it. Indianwood is described as a metallic antique bronze shade with a frost finish. It is a beautiful bronze gold shade with finely-milled shimmer which looks very metallic on the lids. This shade will look great on Indian skin tones and is a perfect shade for festive makeup.
The texture of mac indianwood is very creamy and smooth without any grittiness. It glides easily on the eyes and blends beautifully. However, you need to be a little quick with the application as this dries fast and that makes it difficult to blend it completely. The pigmentation is exceptional with 9-10 hours with no creasing or fading.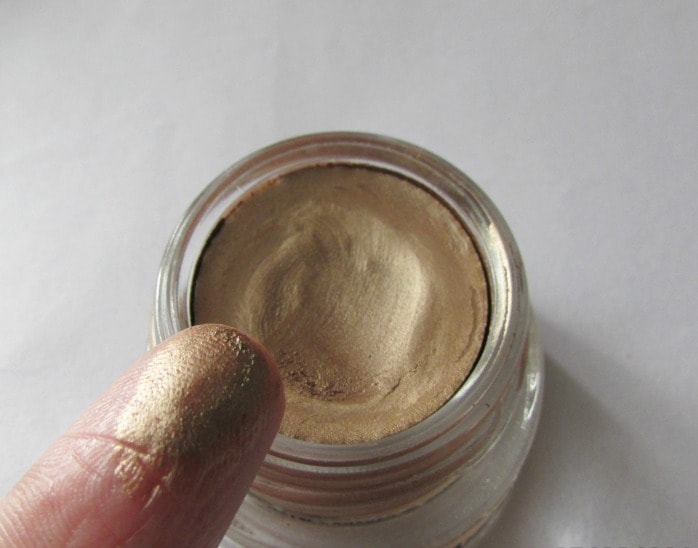 MAC Paint pots are supposed to be used either as primers for other eye shadows or on their own. I use the pro longwear indianwood mostly as an eye shadow when i want a gold metallic look. I also use this as a primer for eye shadows which have poor pigmentation. This is perfect for a smokey eye also when the lower rim is lined with an angled brush. The colour looks a lot deeper when used over this and the staying power also increases.
I mostly use fingers to apply this as eyeshadow as a lot of product is wasted when used with a brush. The quantity of the pro longwear paint pot is much more compared to regular eye shadow which makes it quite long lasting. This mac tub of 5 grams will last for approximately 2 years when used occasionally. I would love if MAC makes smaller packaging so that the product doesn't waste as this much quantity is very difficult to use in its shelf life.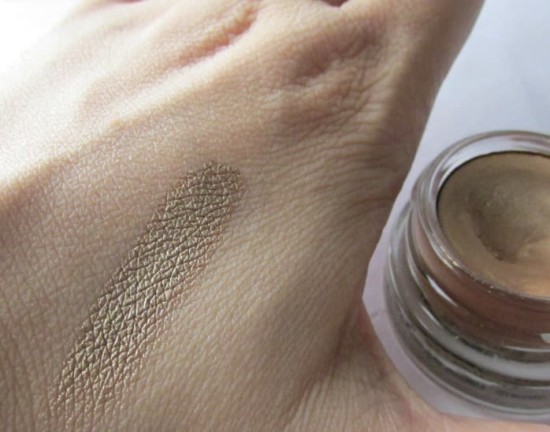 Maybelline colour Tattoos are the perfect dupe in terms of texture to MAC paint pots. They are one fifth the price and deliver the same results in terms of pigmentation and staying power. However, there is no denying that MAC quality is always the best in cosmetics and this is the reason why many makeup artists swear by this product.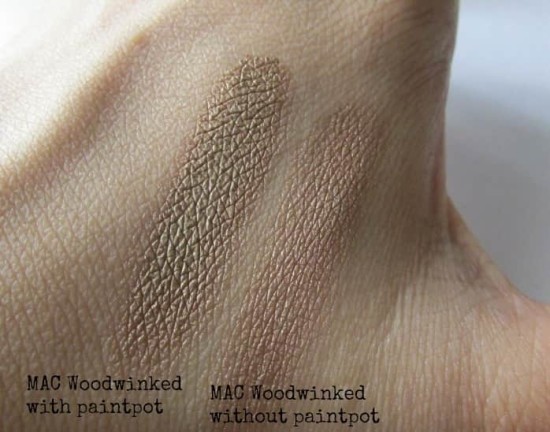 Pros of MAC Indianwood Paint Pot:
Stunning metallic gold shade which pairs up well with Indian attires.
Perfect bridal eye shadow.
Can be used as a primer, eye shadow or a liner too.
A little goes a long way – Quantity will last for years.
Staying power is exceptional on its own or when used under another shadow.
Texture is very creamy and blends well.
Does not dry the lids.
Best pigmentation i have seen in eye shadows.
Will suit all skin tones.
Does not crease or fade on oily lids.
Cons of MAC paint pot in Indianwood:
Not easily available.
Comes in a glass tub packaging which is difficult to handle.
Expensive!!
Has to be blended quickly as it dries fast.

I wish it came with an applicator.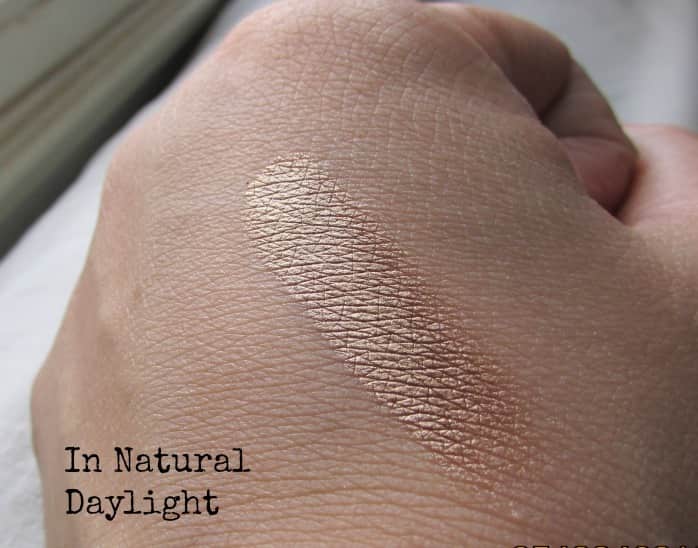 Price in India: Rs.1850 for 5g
VNA Rating: 5/5
Dupe: Maybelline Colour Tattoo Eye shadow in Bold Gold
Conclusion: MAC Paint pot in Indianwood is a gorgeous metallic bronze gold shade which has great pigmentation, amazing staying power and looks beautiful on Indian skin tones.  It is apt for Indian weddings and festive makeup! You should definitely try the creamy formulas and the stunning shades this range offers!
Have you tried MAC Paint Pots? Which is your favourite shade from the range? Share with us in the comment section below.
Read More:
Have you used MAC Indianwood? Share your reviews with us.