Review, Swatches, Dupes, Price of MAC Honeylove Matte Lipstick
By Contributor: Sanchita
MAC lipsticks are phenomenal and the quality reflects in their price tag. Being a lover of matte lipsticks, I couldn't resist picking up a few matte lipsticks from their collection. I have a very few lipsticks from this range, (courtesy: the humongous price tag) but I can't deny the beauty of this brand. I wanted to try out MAC Yash but unfortunately it was not available in the stores therefore the SA suggested me to try out another matte nude shade called Honeylove. This was a gift from my elder brother for my birthday and definitely I couldn't ask more than a MAC lipstick for myself. So, let's see the review and swatches in detail on the lipstick.
MAC Claims: Colour plus texture for the lips. Stands out on the runway. Simmers on the street! What made M·A·C famous.
My Review of MAC Honeylove:
In the world of beauty, MAC is known for its classic products and unmatchable quality providing an array of options for cosmetics. The packaging is the complete signature for all their lipsticks. MAC honey love lipstick is walled in a lustrous black packaging with twist up functional bullet shaped tube with the name of the lipstick inscribed at the bottom.
Speaking of the shade, it is undoubtedly an MLBB nude lipstick. The shade is, however, a tricky one to pull off for the Indian skin tones. It is light beige color with soft pink undertones. On my skin tone (NC35) it washes me out. With a cool fair/pale skin tone this would be a perfect nude to flatter. Sometimes, you can simply dab the color slightly with your fingertips on the lips to get a faint nude touch on the lips if the color makes you look sick. Needlessly to say, the color compliments any stark smoky look to its best. If you are extremely fair skin tone, the shade Honeylove can be a great alternative for daily subtle look.
The mac lipstick is falls on the matte range of Lip color but it is quite creamy and glides on the lips like heaven. It settles into a matte finish and hardly transfers, giving you an impressionable look for a long time. When worn alone on chapped lips, it doesn't make quite an impression but under a layer of lip liner, it absolutely look stunning.
The honeylove lipstick is not hydrating for already dry lips but it surely keeps the lips from getting drier further. The color flatters well moisturized lips better. The nude lipstick remains intact for a duration of 4-5 hours without getting patchy. It has the ability to survive proper meals and drinks very well. Over a lip liner, the color sometimes goes a long way.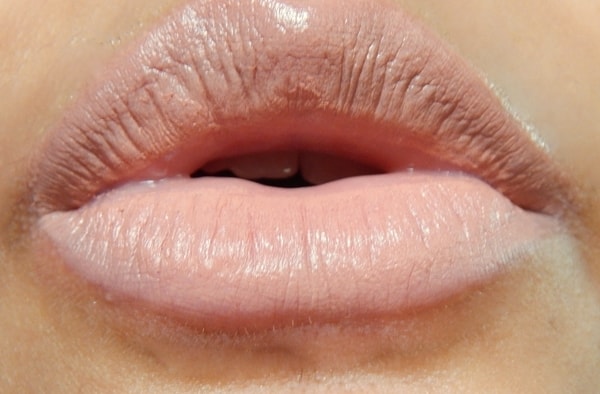 PROS of MAC Honeylove Matte Lipstick:
Classic, well designed and sleek packaging.
MLBB nude with a hint of pale pink undertones.
Perfect nude for pale/cool fair skin tones.
Looks extremely good when paired with smoky eyes.
Matte finish.
Hardly transfers and stay put for a long duration.
Doesn't makes the lips flaky or dry with passing time.
Staying power is 4-5hours and survives heavy meals as well.
CONS of MAC Honeylove Matte Lipstick:
Unflattering to Indian skin tones.
Doesn't help the flaky lips much.
Price in India: Rs.1440
VNA Rating: 4.25/5
Directions for use: Use a lip brush to apply the lip color or you can directly apply from the tube.
Dupe: Wet N Wild Perfect Pout Lip Color Fergie Daily
Conclusion: A pretty nude with pale pink undertones that settles into a matte finish is a suitable color if it doesn't washes you out. The texture and staying power is definitely a winner as an individual product. The lipstick is available at all the MAC counters across the world or can be bought online from www.maccosmetics.com.
Read More:
Chambor Happy Hues Moisture Plus Lipstick Ocean Roses
Faces Ultime Pro Velvet Matte Lipstick Pinked Out
Street Wear Color Rich Ultra Moist Lipstick Pink Passion
Colorbar Deep Matte Lip Creme Deep Coco
Lakme Enrich Satin Lipstick P166
MAC Viva Glam Miley Cyrus Lipstick vs Impassioned
MAC Velvet Teddy Matte Lipstick
Have you used MAC Honeylove Matte Lipstick? Share your reviews with us.