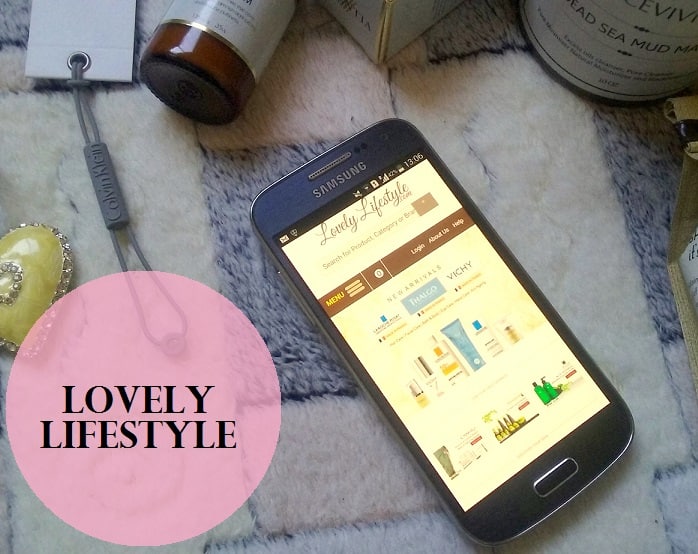 Lovelylifestyle.com Review: Shop Beauty, Makeup, Health and Wellness Products
Cinderella peered outside the huge windows and was greeted by the brilliant rays of sunlight engulfing everything on the ground. She dearly wished to go out and enjoy in the sun but her husband was very particular about her going out without his company now that she was heavily pregnant with her third child. She was sitting down on a low soft couch and was watching her two lovely sons playing beside her with trolls, dragons and knight figures. She smiled softly and looked outside again. Being pregnant was heaven for her but she was so fatigued these days. Her husband must be busy with the council men, working for his kingdom.
Cinderella didn't wish to go online on her various social media handles for she knew her friends and followers would immediately start questioning her about her pregnancy. Those same old questions. Being a queen, she knew she had the freedom to do whatever she wanted, go wherever she liked and purchase whatever she wished but right now when she was just going to hit labour any day, she was banned to do that by her husband, for her protection. Suddenly, Cinderella sat up straight and pulled out her smart phone. She remembered what Belle had told her about a new shopping website called Lovely Lifestyle and how absolutely amazing it was. She could purchase spa and aroma treatments for a spa like experience at home with luxury and organic beauty products while sipping on organic tea or coffee! Yes, this was just the site for her!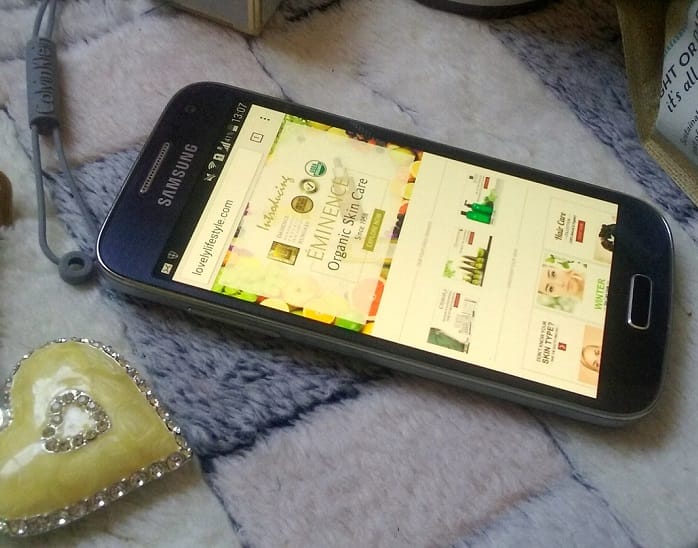 Who doesn't love to receive packages on our doorsteps containing the finest quality products in them? Going out shopping takes so much effort and time. Applying the eyeliner correctly probably consumes most of it! Imagine women in the old Victorian days who had to dress up in corsets, layers of gowns, perfectly done face and powdered curls in order to just visit the muslin shop down the street! Boy, have times change! Just by sitting at home, curled up on your bed or couch in our PJs we can order tea from anywhere in the world! Thank you technology!
Very recently, I stumbled across Lovely Lifestyle and was very curious to check it out.
GET TO KNOW Lovely Lifestyle: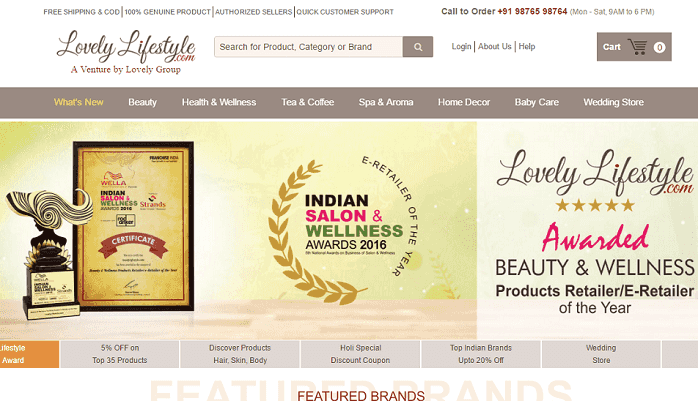 Lovely Lifestyle is a destination where you get the largest collection of organic and natural products from 130+ brands across various categories. They are a fast-growing market place which provides you with eco-friendly organic products. Its a eCommerce venture by Lovely Group , Punjab (which is infamous for Lovely Professional University, LPU & Lovely Sweets).They have been recently awarded "Beauty & Wellness Products Retailer/eRetailer of the Year"  in the Indian Salon & Wellness Awards 2016 held on 1st March 2016 at Gurgaon.
Besides their huge collection of products, this site guides you thoroughly about skin and hair care tips and techniques which is rarely found in a site. They also conduct free skin tests to determine the customer's skin type and suggest useful tips and products to help fight it.
They ensure their customers quick and timely delivery of their products.
This site is a one stop destination for both men and women, searching for organic, natural and herbal product to help their skin and hair care problems. They provide homemade soaps and shampoos, essential oils for aromatherapy, lipsticks and kajals which do not contain any harmful chemicals. Such a wide array of organic products are hardly ever available in one site.
Their collection of products are eco-friendly and chemical free.
Find Your Skin Type via a Skin Care Quiz: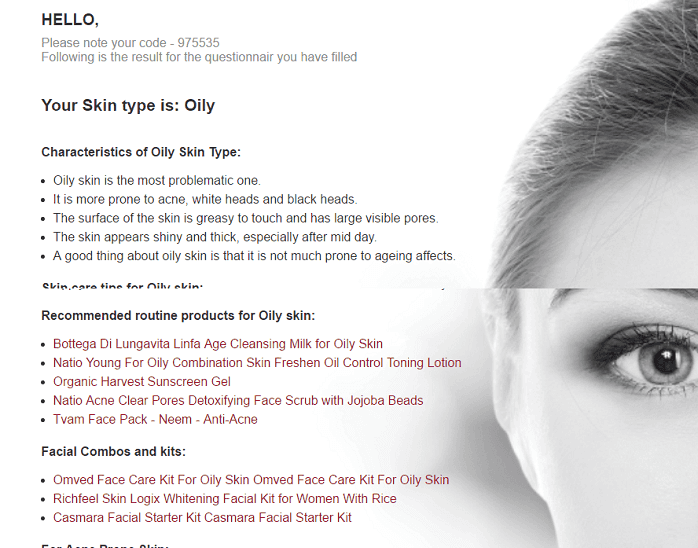 Before going through the website and their products, I decided to take their Skin Type Test. It was a very simple to use;  just like a regular quiz with check box questions. I answered each and every question and the result came out absolutely accurate. Along with the result, they provided me with tips and suggestions on how to take care of my skin. They also laid out a vast array of product options that would help improve my skin.
Along with the skin quiz, they also provide a detailed information on hair care and winter skin care information and products. And nit just skin, they also have a body quiz and a hair quiz section to help to choose the right products for you.
Shop by Concern: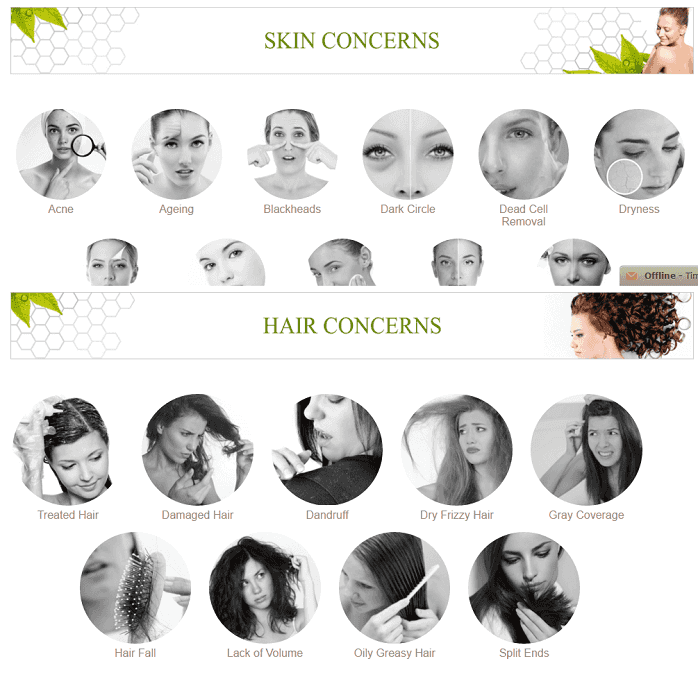 If you have any specific problem then you can go straight to the Shop by Concern tab. In my case I have dark circles and split ends, so I went straight to the products listed under these categories. Such a time saviour, no?
You can also check the What's New tab for New Brands, New Offers and Quick Links. Tools that recommend products according to your Skin/Hair/Body Type.
LARGE ARRAY OF BRANDS INCLUDE: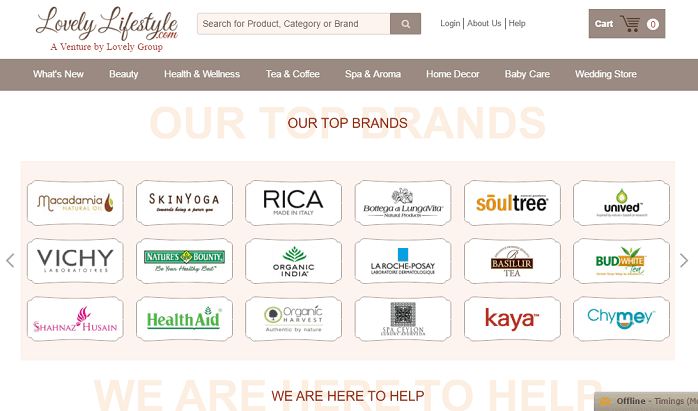 They have products from carefully handpicked wonderful companies such as Macadamia (Made in USA) , Casmara (Made in Spain), Natio (Made in Australia), Thalgo( Made in France), Vichy( Made in France) , Seba Med ( Made in Germany), La Roche Poche( Made in France), Bottega Di Lungavita (Made in Italy), Perron Rigot (Made in Paris), Spa Ceylon (Made in Sri Lanka). Apart from the international brands they have top Indian Brands like Organic India, Kaya, Shahnaz Husain, Khadi Natural , Aroma magic, Amway, SkinYoga, Organic Surge, Iraya among others.
PRODUCT ASSORTMENTS AND SHIPPING:
The website is very pleasing to the eyes and they have such a wide assortment of products. The products have been segregated and placed under specific categories and sub-categories to make it easy for the customers to find the right product. Their top categories consist of:
Organic & Luxury Beauty Care
Health & Wellness
Spa & Aroma
Home & Décor
Kids & Moms
Organic Tea & Coffee.
Wedding Store
What is wonderful about this website is its detailed description of each and every product which helps the customers to get familiar with it before blindly purchasing it. It is very easy to shop on this site as their layout is so well organized and categorized making it a very user friendly website. They tell the customers about the benefits of the products, their nutritional facts, ingredients, reviews and how to use it. Along with a detailed knowledge about the brand, they also recommend similar products by the brand.
LUST LIST: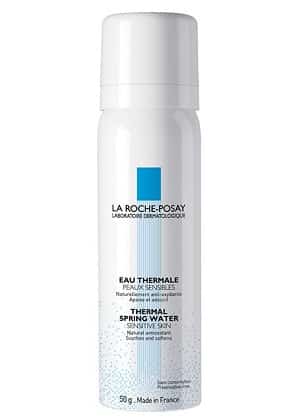 I have always been a fan of La Roche products. I already have the thermal spring water but its time for a back up. Along with that I am also looking at the Effacalar Duo which is a boon for acne prone skin. Highly recommend you check these out at the store.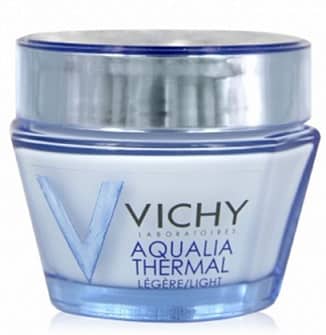 You must have read my review of the Vichy Aqualia Thermal and how its such a quality face cream. Well its time to renew my inventory. I am happy to find Vichy at Lovely Lifestyle because its quite difficult to get hold of.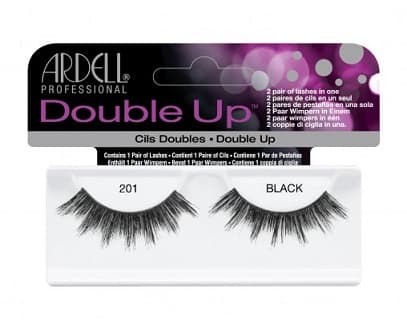 Boy! Arent these pretty? I always wanted to try out Ardell Lashes but the availability was always an issue. I found these exclusive eye-lashes at a great price on Lovely Lifestyle.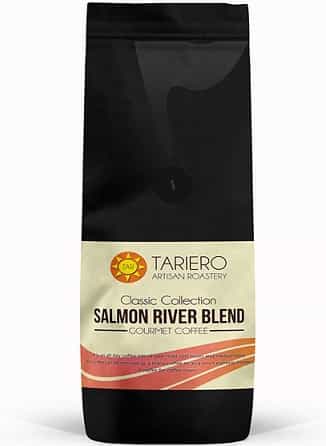 I'm a coffee lover and always looking to try new brands. If you love yourself a drip coffee then definitely check out the array of flavours available here. I hope they add more brands to the list soon.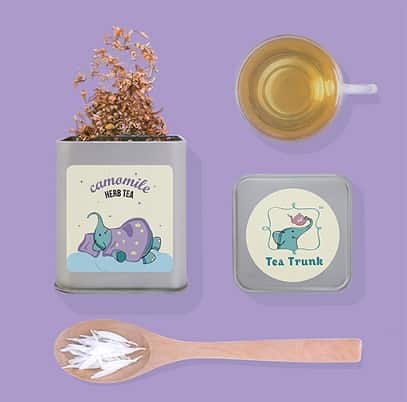 Even though I love my cup of coffee, the array of flavours available in the tea range intrigued me. And the Chamomile tea by Tea Trunk really got me interested after I just read on VNA that chamomile tea is a great stress buster.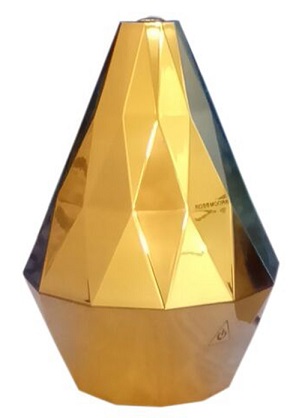 They have a lot of options when it comes to essential oils. Well it's a good thing because you can let loose the mad scientist inside you. But on my list is this electric diffuser from Rosemoore. How pretty would it look in my living room!
Their shipping policy of lovelylifestyle.com is very easy and quick. They ship most of their products in 1-2 days and have a 7 day return policy. However, a few products do not have the Cash On Delivery option. The other payment methods include PayU, Visa, Net Banking, Master Card , Mobikwik Wallet and many more. They also ensure 100% secure payment. They also claim to provide customers with exceptional customer service experience with 100% Genuine Product collection, expert product recommendations and timely delivery.
*brand partner