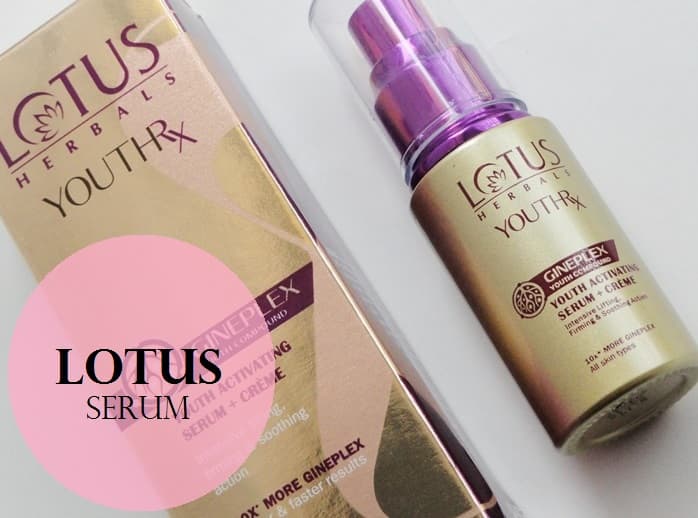 Review, Price, Buy Online Lotus Herbals YOUTHRx Youth Activating Serum + Creme
If you read my last review on a skincare product- Spawake serum, you'd know that it wasn't until recently that I started using face serums and stuff like that. What with all the busy schedule and hardly any time to take care of my skin, I have been noticing quiet a change in my skin. So I decided to give another face serum a shot and see if it helps change my situation or not. I'm talking about the Lotus Herbals Lotus Herbals YouthRx Youth Activating serum plus creme which I will review today. It is a serum plus crème aims at nourishing and moisturizing the skin.
The changing weather is definitely taking a toll on my skin. It is drier than ever and the oily areas of my skin have somehow transformed into dry patches. My skin has an ongoing issue with redness, don't what to blame for it. And when you come across a product like this from a trusted skincare brand like Lotus Herbals, you could always give it a try and that's exactly what I did. Read further to know how this youthrx youth activating serum
worked for me.
Product Description: It contains the highest concentration of the revolutionary 'Gineplex Youth Compound' which gives it 10 times the anti-ageing power of a day crème.
Suitable for: All skin types
Active Ingredients: Ginseng: maintains elasticity, vitality and regeneration capacity of skin cells
Zingiber officinate(ginger): removes age spots, hypopigmented scars and blemishes. Enhances glow of skin
Milk peptide: nourishes the skin form within and helps in production of collagen, making the
skin firmer and improving its elasticity.
Usage: Use in the morning and evening every day after cleansing the face, apply in dots all over the face and neck. Massage using your fingertips in upward circular motion.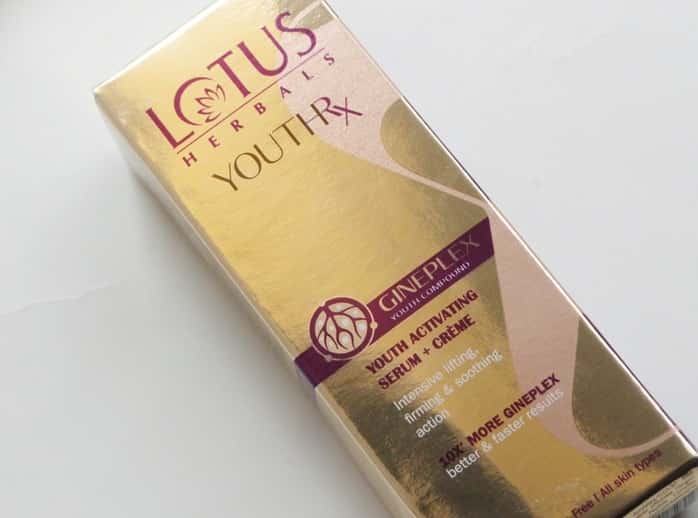 My review of Lotus Herbals YOUTHRx Youth Activating Serum + Creme:
The Lotus YouthRx serum plus crème comes in a plastic bottle. The bottle definitely looks good quality and quite sturdy. The cap is a clear plastic and is sure comfortable to use and doesn't come off too easily like usual plastic caps do. It comes with a pump bottle which is ideal for products like these. It is easy to pump out as much product as you want, avoiding any kind of wastage. The serum + creme bottle is fairly tiny and compact so it is definitely travel friendly as if you are going some place for a couple of days, you can just throw it in your makeup bag and not worry about how much space it will take.
The texture of this Lotus Herbals youth activating serum and crème is gel like. It has a gel- like consistency too and is a bit gray in color. The consistency of this texture is neither too runny and watery like that of a serum and nor is it too thick like the texture of a crème; it is quite like a mixture of the two, hence aptly named "serum and crème". I really like its light weight texture. The youth activating serum blends into the skin effortlessly. Once you apply this anti ageing serum, it gives a lovely fresh fragrance that lingers on for quite some time.
This youthrx serum definitely freshens up the skin and moisturizes too. Like I already mentioned, I have been facing a redness problem these days but ever since I started using this lotus herbals serum, the redness is definitely much less. This youth serum also moisturizes my oily skin pretty well and I don't have to go over it with a separate moisturizer.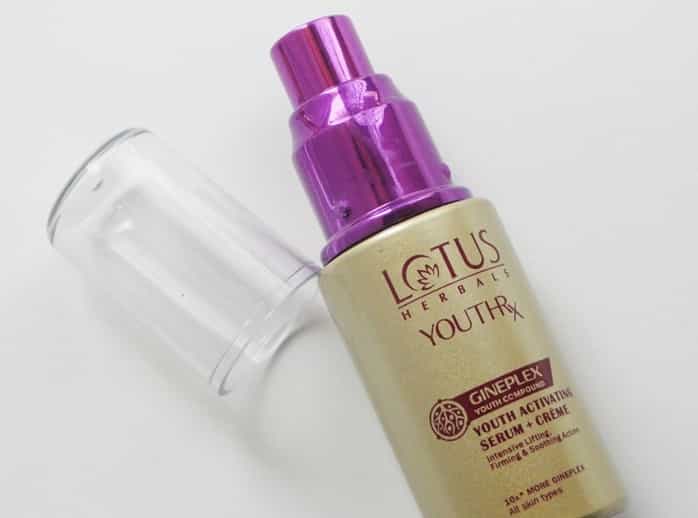 I usually take two pumps of this serum plus creme, apply in dots all over my face and neck and gently massage it onto my skin. I'm not someone who is into anti ageing products and stuff like that but since this Lotus Herbals serum claims that it boosts collagen production in the skin, I couldn't not try this one! Another plus is that it never makes my skin greasy at all, it in fact gives my skin a healthy glow from within!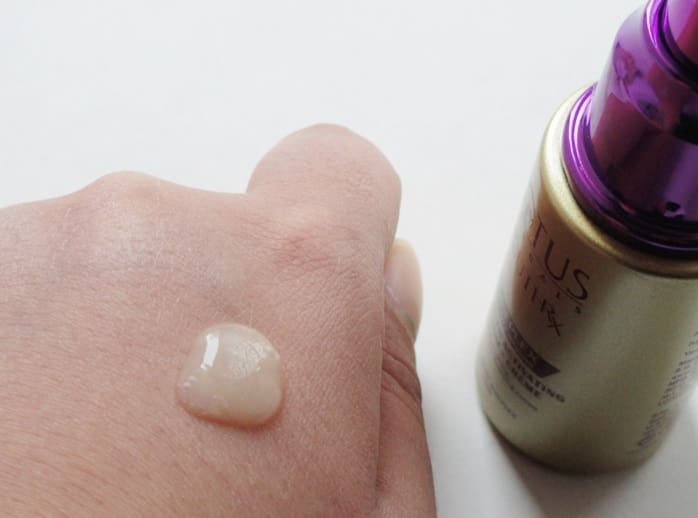 Pros of Lotus Herbals YouthRx Youth Activating serum plus creme:
Decent packaging. Travel friendly bottle.
Comes with a pump dispenser, which avoids wastage of product.
Even though it is only 30 ml product, I think it'll last me a good 4 months so it is definitely value for money

Gel like consistency.
The texture is a mixture of serum and crème.
Feels very soothing on the skin and instantly freshens up the skin too.
Moisturizes the skin well
Has really helped with the redness on my skin.
Cons of Lotus Herbals YouthRx Youth Activating serum plus creme:
Might be a bit pricey for some
Doesn't contain SPF or provide UV protection. (I really wish it did)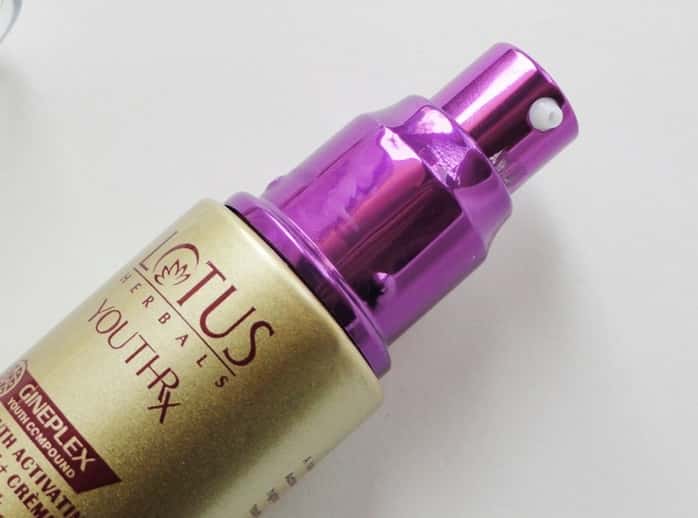 Price in India: Rs.695 for 30ml of the product
VNA Rating: 4/5
Where to Buy Online in India: amazon.in
Conclusion: If you are looking for a decent skin serum that will moisturize your skin well, keep your skin nourished and glowing and wouldn't make your skin greasy and sticky, go for the Lotus YouthRx Activating serum plus creme.
By Contributor: Trisha
Have you used Lotus Herbals YOUTHRx Youth Activating Serum + Creme? Share your reviews with us.