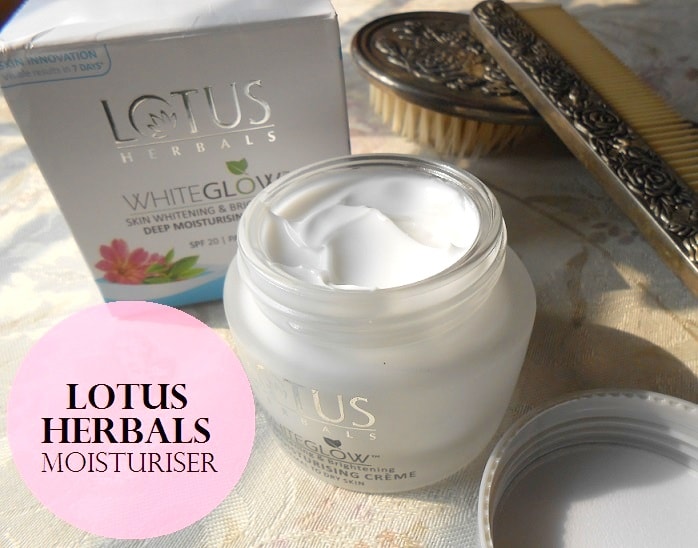 Review, Price, Buy Online Lotus Herbals Whiteglow Skin Whitening & Brightening Deep Moisturizing Creme for Normal to Dry Skin
It is not an unheard of notion that women do prefer a flawless, fair skin and are willing to take up any procedures to get that flawless milky white skin. To make fair skin dream a reality, several skin care companies have decided to produce portable, everyday use affordable treatments for achieving fairness; whitening creams. Many companies such as Ponds, Garnier, VLCC and several others have come up with their own versions of whitening and brightening creams. Today I am going to review Lotus Herbals WHITE GLOW Skin Whitening and Brightening Deep Moisturizing Creme with SPF 20, which is meant for normal to dry skin and apt for winters.
I have always been a big fan of Lotus and have used several of their products such as toners, face washes, serums, creams and several make-up items. I trust the company as they promise to be all natural.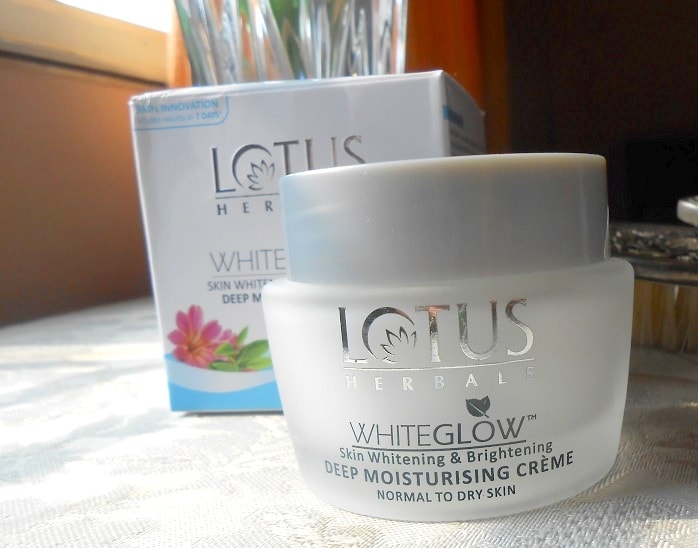 PACKAGING:
The lotus herbals jar is kept inside a white case with detailed descriptions on each side. The whitening cream itself is stored inside a very pretty but heavy translucent glass jar with a light grey screw on cap. The jar is very heavy and can easily break since it is made of glass which is why this is not travel friendly.
TEXTURE AND SMELL:
The consistency of this moisturizing cream is very rich and thick, almost like real cream! It glides on so smoothly and beautifully just like melted butter. Since it is so thick, a little amount goes a long way and it takes a few minutes to get completely soaked in. The skin whitening and brightening cream leaves the skin feeling very hydrated and moisturized but a little slippery. It has a very mild and pleasant floral fragrance which is very soothing and will be perfect for night time use as the fragrance is so delicate and fresh. The white glow moisturizing cream smells like fresh flowers.
WHAT THE CREAM DOES?
The lotus herbals cream claims to whiten and brighten the skin by reducing and removing dark spots and helps bring out the skin natural glow and radiance. The SPF present in the white glow cream helps protect it from the harmful sun rays that cause those dark spots and other skin damages. It also deeply moisturizes and keeps the skin feeling fresh and hydrated.
WHAT DOES IT CONTAIN?
The lotus skin whitening cream claims to contain green tea extracts, which is popular for its anti-bacterial and anti-ageing properties. Green tea is a very popular beauty agent in this era of skin care and can be found in several of lotions and creams out there. It helps maintain the skin's elasticity and hydration levels. The skin brightening cream also contains Bearberry Extract which serves as a very powerful whitening agent. The Grape Extract in the moisturizing day cream acts as an Exfoliator and helps the other active ingredients to seep into the skin. Mulberry Extracts in this lotus cream helps reduce the melanin production which causes skin darkening while Milk Enzymes and Saxifraga Extract help deeply moisturize the skin and act as anti-oxidants to protect the skin from sun damage.
I noticed that when I apply the lotus herbals white glow cream on my face, it adds a glow-y sheen on my face and a translucent layer of white colour which might result in an ashen look on some skin tones. The cream is very thick and it made my skin feel very moisturized and hydrated which is why I recommend it for night time usage in winters for oily skin. Dry skin girls can use it as a night cream through out the year. love the refreshing floral fragrance and I am very impressed with the ingredients present in the cream; green tea being one of my favourite beauty agent of all time.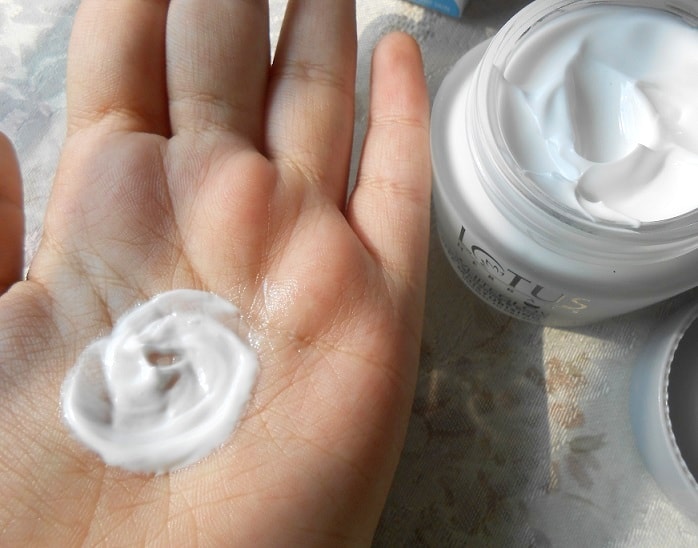 PROS of Lotus Herbals Whiteglow Skin Whitening & Brightening Deep Moisturizing Creme:
Beautiful packaging
Refreshing and sweet floral fragrance.
Contains lovely ingredients.
Very affordable
Contains SPF
Very Moisturizing
Very Hydrating
Thick and creamy consistency and texture.
CONS of Lotus Herbals Whiteglow Skin Whitening & Brightening Deep Moisturizing Creme:
Takes sometime to get absorbed
Contains parabens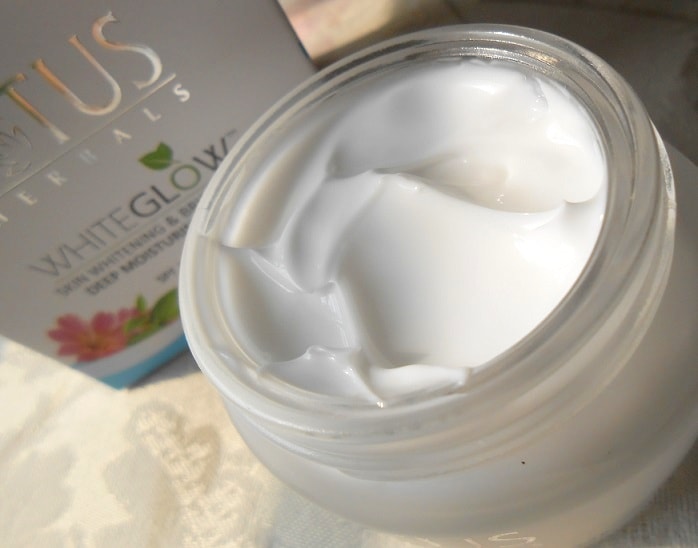 Price in India: Rs.295 for 60g.
VNA Rating: 3.5/5
Where to Buy Online in India: nykaa.com
CONCLUSION: The list of ingredients in the product is very impressive and I absolutely adore the fragrance. It is a very affordable night or day cream for dry skin as the texture is quite thick and creamy. Have you used this product? Let us know about your thoughts and reviews on it.
By Contributor: Ananya
Have you used Lotus Herbals Whiteglow Skin Whitening & Brightening Deep Moisturizing Creme? Share your reviews with us.