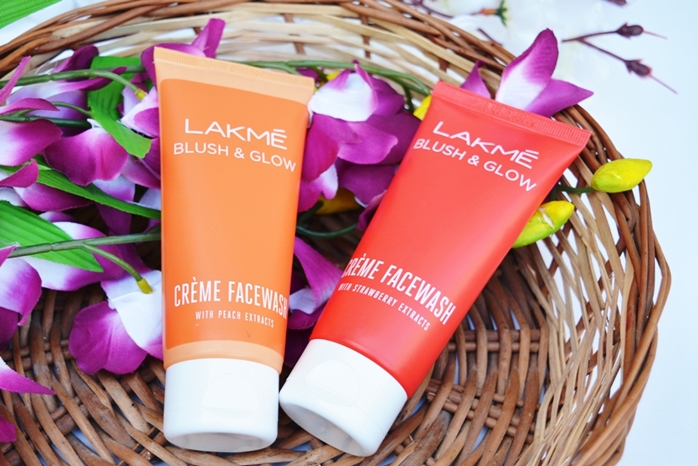 Reviews, Price, Buy Online Lakme Blush & Glow Crème Face Wash Peach and Strawberry
A Face wash is an indispensable item in your skin care routine and it helps to keep the oil and impurities away. There was a time I was facing severe acne situation and I simply stuck to AHA face washes and hydrating sunscreens and nothing else. My skin started recovering and finally came back to normal. In winters, I used both the new Peach and strawberry Blush & Glow Cream face washes from Lakme and, crème face washes are the best ones to use if you have dry combination skin. Lakme also has gel version of blush and glow face washes too. Want to know how these lakme cleansers fared with me? Read on to know more the products in details.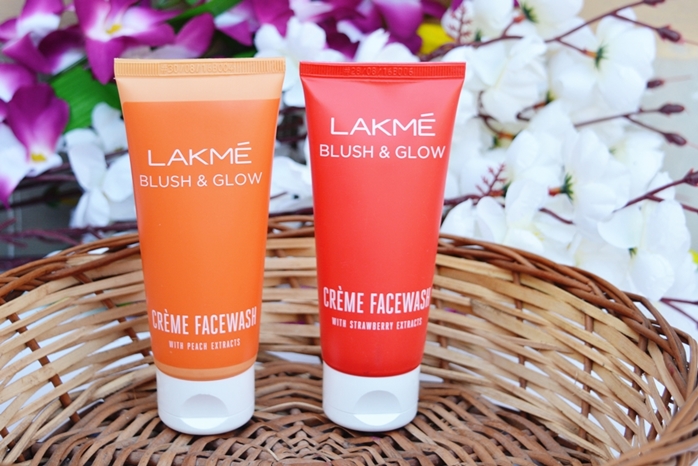 My review of Lakme Blush & Glow Strawberry Crème Face Wash:
The Strawberry version of Lakmé Blush & Glow Crème Face Wash comes in a plushy, opaque red tube with a white flip open cap. The opening is perfect as it never dispenses the product in excess and thus it is not messy at all. The cleanser tube is perfect for travelling, spill proof and light weight as well. The dispenser dispenses the right amount of product and thus there is no problem with the packaging.
The strawberry face wash is bubbly pink in color and has an artificial smell of strawberry in it. The aroma is slightly strong for my taste but totally fades away once it refreshes the skin. Therefore, you can't complain much about it. The consistency of the lakme face wash
is leaning on the thick creamy side and not exactly the runny texture I was expecting. You don't need a lot of product but a decent amount works pretty well for the face.
The basic job of a face wash is to cleanse the skin and this face wash does the job well, but nothing miraculous. It lathers well but feels extremely light on skin. If you have heavily oily skin and your pores are clogged with dirt and grease, don't expect the blush glow face wash to work like a magic. However, for normal to combination skin, this works as a nice face wash.
When a face wash has 'crème' wr itten on it, you expect it to be hydrating and nourishing to the skin, right? Well, this doesn't apply to this face wash. When I was using this cream face wash during winter months, my skin was dry and parched the moment I stepped out of the shower. If this is the condition with my oily skin, I wonder how it will ruin the dry skin. Therefore, if you don't apply moisturizer immediately, the skin looks dull. The name of the creme face wash is 'Blush and Glow' but there was no glow at all. My skin was as same as usual and I didn't get the squeaky clean feeling at all. But The face wash by lakme didn't break me out.
Coming to the ingredients, the very second thing you would notice is Sodium Lauryl Sulfate (SLS). This is not something I would prefer in a skincare product. The face wash also contains Strawberry extracts which is good for skin. Strawberry in enriched with Vitamin C and helps to nourish and revitalize your skin. It is basically acidic in nature and balances moisture content. Also, it will help in in lightening blemishes and acne scars.
Coming to the price tag of the new lakme face cleanser, it is slightly expensive for a face wash which does literally nothing to my skin. Another thing I noticed in the packaging is that neither of face washes mention a skin type. So, how would you know if it would suit your skin or not? Besides, there are more chemicals than fruit extracts in the face wash
My review on Lakmé Blush & Glow Peach Crème Face Wash:
The Lakmé Blush & Glow Crème Peach Face Wash has a very similar packaging of the strawberry version. The tube is peachy-orange in color, opaque, light weight and travel friendly. The dispenser works pretty well and overall the packaging is good. The lakme face wash has the same thick creamy consistency but it is peach in color. The smell of the facial cleanser is slightly strong but I felt the aroma is better than the Strawberry version. The lakme peach facial wash lathers well and feels mild on the skin. It cleanses the face but doesn't give the squeaky clean feeling at all. There are no beads for exfoliation in it unlike the gel version.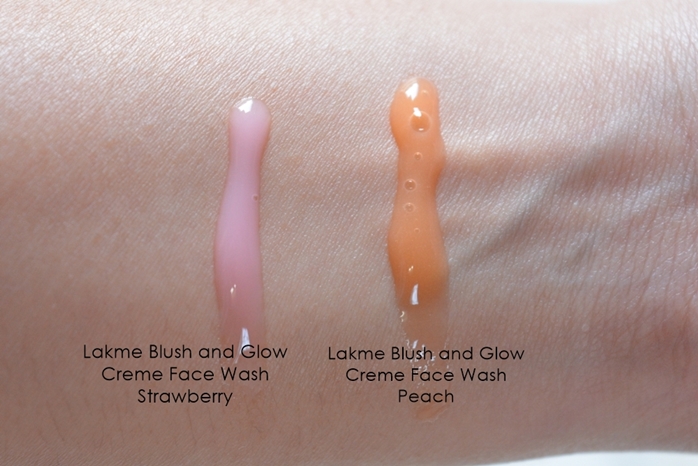 The peach face wash is best suited for normal skin and it is not that hydrating for dry skin at all. Since I had used this in winter, the moment I pat my face dry, the my skin started to feel stretchy and dry and therefore I need the moisturizer immediately. Therefore even as a crème face wash, it is not hydrating for the skin at all.
The blush glow face wash won't break you out but it has no ability to prevent acne. My scars and other blemishes were intact throughout the time I used the face wash and I hardly felt any difference at all. It has the same ingredient, Sodium Lauryl Sulfate (SLS), as the previous version. It also contains peach extracts which are known to work great for dry skin. It protects the skin from sun rays as it contains Vitamin A, Vitamin C, Vitamin K, beta carotene, potassium, magnesium, and selenium and also improves the skin's texture making it soft and supple. The price is slightly high for a very normal face wash which hardly does any good for the skin.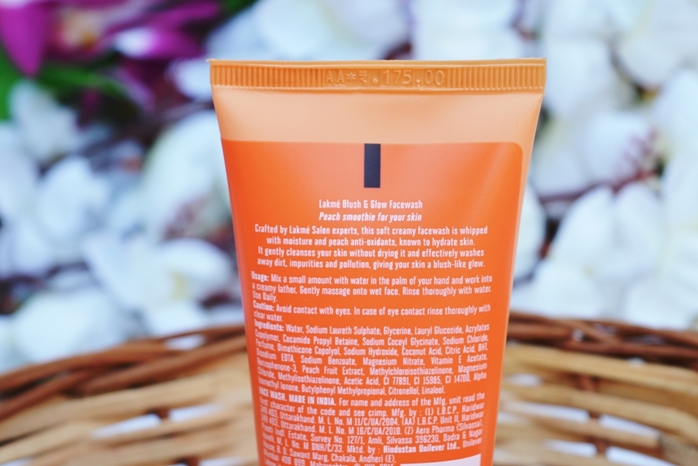 Pros of Lakme Blush & Glow Creme Face Washes:
Sturdy and travel friendly packaging.
Right texture and consistency.
Lathers well.
Mild face washes.
Doesn't break you out.
Enriched with Strawberry and Peach extracts.
Cons of Lakme Blush & Glow Creme Face Washes:
It dries out the skin very badly in winter.
It can't cleanses the skin properly.
It doesn't improve the skin at all.
It is full of chemicals.
Pricey.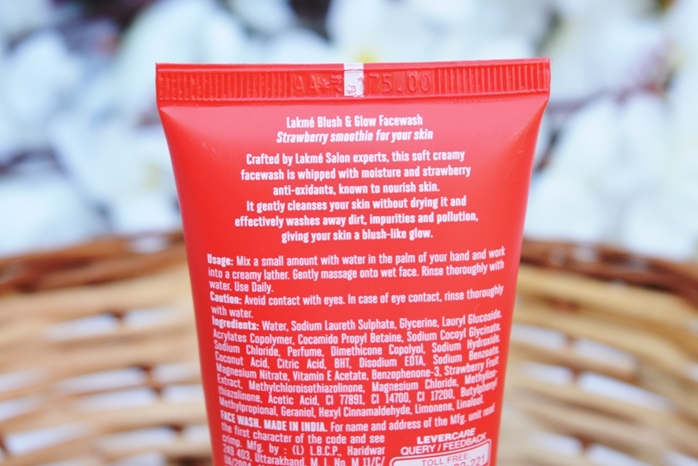 VNA Rating: 2.5/5 (both the face washes)
Price: Rs. 175 for 100g each
Where to Buy Online in India: amazon.in
Recommendation: The Lakme Blush & Glow Creme Face Washes, both Strawberry and Peach worked very similarly on my skin but the results were less than mediocre. The only difference I noticed was the different color of the product and packaging. Other than that, nothing else. Also, if you compare the face washes with other ones in the market, I would say there are lot of better options available. I would not recommend neither of these face washes by Lakme.
Have you used Lakme Blush & Glow Creme Face Washes? Share your reviews with us.