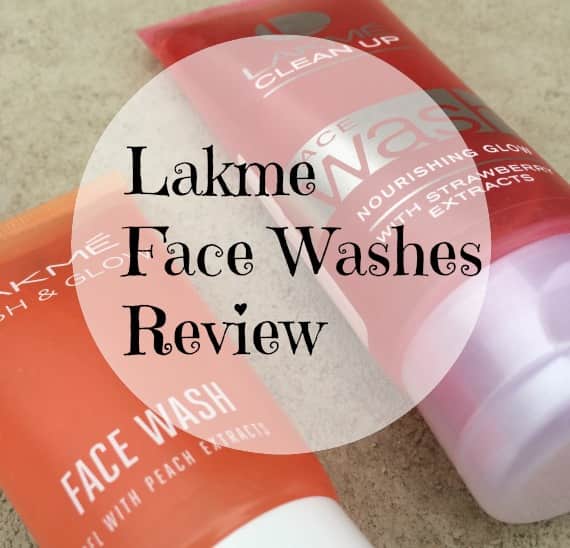 Reviews, Price, Buy Online Lakme Blush and Glow Face Wash Peach and Strawberry
When it comes to face washes, i prefer the clear gel ones which have fruit extracts. The other creamy cleansers only add to the oil on my face. Using a face wash regularly not only help in keeping the skin clean but they also remove any traces of oil or makeup that might be on the face. I normally prefer niche skincare brands which just focus on few great products with completely natural and skin loving ingredients but i thought to try these lakme cleansers for once. Today i am going to review Lakme Blush and Glow Peach face Wash and Lakme Clean up Strawberry face wash. I ordered the blush and glow strawberry face wash but amazon messed up the order. Lakme has been our favourite makeup brands since we tried makeup but do they fare that well in Skincare too? Let's find out.
Lakme Blush & Glow Peach Face Wash:  Enriched key ingredients like rich peach extracts, anti-oxidants and beads, Lakme Blush and Glow Peach Range is ideal for everyday use and keeps your skin clear of all dirt and impurities.
Lakme Face Cleanup Strawberry Face Wash: This face wash removes visible dirt, excess sebum and impurities preparing your skin for a deep cleansing experience. It contains strawberry, glycerine and microcrystalline wax beads. Enriched with the goodness of strawberries.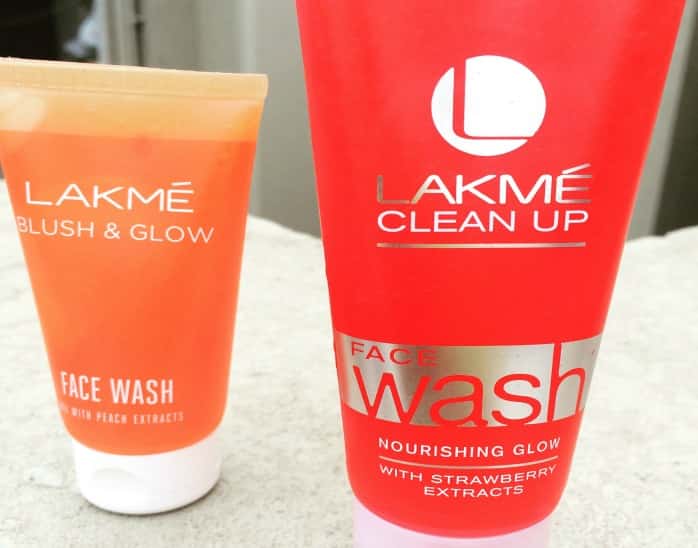 My Review of Lakme blush and glow Face Washes:
Lakme Fruit face washes in Peach and Strawberry are part of different ranges from Lakme called Blush & Glow Range and Clean up Range . The blush and glow range also has a strawberry face wash apart from this peach variant. Both fruit face washes comes in a small handy tube with a flip open cap. The quantity of blush and glow cleanser is lesser compared to the lakme clean up face wash.
The lakme peach face wash is light orange in colour as you can see in the picture and the lakme strawberry face wash is red in colour. They both contain very mild exfoliating particles to give a scrub like feel. However the particles are extremely mild to give that effect. The fragrance of both the lakme fruit face washes is mild and pleasant. Nothing extra strong artificial fragrance like.
I have used both the fruit face washes from Lakme to conclude that i do not like them at all. The blush and glow face wash leaves my skin dry and parched. They do not control oil also. My skin becomes oily soon after washing my face. The mild exfoliation is also not felt as the particles dissolve quickly.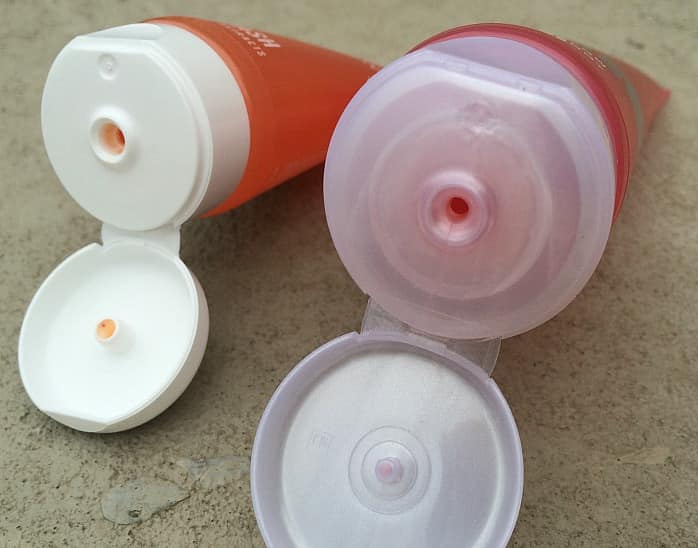 The only thing good about the lakme peach face wash is that it cleanses well. All makeup remaining after using a makeup remover is thoroughly removed along with any dirt or oil. However, that is the only good thing about the lakme strawberry face wash too. Another thing that bothers me a great deal about these is that these fruit cleansers are full of chemicals.
I prefer skincare with natural ingredients as we are anyways using makeup products which are full of harmful ingredients. Using chemicals on the skin in the long run can harm the skin in many ways and also lead to ageing of the skin earlier than it should be. My favourite face washes include Kiehl's and The Body Shop face washes .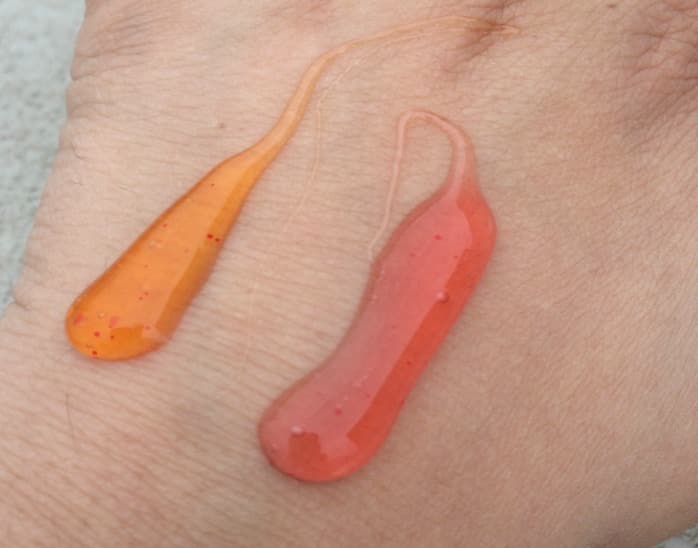 Pros of Lakme Blush and Glow Face Washes:
Cleanse the skin thoroughly.
Affordable and easily available
Easy to use handy packaging
Cons of Lakme Blush and Glow Face Washes:
Do not control oil. My skin turns oily after some time.
Do not improve the skin in terms of lightening or brightening.
Do not treat any skin concerns
Makes the skin feel dry just after washing. However the oil resurfaces in a while.
Full of chemicals which harm the skin in the long run if used continuously.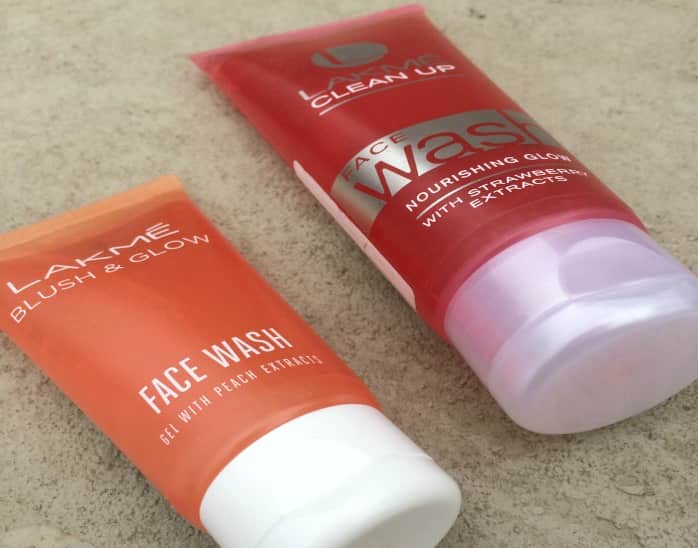 Price in India: Rs.99 for 100 ml for lakme strawberry Face wash, Rs.99 for 50 ml for lakme Peach face wash.
VNA Rating: 2/5
Where to Buy Online in India: amazon.in
Conclusion: I think Lakme should stick to making great makeup products. Also, i think we all have that pre conceived notion that brands which make great makeup products do not make kickass skincare products and vice versa. I can see myself being in that league because i have tried chamber skincare also and that hasn't worked that well too. One brand which does both these things equally good if not great is L'Oreal.
The blush and glow peach face wash can just be used for cleaning any makeup residue or dirt. They can be kept in the bag and can be used for freshening up. Nothing more than that. Also Lakme needs to improve the ingredients list and include some natural ingredients and eliminate chemicals. Also some moisturizing agent needs to be added so that the skin benefits from regular moisturization. Also this clean up strawberry face wash is a part of complete skincare range called Lakme Cleanup which includes a scrub and a face mask too. I think it is supposed to be used with those to work to its full potential.
Read More:
Have you tried Lakme Face washes? Share your reviews in the comments below.