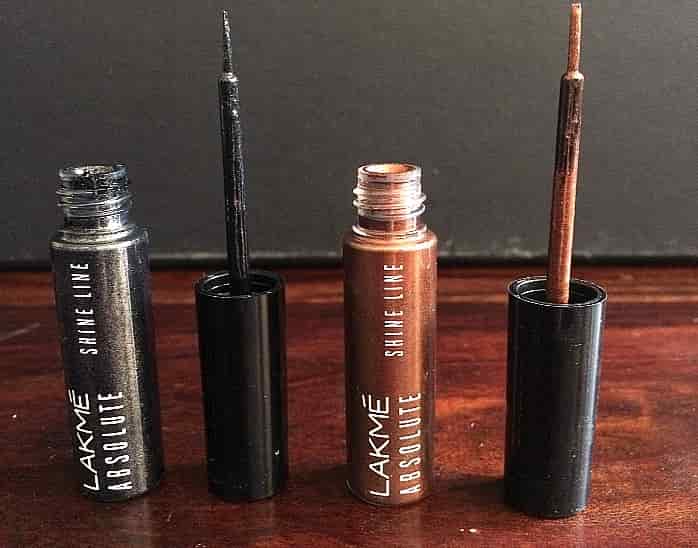 Review, Swatches, Shades, Price, Buy Online Lakme Absolute Shine Line Liquid Eyeliners Shimmery Bronze, Steel Grey
Lakme recently launched the Illuminate collection with products that give your skin a dewy radiant finish. The Lakme Shine Line Eyeliners in shades shimmery bronze and steel grey are my favorite from the collection because they are really pretty shimmery shades. All the people who know me, are aware of the fact that i love love love shimmer. They are specially curated by Sabyasachi so there is no way the shades can go wrong. The liquid liners are perfect for a bridal look and routine looks also if you use it lightly. Here is my review of the two lakme illuminate eyeliners from the limited edition Sabyasachi collection.
The products have been chosen by Sabyasachi who we all know is the king of all good things when it comes to a royal look. All the products are really high on the shimmer quotient but they have been done tastefully and not like cheap blingy products. While the other products include lakme illuminate foundation, bronzers, highlighters, and shimmer brick, these two shine line eyeliners were love at first sight!!
Shades available: shimmery bronze, steel grey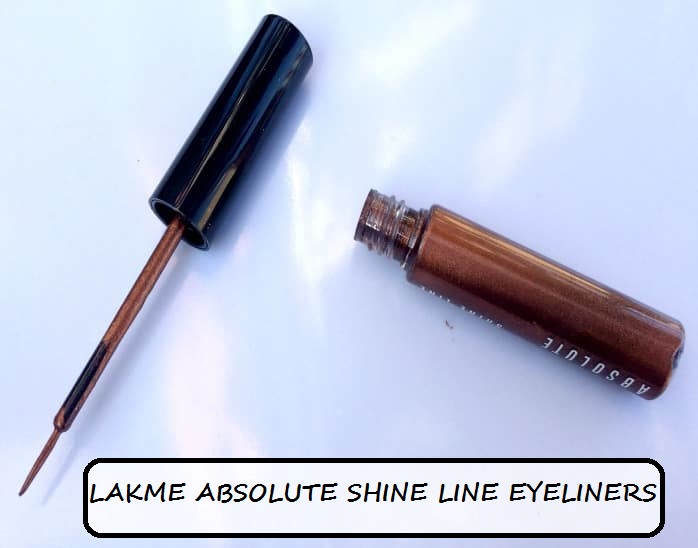 My Review of Lakme Absolute Shine Line:
The two shades in these liquid eyeliners are shimmery bronze and steel grey. They come in a classy packaging with the trademark Lakme black packing. The liner brushes are really fine and I love to use them to create really thin wings. The illuminate shades are gorgeous and perfect for the upcoming wedding season.
Lakme Absolute Shine Line Shimmery Bronze Review:
The lakme shimmery bronze shade is a beautiful dull gold with light gold shimmers. The texture of the liner is smooth without any gritty shimmers. It glides evenly.
Lakme Absolute Shine Line Steel Grey Review:
Lakme Steel grey is a cool-toned grey with black shimmers. I love how shimmery yet understated the shade is. It does not look over the top at all even when i use it in normal day to day makeup. When i feel like adding some drama to my eyes, i line the lakme absolute steel grey liner over a matte black eyeliner for a super intense shimmer eyeliner.
Both the lakme shine line shades are apt for all Indian skin tones and would be a staple in wedding makeup and festive looks. Liquid liners are normally difficult to control but with pr actice, these thin tips are very easy to use. The shimmers are very fine and look lovely on the eyes.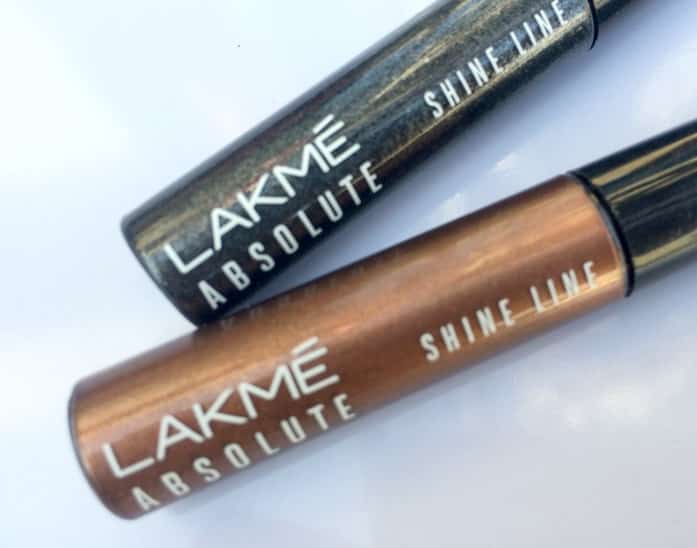 The staying power is also great with approximately 6-7 hours of wear. I like lining my eyes with black gel liner on the lower lash line and the shimmery ones on the upper one to create dramatic eyes. The pigmentation of these shine line liners is good. Two swipes deliver a nearly opaque finish. I love these lakme absolute liners because they are so good in terms of shade and quality.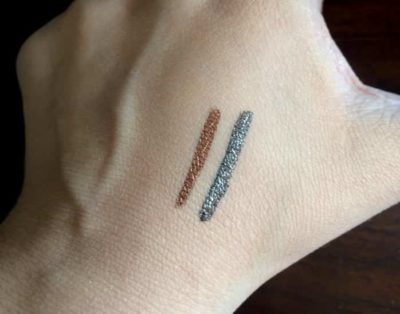 They add that pop of shimmer to your makeup without looking blingy or cheap. You can use them easily and create wings of any type. Just take care while using them on the lower lash line as the shimmers can irritate the eyes. You can use a normal kohl on the waterline and line the lower line with this liner to avoid the shimmers going into your eye. It does smudge once it dries which is a great thing since i rub my eyes often.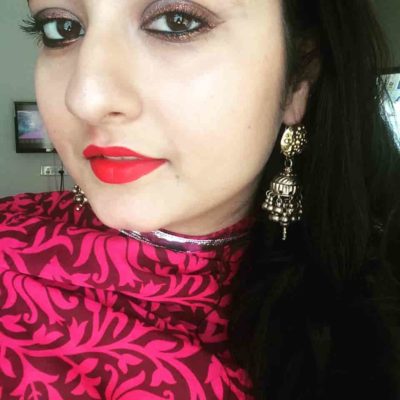 Pros of Lakme Absolute Shine Line Eyeliners:
Love the shades. They are shimmery and classy without looking cheap.
The consistency and texture are rich and smooth.
Shimmers are not gritty.
Staying power is good. It stays for 6-7 hours.
The applicator is very thin and it is easy to create thin wings.
Packaging is classy.
I think they are affordable as many liquid liners are so much more expensive than these.
Cons of Lakme Absolute Shine Line Eyeliners:
The shimmers can irritate the eye if used on the lower lashline.
Quantity is a little less but nothing major.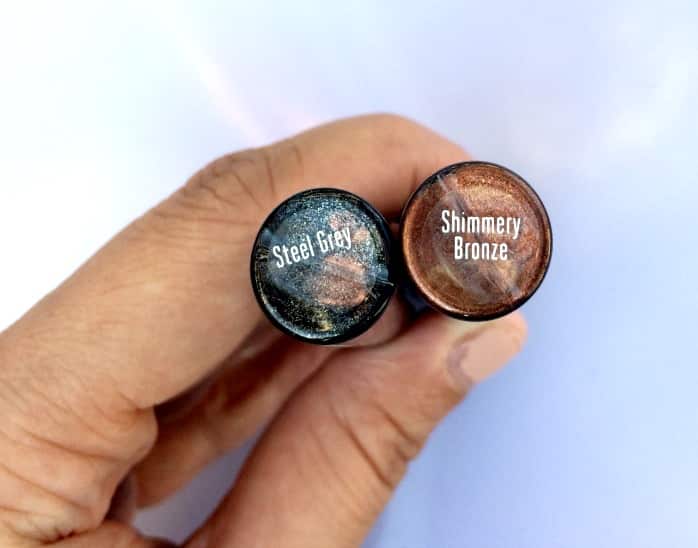 Price in India: Rs.450 each
VNA Rating: 5/5
Where to Buy Online in India: amazon.in
Conclusion: I am in love with these lakme absolute shine line liners. The shades shimmery bronze and steel grey are very pretty and shimmery. They glide evenly and the wings look really pretty. Layer them over a black liner or wear them on their own, the liners are good for their price. The staying power and pigmentation is also very good and i am definitely going to buy them if Lakme makes them a part of its permanent collection. I think they are the best liquid eyeliners at this price in the market. I love the lakme black shine line and now these two shades too.
There is a jewel-toned deep green which i would like to try next. It will look great on fair Indian skin tones. The best thing about both these shades is that they will suit all skin tones beautifully. Have you tried the Lakme shine line from the Illuminating collection? Share your experiences in the comments below. Any other liquid eyeliners you like?
Read More:
Have you used Lakme Absolute Shine Line? Share your reviews with us.