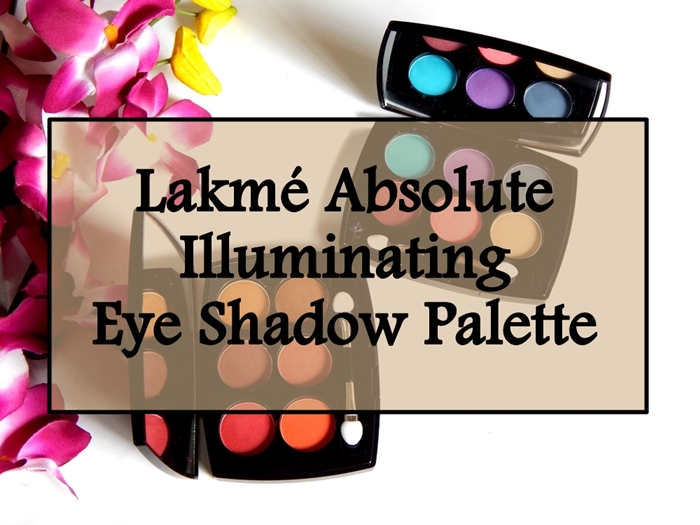 Review, Swatches, Price, Shades, Buy Online Lakme Absolute Illuminating Eye Shadow Palettes
Not every day you get to try out a limited edition Sabyasachi collection of eyeshadow palettes, right? Lakme has come with two stunning eyeshadow palettes under the Illuminating collection and the palettes are no less than stunning. I have got these in two shades: Lakme Illuminating Eye Shadow in Royal Persia and French Rose which I will review and swatch today. Two more shades are available in this range called Gold and Silver.
In India, eye palette is really a rare thing, still. There are only a few companies which have comes out with eye shadow palettes in India that have a really nice balance of matte, shimmer and satin. Most of the eye shadow palettes I have seen till date are either full of shimmer or satin and also the quality matters. The single eyeshadows are really expensive too.
Shades Available: Gold, Silver, Royal Persia, French Rose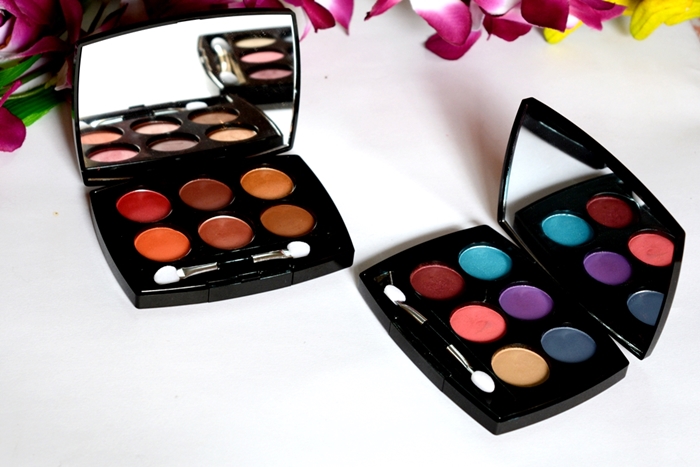 My Review of Lakme Absolute Eye Shadow Palettes:
Packaging – The packaging of the Lakme Absolute Illuminating Palette is really pretty. It is relatively small and compact and has a sleek black opaque body. The name of the shade is written on the back. Each palette has six shades with a double ended sponge tip applicator. The sponge tip applicator isn't much of a help, except for packing the color on the lids. The palette has an in-built proper mirror for application which is surely great. It is light weight, easy to travel with and sturdy. Thus, the packaging of the lakme eyeshadow is praiseworthy.
Pigmentation – The pigmentation of the eyeshadow shades is really good. I was expecting the matte and satin shades to be either low in color pay off or chalky but thankfully they turned out to be really great.
From the Lakme French Rose palette, the shade 2 has a comparatively lower pigmentation than others. For that swatch I used 2-swipes while others have single swipe. From the Lakme Royal Persia palette, the shade 2 is the least pigmented one and you need several swipes to get the color. Otherwise, the palettes are very well pigmented. Also, the pigmentation is superb if you use a concealer or primer underneath.
Texture – The texture of every lakme illuminating eyeshadow is very soft and smooth. It helps to pick up the product really well due to its smoothness. The colors are not chalky at all and hence I experienced less fallout. However, the shimmer shades do have fallout issues, which is natural.
Blending the color on the eyelids is extremely easy with a good blending brush. Also, you can easily pack the colors on the lid. The ones which are less pigmented can be built up with layering. The lakme absolute eyeshadows adhere to the lids well and the unevenness and creasing is really minimum. With primer, I have never experienced creasing or fading at all.
Staying power – The staying power of the lakme absolute eyeshadow palettes is pretty good. I get about 4hrs of proper wear time without any base or primer underneath. With primer, the eyeshadows last much longer on the eyelids. I experienced very minimal fading and absolutely no creasing at all.
Thus, the staying power is really good and great for festive and other occasions. The only con of the eyeshadow palettes is that they feel slightly pricey for 6 eyeshadows. The price could have been kept between Rs. 650-700 easily. At this price tag, each eyeshadow costs around Rs.165.
Lakme Absolute Illuminating Eye Shadow Palette French Rose: Review, Swatches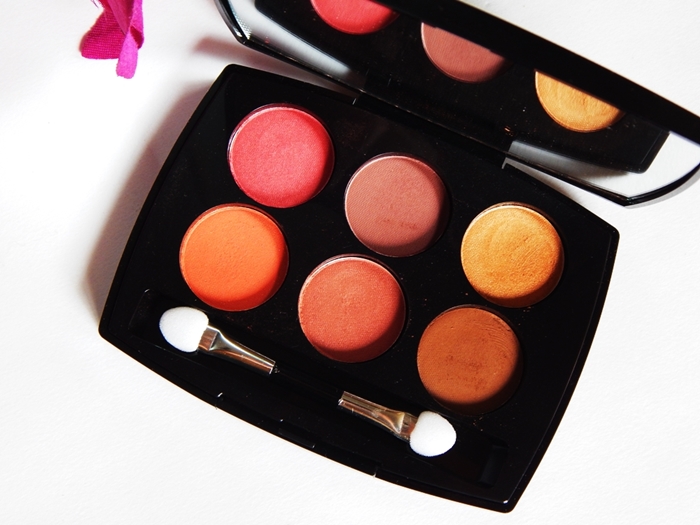 Shades of French Rose – The colors selection for the palette is surely commendable. It has the right balance of warm and neutral colors. It is great for creating warm smoky eye makeup looks or earthy looks. For my eye makeup look, I used no.4 on the crease and for the lid, I used a mixture of 1 and 5. For lower lash line, I used a mixture of 3 and 4 and for the inner corners I used 3.
The eye colors are great for everyday wear and daytime looks. The only thing missing was a light highlighter for brow bone. Here are the swatches of the French Rose eye palette.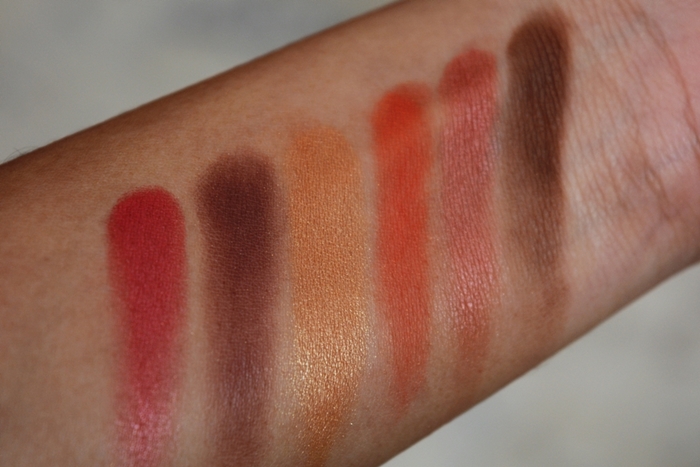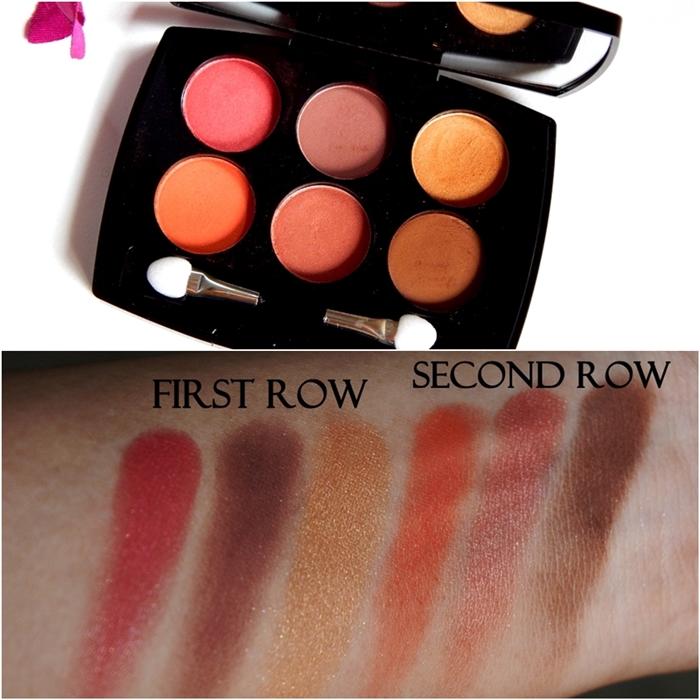 Shades from left to right:
1. A deep pinkish red.
2. A burgundy brown, great for crease and outer V. (A close dupe to Makeup Geek Cherry Cola Eyeshadow)
3. It is a mixture of gold-burnt color, not very usual. The color is a dupe of MAC Off the Page.
4. A rich, burnt orange with golden shimmers (A close dupe to Makeup Geek Morocco Eyeshadow)
5. A deep rose gold color with pinkish flecks and a shimmer finish. (A close dupe to Makeup Geek Cosmopolitan)
6. A cool toned matte brown color. (Dupe of MAC Saddle)
And this is my eye makeup look with French Rose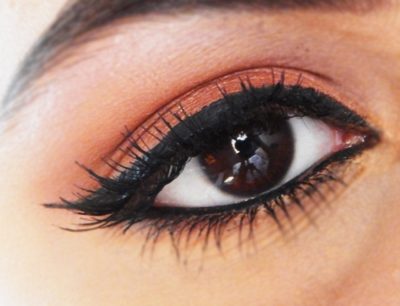 Lakme Absolute Illuminating Eye Shadow Palette Royal Persia: Review, Swatches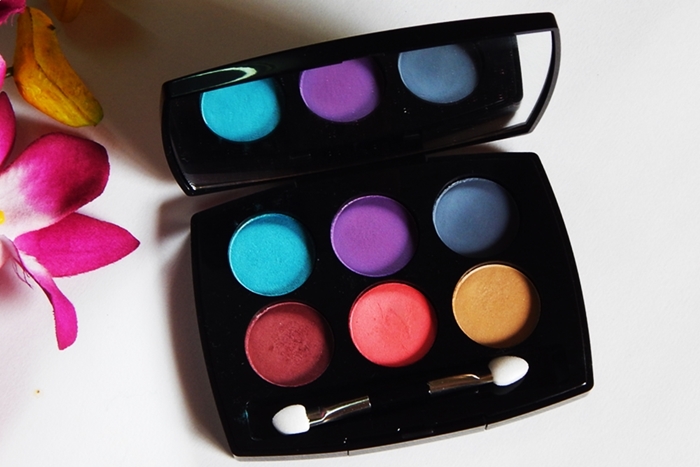 Shades of Royal Persia – The palette has been well curated to get a glamorous, enticing and exotic Arabic look. The choice of colors is surely great with so many options. You can surely create more than 3 or 4 looks with the Royal Persia palette. However, every Arabic look has a smoky touch and I was surely missing a matte or shimmer black color in the palette. I believe this is the only glitch I found.
For my eye makeup look, I used a layer of no.2 and then deepened in the crease area 3. I applied 1 for all over the lid. For the lower lash line, I smudged a black gel liner with a mixture of 1 and 3 to create a smoky look. The black gel liner is used for tight lining and winged liner. Here are the detailed shades.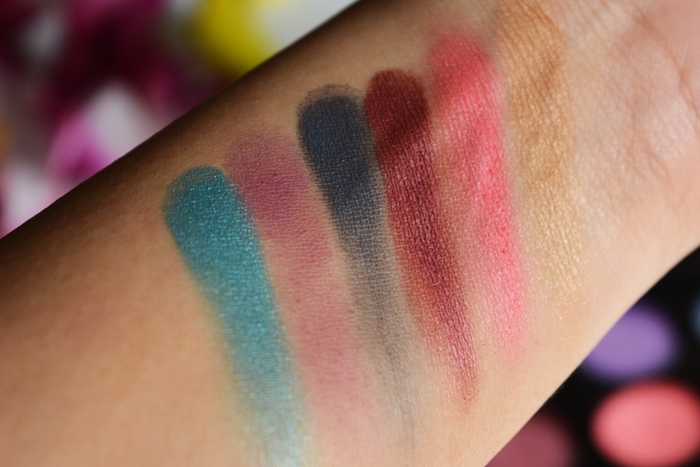 Shades from left to right:
1. A cool toned teal-blue with a satin finish. (A close dupe to Makeup Geek Poolside)
2. A matte plum color. (Dupe of Revlon Colorstay Shadow-Links Plum Eyeshadow)
3. A matte rich gray with strong slate blue undertones and a matte finish. (A close dupe to Makeup Geek Stealth)
4. A satin cranberry color with plummy undertones. (A close dupe to ColourPop Drift Super Shock Shadow)
5. A satin light coral pink.
6. A very pale gold with shimmers.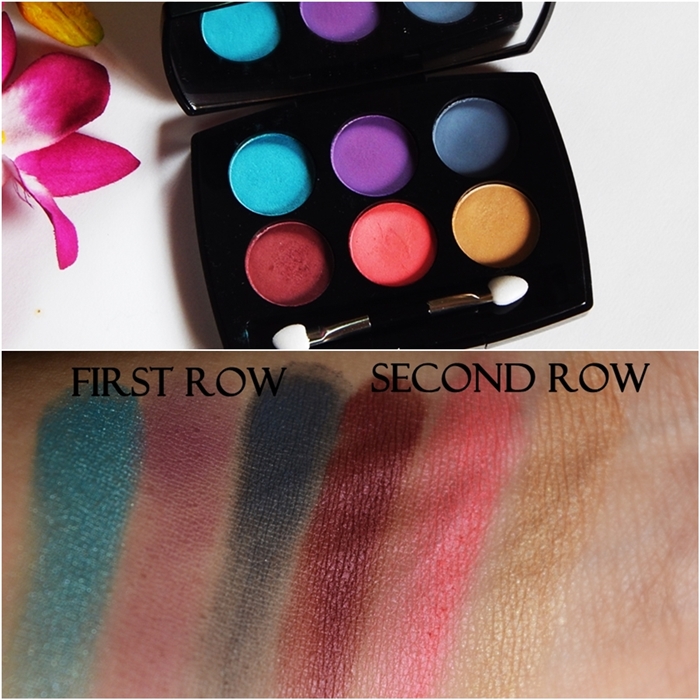 And this is my eye makeup look with Royal Persia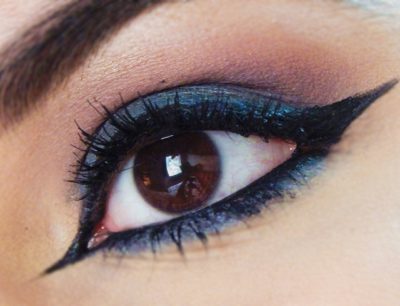 Pros of Lakme Absolute Illuminating Eye Shadow Palettes:
Well packaged and great for travelling.
Each palette is well curated with proper shades.
Good balance of shimmer, satin and matte shades.
Both the palettes are versatile and various looks can be created with the palettes.
Great for all skin tones.
The pigmentation is good. (Except for few)
The texture is smooth and creamy for most of the shades.
Easy to blend and work with.
Less chalky and low fallouts.
Good staying power of 4-5hrs.
Cons of Lakme Absolute Illuminating Eye Shadow Palettes:
Royal Persia lacks a basic black shade while French Rose lacks a highlighter.
Pigmentation could have been better without primer.
Slightly pricey at Rs. 995 for 6 shades.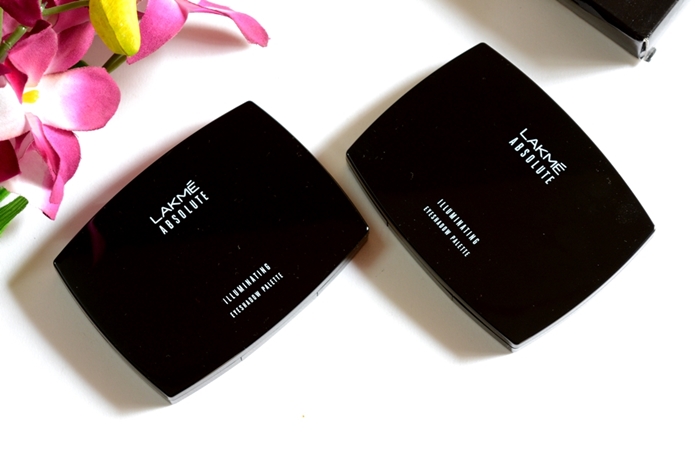 Price in India: Rs.995 each
VNA Rating: 4/5
Where to Buy Online in India: nykaa.com
RECOMMENDATION: Both the Lakme Eye Shadow Palettes are well curated with proper shades and they are surely versatile and you would love to add them to your kitty. The texture, pigmentation and formula is better than most of the palettes available in India. I would surely recommend these.
Read More:
Have you used Lakme Illuminating Eye Shadow Palettes? Share your reviews with us.