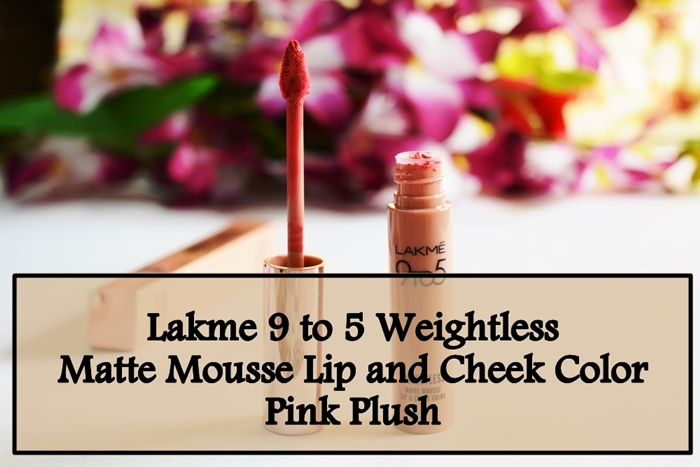 Review, Swatches, Shades, Price, Buy Online Lakme 9 to 5 Weightless Matte Mousse Lip & Cheek Color Pink Plush
Lakme has been pretty consistent in bringing forth new makeup collections and I wish they could just keep the price range in control. The latest one to their alluring rose gold packaging is the Lakme night to five Weightless Matte Mousse Lip and Cheek Colo which I will review and swatch today. The product reminds me a lot about the NYX Soft Matte Lip Cream and Miss Claire Soft Matte Lip Cream. Who doesn't like Lakme night to five Weightless Matte Mousse Lip and Cheek Colo and cheeks? I surely do. I got the shade Pink Plush and have been trying it out for a long time. VNA also has a review on the shade Coffee Lite so do check it out.
Lakme 9 to 5 has always been my favorite. The collection has a very good balance of subtleness and glam without being too loud. The lip color is also versatile as you can use it easily for the lips and cheeks as well. It looks very classy and doesn't drag too much attention. Beside, matte is the trend we are never tired of. Read on to know in details about it.
Shades Available: Burgundy Lush, Pink Plush, Cocoa Soft, Rose Touch, Crimson Silk, Blush Velvet, Coffee Lite, Plum Feather, Fuchsia Sude, Tangerine Fluff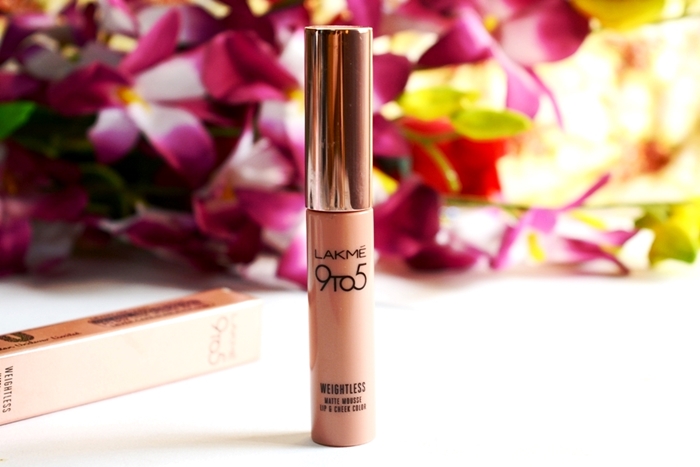 My Review of Lakme Weightless Matte Mousse Lip and Cheek Color:
Packaging – The Matte Mousse Lip Color comes in the usual rectangular box packaging. The lipstick is encased in an opaque rose gold packaging, which is surely one of the beautiful features of the Lakme 9 to 5 range. The cylindrical tube has a shiny rose gold screw cap with the applicator attached to it. The applicator has a pointy tip with a perforated body.
Thus, it is easy to spread the color all over the lips as well as go for the precision while doing the outer borders. There is a small amount of flexibility to it as well and thus it is easy to apply if you're in a hurry. Overall, the packaging is apt, travel friendly and light weight.
Shade – The shade Pink Plush is a bright neon coral pink with cooler undertones. I fall under the category of NC42 with generous amount of warm/olive undertone to my skin. Thus, lakme pink plush looks extremely bright and stark on my skin tone. The color is best suited for lighter Indian skin tones. It is as bright as a Barbie pink color. Initially, I had no idea on how to make it work. The only way you can make the color work is apply a very light layer and dab with the finger to spread and lighten the color. In this way, you can prevent it from looking stark and still get that youthful pink lips.
You can also try applying a gloss on top of the lakme mousse lip color. I prefer the color more on the cheek than lips. As a blush, the color looks magnificent. It looks like a true mixture of a coral-pink. The color is natur al as a blush and can be worn by any Indian skin tone. The versatility of pink plush cheek color is more with the blush than as a lip color.
Pigmentation – Yes, the pigmentation of lakme weightless lip mousse is intense. With a single swipe, it deposits a rich and velvety layer of color on the lips. It is efficient enough to hide the minor flaws on the lips like pigmentation and goes on smoothly. The color lakme 9 to 5 pink plush, however, looks better if you don't build it up. The pigmentation is too good for the cheeks as well.
This is why you need to use it sparingly on the cheeks and build it up if necessary. On my first attempt, it applied too much and I  ended up with joker blush. Well, I learnt my lesson! I use 2-3 dots on the cheeks and blend it. If necessary, I would apply 1-2dots more.
Texture – The texture of lakme nine to five lip color lives up to its name. It has a mousse like texture and goes on very light. If you compare with the NYX Soft Matte Lip Cream and Miss Claire Soft Matte Lip Cream, the formula of Lakme is truly weightless. However, the product is extremely unforgiving to dry lips. Even if my lips are semi-dry, it highlights the dry areas prominently. Therefore, make sure your lips are extremely hydrated and well exfoliated before application.
Also, prevent yourself from layering it too much. This is because, the lip and cheek color looks very cakey if you apply too much. The texture is otherwise comfortable. It does accentuate on fine lines if the lips are well hydrated. On the cheeks, it blends flawlessly. However, you have to work really fast. It is better to do one cheek at a time after application. This way it is easier to blend. Also, if you have applied too much, blend with a sponge to lighten the color.
Finish – The finish of the 9 to 5 lip color is matte, more like powder matte. It is not the dry and unbearable matte, but a comfortable matte finish. The creamy feeling remains and thus it looks natural. On the cheeks, it looks just like a blended blush and there isn't an ounce of oiliness once blended. It sets quickly and gives a true matte finish. It doesn't accentuate on the dry skin of the cheeks at all or doesn't even look patchy. On the lips, the weightless mousse lip color does transfers onto cups and to prevent that you have to blot with a tissue after application. However, the color doesn't bleed or feather at all.
Staying power – The Lakme Matte Mousse Cheek Color remained on my lips for a good 4hrs or so and the staying power depends a lot on the food and fluid intake. It does have the ability to survive light snacks and drinks and only gets removed from the inner rim of the lips.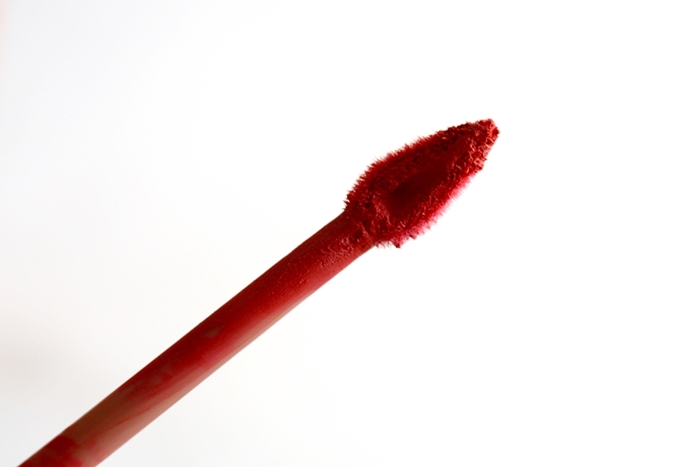 However, a large portion of the lakme weightless color gets removed when you are having a heavy meal. On the cheeks, the staying power is pretty good. Even on my oily skin it stayed for 5hrs and more. Therefore, the staying power of lakme 9 to 5 is really good. Lakme is quite a well-known brand in color and I believe for the quality of the product is delivers, the price could have been slightly lower.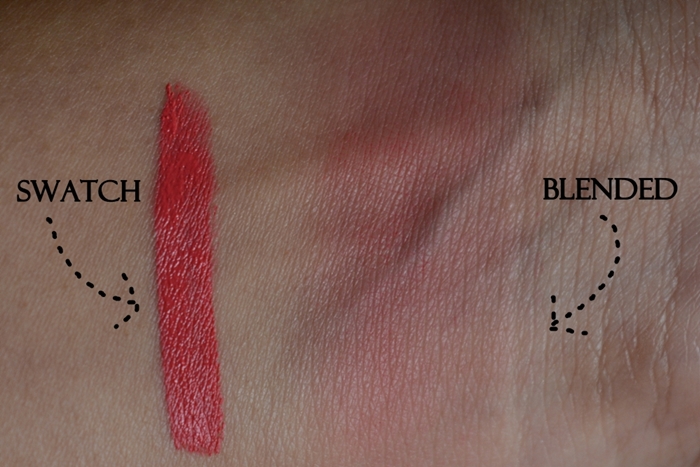 OVERALL – The 9 to 5 Matte Lip and Cheek Color Pink Plush is a bright neonish coral pink with cooler undertones, a lightweight mousse texture with a rich and intense pigmentation and gives a soft powder matte finish to the lips. It has commendable staying power on both lips and cheeks.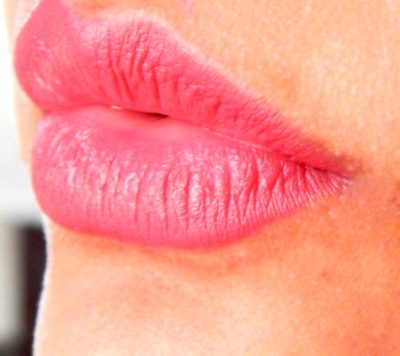 WHAT I LIKED about Lakme 9 to 5 Weightless Matte Mousse Lip & Cheek Color:
Beautiful rose gold cylindrical packaging.
Precise applicator.
Pink Plush is a bright neon-ish coral-pink with cooler undertone.
Best suitable for light Indian skin tones.
Beautiful as a blush color and will suit everyone.
Rich and intense pigmentation.
Mousse like texture and spreads well.
Powder matte and comfortable finish.
Staying powder is praiseworthy.
WHAT I DISLIKED about Lakme 9 to 5 Weightless Matte Mousse Lip & Cheek Color:
The color is slightly restricting.
May look cakey if over applied.
Unforgiving to dry lips.
Slightly pricey.
Transfer lightly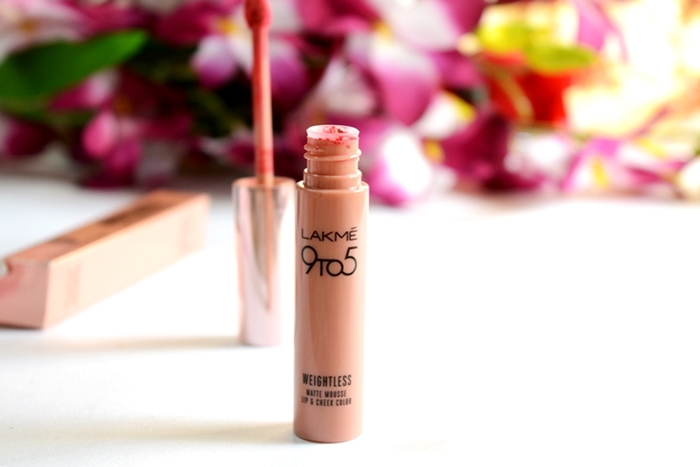 Price in India: Rs.575
VNA Rating: 4/5
Where to Buy It Online in India: flipkart.com
RECOMMENDATION: The Lakme Weightless Matte Lip and Cheek Color is surely a wonderful and versatile product for every working women and the beautiful array of colors surely caters to the need for every Indian skin tone. The product is surely recommend to everyone except very dry lips.
Read More:
Have you tried Lakme 9 to 5 Weightless Matte Mousse Lip & Cheek Color? Share your reviews with us.