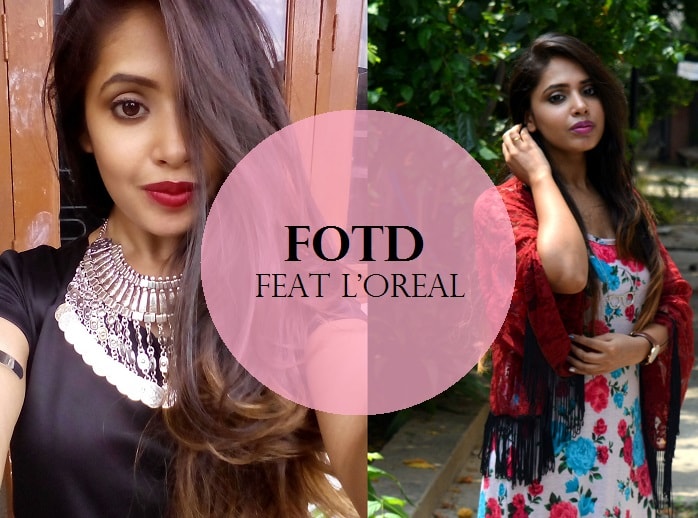 Wearable Kylie Jenner Matte Makeup Look for Indian skin with Products Used
The other day I went to a salon to get my hair done and this girl comes to me and says "have you done your makeup yourself? Its so on fleek and natural" Haa! The happiness! That's when I started thinking about the changes I have slowly incorporated in my makeup routine to get there. And that's when I thought of putting up this makeup look together for you. I'm a big time fan of Kylie Jenner makeup and no I don't judge anybody by the amount of lip injections they use. To each his own. But I try to recreate something similar: flawless base, full eyebrows, neutral eyes and matte lipsticks. And it works every.single.time. Thanks Kylie!
The only advice I can give the makeup beginners is to keep it light
. Less is more when it comes to makeup. And pay more attention to the base. And keep evertything matte! It looks beautiful in real and also in photos. In this look I switched the
standard warm pink/plum/nude brown/taupe lipsticks that Kylie Jenner generally uses
with a deep red lipstick because I wanted the entire look to be
bohemian
and red anyway goes well with black. Let's start with the look.
Steps to do the neutral everyday makeup look for Indian skin:
Excuse the excessive pouting. My normal photos don't come out that nicely! Plus I don't know why I was so energetic and dramatic that day. May be its the boho coin necklace I'm wearing! Or maybe because the shoot I did earlier that day for Petite Peeve went well (shameless promotion)
I did not include more pictures of the other matte look I did because they are already up HERE if you want to check out more shots of the makeup + maxi dress. The only change I made was that I replaced the lipstick with a beautiful plum shade. And maybe added some more contour. Thats exactly how I do my makeup these days. But honestly the L'Oreal Paris foundation makes my skin look flawless and a highlighter just adds the required glow. I'm contemplating starting a youtube channel. But I'm not sure. Do you want me to go ahead with the idea? Let me know.
Read More:
Angelina Jolie Pitt Wedding Makeup Look
Deepika Padukone Makeup Look for Navratri
Boho Fishtail Braided Hairstyle
Aishwarya Rai Bachchan Makeup Look
Tutorial How To Apply Red Lipstick
Kareena Kapoor TV Ad Makeup Look
Do you love Kylie Jenner makeup? What are your views on it?