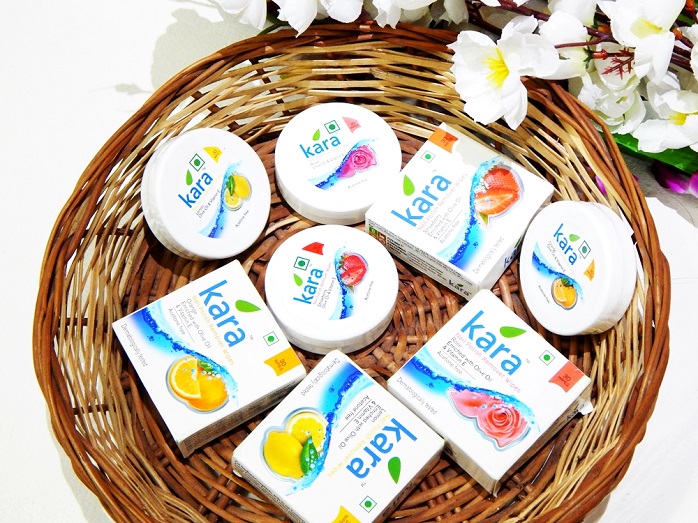 Review, Price, Buy Online Kara Nail Polish Remover Wipes
I am so happy that you found my Kara makeup remover wipes review useful. A lot of you found your favourites among all the variants that I tried and tested for you. Taking that kara review spree further, we are going to talk nails today. Gone are the days of acetone removers and sponge jars. Now we have got wipes for the nails too. Today I am going to review in detail the newly launched Kara Nail Polish Remover Wipes. Beauty products have been revolutionized in various ways and the old school methods are slowly getting overpowered. The quintessential nail paint cotton pads and the awful smelling acetone infused nail polish removers got old as we witnessed the acetone soaked sponge bottles.
These sponge bottles harbor bacteria and dry up pretty quick and surely are of no use. However, nail polish remover wipes infused with the liquid itself is the best idea right now and we couldn't be gladder when Kara launched these amazing Nail Polish Remover Wipes. I am such a nail polish junkie that every time a tinniest part of any nail color chips out, I remove the color and apply a fresh coat. This is because I have way too many nail polishes at my disposal and I want to finish them off quickly so that I can buy more (wicked grin).
Also, these wipes are so easy to carry around and literally a life saver for every beauty and makeup fanatic. The other day I had to sit through a boring lecture at college and I suddenly remembered that I am carrying the nail polish remover wipes in my bag and started using them. By the end of the review, you would understand why I am so in love with these wipes.
Kara Claims – Each wipe contains acetone free formulation for effective removal of nail polish, even the darkest shade. Each wipes cleans the nail with a soft and gentle touch. Contains natural olive oil that prevents drying of nails and skin surrounding nails. Enriched with skin nourishing Vitamin E, This one the move pack has been designed for inconvenience of use anywhere and anytime.
Available variants – Rose, Strawberry, Lemon and Orange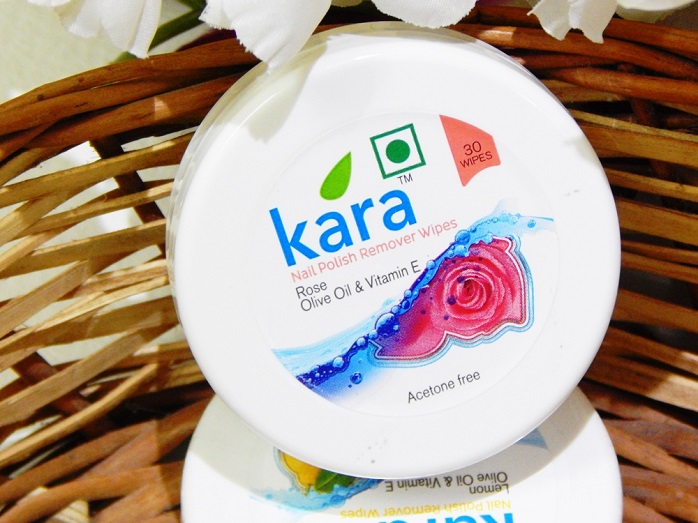 My Review of Kara Nail Polish Remover Pads:       
Packaging – The Kara Nail Wipes come in a square cardboard box with every little detail about the product carefully penned down. Unboxing it, you will see a round white opaque plastic tub with a screw cap on it. Now, the plastic tub isn't cheap or flimsy but rather a nice and sturdy one. In fact, once you are done with the nail wipes, you can also use it for various purposes. Inside the plastic tub, you will see 30pcs of wipes stacked on top of each other. To use them, all you have to do is peel out one of them (which is soaked in some kind of solution to remove the nail polish).
The packaging is light weight and easy to handle. This is why it is a perfect travel companion and is of great use. You don't need to carry remover solution, cotton pads and cuticle oil because for Kara Nail Polish Remover Wipes – you get three of them in one pack. Overall, I love the packaging and it is simply wonderful.
Texture – The nail polish remover wipes are made of poly-viscose fibre. The texture is very thin and comfortable, compared to the cotton pads. In fact, cotton pads have the tendency to tear out after doing one or two nails but these are rather sturdy and wont tear out at all. These are surely the thinnest and slimmest nail polish wipes I have used so far and feel very delicate against the nails. To use these in the best possible way, simply press the wipe on the nails for 15-20secs and swipe down. You will see your nails moisturized and color coming off.
Efficiency – Coming to the most important part, the efficiency of these kara nail paint wipes. For regular nail polishes, I simply press the wipe for a few seconds and the color is completely removed. In fact, a single wipe is enough to take off all the color from the five long finger nails. For my feet, I use one single wipe for all the toe nails, which are comparatively shorter in size.
For glitter nail paints, it takes more than a minute and a few more wipes are required. I wouldn't complain much about this because my regular nail polish remover takes forever to remove the glitter as these top coats are too stubborn. Nails are not damaged at all when you are using these kara wipes to takes off the colors. There is not an ounce of dryness and I love the hydration it provides to the nails.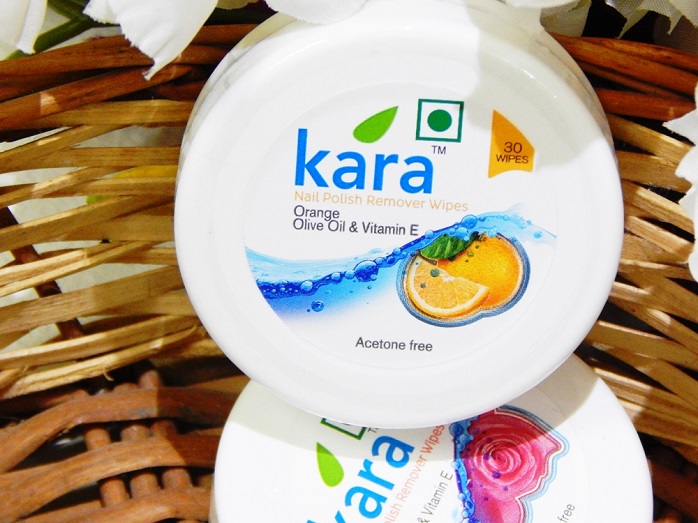 Formula –Apart from its effectiveness, if there is anything that makes the kara pads stand out it is the formula which is dermatologically tested, acetone free, toluene free and paraben free. It is such a relief to find out that there are nail polish remover pads available in the Indian market that won't dry out your nails while removing the color. Personally, I have extremely brittle and soft nails and I change my nail polish at least twice a week. With the constant usage of nail polish remover, my nails are worn out even more. However, with the Kara Nail Remover Wipes, the story is completely different.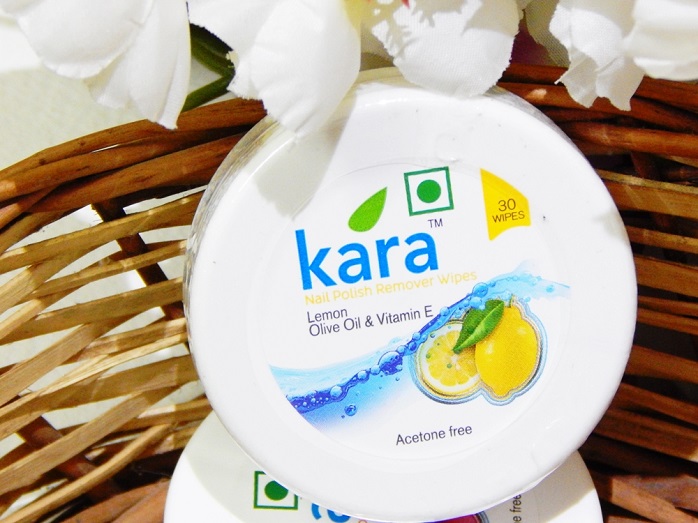 The nail wipes are also formulated with skin nourishing vitamin E and olive oil extracts. You will find them slightly slippery due to this. These nourishing ingredients are so good that I have stopped using cuticle oils or creams of any type. I simply swipe the kara remover wipes a few times on the nails and keep them just like that. After an hour or so, when the nails are fully nourished, I apply new coating of nail varnish. Therefore, if you have brittle or soft nails you would surely find them useful.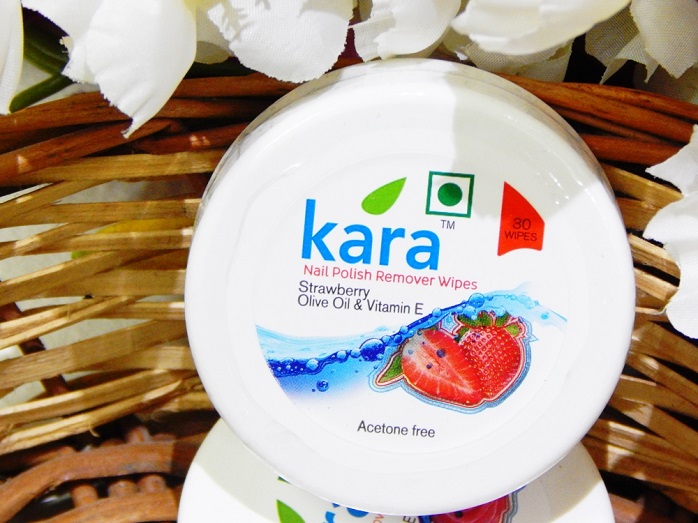 Variants – Whenever we say nail polish remover, the only thing that comes to our mind is the horrible smell of acetone which seriously gives me the worst possible headache. However, the Kara Nail Polish Remover pads are something different. These are available in four fruity and floral variants – Rose, Strawberry, Lemon and Orange.
The Rose one has the fragrance of rose oil and is very mild to the nasal senses. The aroma doesn't stay for long.
The Strawberry has a strong fruity fragrance which you can smell on your nails for a long time.
The Lemon has a citrusy whiff and definitely my favorite.
The Orange has a true tangy aroma which stays for few minutes when you use on the nails.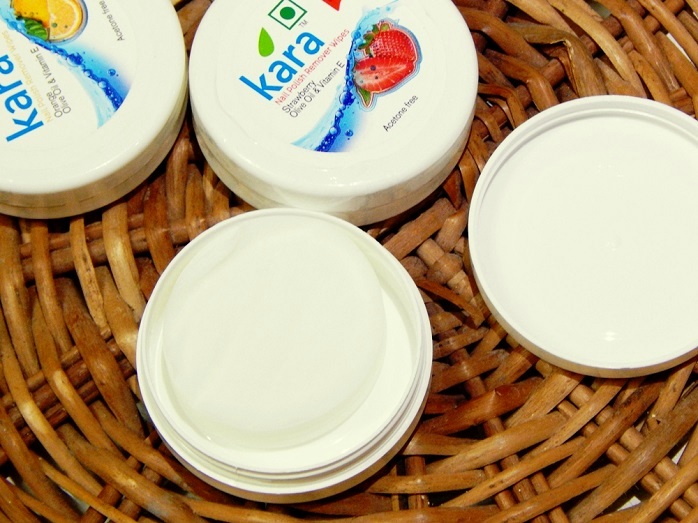 Value for money – So, let me do the math for you and show how these nail colour  removing wipes are totally value for money. Each pack has 30pcs. Two wipes have the ability to wipe off both your hands. So, even if you use 4 wipes a week (like me), a single pack is going to last you for 1-2 months. Comparing this to any budget friendly nail varnish remover (along with cotton pads) these wipes are very much long lasting, travel friendly and budget friendly.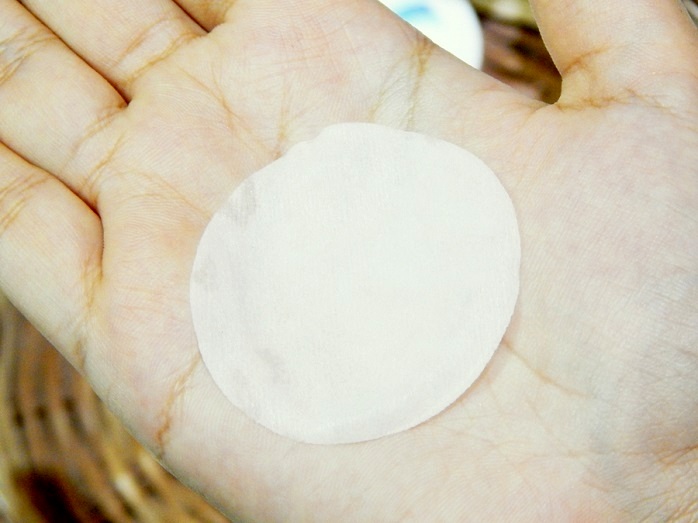 Pros of Kara Nail Polish Remover Wipes:
Well-built and travel friendly packaging.
No need to carry remover solution and wipes separately.
The wipes are soaked in nail remover solution.
The wipes are made of poly-viscose fibre and the texture is thin, tear-free and supple on the nails.
The formula which is dermatologically tested, acetone free, toluene free and paraben free.
Enriched with natural olive oil extracts and nourishing vitamin E.
Keep the nails hydrated, moisturized and healthy.
No need to apply cuticle oil afterwards.
Two wipe removes the nail polish effectively from both your hands.
Comes in four variants and fragrances – Rose, Strawberry, Lemon and Orange.
Totally value for money.
Available both online and offline.
Cons of Kara Nail Polish Remover Wipes:
Takes a little more patience to work on glitter top coats.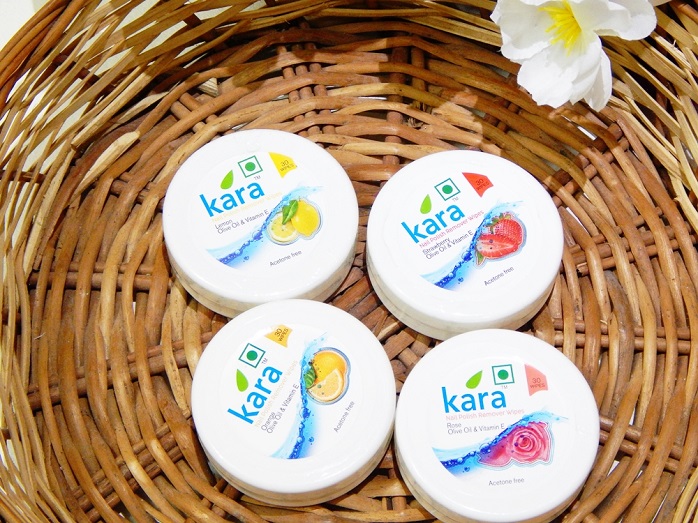 Price in India: Rs.100 for 30pcs
VNA Rating: 4.5/5
Where to Buy in India: Nykaa (online) and Big Bazaar, Health & Glow, Star Bazaar, Hypercity, Beauty stores (offline)
Recommendation: I would highly recommend these Kara Nail Polish Remover Wipes for every girl out there who loves to paint her nails and wants a fuss free removal procedure while nourishing the nails at the same time. the product is highly recommended.
By Contributor: Sanchita
Have you used Kara Nail Polish Remover Wipes? Share your reviews with us.