Top 10: Best Makeup, Skin Care, Hair, Diet and Beauty Secrets of Jennifer Aniston
Whether it was taking the world by storm with her haircut in the 90's or her effortless Californian charm, Jennifer Aniston is timeless. She exemplifies the very core principles of what it means to look after oneself and her skin and hair are reflective of that. Her collaborations with Aveeno and Living Proof are the manifestation of a life-long commitment to beauty and health. It's also important to note that not much is known about Jennifer Aniston's go to products in the beauty world, because she tends to keep her look very natural and doesn't use much makeup. However, there's a lot to find out about her in terms of skincare and hair care. Which is why today I will discuss about the best beauty secrets of Jennifer Aniston along with her favourite makeup products, her skin care items, her diet secrets, hair regime and some skin care tips.
As a co-owner of the living proof, we have gotten to see a different side of Jennifer Aniston as she gets more involved in the beauty industry. There are also plenty of fun stories about her makeup mishaps. Turns out, Jennifer is sometimes one of us. In the 90's, she was once getting her make up done for her first Cosmo cover by the late legend Kevyn Aucoin. As she was new, she didn't really want to be any trouble and let them bleach her eyebrows! As a consequence, she had to fill in her brow with brown powder for the next three months. Yikes!
List of Top Ten Jennifer Aniston Beauty and Makeup Secrets
Keep It Natural
If there's one thing that Jennifer Aniston has always done with her makeup, it's that she rarely ever goes for heavily made up looks and likes to show her flawless skin off with minimal make up. She rarely over does it on the dewy front and uses a light tinted moisturizer with a nude lip. She attributes her skin to the powers of Aveeno creams, which she has been using for many years now. She uses the Aveeno Daily Moisturizing Lotion for her skin. She keeps her meals light, having grapefruit in the morning along with oatmeal. She also occasionally uses an avocado mask with egg whites. So thats her diet secret to such a beautiful body!
Don't skip the skincare
Before we can even get into achieving the kind of makeup looks Jennifer does, it's important to note that part of the reason Jennifer doesn't use too much makeup is because she doesn't need too much. She uses the Hauschka lip balm and Chanel compact for a regular day out. She also occasionally goes to the Sauna. She also uses Alpvita's masks which have royal jelly, shea butter and olive oil. That are infact her skin care secrets.
Aniston only wears makeup on special occasions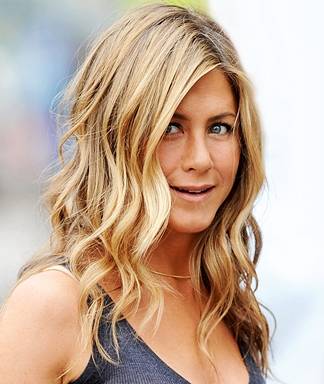 For the most part, Jennifer doesn't really wear makeup and most magazines can attest to that. Her daily makeup routine is just a bit of concealer, tinted moisturizer and mascara. If you're interested in a way to achieve this in India, how about trying the Maybelline Fit Me Concealers, along with a Pond's bb cream and the Maybelline Falsies mascara? A budget friendly way to do your makeup like Jennifer Aniston.
Sun Tanning
Jennifer Aniston always sports a golden bronze glow and has often admitted to the occasional spray tan and sometimes does a mixture of real sun tanning and going to a salon, though tanning salon trips are not as common. However, she's admitted to being much more comfortable not tanning as much.
Jennifer Aniston On Hair, Pimples and Hydration
Jennifer isn't the representative for Smart Water for nothing; she hydrates herself like crazy and drinks about 12 glasses of water a day. In terms of her hair secrets, she uses products exclusively from her line Living Proof. As a person who has used Living Proof, I can attest to its greatness. For humidity, the Humidity Shield is just perfect, although Jennifer also likes to use the Night Cap before she goes to bed. As her favourite beauty tip, she also uses the Mario Badescu drying oil to get rid of pimples
, which is a product that many celebrities such as Kylie Jenner have raved about.
Find your MLBB Shade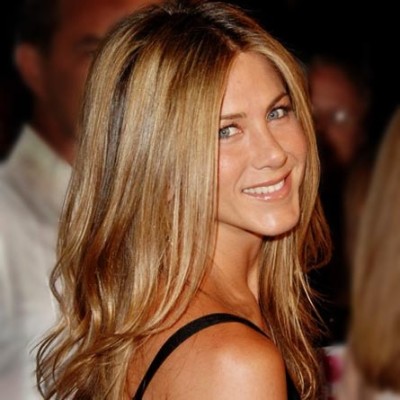 What is MLBB? For the uninitiated it is My Lips But Better; a shade which enhances the already existing shade of your lips. Jennifer Aniston is a pro at this, and that's why most of her make up is mainly undetectable. For the red carpet, she's seen using a hint of blush, a wee bit of lipstick, maybe a slight smoky eye and some mascara. No mess, no fuss. She's definitely a less is more kinda lady. Thats mostly what her makeup bag consists of.
Favourite Makeup Products of Jennifer
Jen is known to sport a blush that's always a pinky flush, she rarely moves from this look. Turns out, she has a favourite. Her favourite makeup products is the Chanel Blush Crème in Intonation is her go-to. It's a vibrant shade that lasts a really long time. Another Chanel favourite of hers is Chanel Le Vernis Nail Colour in Vamp, which she claims is not too black or burgundy.
Daily Makeup by Aniston
It's one thing if you're heading to a red carpet, but applying heavily coverage makeup every day does more harm than good when it comes to covering blemishes. Most days, it's just better to let your skin breath. If you still want an even pigment, use something mild like a tinted moisturizer or bb cream. Jennifer Aniston loves the Bare Minerals Pure Skin Brightening foundation, claiming that the texture is lightweight but still gives good coverage. She revealed thats her makeup secret to an everyday flawless skin.
The Must-Haves of Jen Aniston
So I'm sure you're all wondering is Jen has any other must-haves. After a bit of digging, here's the scoop. She likes the Estee Lauder Automatic lip pencil in Fig. The Chanel Bronzing Powder in Terre Ambre, La Mer: The Treatment Fluid Foundation, and Benefit Hello Flawless Cover Up to set the look.
Take it all off
One of the most important rules of applying makeup is to make sure that you take it all off at the end of the day. Jen believes that the simpler the routine, the better and uses the same soap she used since high school, which is the Neutrogena Original Facial Cleansing Bar. A dupe that could possibly be found in India is the Pears original formula. How many of us still use this? I do! Make sure to tone and moisturize after. Jen uses the Mila Moursi serum and sometimes tones with an Evian facial spray.
Read More:
Which is your favourite Jennifer Aniston beauty secret? Share your reviews with us.