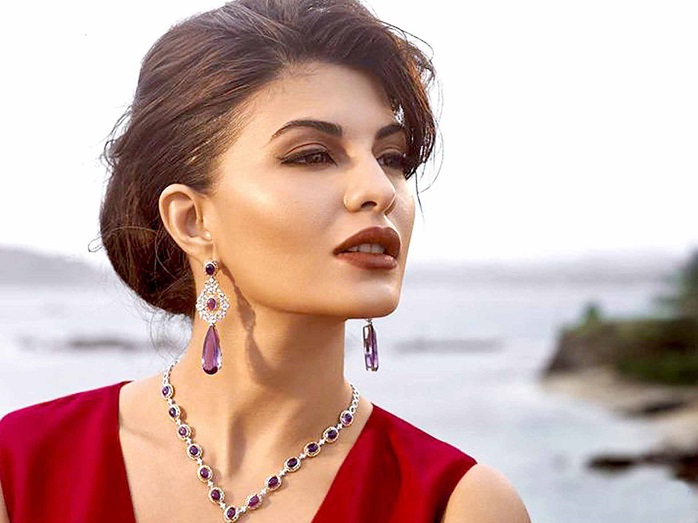 Top Beauty, Makeup, Fitness, Diet Tips from Jacqueline Fernandez
With looks that could kill, Jacqueline entered Bollywood in 2009, and her debut movie was Aladin. This movie was an absolute disaster; however, Jacqueline managed to get noticed because of her charm and enigma. She was crowned Miss Sri Lanka in 2006, as has been on a roller coaster ride ever since. I would say Jacqueline is a complete package of glamour and beauty. She is good looking, has the right mixture of glamour and wit, dresses well and has those killer dance moves. Ever since she shone bright in the movie 'Kick', there is no looking back for this natural Sri Lankan beauty. In this post I will bring you some of the best beauty and fitness mantras of Jacqueline Fernandez as she is never shy of revealing her skin care and diet secrets.
She can be as exotic as you want, and as desi as you can imagine. Jacky is able to carry off any look, any attire with equal comfort and ease. Her figure is just perfect and her looks are absolutely mesmerizing. It is no secret that most of the bollywood actresses have to deal with a harsh life as they have to be in total control of what they eat. Apart from controlling your hunger pangs away, it is equally essential to work out almost every day, and not to forget that the beauty regime has to be in sync with the fitness!
Moreover, constant travels, harsh arc lights and poor intake of food does make things little difficult for our beloved superstars. Most of the hindi film actresses maintain a very healthy regime, and are extremely strict and disciplined. As a celebrity, it becomes imperative that you look great. So what makes the world go round for this sri lankan diva in question?
List of Best Jacqueline Fernandez Diet Plan, Fitness, Beauty and Skin Care Secrets:
Beauty Secrets of Jacqueline Fernadez
Right from her favourite skin care products to her best beauty tips, lets spill the beans here:
1. A glass of lukewarm with Apple Vinegar-Cider(one tea spoon) in the morning.
2. Fernandez uses face wash by Cetaphil, and then applies moisturizer by La Prarie
3. Her beauty regime is incomplete without using a great toner. As she has a troublesome T-Zone, cleaning and toning are a must do rituals.
4. She uses lip balms by Dermalogica.
5. Miss Fernandez also trusts home made products and packs, her favorite ones are honey and Yoghurt based.
6. On her recommendation list is Vitamin E Overnight Serum-in-Oil by The Body Shop .
7. She loves her Youth Serum, for glow and radiant skin.
8. You will never spot her without lip butter, sanitizer and a face spritzer
9. Jacqueline recommends using ice cubes on her face to get rid of tiredness and dullness. However, ice cubes should be wrapped in cotton.
Makeup Regime of Jacqueline Fernadez
What is it that makes her look ravishing and gorgeous all the time? Lets talk about her favourite makeup products and her makeup routine.
1. She uses a Primer before using anything on her skin. This evens out the appearance of open pores, and ensures that her makeup lasts longer. By the way, she loves The Body Shop Tea Tree Pore Minimizer.
2. Jacqueline uses BB creams instead of foundations, as foundations do not allow the skin to breathe effectively!
3. Her favorite compact is NC41 by MAC
4. Her eye contour is enhanced by products from Bobbi Brown.
5. Her favorite colors for blush and lipsticks? Pink, Red & Peach.
6. Jacky's favorite fragrance is Issey Miyake. Other than that, she loves L'Occitane's Rose fragrance.
7. Miss Fernandez swears by The Body Shop's Brazil Nut Body Butter and Body Mist.
8. Always remove your makeup before going to sleep at night.
Jacqueline Fernadez Hair Care Routine
As her hair has to go a lot of nuisance day in and day out, she ensure that they remain pampered with the best hair care products, at least for some time. Hence, she goes for a head bath straightway after undergoing a hair styling session. Hair massage? Yes, champi is her favorite. Her preferred oil is hot Coconut oil.
To get that shine and volume, Jacqueline loves using Beer. She also uses Egg white hair mask. Jacqueline loves hair care products from Kerastase. You can also try eating flax seeds, Fish, Nuts and Zinc supplements for great hair!
Fitness Secrets of Jacqueline Fernadez
She constantly works out and trains her body in the gym but what exactly does she do to get that sexy body? Lets spill her work out and fitness tips.
1. A cup of green tea after waking up by seven am!
2. An hour of work out which includes Dancing, Swimming and Kapalbhati. Post that, Sri Lankan beauty indulges in meditation and pranayam.
3. Light weights in the gym.
4. Dancing rigorously
5. Swimming & running every alternate day.
Jacqueline Fernadez Food and Diet Chart
Being careful about your diet is a cliché in the glam industry and Jacqueline is no exception. She maintains her body by eating the right amount of food at the right intervals. Lets take a peak at her diet plan and what she eats in a day :
1. Jacky never depends on fried food. She always carries dry fruits with her apart from eating a lot of green vegetables.
2. Sushi and Salmon form a major component of Jacqueline's diet. She does consume sugar though.
3. The bollywood actress skips dinner a lot times however, not sleep. She ensures that she fulfills her sleep requirement.
4. Few Secrets which are not Secrets Anymore! Eat Bananas, Kiwis, Sweet Potatoes & Dark Chocolates to keep your hunger pangs away.
5. Tomatoes, nuts and Coconut water will keep your blood pressure optimum. So even if you do not eat well, these food items will maintain the flow of blood.
6. For a great sleep at night, eat loads of Spinach, recommends Jacqueline!
7. She stays away from tea or coffee
8. Brown rice, salads and lentils for lunch will keep you away from hunger.
Let me confess that I have not seen any of her movies till date, but I find her quite charming and pleasant. Not only is she extremely forthcoming about her diet plan, but she also shared her makeup secrets and brands. Most of the people in the showbiz shy away from spilling the beans, and JF is indeed an exception. I feel that this honesty shows up on her face as well. She is carefree, bubbly, full of life and believes in just being herself. Not many can do that in today's times.
I would not skip my dinner for anything on planet Earth. Her best beauty tip for me happens to be the usage of primer. It is indeed a must have, and I am going to order one today. Life is extremely tough for all the gorgeous divas, but there is no gain without pain. It becomes tough to acquire a certain kind of body, and needs an equal determination to maintain it. So, despite the fact that I am not a 'Bollywoodologist' in real terms, I appreciate our actors and actresses working so hard to look great and soothe our over stretched grey cells.
Fernandez has not only shared what she eats, but also mentioned what you can eat as a regular person to keep fat at bay. We all must have that one comfort food item or drink around, and for her, it is Coconut Water. Jacqueline confessed once that she grew up in Bahrain, and to keep herself hydrated and nourished, she used to always carry Coconut water.
A troublesome T zone can be kept healthy and neat by following most of the tips offered by her. Oily face is a blessing if you are able to maintain it well. It just needs care and attention.
Be careful with what you eat, as you become what you eat. Indulge in some form of physical activity, and do not just because you feel tempted. I am not promising that you will look like her, but you will be a diva in yourself! Drool in and zip you way, before it is too late.
Read More:
Which is your favourite beauty secret? Share your reviews with us.