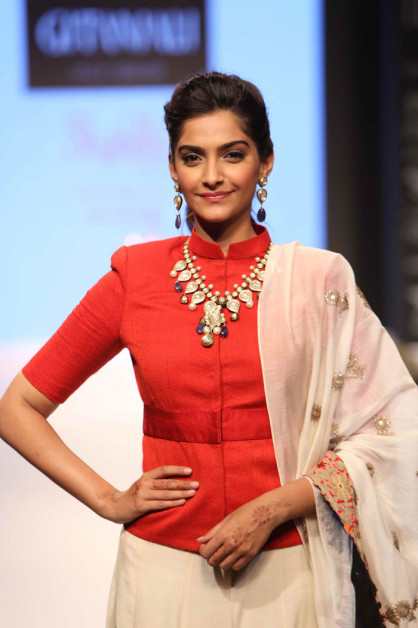 Indian International Jewelry Week 2013 kick started last week in Delhi. Instead of a week long affair, it was held over 2 days. And now it will tour all over India. Honestly I don't get the point of so "full" outfits and there's just too much going on. One just can't pay attention to the jewelry.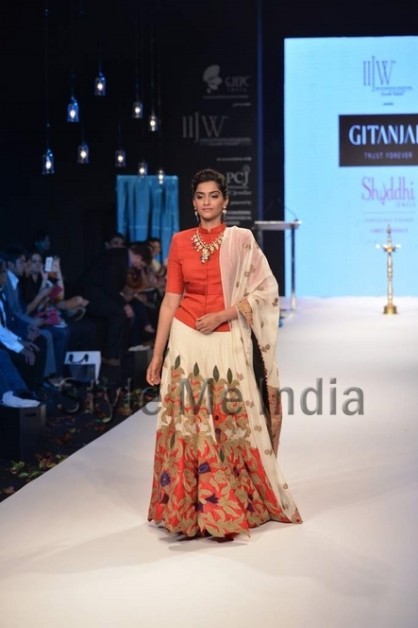 Sonam Kapoor wore an Anamika Khanna orange floral lehenga. As usual my attention is on something which has got to do nothing with the ocassion. Come on Anshita, focus! Focus. Right. So the  jewellery (yes now I'm talking) was from her mother, Sunita Kapoor's collection
. See this is why I was looking at the lehenga, there's nothing in the jewelry to talk about!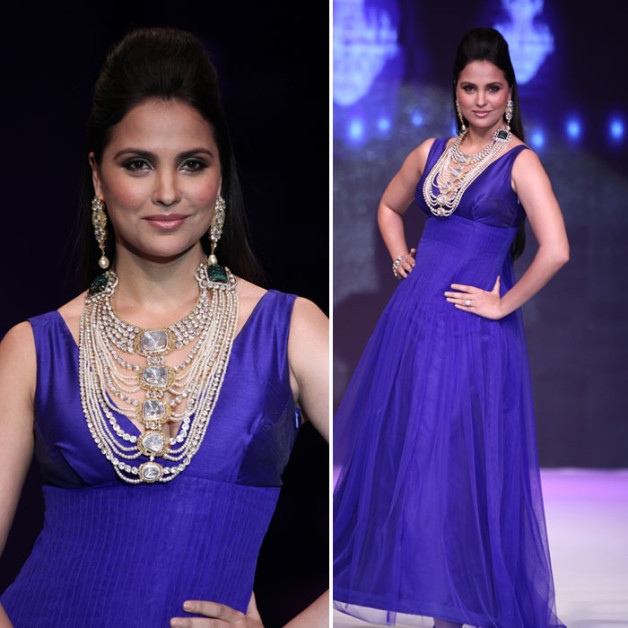 Lara Dutta wore jewels from Amer Collection by Birdhichand Ghanshyamdas Jewellers in an electric blue gown. Gawdy!
Chitrangada Singh walked the ramp for Hazoorilal Jewellers. Now the necklace is nice and I want to have a better look at it. Why has she kept her hair lose and covered half of the pretty necklace with her hair. Why. Are the stylists complete idiots or what?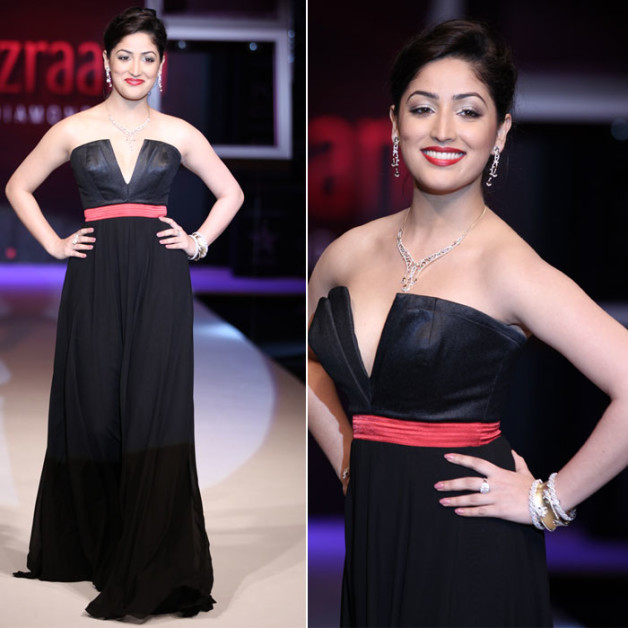 Yamini Gautam showcased jewelry for Rio Tinto. Now this is nice. And here you get to see what the designer is trying to show. Take a lesson stylists.
Neha Dhupia walked the ramp for Gitanjali Jewels. Now what's the point of a "Jewelry Week" when the outfits are gonna take all the attention. Half of her necklace is inside her blouse. The earrings are hidden behind those blow dried hair. What are we supposed to look at!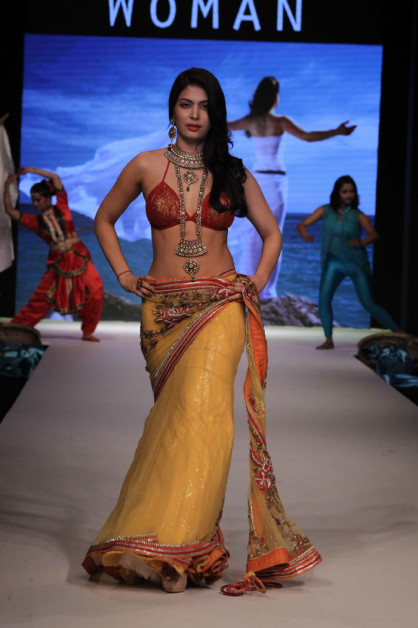 Ankita Shorey walking for Shuddhi Jewels. Hmph.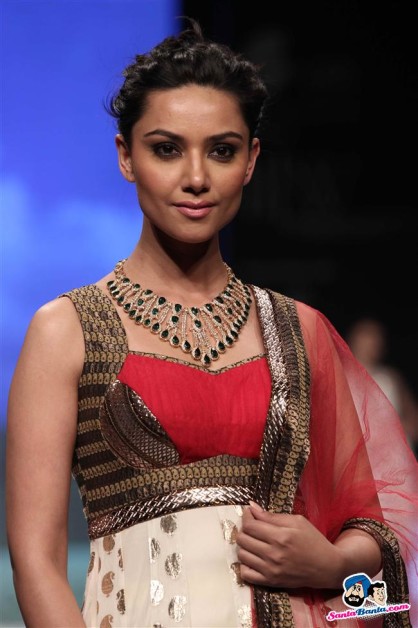 Now there s one peice I actually like and I don't know who is this from. Apparently, nobody wrote about this stunning necklace because she is just a regular model and no bollywood super star. Let's call her The Girl In The Emerald Necklace.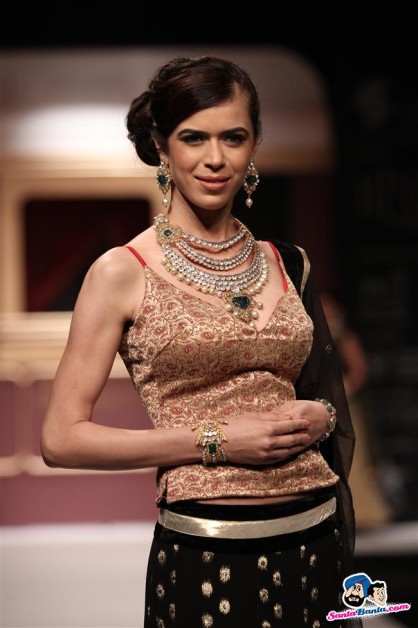 *yawn*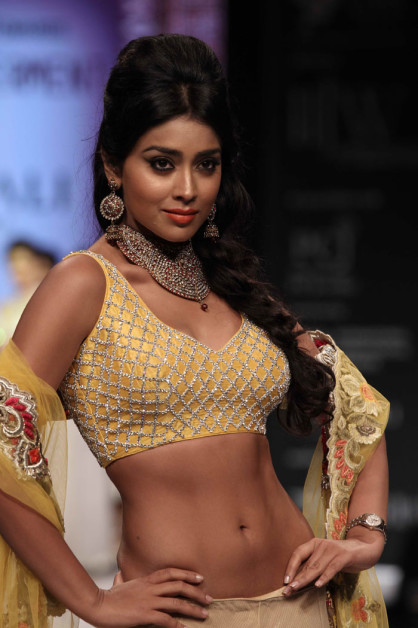 Shriya Saran : HOTNNESS!! Why do you have such kickass body?!  Yellow never looked this sexy on a dusky girl, Ever! Oh yeah yeah she walked the ramp for Shuddhi Jewels. Don't miss the burnt orange lip. or the 60s hair braid. or the winged eye liner.
Yeah yeah I was about to come to the jewelry too.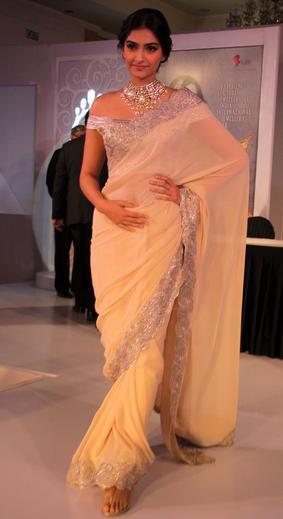 Earlier, Sonam Kapoor launched the India International Jewellery Week (IIJW) and India Gem & Jewellery Fair
in New Delhi. This is the cream saree she wore to the press conference.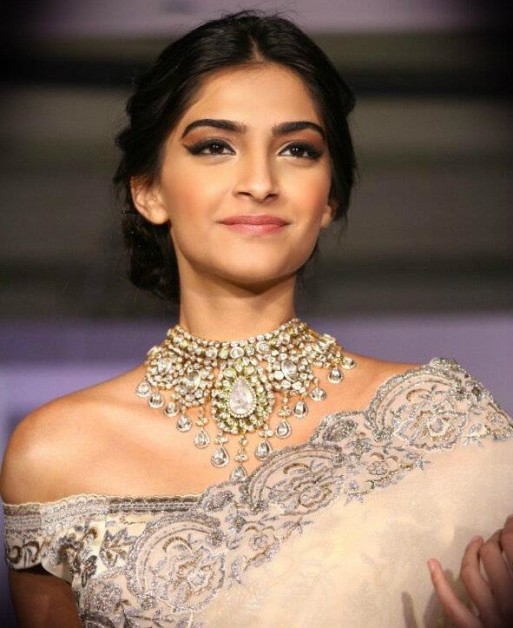 Ummm…hasn't she taken androgynous a bit too far?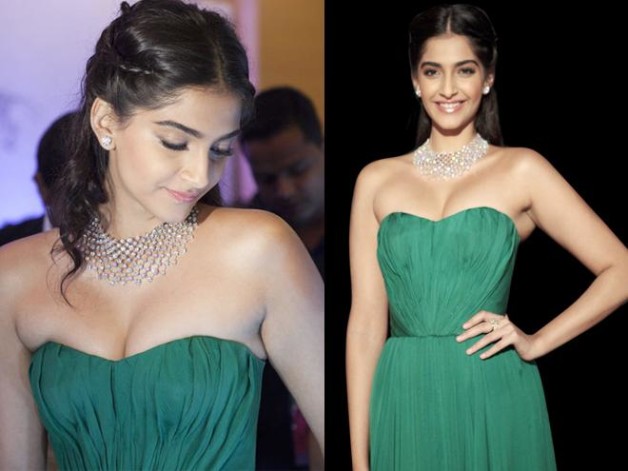 I found a pic of her's last year at IIJW i.e 2012. The Girl With The Fantasy Necklace…isn't she?
PS – All pics taken off the internet. no ownership over them.