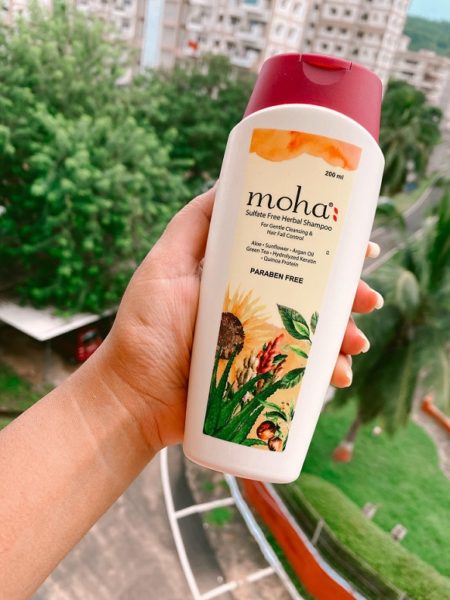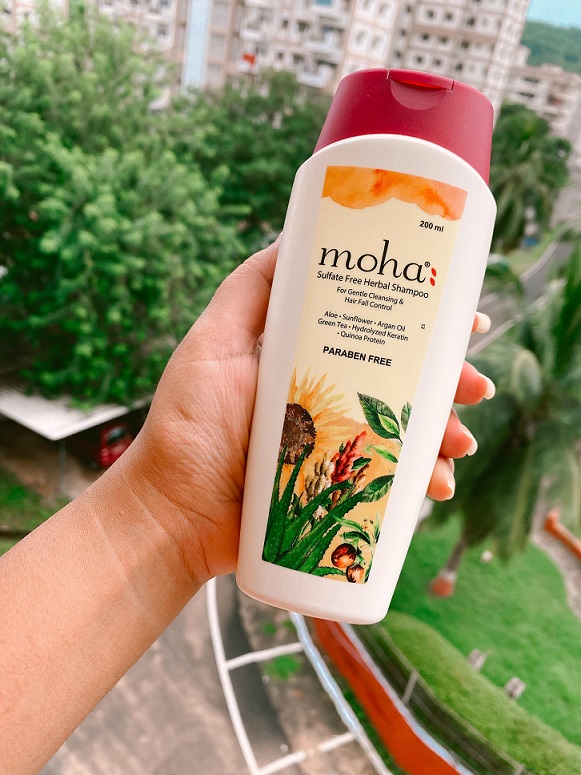 Earlier this year I had this crazy idea to colour my hair bright pink. We were hardly going out due to lockdowns but for some reason it seemed like a very brilliant idea to me at that time. And…I went ahead with it! Omg it was a whole thing, me sitting around my home with my all read-to-roll hair with no party in sight. So now I had to make sure that the colour stays long.
Which is when I came across this new colour protectant shampoo, moha: Sulfate Free Herbal Shampoo. I also got the serum along with it, after reading wonderful reviews from Amazon & Nykaa. So if you have coloured or treated or even dry-damaged hair, then read on!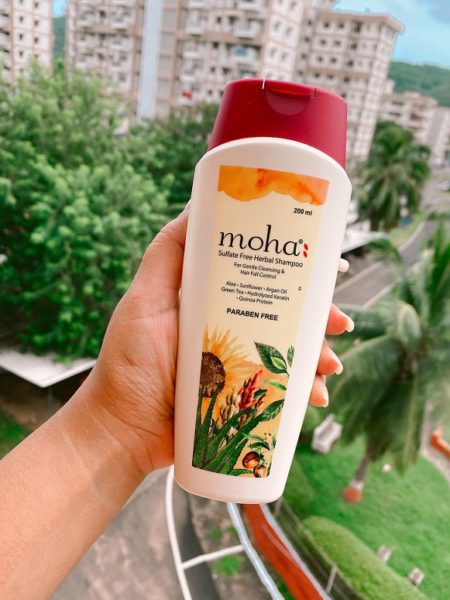 It Claims:
moha: Sulfate Free Herbal Shampoo gently cleanses the scalp and hair, promoting strength and shine. It also protects and enhances hair colour with every wash. The herbal mix of Aloe, Sunflower and Green Tea, rich in antioxidants and essential minerals, controls hair-fall. Hydrolyzed Keratin are processed Keratin which gets easily absorbed by the strands making them smooth, while Quinoa Protein provides optimum nourishment, promoting hair strength and texture.
Features:
moha: Sulphate-Free Herbal Shampoo gently cleanses hair and the scalp and is suitable for all types of scalp & hair, even the sensitive scalp
It has a revitalizing mix of 5-herbs: Aloe, Sunflower oil, Argan oil, Green Tea & Quinoa Protein with the boost of extra Keratin
moha: Sulphate-Free Herbal Shampoo protects hair colour and enhances shine naturally, with every wash
It nourishes each hair fibre and make them smooth and manageable
Antioxidant rich formula helps reduce hair-fall and promote growth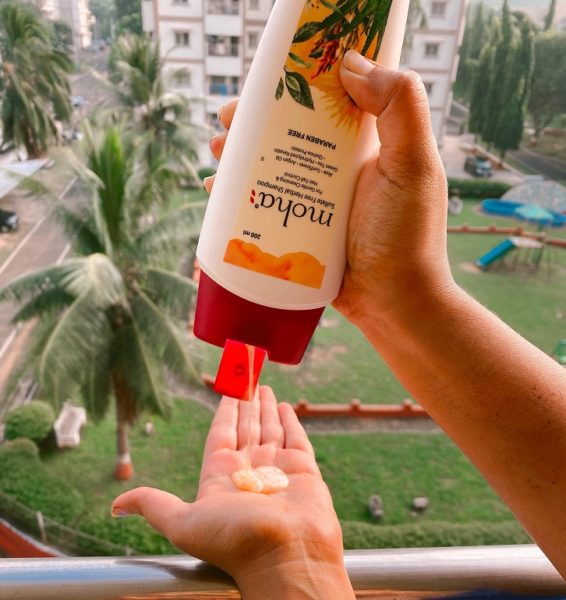 It comes in an off-white bottle with the shampoo being light yellow in colour. The consistency is medium, neither thick or runny. It cleans your hair extremely well. Few times I have to go for the second wash with other regular shampoos because of oil and other grime build up, which doesn't go off in the first wash itself. But with moha: Sulfate-Free Herbal Shampoo, cleansing dirty scalp or oiled hair is very easy. Also, in-case you have oily scalp and prefer frequent wash, then you will enjoy this sulphate free keratin shampoo the most.
Also it has helped control my hair fall. After exposing my hair to the harsh chemicals, it went through a rough patch and this herbal shampoo helped a lot in controlling & combating the damage. Since the ingredients are natural, expect great results from 1st wash!!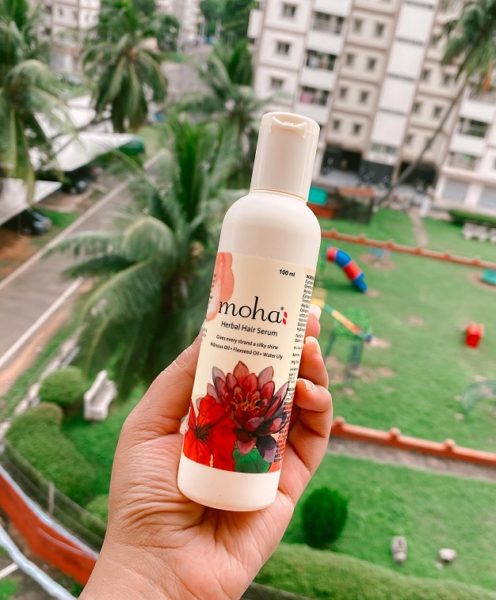 And don't forget to seal this nourishment with moha: Herbal Hair Serum, post the wash. It treats dry and frizzy hair and imparts great shine. This natural hair serum has appropriate consistency so it glides smoothly & gets absorbed quickly. All you need is just small amount of serum in your palm, rub thoroughly & run-through your damp hair. Moha: Herbal Hair Serum also helps detangle your hair instantly, making them style-ready!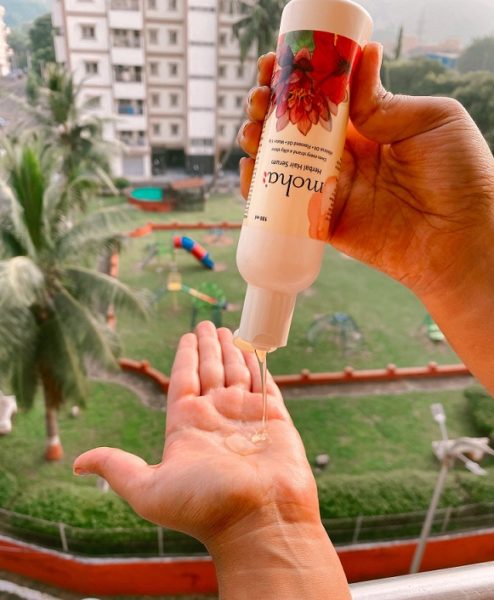 Overall this duo has made tackling my chemically treated hair a lot easier which makes it one of the best sulphate free keratin shampoos in India. The serum is great for dry and frizzy hair.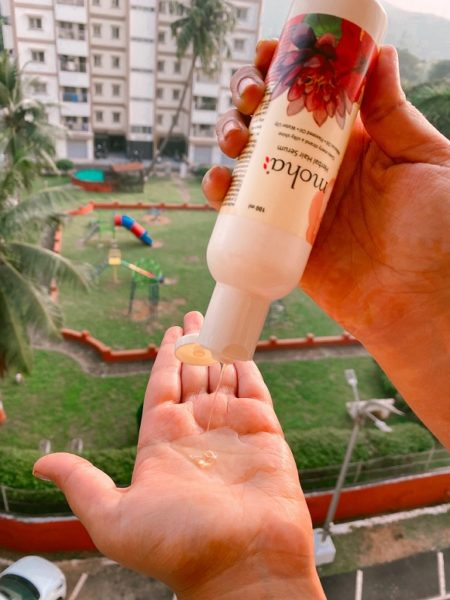 Where to Buy it Online in India: Here and Here
Also available on other portals: Amazon, Nykaa, Smytten, Pharmeasy, First Cry etc.
Price in India:
Shampoo: Rs. 220 for 100ml, Rs.345 for 200ml
Serum: Rs.160 for 30ml and Rs.299 for 100ml
Have you used moha Shampoo and Serum? Share your views with us.