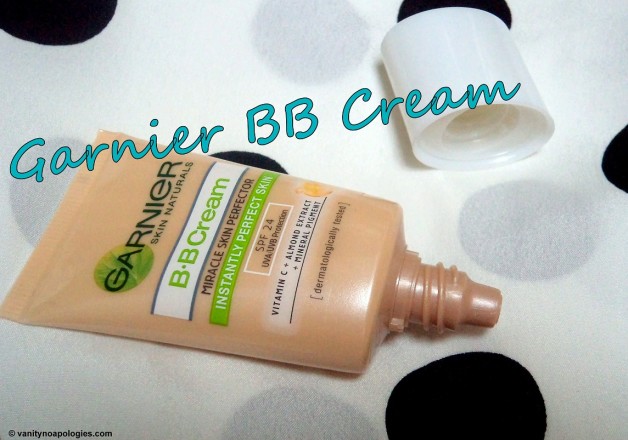 So after Maybelline, The Body Shop, Deborah, the next brand to introduce a bb cream is Garnier. Before I even start with the review, you must know what a bb cream is. BB cre ams or Beauty Balms are supposed to be the "secret recipe" of Korean women. Its the kind of makeup which not only conceals but also heals your skin over time. BB creams took over the makeup world in early 2010 and are still popular. Now a lot of brands just use the tag. The only bb creams I've liked so far are the ones imported straight from Korea! Now let's see if this "miracle skin perfector" is really a miracle.

Shade and coverage
: Garnier BB cream comes in only one shade (see the swatch below) Its kinda light and would work for fair to medium tone girls. It works for my nc 35 skin. But the coverage it gives is pretty sheer and light so the shade doesn't really matter much. If you have any scars or blemishes then you will still need a concealer, this one just evens out everything and works for the school/college look.
Blending: The one thing that I absolutely love about it is the blendability. The cream isn't thick so it blends easily with just the fingers.  If you had problems with the blending of Maybelline bb cream, then this is fairly easy.
Others: It won't replace your moisturiser. Delhi is still cold and I need to use a separate moisturiser. But may be when the summers set in, it will work. As you can guess, it can suit oily skin girls who had issues with the Maybelline one looking too shiny on the nose. This one doesn't. No stickiness! It has got spf 24 so that's something I'm really enjoying! Inspite of the spf, it photographs well. And ofcourse nothing can beat the price!
Let's check some photos and swatches: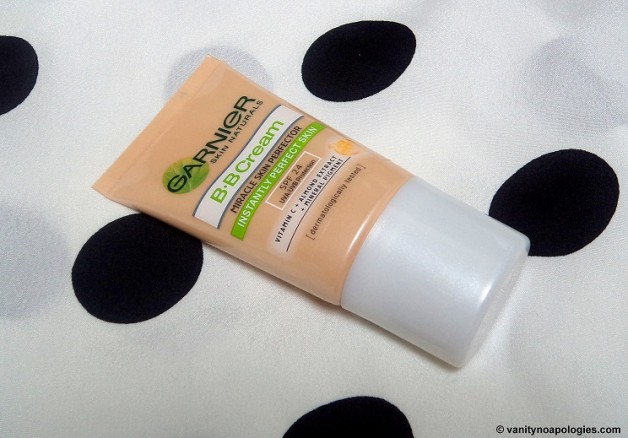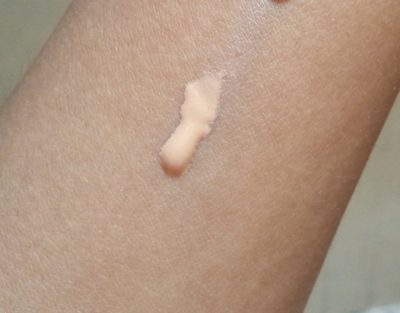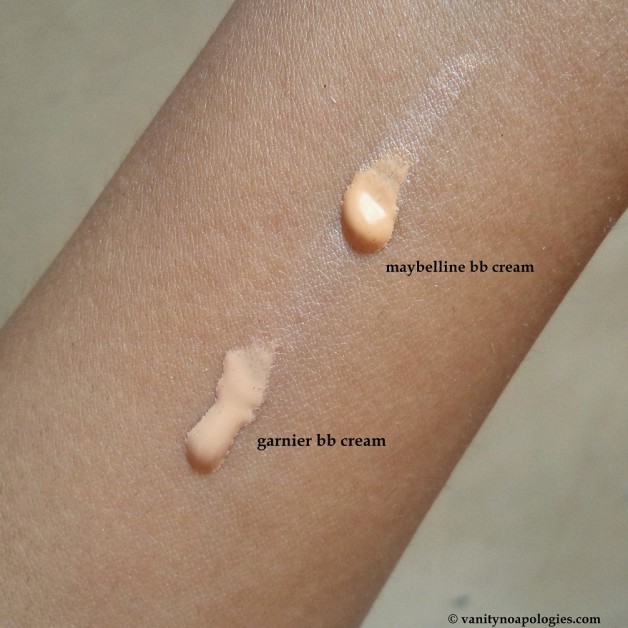 Garnier v/s Maybelline BB cream: While the two beauty balms look similar in the packaging and claims, they have some distinguising features.
~The Garnier bb cream is easy to blend while Maybelline is not.
~Garnier comes in 1 shade but Maybelline comes in 3.
~Garnier gives lighter coverage compared to Maybelline.
~Garnier is better for oily skin as compared to Maybelline.
~Garnier comes at half the price of Maybelline.
How I use the Garnier BB cream?
I use my regular moisturiser and over that use a tiny drop of the bb cream. If my skin is in a particularly bad condition some day, I dust some Mac Msf on the top. And I'm good to go. If you ask me, I prefer the garnier bb cream over the Maybelline one. Why? Read below.
Price: Rs.99 (too good to be true?!)
So who can use the Garnier BB cream: Anyone who doesn't need much coverage and falls below nc42. The tint will just give enough coverage to even out your skin tone and make it look presentable. The spf 24 is a bonus and works best for oily/combination skin. Its more of a tinted moisturiser.