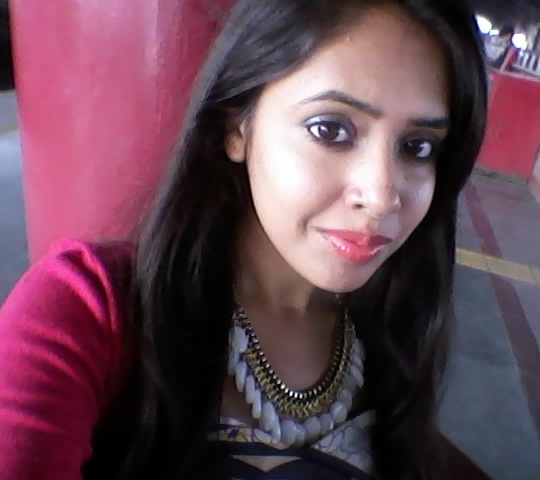 Makeup Look: Festive Christmas
There is a mystery I'm working on from past few weeks. One day I woke up and found cute snow falling on VNA..and I had no clue how..still don't. Okay this mystery is too good to work on. I know I should be freaking out with "OMG somebody hacked my blog" but thank you santa (hacker, theme developer, some app which sets off itself, whatever) because I'm too lazy to do stuff like this. And yes Merry Christmas! Its that time of the year when I get super duper excited..I don't know why! Before we start, here is a look I did a few days back and since I don't have any red makeup look to show you, let's plz call it my Christmas look!
As you all know sailor is in town so I get to dress up, do full face makeup, pay attention to my shoes, change nail paints..things I don't normally do a lot. We went to Pink Room in Hauz Khas (my funny attempt to get a discount there by wearing a pink cardigan..we didn't) and I ate Prawns for the first time ever! Okay I got inspired by 50 shades and made him feed me the prawns!
My Makeup Breakdown:
Face: Ponds BB Cream, MAC MSF Natural, Maybelline Fresh Coral
Eyes: my favourite shimmery blue from Sleek Acid palette, Lakme Eyeconic Kohl, L'Oreal Volume Million Lashes Mascara
Lips: Maybelline MAT3
When I was in 5th standard, I took out all the stuff from my school bag, emptied all my drawers and cupboards and wrapped up some 20-25 teeny tiny little presents and decided to play santa to everyone in my neighborhood. After the sunset, I went up to every house and placed those shiny presents near the doormat after trying to reach the doorbell with my tiny hands. And then patiently waited behind a car or scooter to see their Awestruck expressions! Well..okay I had to go back again and again to ring the doorbells ("Jesus don't they want presents" I muttered). A lady came out and saw my green little present near the door and opened it to find a matchbox with a sharpener inside and went awwwww who did that! That's what I did..gift wrapped all my old and new rubbers, sharpeners, crayons, hair clips, etc and played secret santa to everyone..its still a secret *wink* except now you people know. I so wish I could do that again but I don't wanna risk looking stupid so I'm just going to wish all of you a Merry Christmas.
No special plans this year (as if I ever had!) so I'm just gonna watch a Christmas related movie. I'm thinking Polar Express. Any suggestions?