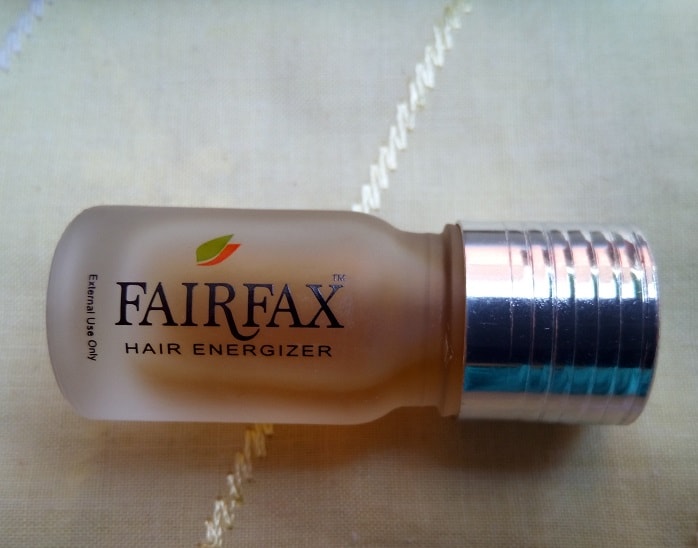 Review, How to Use, Price, Buy Online Fairfax Hair Energizer
Is it imperative that with age and experience, we lose certain amount of strands from the scalp? Sadly, it seems like the truth. I was known for my thick hair growth, but with advent of time, I became a little scalpy. Being an inherently lazy person, I never really bothered to condition my hair; a good scalp massage with some stinking oil, keeping it on for a couple of days, and then a royal head bath did the trick for me. After my daughter's birth, I became too involved with motherhood, and the signs of aging started showing well. That is when I stumbled upon the Fairfax Hair Energizer which I will review today. Its an Indian hair growth booster product and just recently they moved the manufactur ing to Switzerland. Swiss!
I do realize the importance of a good oil massage with the right kind of hair oil, suitable shampoo and a conditioner. But I really need something extra for that volume. You know, something to amplify that volume, enhancing the overall look, quality and appearance of my hair. I normally shed like a dog, but this time when I colored my hair I experienced so much hair fall that it was really frightening. So when I found this new Fairfax hair product, I was a little apprehensive. With butterflies in my stomach and a little prayer to the almighty, I decided to take the holy dip. I thought I'd give the Fairfax Hair Energizer a go as I really just needed my hair fall to stop, and no shampoo or conditioner duo was doing the trick.
What is a hair energizer really?
It is a extraction of 14 different herbs made to cure your hair of its loss of vitality, hair fall and brittleness. It claims to reduce your hair fall massively in only 3-4 washes, and the product allows for 25 washes. Its kind of a hair volume booster. I'm guessing this depends on the thickness of ones existing hair. I was visibly appalled and overwhelmed with the results. Read on my review of Fairfax Hair Energizer to know why.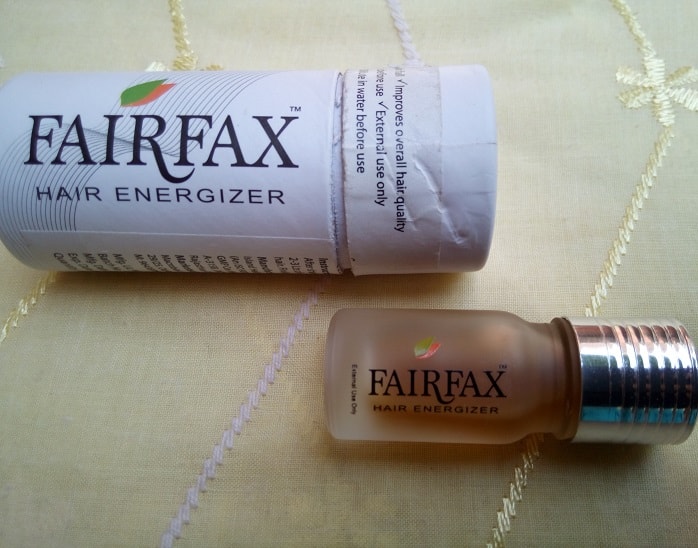 My Review of Fairfax Hair Energizer:
Ingredients: This hair energizer contains many herbal extracts, including:
Tagetes Erecta also known as Mexican Marigold, for its strong fragrance
Luffa Cylindrica, or Sponge Cucumber, which is effective in promoting the circulation of blood in the scalp area.
Euphorbia Dracun, or Christmas Star, helps in giving that shiny look.
Martinia Diandra, effective in getting rid of dead cells and dandruff.
Acacia Concinno, also known as Shikakai, a great cleansing agent.
Packaging: Rough and sturdy as the tiny Fairfax bottle is packed inside a white cylindrical cardboard container.
Looks: It looks like Coca-Cola, or Coke, my favorite drink. The tiny hair energizer bottle reminds me of ittar or scent bottles.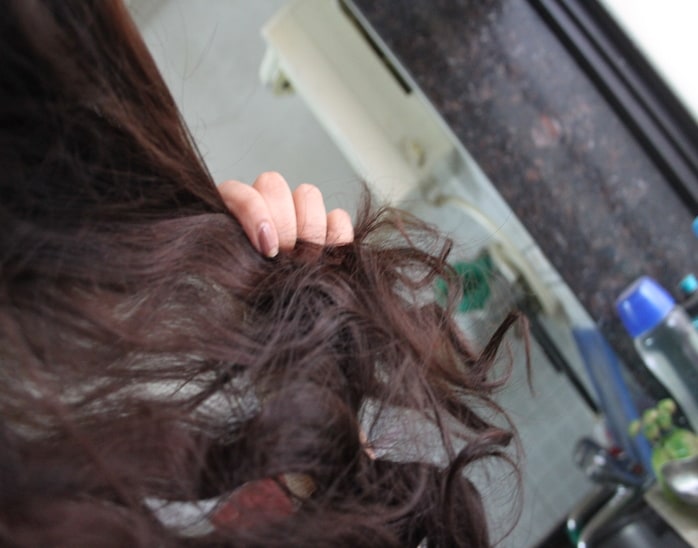 Usage: Okay, so you are done with your regular shampoo routine? Now add six to seven drops of this fairfax solution in a tub with two to three liters of water. Rinse your hair thoroughly with this hair energizer solution and then dry your hair. It does not mention anything about the interval of usage. Say, how many times in a week or month to use on your hair . It does not categorically define the time period for results to be visible. So do your own thing.
How Fairfax Feels on my hair:
It doesn't have a strong smell when you open the bottle and doesn't seem concentrated and scary
This fairfax solution, upon application, gives a fluffy feeling. There was a visible change in the color of the water. It did not produce lather or foam, and remained just like a solution. You do not have to really put in effort to mix the hair energizer solution; it gets dissolved on its own.
Felt little sticky, but after my hair dried, I was on the top of the world.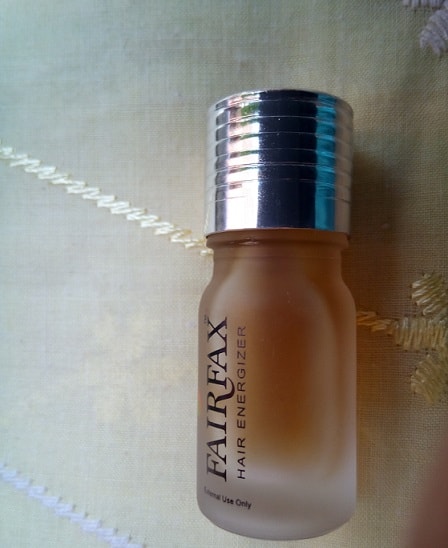 Pros of Fairfax Hair Energizer:
It doesn't have a strong smell when you open the bottle and doesn't seem concentrated and scary
It's multi functional and you can use it with shampoo, oil or in 2-3 liters of soft water.
It added volume to my hair
It is safe for coloured hair
Shiny and lustrous hair
No side effects
Silky, tangle free hair
Did feel the reduction in hair fall
My scalp is oily and strands remain dry, this altered it. Strands were nourished and the scalp was neat.
Dandruff was far from visible.
Has the potential of replacing your conditioner.
Cons of Fairfax Hair Energizer:
Price of 800 INR. This seems excessive as the bottle is quite tiny at 5ml. If you are fine with the price, then close your eyes and go for it. The product is genuine and really works. I feel that if this product is priced at around Rs.400, it will be a winner all the way!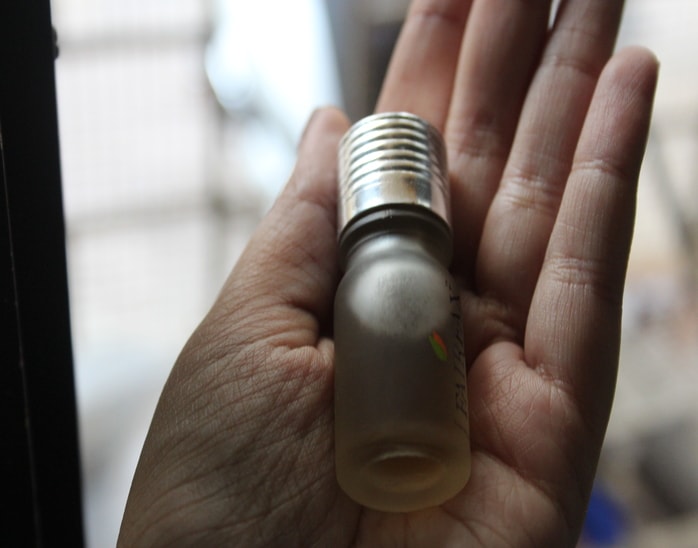 Price in India: Rs.800 for 5ml (I just saw that its on sale and available for Rs.300! I'm so restocking it! If you are wondering then I guess now is the best time to try it out)
VNA Rating: 4.5/5
Where to Buy Online in India: purplle.com
Will I Recommend the Product? For sure, at the slightest mention of hair fall, this hair energizer product will be recommended!
Conclusion: We all look for that one thing among millions; that one opportunity, that one stroke of luck, that one soul mate, that one event to redefine our existence. Now, this fairfax hair energizer is that one product, which will redefine your hair regime. This is a little exorbitant, however, given the fact that this is an absolutely genuine product, I think I can easily replace my conditioner with this one. Being almost herbal in nature, this hair energizer has a huge advantage over other hair fall and hair volume booster products in this segment.
Read More:
Have you used Fairfax Hair Energizer? Share your reviews with us.