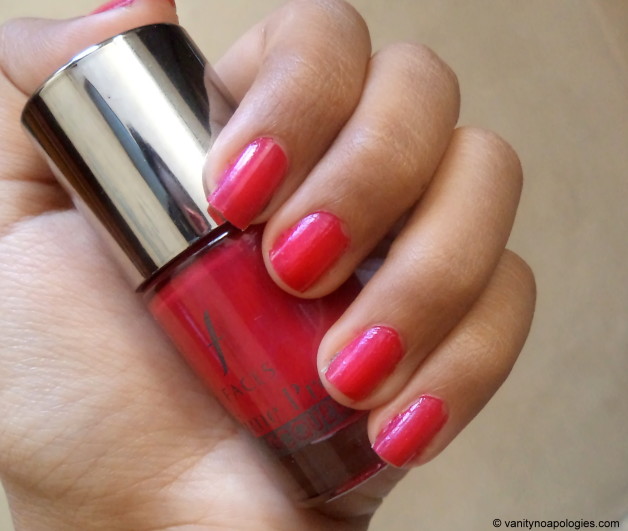 Faces Ultime Pro Nail Lacquer Love in Burma – Review
Paris, London, Tokyo, Rome, Italy, Russia – love can happen anywhere but their are some places which make your love story sound all dreamy and fairy tale like. But Burma!! Really? Who can fall in love in Burma? Faces people please come and take me out of my misery, why Burma of all the places? Just imagine if these Faces guys were naming those James Bond movies – With Love from Burma..Bond, James Bond would have died of shame. Alright enough of beating around Burma (:P).
Faces has recently launched the Ultime Pro range which has got come really colourful nail polishes, eyeliners, lipsticks, etc. About the Ultime Pro Nail Lacquer Love in Burma – it is a deep magenta pink, but in a good way. Normally we girls have aversion to anything magenta since we are the 'hot pink' generation. But this rani pink (as we punjabis call it) is really pretty. In a sea of hot pinks and fuschias, it stands out. Its one of those Indian wedding colours that go with every party outfit.
It applies smoothly, the brush provided is easy to work with. The formula is not thick and dries up soon enough so you don't spoil your perfect Sunday manicure. Love in Burma is very pigmented and here I've applied just one coat of it. The nail paint stays for 4 days on me without any edges chipping. All in all the quality is top notch..ofcourse you wouldn't expect anything less for the price you pay!
Yes the only downside is that its more expensive than your regular Colorbar, Lakme, Maybelline nail colours. If it was priced a little lesser..maybe Rs.250 than I would have bought Second Skin (given my love for anything nude!) and Petunia.
Lets look at more photos and swatches.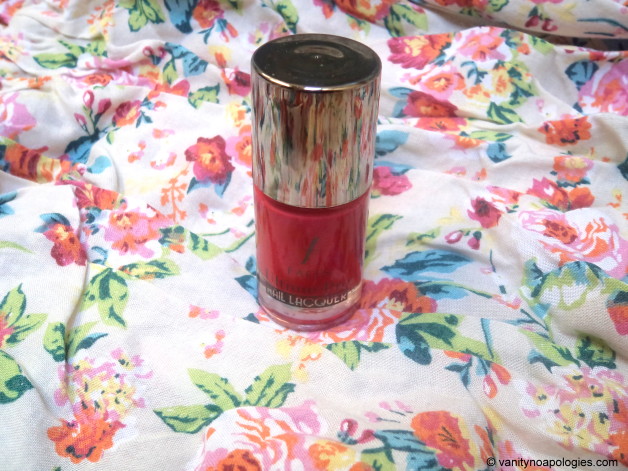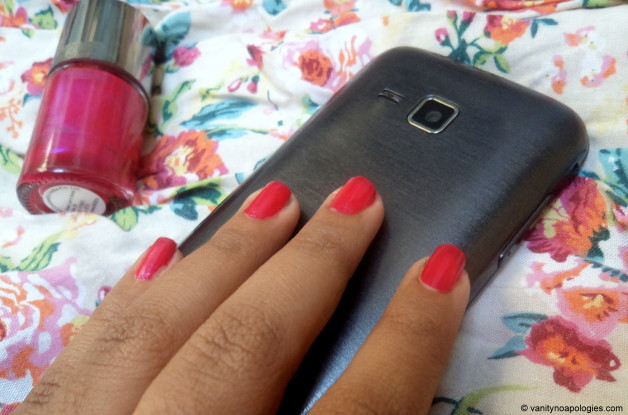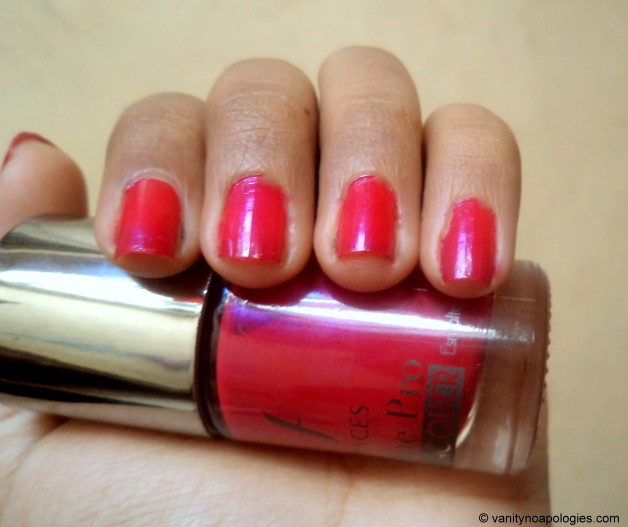 Price – Rs.399
So is it for you? Faces Ultime Pro Nail Lacquer in Love in Burma is a pretty magenta pink. The formula is top notch with thick polish, easy to work with brush handle, quick drying and fairly pigmented. If you can shell out some extra bucks for all this then surely go ahead and get one.
Tip: Since Holi is day after tomorrow and I'm feeling all wise, here is a beauty tip coming your way. paint your nails in a deep colour (just like I did here) so as not to stain your nails while playing with all the colours. Trust me, you will thank me later. And yes that explains the messy application..I was in a real hurry.
Product sent by the brand for consideration