Sexy Vampire Makeup and Hair Guide for Halloween
By Contributor: Shruti Gupta
Anshita and I are those crazy girls who get soo excited for Halloween that last year we made half of the college dress up in black! You can also check out my Halloween nails. This time I thought of doing a Halloween makeup tutorial since my makeup skills have improved a lot over the past year..thanks to VNA..hail beauty blogging in India! Halloween automatically makes me think about evil vampires and draculas, or both? Draculire maybe? So that's my new name, draculire draculaura.
The look is very easy to achieve. All you need is smoky eyes, blood thirsty ombre lips and pale skin. To get pale white skin, I first applied Maybelline BB cream in a lighter shade and then put Lakme CC cream on top of it, a little compact (again a lighter shade). Even with that I couldn't get that life-less skin effect..maybe I needed a lighter foundation but then I used loads of talcum powder. Yes talcum powder! Easy and budgety in this economic crises!
D on't use any blush, vampires have no colour on them. They don't blush except for Edward Cullen!
The scary winged black vampire eye makeup tutorial:
Step 1: Apply a matte black eyeshadow like Nyx Black all over your lid in a cat like wing as shown in the photo above.
Step 2: Use the same black eyeshadow on your lower lashline and join both the ends so they make a V.
Step 3: Line your upper lash line and lower lash line with a black kohl..loads of it. And then make a V on the inner corners of your eyes with the kohl. I used Lakme Eyeconic Kohl for it.
Step 4: Curl your lashes and add loads of black mascara
. I used 
Maybelline Hypercurl mascara
.
Tada..see only 3 products used and you get the whole eye makeup done. I though of adding some red eyeshadow under my eyes but let's say I didn't want to mess it up. Plus we are going to keep this look for makeup beginners. So maybe next year.
Alright now I think I should have filled my brows but I totally forgot that time! Anybody needs a tutorial on how to fill your eyebrows? Let me know!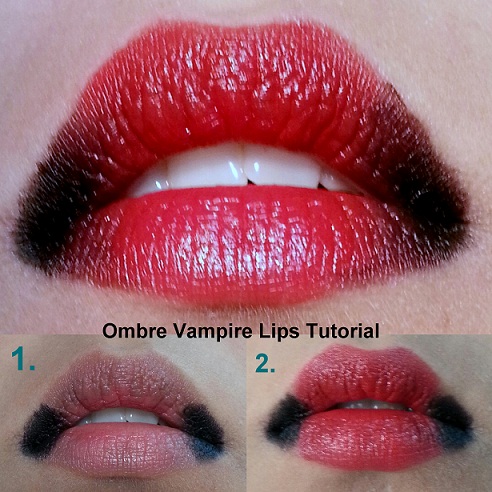 I did a two tone lip for the scary look. I don't have a black lipstick and Anshita won't lend me her's (I wonder what she is doing with that black lipstick she has!). So I used a black kohl again..a different one ofcourse! I used Colorbar Indian Eye Kohl (review soon). The red lipstick I used was Colorbar Hot Hot Hot.
Ombre Lips tutorial:
Step 1: Apply a black kohl on the inner corners of lips as shown in the pic.
Step 2: Apply a bright matte red lipstick all over your lips (matte goes with the whole scary theme. Mine looks creamy because of the flash). If you don't have a matte red lipstick then pat a little loose powder over your lipstick with an eyeshadow brush to make it matte.
The cheat trick for creating an ombre lip is to apply both the colors while leaving a very little space between them and then blending them together using a lip brush.
 And you are a vampire in no time!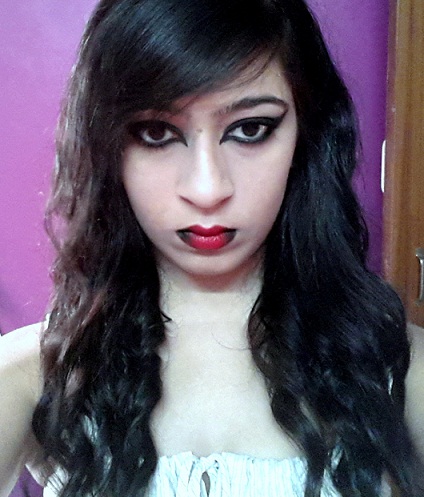 But wait..where is the blood thirsty part?
 Here you go!
I should have worn some green or blue lenses too to seal the vampire look. Oh wait what's Bella's eye colour when she is hungry (after she turned into a vampire) Green? Blue? I really need to brush up my Twilight basics!
 I used some ketchup near my lips as you can see
 Ohh how much I wish I had fangs. The look is incomplete without them.
 Now just mess up your hair (curly or straight..anything will do)
 And give those funny poses in front of a mirror when nobody is watching
 I made this little halloween meme for you girls..haha!
 Hope you liked my vampire look and a dozen photos I clicked. What are you doing for Halloween? I know we don't trick or treat in India but if you do then what's your costume? Share your ideas!