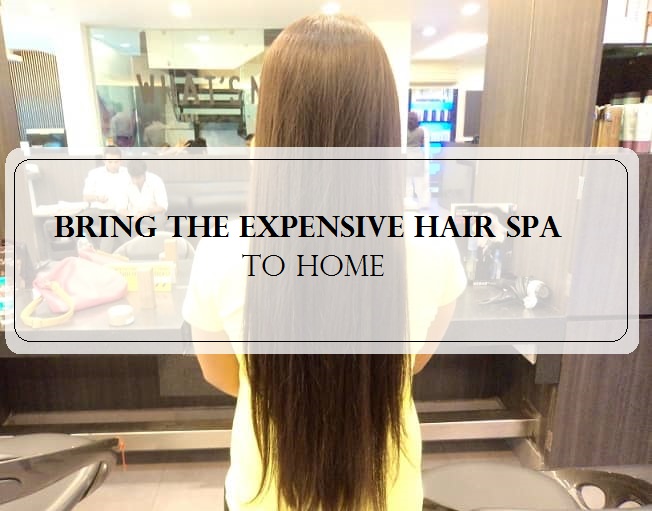 HOME HAIR SPA – BENEFITS, INGREDIENTS AND STEPS
Nothing, in my humble opinion beats an at-home hair spa experience. Also, it gives us ample opportunity to showcase our ingenuity. Add and subtract as per your volition. Since the ingredients will be organic, this is a sure-shot way to bring your dry locks back to life. It surely demands endeavor on your part but it is a matter of life and death for your hair. Okay, maybe not but the bottom-line is that "There is no gain without pain". Who wants dull hair with split ends when you can easily have healthy, long, shiny, lustrous hair with a treatment similar to a salon spa but safer for hair and gives long term results. Let us donne the hat of the DIY experts now and get started with our home spa hair tutorial without further ado.
Salon Hair Spa vs Home Hair Spa
The list of hair woes isn't short. So is the list of weapons to battle them. If you have supplements or protein masks and conditioners on one hand then you also have Good old home remedies from your very own Encyclopedia of Home remedies (read: Your grandmother) on the other hand. There is certainly no denying that there exist chemical treatments that would have left you with glossy and absolutely drop-dead gorgeous hair and there would also be simple home remedies that would have given your hair its new lease of life. With dirt, grunge, dust, pollution, grime and everything else noxious, our hair screams for some well-deserved pamper ing. You know it well. No crossing your fingers while you shake your head in disapproval!
And what better than a hair spa to rejuvenate your damaged hair? "Sounds great," a voice in your head would have said so now, right? "So which hair spa are we heading to? That fancy and expensive one or that enormously fancy one at the salon that makes my wallet and credit card bleed by the end of the day?," says another voice. Don't lose hope (and money), mate. There's one at home hair spa experience where you'll be in-charge. Pssst…the spa ingredients that you will use will be all-natural and it won't cost you an arm and a leg too.
How to do Hair Spa at home:
Step 1. OIL YOUR HAIR FIRST
Toss those exorbitant hair oils (pumped with mineral oil) out of your beauty kit. Grab a bottle of virgin coconut oil. It is neither expensive nor pumped with rubbish unless you buy a fancy one. I would recommend KLF Nirmal Virgin Coconut oil . It is manufactured in Kerala and available on both Amazon as well as Flipkart.
Method 1:
In two tbsp. of Virgin coconut oil, add half a tsp of Methi (fenugreek) seeds and heat them up for 4-5 minutes. I won't suggest overheating the oil mixture else it will start emitting fumes of smoke/lose its goodness.
Method 2:
If heating seems too 'risky' an act (I understand. There exist people who are horrible at handling apparatus of any sort. Ask my Chemistry teacher on how adroit I was with lab equipment), then you can add half a tsp of methi seeds in a glass bottle containing the coconut oil in direct sunlight for a week. By then, the goodness of the fenugreek seeds would have seeped into the oil. Strain the seeds and use the hair oil. If you follow approach 2, ask someone to heat the oil a little for you before use because hot oil penetrates better than oil at room temperature.
Now continue with your at home spa experience and massage the methi/fenugreek seed infused oil well into your scalp. Focus on massaging it with your fingertips because that is what stimulates blood circulation. Oils, just like food, are meant to be fed. They don't possess the magical ability to seep by themselves just like a scoop of Hot chocolate fudge won't get to your stomach automatically. You need to make use of your mouth and tongue. Here too, your fingertips are your tools.
Once done with the hot oil massage, tie your hair in a pleat and hit the pillow. Wait! Don't forget to soak 3 tbsp of methi/fenugreek seeds in water. Just enough water that all the seeds are covered.
Step 2. PREPARE HOMEMADE MASK FOR DRY HAIR
Good morning! Wait, didn't you sleep as I told you at the end of the previous point? You little rebel, now pull up your socks, I am going to make you run from pillar to post now! (evil laughter)
Method:
Alright, there is nothing to fret about. Depending on your hair's length, grab amla powder, reetha powder, shikakai powder, neem powder, tulsi powder, eggs and curd/yogurt. I have waist-length hair (yes, how vain of me to reveal this but it is VNA, so it is expected of me to be vain. And so are you), so I use around 400-500 g of curd and two eggs. Reduce the quantity if you have shorter hair. In curd, add 1.5 tbsp of each powder and the eggs.
In a mixer, blend methi seeds in the water in which they were drenched in overnight till a smooth paste is obtained. Please do this spa step sincerely because based on my personal experiences, the poorer the methi paste, the tougher it is to remove it from your hair.
Even if it takes a good 5-6 minutes of blending, go for it. The smoother the paste, the better the coverage and the easier the process of removal. Finally, this methi puree with the curd+powders+eggs concoction. Mix well and apply on your hair. This hair pack has nearly everything that your dry tresses need.
Amla imparts shine, reetha and shikakai cleanse scalp, neem banishes dandruff, tulsi strengthens, curd condition, methi softens and egg arrests hair fall. Keep this hair mask for 30-45 minutes. Wash off with a mild organic shampoo.
Step 3. CONDITION YOUR HAIR SANS CHEMICALS
Conditioning your mane naturally at home is as cushy as it can get. All you need is a bowl of coconut milk. Please note that coconut milk differs from coconut water even though both are edible.
Method:
Coconut milk is white in colour with a relatively thick texture. Once your hair is shampooed, massage coconut milk for 5-6 minutes on your damp hair and let it sit for 15 minutes. Wash off with plain tap water. Water, by the way, shouldn't be hot at any cost else you will end up turning the clock back (read: having dry damaged hair).
Step 4. THE FINISHING TOUCH: HAIR RINSE
As the name suggests, this is actually the last step to happen to your dry damaged hair before the home spa winds up. Hair rinses are of a wide variety and depending on your hair's requirement, you can concoct one for your mane. The cushiest to whip and effective hair rinse for my locks so far has been the "Green Tea Hair Rinse".
Method of green tea hair rinse:
How do I use it? I simply pour "Cooled" green tea on my cleansed scalp. Not only does it eliminate foul hair odour, but also impart a feeling of freshness to my hair. If it sounds too simple a recipe to you, feel free to brew some curry leaves, neem leaves or whatever you wish to.
That's it. That is my favourite home hair spa therapy for weekends. You might find this hair spa procedure is a tad tedious but it's a sure-shot way to let your hair thank you! Try it once a week for an entire month. You will be compelled to come back and thank me (well, sometimes I am surely hungry for compliments)
Read More:
How do you do hair spa? Share your reviews with us.