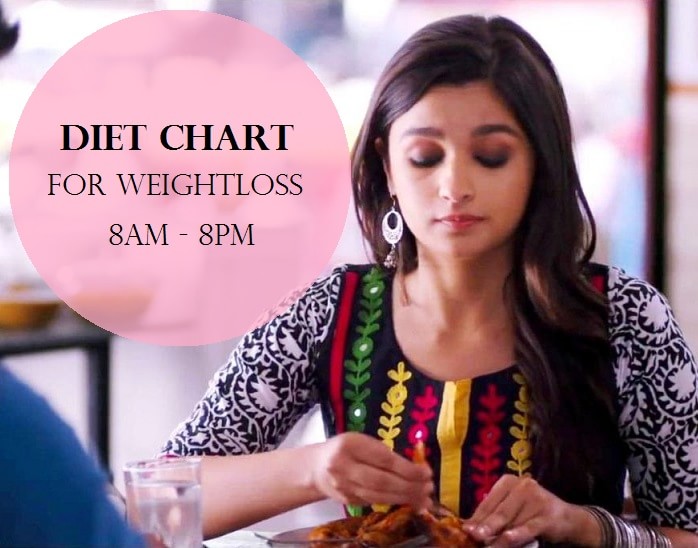 Diet Chart for Weightloss for Indian Women: What to Eat From Breakfast to Dinner
By Contributor: Shreya Katyal
How many of us feel that Junk food is really tasty? I guess majorly all of us. But it does not mean healthy food is not tasty. This is the remix era and if we mix junk food with indian food options, we can have both nutrition and taste in the same plate. Junk Food has a lot of processed items and high trans-fat and little nutrition to offer. But what if I say we can still eat junk food by eliminating trans-fat content and adding fibre and nutrition to them? And because we are Indians, we need to stick to our ground roots and thus can make our desi food tastier with junk fusion.      
Now what is Healthy Food Basically? We all grew up reading we must eat healthy food and a balanced diet, but not many of us know what Healthy Food really is. Any food that we eat is healthy if we know the right time to eat it and the frequency of it (Yes! Even those Chole Bhature, Pizza, Burger, Pasta are healthy if we know how much and when to eat it). We have heard it a lot that we should eat 5-6 small meals rather than having only 3 major meals. But ever wondered what should we eat in these 5-6 meals that are healthy, tasty as well as satisfying our hunger pangs, all at the same time? So, today I will be talking about what foods can we eat during what meals and what foods to add to our diet which give us taste as well as nutrition, also helping us lose weight at the same time.
Diet for BREAKFAST:
Breakfast is supposedly the most important meal of the day and a lot of people ignore this main meal. Having a good sumptuous breakfast is what the body needs the most in morning. But what are healthy breakfast options?
VEGETARIAN– Vegetable Poha, Milk Mueseli/Oats, Namkeen Daliya, Masala Idli, Vegetable sandwich, Paneer Sandwich, Upma, Oats Maggi, 1 Stuffed Prantha (low oil), Idli Sambhar, Besan Cheela, Toast and Vegetable, Toast and daal, Sprouts, Boiled Chana/ Rajmah Chaat, Milk and Toast.
NON VEGETARIAN– Boiled egg whites and Milk, Egg white French Toast, Scrambled Egg and Toast, Masala Omelette and Toast, Boiled Chicken Sandwich.
These are all very healthy breakfast options, giving you good nutrition and that metabolism boost, early in the morning. Also, don't forget to make milk a part of your breakfast daily.
Now coming to the favourite options for breakfast, namely- Chole Bhature, Pav Bhaji, Bread/ Vegetable Pakoras, Aloo Puri, Bread Roll etc., these can be taken once in 15 days that too only homemade in fresh oil and mainly if you are working out at least 4 hours in a week. Otherwise, limit them to once a month only and in both cases, make sure you stick to the quantity.
What to Eat for MID-MORNING SNACKING:
We usually tend to skip this one meal mostly as either we are too busy to eat or do not feel hungry to eat. But again, we need to have this small meal so that we don't really over do our lunch.
SNACKING OPTIONS– Coconut Water(yes, you can have the malaai too as it will give you healthy fats), Green Tea, 1 fist Bhuna Chana, 1 fist murmura, 1 fist diet namkeen, 1 fist Dry Fruits (5 almonds, 2 cashew nut, 2 walnuts, 2 kishmish), Any Fruit/ Fruit Salad, Sprouts.
Diet Chart for Lunch
As per Indian lifestyle, carbohydrates are an integral part of our diets and we should never try to eliminate them completely from our diets. Lunch is actually the best time to eat chapatis in the day. So, the ideal lunch for us mostly is chapati with vegetable, daal, curd/raita either we are having lunch at home, office, school/college.  What changes can we make in this basic meal is that if we eat more than 1 chapati, we can add bran to our atta to make it more fulfilling with lesser calorie intake. Secondly, Eat either daal or vegetable at a time (if going in for weight loss). Thirdly, eating a platter full of those greens and reds should be a must with lunch and dinner both. Salads add the much required fibre & crunch to our diet and also prevent us from over eating. Besides chapati, daal and vegetable, below are some other healthy lunch options-
LUNCH OPTIONS– 1 bowl sautéed veges and toast, 1 plate dahi bhalla(bonus for chaat lovers), 2 bowl vegetable and curd/raita, 1 bowl soup and 1 bowl salad (veg/ non veg), 1 bowl rice and 1 bowl daal/chane/rajma/kadhi (without pakora obviously), 6 inch subway (veg/ non veg, but only with mint sauce and seasoning),Vegetable garlic bread (without cheese, if losing weight ), 5-6 pcs. Paneer Tikka with salad, homemade chicken/vegetable kathi roll.
Diet Chart for EVENING Snacks:
Evening time is officially known as "CHAI TIME" and all of us go in for our favourite tea/ coffee/ green tea. It is however important that we have any small snacking also at this time or maybe within an hour of having our tea/ coffee. I usually don't really recommend biscuits with tea/ coffee (either low fat or diet biscuits also as these are just marketing gimmicks).But one can have either 2 marie biscuits or 2 monaco biscuits with tea. Besides biscuits what you can always have as evening snacks are-Bhel puri, 4 pcs. Gol Gappe, Diet/roasted namkeen, bhuna chana, murmure, 2 pc. Dhokla, 2 pc. Khandvi, 2 boiled egg whites, any fruit, 1 Toast, sprouts.
What to Eat for DINNER:
Ideally we must have our dinner by 6.30-7.00 PM (basically by the time sun sets, to ensure better digestion of food). But keeping in mind our lifestyle and hectic working schedules I suggest one should at least go in for early dinners (if possible) by 8.00 PM or latest by 9.00 PM and not later than that on a regular basis. I personally do not recommend salt free dinners as a routine because it is something we cannot adapt as a lifestyle. Instead of going in for salt free dinners, one should try and go in for early dinners (between 7.30- 8.00 PM) as it is more practical to follow in long run. For people working in night shifts or late night jobs, they must make sure that there should be at least 2 hours of gap between their dinner and sleeping time. Also, keep in mind that dinner should be the lightest meal of the day as we mostly go to sleep after having dinner. Besides chapatti, daal, and vegetables, other dinner options can be-
VEGETARIAN– 1 bowl thupka soup (with big vegetables and noodles), subway salad platter (no dressing, only seasoning), Milk Mueseli/ Oats, Sprouts, 1 Soya Chaamp Roll, Sauteed veges with Toast, 5-6 pcs. Paneer Tikka, 1 Homemade Kaathi Roll (paneer/mushroom/mix vege filling), 6 inch subway.
NON- VEGETARIAN– 5-6 med. Pcs. Tandoori Chicken/ Fish tikka and salad, 4-5pcs. Reshmi Chicken, 1 bowl chicken soup and 1 bowl chicken salad (no dressing), 6 inch subway, 2-3 pcs. Homemade chicken and chapatti, scrambled egg white and chapatti, homemade chicken seekh roll, boiled egg whites and toast.
What to Eat POST DINNER for Cravings:
Post Dinner meal is like seal the deal meal. It is given usually to help aid good digestion. So, I mostly recommend a cup of green tea without sugar or luke warm honey lemon water to make you feel lighter and less bloated in the next morning.
All these points pretty much sum up how we can lose weight with healthy foods, satisfying our taste buds also. Again, what plays an important role here is what quantities we eat. So, stick to the quantities and have not more than 1 serving of every food (in order to lose weight).  Start following these points and see the change for yourself. HAPPY#EATING#
About the author: To Eat is a Necessity, But to Eat Intelligently is an ART. Join this Art and be the best version of YOU. Experience the healthy way of indulging in food with Nutritionist and Dietitian Shreya Katyal at Diet Manta- Eat Healthy, Stay Healthy, based in Rajouri Garden, New Delhi. She can be contacted for Personal Diet Counselling for Weight Loss, Weight Gain, Pregnancy & Lactating and Therapeutic Diet Plans. Online Diet Counselling is also available. Check her on facebook HERE
Do you follow any diet chart for weightloss or being healthy? Share your reviews with us.