Wills Lifestyle India Fashion Week AW14 Day 1
I just came back home after attending the opening show of WIFW AW'14 edition by Tarun Tahiliani. Since I was getting late so I skipped the next show and came home. Btw this was my first time at WIFW so I a lot excited (which I guess showed a little too much!). I'm also going there on Day 3 and this time I would try to attend and cover as many shows as possible. Let me take you through the whole fashion week scenario through the eyes of a Delhi fashion and beauty blogger. You know I travelled through Delhi Metro today and the auto wallas at Pragati Maidan station asked "madam fashion? fashion?" Only later we realised that Hall no.18 is at walking distance.
The Tarun Tahiliani collection is inspired by Indian heritage and colours. The collection was heavy on flattering emperor silhouette and lush necklines. The anarkalis in sheer fabrics with hand embroidery and peek-a-boo backs with the intricacy of a Persian mural looked interesting. As well as the lehengas that carried old world traditions lightly in soft net and chanderi cut-work, and chikankari saris with pathra borders on soft net.
It comprised of:
The Crystal Constellation' gives wings to fairy tales. Constellation inspired lehengas, in shades of twinkling champagne, poofing out like a fantasy with fully embroidered bodices. The net and lace in gold create a visible aura around the adorned as if you 'walk in beauty'. Embroidered kalis on soft tulle are light and playful and yet refined enough to be a bulwark of ceremony.
'The Regalia Trousseau Collection' is bold in colour, challenging with passionate red, kesar and hot pink. High collared blouses lend you the arrogance and regalia of a Royal while feminine silhouettes with dori work speak of the humility and grace of an era gone by. The ombré dyes in three colours give the luminescence of the light shade while merging into the gravitas of the darker one. Gota lehengas and brocade blouses hark back to imperial splendor while the lehenga sari, authentic to its grandiose origin makes a truly blue blooded statement.
'The Colour Mirage Collection' is a burst of citrus joy with shades ranging from an aqua-like blue-green to playful pinks and rogue rouge, all given the ombré treatment. Shaded chiffons with sequins and sheathed corsets are a flirty feminine alternative. Paired with a flute blouse and embellished with sparkling Swarovski Elements, the colours blossom with youthful enthusiasm and Reshamembroidered kalis with floral artwork give a light romantic pastoral air.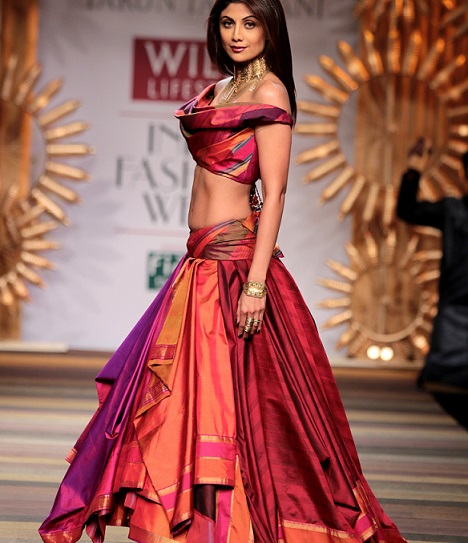 Boy Shilpa Shetty looked so stunning! All that time I could not take my eyes off her waist! With the ease she was walking the ramp I knew its the magic of flat chappals and sure enough there were no heels. Jealous! Because flats just don't do it for me. I'm so tiny (say as tiny as Dulce Candy) that I need some height all the time..college, shopping, you name it and I have my wedges.
The man himself – Tarun Tahiliani
The cast of Dishkiyaoon. Honestly it took me a lot of time to recognize Harman Baweja..he just looks..umm..different in reality
The show ended on such a beautiful note. The different colours refer to the different cultures and eras the collection was inspired from.
Hall No.18, Pragati Maidan – because nobody shows you any off ramp photos. I personally dig such pictures which give you a semi-tour of the place.
And tadaaa this is yours truly with Shruti on left. I wore light smokey eyes with Ruby Woo (and boy people in delhi metro stare at you shamefully!). But whats up with my pout? I have better pics of outfit and makeup but those were taken outside the venue so I will post them later. That's it for Day 1 of WIFW 14. Look forward to my post on Day 3.