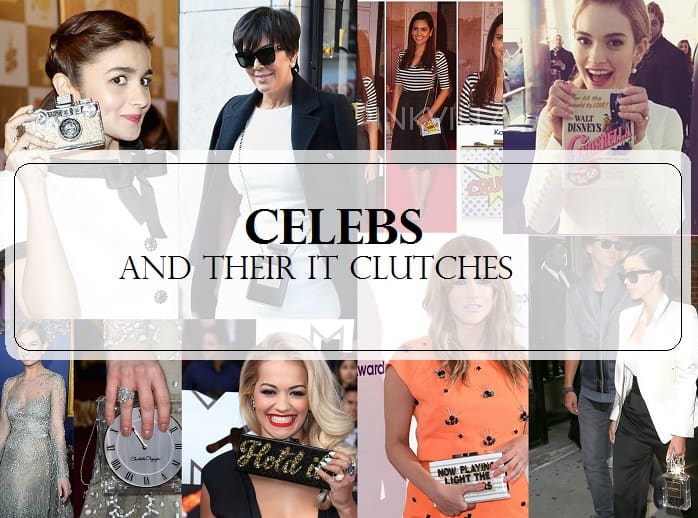 Top 19: Best Clutches to Buy in India Inspired after Celebrities
We all love bags. Gone are the days when clutches used to be just an additional touch to your outfit. Clutches and handbags are quirky, fun and slogan. They dont need to blend in. These clutches are the new trend makers. And our celebrities are sporting them, letting them make a statement as it's not just about what you wearing but what you are carrying too! So next time you spot something out of the box, you know it's worth investing. Have a glance at some of the best clutches to buy in India which our bollywood and hollywood celebrities carried in recent times cause you're in for a treat! If you get hold hold of these clutches online, just buy!
List of Top Clutches to Buy in India inspired by Celebrities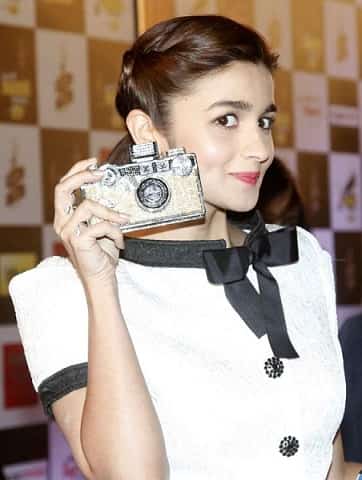 I know she is a selfie freak, like most of us. And her obsession is seen with this camera shaped Judith Leiber clutch. Alia Bhatt carried this fashionable clutch at the Radio Mirchi Awards last year. The silver and bronze glittery clutch looks classy with fine detailing. So get that favorite costume from your closet, prep it up with a fun clutch and… you're clicked!
2. Alia Bhatt: Because I'm happy Yellow Clutch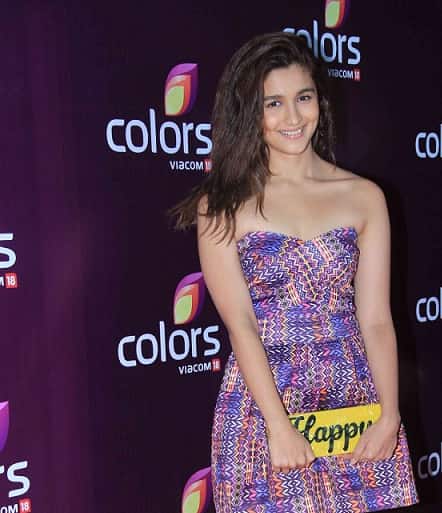 She sure knows how to grab all the attention by flaunting her ooh-I-so-badly-want-that clutches. Alia Bhatt is venting positive vibes with this yellow colored acrylic clutch which has 'happy' printed on it. She looks vibrant in this multicolored short dress and carries the happy tag along. The clutch is from Edie Parker
and she apparently got it as a birthday present from her good friend and director Karan Johar. Alia carried this clutch to the GEC colors party. Funky is the new sexy!
3. Parineeti Chopra: Just Relax Box Clutch at Red Carpet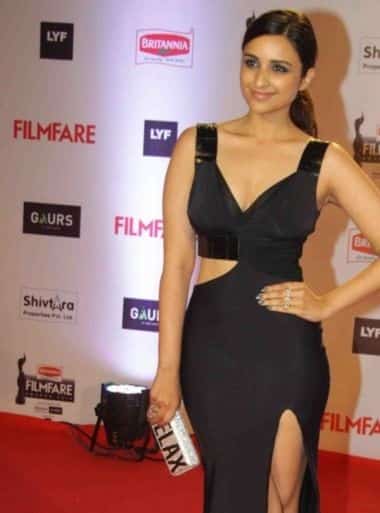 Boy, she's killing it in that thigh high slit black dress yet asking us to 'relax.' Parineeti Chopra was spotted carrying the Judith Leiber clutch at the latest 61st Filmfare Awards where she flaunted her new avatar. A sparkling silver clutch with relax engraved on it, it does seem interesting. Slogan clutches are definitely in!
4. Parineeti Chopra: Jimmy Choo Clutch at Elle Beauty Awards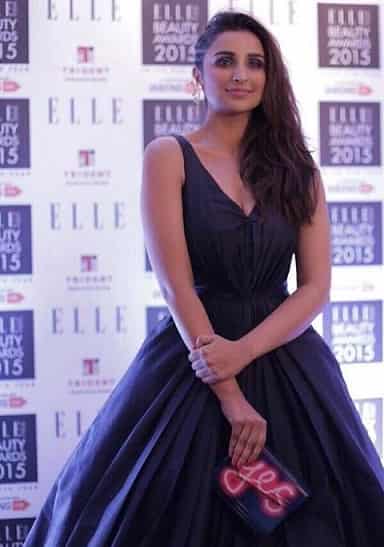 Parineeti Chopra carried a Jimmy Choo clutch purse to the Elle Beauty Awards. A dark blue colored purse with a flashy 'yes' printed in pink that looked like an effect of that of an LED light. The actress even took to twitter to tell how much she loved her clutch. Looks like these actresses are all giving us some positive messages to follow.
5. Kareena Kapoor Khan: Trendy Clutch Bag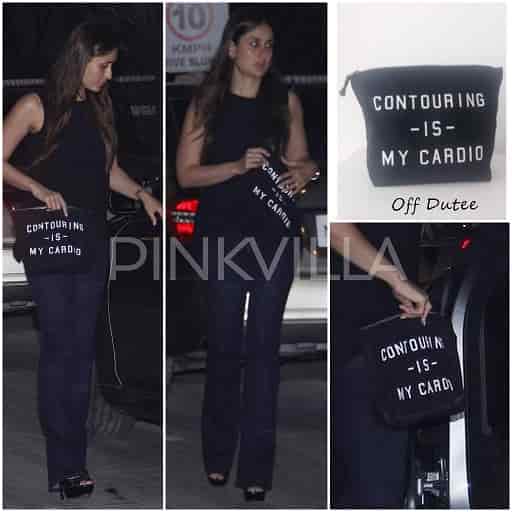 Haha! How many of you can relate to that? Bebo is playing around with her bags. The statement is fun and adds to her vanity. This 'contouring is my cardio' clutch is from Off Dutee and Kareena Kapoor was spotted carrying this clutch in a casual outfit outside her house. The clutch managed to grab enough eyeballs with this quirky statement.
6. Kareena Kapoor Khan: Color block Book Clutch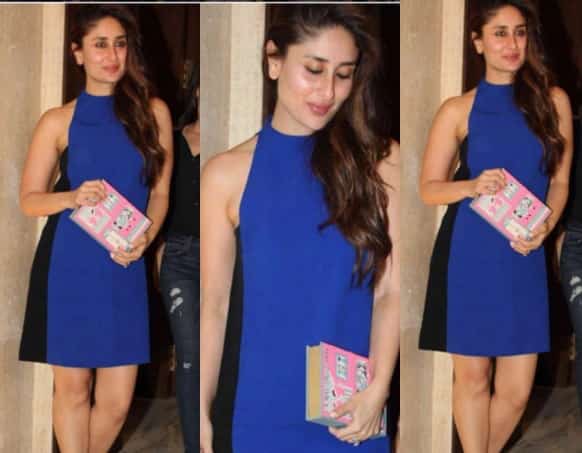 Kareena Kapoor never disappoints with her sense of style. She wore this outfit to her close friend and fashion designer Manish Malhotra's birthday bash. The most striking part was her Olympia Le-Tan book clutch. She decided to go color block with this bright bubblegum pink and blue clutch that had some sweet graphics on it. The clutch looks ah-mazing!
7. Shilpa Shetty: Kissable Pout Clutch Bag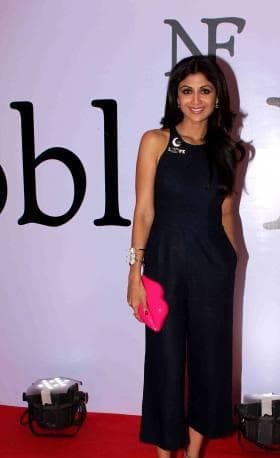 When your purse actually does all the talking. Shilpa Shetty carried a lip kiss clutch from Lulu Guiness while attending the Noble Faith at Myntra event. This lip shaped clutch looks sassy in that hot pink pastel. The actress was also spotted carrying the same pout clutch at a casual dinner outing in Mumbai. It does look lip smackin' good.
8. Esha Gupta: Studded Black Clutch Bag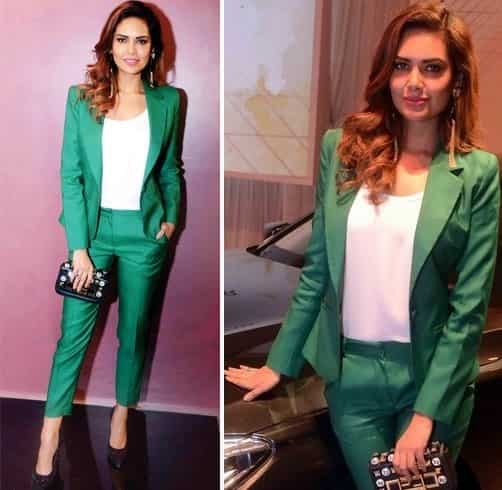 Esha Gupta attended the Indian Art Fair 2016 in Delhi where she raised the glamour quotient with her jacket and trousers and her Fendi clutch. Studded with silver discs the clutch adds zeal to her monochromatic look.
9. Esha Gupta: Koovs Crunch Clutch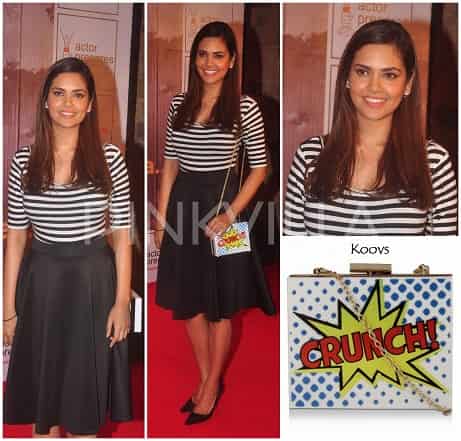 Another catchy phrase, 'crunch!' was printed on Esha's sling or clutch bag. She carried it during the premiere of the play 'Mera Woh Matlab Nahi Tha.' The crunch written in red with a smack on background looks casual yet elegant. The clutch is from Koovs where you can buy it online in India.
10. Bhumi Pednekar: Black Party Clutch Bag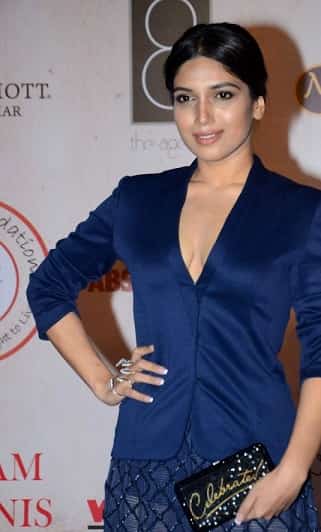 Bhumi Pednekar attended the celebration of designer Vikram Phadnis' 25 years in the fashion industry along with other stars. She carried a Judith Leiber clutch which says 'celebrate' in golden letters. Well she has been winning all the awards this year for the Best Debutante so it is indeed time for her to celebrate!
11. Sonam Kapoor: Cindrella Pink Bow Clutch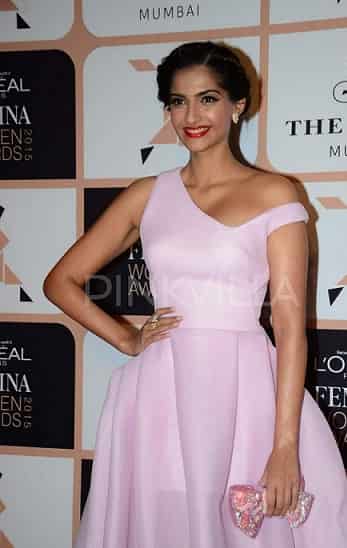 It's so petty! I'm all praise for this cute bow shaped pink minaudière which Sonam adorned at the Femina Women Awards 2015. The pink bow clutch is sparkling with silver and pink glitter. Yet another clutch by Judith Leiber .
12. Sonam Kapoor: Neerja Clutch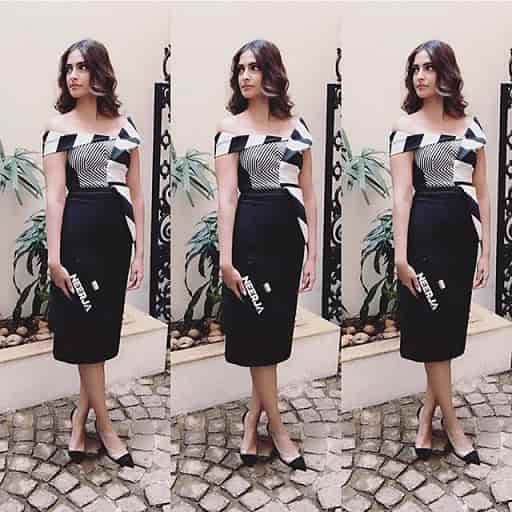 Oh when did this happen? Well she is a fashionista and was busy promoting her film Neerja. So why not combine the two. Sonam went for a customized 'Neerja' clutch with the same font. She carried it during the press conference of her movie. The slender black clutch looks so chic. I also loved her Antonio Berardi monochrome outfit.
13. Huma Qureshi: Fish Clutch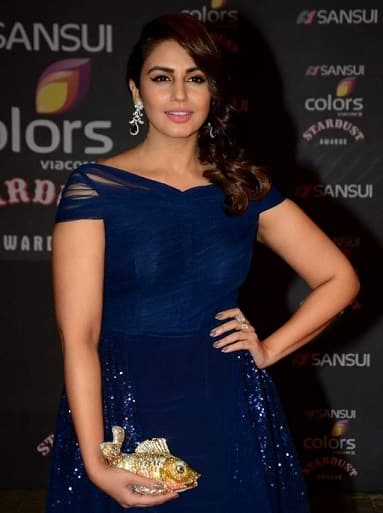 You see how the clutches have taken another level with different shapes and sizes. Huma followed suit and carried a golden fish shaped clutch by Judith Leiber at the Stardust Awards night. The metallic golden and silver beaded clutch garnered a lot of attention.
Many Hollywood celebs were also spotted carrying some exceptional clutches and bags. Don't miss these masterpieces.
Best Clutch Bags Carried by Hollywood Celebrities:
14. Kris Jenner and Kim Kardashian: Chanel Clutch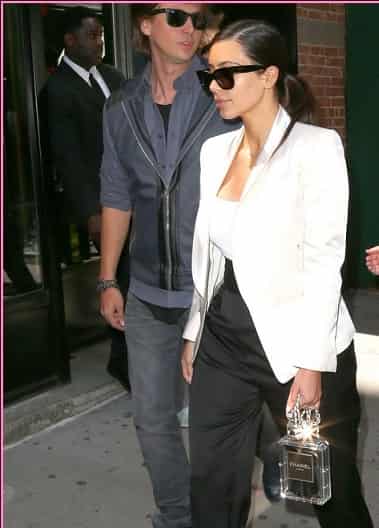 Do you know the secret behind our favourite Kendall and Kylie Jenner's and the Kardashian sisters' beauty? It's their very fashionable mommy Kris Jenner.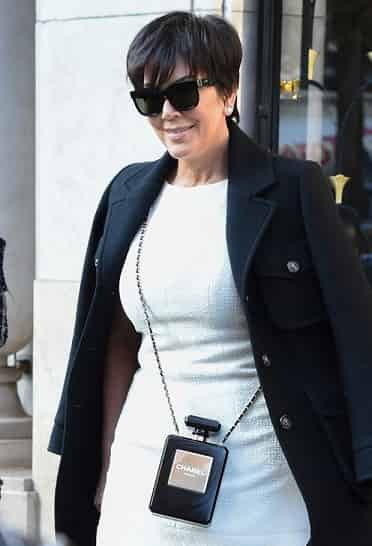 15. She was spotted carrying a Chanel clutch which was in the shape of a perfume bottle at the Paris Fashion Week 2015. Her daughter Kim Kardashian was also spotted carrying a similar chanel no.5 clutch. The mom and her daughters are definitely giving us some fashion goals.
16. Rita Ora: The Best Party Clutch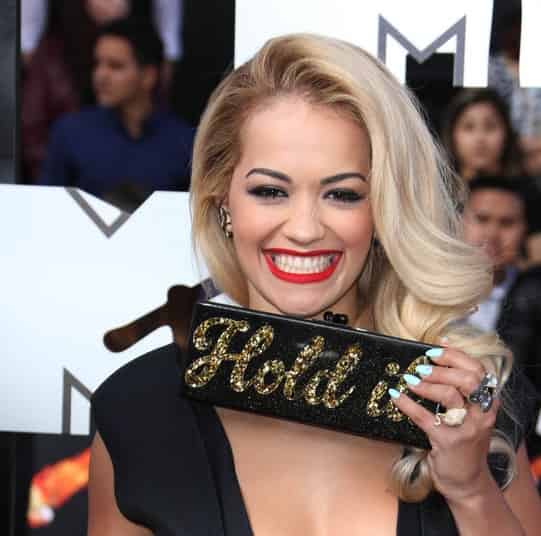 Rita Ora showed off the sign 'Hold it' on her box clutch by Edie Parker. The British singer was seen carrying this clutch at the MTV Movie Awards red carpet. The clutch was in black with golden 'hold it' sparkling on it.
17. Caroline Flack: Best Kate Spade Clutch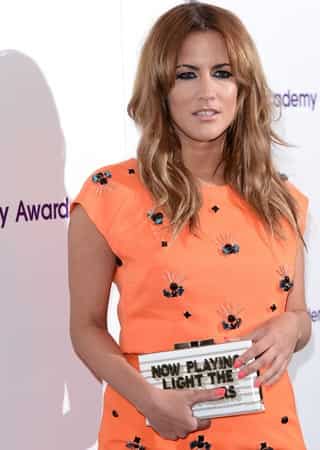 The English TV presenter Caroline Flack accessorized her spring look with this slogan white clutch at the Sony Radio Academy Awards in London. It had 'now playing: light the sparklers' inscribed in black capital letters. The clutch is from Kate Spade New York.
18. Lily James: Cindrella Glass Clock Clutch
The actress who played Cinderella in her movie kept her look princess-like at the premieres. She carried a glass Charlotte Olympia clock clutch at the Hollywood premiere of her movie. Her outfit was also Cinderella themed.
19. Lily James: Book Clutch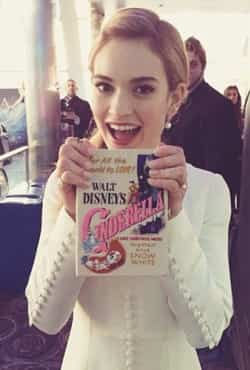 The actress had another interesting clutch for her fairy tale look. She carried this Olympia Le Tan clutch at the Toronto premiere of her movie Cinderella. Olympia Le Tan has a lot of book shaped clutches as can be seen earlier even in Kareena's look. This one had Walt Disney's Cinderella on its cover.
Happy feet and happy hands too! All these clutches are so unique and spice up your look. I'm sure most of these are available to buy online in India and the others can be bought at designer stores and malls in India. What say? Let us know which clutch by these celebs you liked the most in the comments.
Image Source 2, 3, 4, 5, 6, 7, 8, 9, 10, 11, 12, 13, 14, 15, 16, 17, 18, 19, 20
By Contributor: Tanvi Shah
Which is your favourite celebrity clutch? Share your reviews with us.