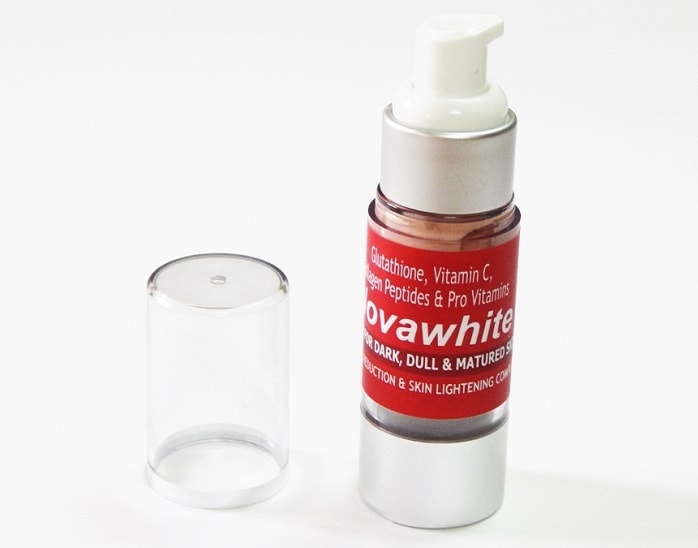 Review, Swatches, Price, Buy Online Bionova Novawhite Cream for Dark, Dull & Matured Skin
It feels like ages since the last time I wrote on VNA and it feels so glad to be back again. I lost a very dear friend of mine in an accident and it was excruciating to suffer the loss. Nevertheless, life has to go on and slowly I am finding myself way back to the normalcy. Coming to the product in question, the Bionova Novawhite Cream which has been directed for the dark, dull & matured skin to improve the skin's texture as well as the outlook. Matured skin needs expert care and indulgence as the skin starts to lose its liveliness and radiance with the passage of time. Having used the skin whitening cream on a matured skin for almost a month now, here's my review on the anti ageing cream. Read on to know more.
Novawhite Claims: Novawhite is an advanced whitening cream formulated by experts, to safely provide maximum results. It has time tested skin lightening ingredients, master antioxidants, premium anti-dullness, anti-wrinkle formula with UV absorbers. This cream takes care as all round factor that causes dark spots and uneven skin tone. Successfully used for the prevention of aging signs, wrinkles, dryness, lack of elasticity and firmness of mature skin.
DIRECTIONS FOR USE
• Apply this cream daily twice or thrice by gently massaging all over face until the cream is completely absorbed.
• Apply this cream continuously for 3-4 months for an aged revitalized skin.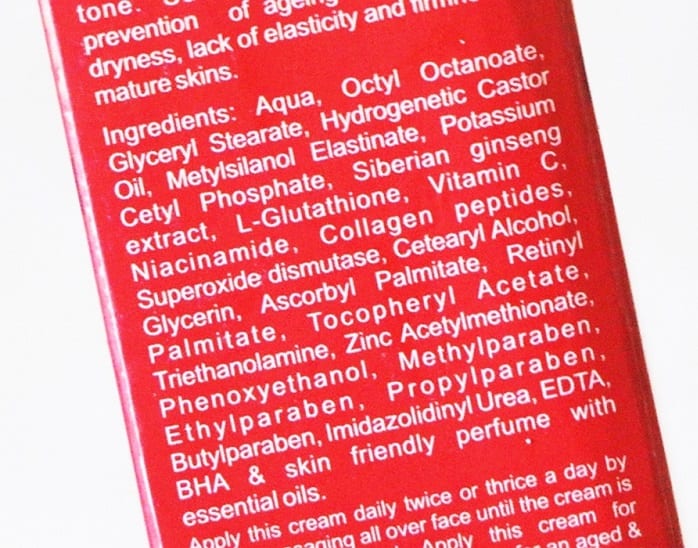 My Review of Novawhite Whitening Cream:
The skin lightening cream comes in a cylindrical packaging with a deep, bright red and white outer look. It has a white pump dispenser attached to it which dishes out the exact amount of the product needed and hence there is no wastage at all. Clearly the packaging is very efficient and light weight as well. I would surely consider to travel with it without any stress because it doesn't have any glass packaging and also it is completely mess free. All in all, I really liked the packaging of novawhite.
The whitening cream has a whipped creamy consistency and the color is peach-pinkish. The fragrance is similar to Lacto Calamine but a better version of it. It simply leaves behind a whiff of trail after you massage it into the skin. The texture of novawhite cream is light weight and you don't need too much product for your face; two pumps are enough for face and neck. To begin with, the formula isn't very comfortable because it takes time to get absorbed into the skin. Having said that, novawhite cream for dull skin will suit oily skin rather dry skin.
This is because, firstly, it has to be massaged very fast as it has a tendency to stick to the fine lines and wrinkles and secondly it leaves behind a patchy trail, if not massaged well. For normal to dry skin, you require to mix the bionova whitening cream with a moisturizer or any regular day cream.
It claims to brighten the skin, hide the wrinkles, reduce pigmentation, revitalize the skin and also protect from the sun. Wrinkles are natural signs of aging and no cream can prevent that but will surely prevent it for some time. To be honest, the reduction of wrinkles wasn't much and I believe you need to use it consistently for around 3-4months to see the actual results.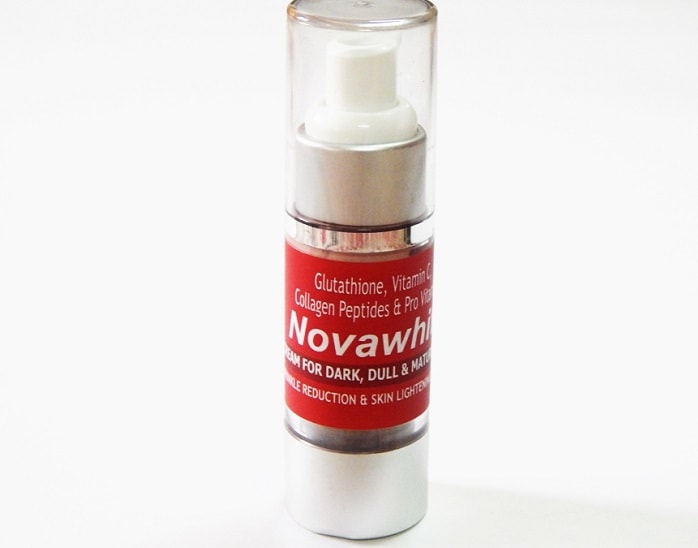 However, my skin surely look brightened up after using the cream for a prolonged period. Bionova novawhite cream has Glutathione which is known to contribute to skin lightening by reducing the melanin of our skin. However, do not expect to be 'fairer' by one to two shades but it will surely take away all the pigmentation and scar marks, giving an evened out complexion. Glutathione also increases the moisture content of the stratum corneum and stimulates the pheomelanin pathway, bringing back the natural glow to the skin.
It also contains the goodness of Vitamin C that promotes formation of collagen, decelerates the formation of wrinkles and smoothens the pores as well, thereby improving the texture of the skin. Niacin also lowers the melanin index as well. The novawhite bionova cream additionally consists of UV filter and hence can be used with a day cream or as a day cream. Further, it also tightens skin with regular usage.
Overall, it is an exceptional anti-aging cream that does contribute to improvement in the texture of the skin, bringing a slight radiance which I am sure you would love. I really wish it was a bit hydrating as mature skin lacks moisture. The price is surely a bit on the higher side but the whitening cream for mature skin is really worth a try.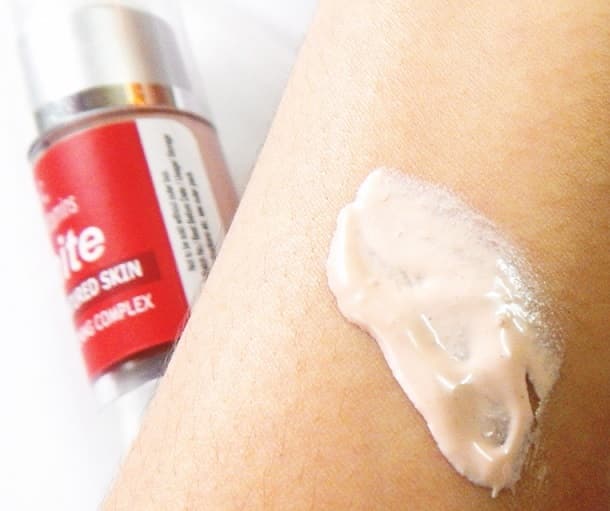 GOOD POINTS of Bionova Novawhite Cream For Dark, Dull, Matured Skin:
Nice, neat and hygienic packaging.
Looks like a tinted moisturizer with a soft smell.

Texture is whipped creamy.
Doesn't clog pores or cause breakout.
It has UV filter for sun protection
Great for oily to combination skin as it has matte finish.
Tightens the skin.
Brings back the radiant glow.
It has the goodness of Glutathione, Vitamin C, Niacin, Collagen Peptides and Siberian Ginseng for aging skin.
Evens out the skin tone by reducing pigmentation and marks.
BAD POINTS of Bionova Novawhite Cream For Dark, Dull, Matured Skin:
A bit pricey.
Will not suit dry skin unless they mix it with a hydrating day cream.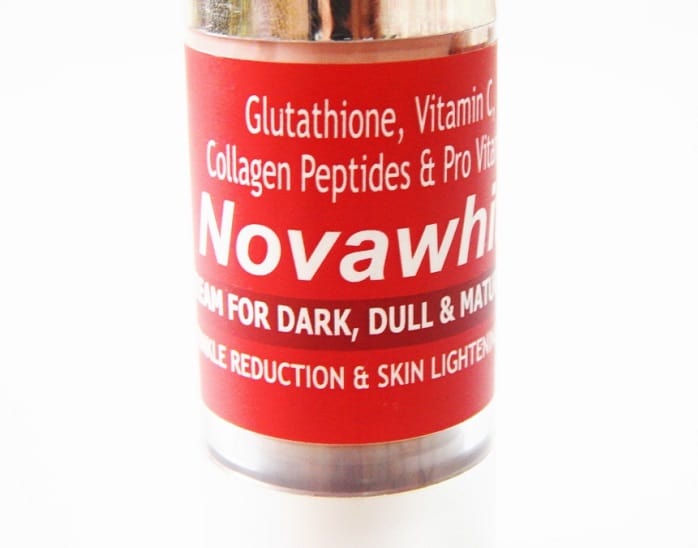 Price in India: Rs.1650 for 30ml
VNA Rating: 4/5
Where to Buy Online in India: amazon.in
RECOMMENDATION: The Bionova Novawhite Cream works as a great anti-aging day cream for oily to combination skin and it does shows effective results by tightening the texture, smoothing out the pores, evening out the complexion and bringing back a luminous glow with constant usage. Having used a ton of anti-ageing creams in the Indian market, I can assure that it surely performs better then its contemporaries.
By Contributor: Sanchita
Have you used Bionova Novawhite Cream? Share your reviews with us.