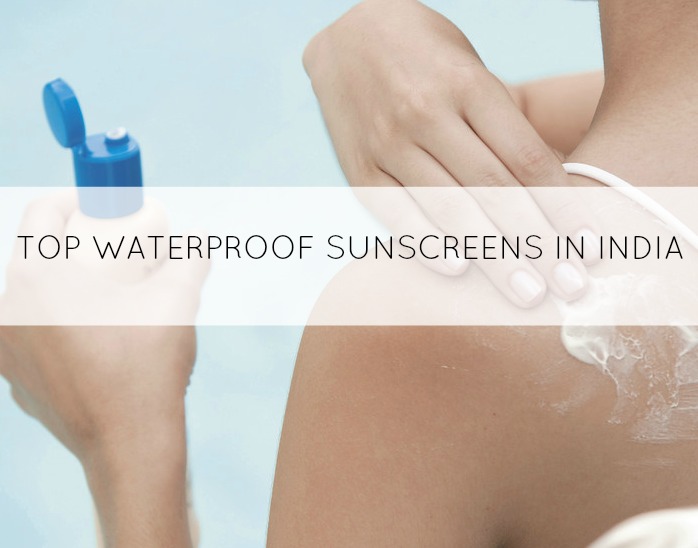 Top 10: Best Waterproof Sunscreens Available in India for Swimming Pool, Monsoons, Oily Face, Reviews
Sunscreen! If there were two things in our youth that our mothers forced on us with abandon, they were hair oils and sunscreen. Today, we can thank our moms for our luscious locks and supple skin. Sunscreen is an important and essential part of daily skincare, and often one that's overlooked. While we're in the midst of the Indian summer, look no further than this post for the list of top waterproof sunscreens in India that will make your trip to the swimming pool or beach a painless and joyful experience. Waterproof sunblocks are also useful in rainy season and for oily skin that sweats a lot. Before we get into it, here are some tips and facts to help you select the correct sunscreen for you.
Sunscreen Tips and Facts Revealed:
Always choose a sunscreen based on skin type: Are you oily-skinned? Maybe find a sunscreen with mattifying properties. Dry skin? Try a spray that has hydrating properties. Sensitive skin? Try a physical sunscreen that has titanium dioxide or zinc oxide.
Always Reapply: Applying your sunscreen once doesn't mean you're done for the day. Most sunscreens last only 2-3 hours, which is why you should always carry a travel size one on you and reapply.
Higher SPF doesn't necessarily mean better: SPF 30 does the trick, although some doctors recommend higher because human beings are very lax about skincare when it comes to sun damage. Your SPF 50 sunscreen may only give you all the benefits of SPF 30 depending on how you use it. SPF 30 covers about 97% of all your sun-involved, skincare needs.

Wear it even if you're not going out on a sunny day: Rain or Shine, the sun's rays are still harmful even if you can't see them. It is recommended to wear sunscreen even in the winter and rainy months. Keep in mind that the sun is strongest from 11am-3pm. A really cool way to check if the sun is intense is to check if your shadow is shorter than you.
One ounce, enough to fit a shot glass: That's how much dermatologists recommend slathering over your body before you frolic into the sun. Of course, you should adjust based on your body type
Your ears and lips suffer more damage than your arms and back: Make sure to cover your ears with sunscreen or a hat and use some lip balm with SPF!
Wear protective clothing: if you don't intend to go swimming or in the water, make sure you're properly covered.
Skin colour has nothing to do sun protection: Contrary to popular belief, people with deeper skin tones aren't blessed with a skin shield against the sun. Lack of melanin doesn't mean you can get burnt easier. Speaking from experience, sunburns hurt and they can happen to anyone, so don't use it as an excuse not to use sunscreen.
List of Top Ten awesome waterproof sunscreens in India:
1. Sebamed Multi Protect Sun Spray – SPF 50 PA+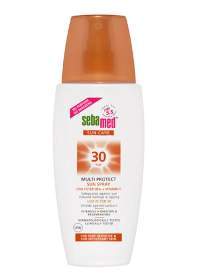 This sun lotion is dermatologically tested, alcohol free, oil free, paraffin and paraben free and designed to be suitable for sensitive skin and children. It has a pH value of 5.5 and anti-ageing properties with vitamin E. It is water and sweat resistant up to 6 hours. It is also non-greasy and does not leave a white residue. It is available in perfumed and non-perfumed variants. Price: 1300 inr for 150ml
2. Neutrogena Ultra Sheer Dry Touch Sunblock – SPF 50 PA+++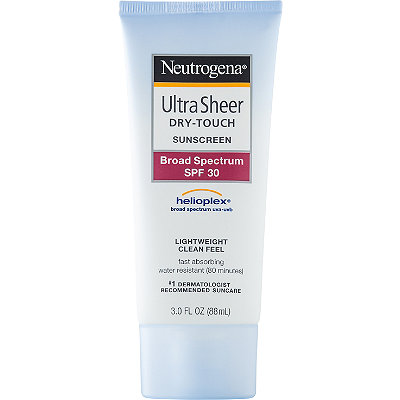 A sunscreen cream designed to be perfect for oily to combination skin tones, though it suits all skin types. It has a non-sticky formula and gets absorbed easily into the skin. This formula is oil-free and is infused with Neutrogena's exclusive helioplex technology. Helioplex is a formulation of broad-spectrum ultraviolet (UVA and UVB) skin protection containing avobenzone and oxybenzone. Avobenzone-containing products have decreasing efficiency after a few hours of sun exposure, but the addition of oxybenzone reduces the amount of degradation that occurs. Price: 499 inr for 88 ml
3. Lotus Herbals Safe Sun Intensive Sunblock Spray – SPF 50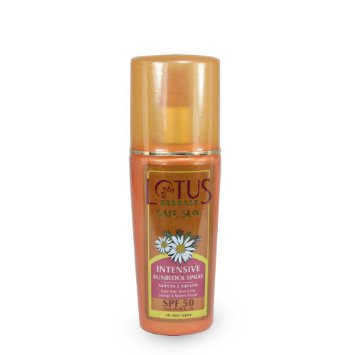 A sunscreen in spray form that moonlights as a moisturizer, this sunscreen harnesses the powers of chamomile to give you soft and supple skin. It's suitable for all skin types. It's a non- greasy formula. It is affordably priced and good packaging. Price: 306 inr for 80 ml
4. Avene Very High Protection Cream – SPF 50 PA+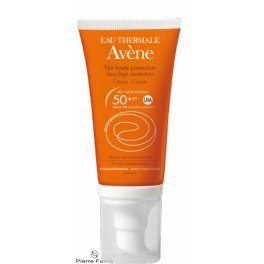 Formulated for hypersensitive skin and is especially good for people with light complexions. It works longer than the average sunscreen and protects the skin from free radicals. It contains thermal spring water, which is hydrating for the skin. It also contains the active ingredient Glyceryl Laurate which helps regulate excess oil and gives the skin a matte finish, leaving no white residue. Price: 1250 inr for 50 ml.
5. Lotus Sweat and Waterproof Sun Block Cream – SPF 30 PA++
This sunscreen prevents excessive tanning and ageing of the skin. The product doesn't have a runny consistency and isn't greasy. It has a pleasant smell. While this is a good sunscreen for rainy days, it's not especially useful for days when you intend to go swimming. It has a shelf life of 3 years. The flip cap tube packaging comes in handy when you travel. Price: 250 inr for 120 gm
6. Banana Boat Sport Performance Sunscreen Lotion SPF 30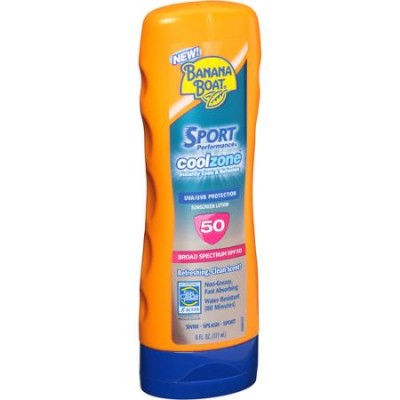 A sunscreen that's perfect for days when you're really active. If you're a sporty, outdoorsy sort of person you might want this baby in your kit as it is sweat-proof and waterproof. The coverage is amazing, although you need to work this product in so that you don't have too much of a sheen. It isn't a matte finish sunscreen so I recommend it for dry skin.  Price: 825 inr for 88ml.
7. Vichy Capital Soleil Mattifying Face Fluid Dry Touch – SPF 50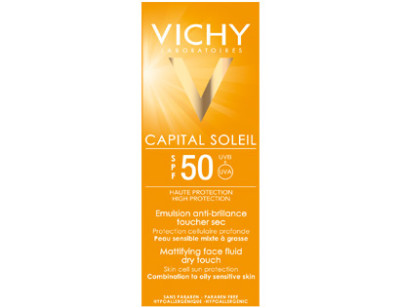 It's shine-free, paraben-free and long-lasting, what more could you want? This product creates a fine film that provides sun protection and hydrates your skin using Vichy Thermal Spa Water, which soothes the skin. It self-blots and leaves a dry matte finish. This product has rave reviews and is the winner of the Cosmopolitan Beauty Awards 2012. Price: 890 inr for 50ml.
8. Kaya Sweat Proof Sunscreen – SPF 30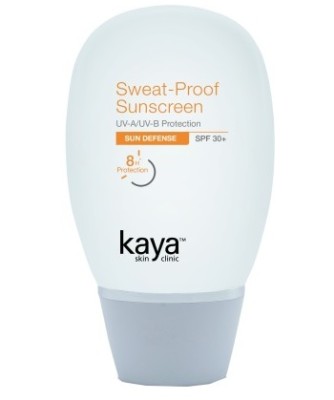 Offering 8 hour broad spectrum protection, this lightweight cream leaves the skin with a smooth after-feel. It is non-comedogenic and leaves no white cast. It also doubles up as a moisturizer and contains Aloe Vera. The packaging is very convenient to travel with and it's available easily. Price: 960 inr for 60 ml.
9. VLCC Hydrophobic Sunblock Lotion – SPF 50 PA+++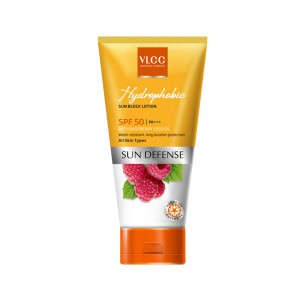 An affordable sunscreen that you can take with you to all your adventures, this sunscreen contains raspberry seed oil and protects against tanning, skin irritation and redness. This is not recommended for people with oily-skin as it can get quite greasy. You also need to reapply every 3-4 hours after exposure. This is a must-buy for swimmers. Price: 300 inr for 100gm.
10. La-Roche Posay Anthelios XL Dry Touch – SPF 50+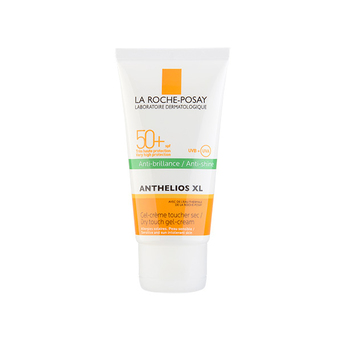 This product is great for people who have sun allergies. It's soothing and contains antioxidants. The dry touch texture refers to the double anti-shine action; immediate absorption and dry finish of the product which leaves no white marks. It's ideal for oily and combination skin. It is very water-resistant, fragrance free, paraben-free and non-comedogenic.  It is an expensive product, but very effective. Price: 1400 inr for 50 ml.
And there you have it, 10 top notch waterproof sunscreens for all your adventures. Be sure to buy one and use generously, your skin will thank you for it someday.
Which is your favourite waterproof sunscreen? Share your reviews with us.