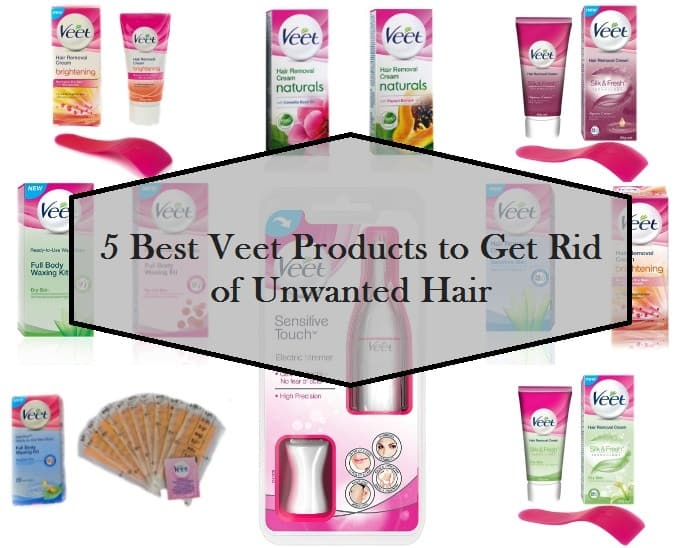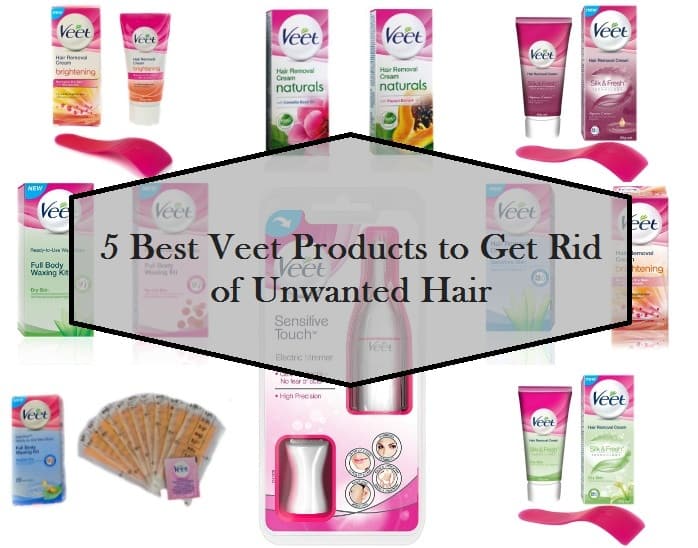 Top 5 Veet Hair Removal Products in India with List, Reviews and Price
Veet is a widely appreciated brand which manufactures various cosmetic depilatory products like hair removal creams, ready-to-use wax strips etc. With innovative strategies and quality products, this brand has been reigning the hair removal sector of India for over 10 years now. This power brand of Reckitt Benckiser was launched in India in 2009. It was the brand Veet that introduced me to the world of hair removal products. In this post, I am going to present a compilation of 5 of the best rated Veet products in India to you. Some of these products are already reviewed in VNA. I am going to link them for you. Do check them out.
When I utter the name Veet; the first thing that comes to my mind is their hair removal cream. Do you know how they work? Veet creams contain one acidic substance called thioglycolic acid and one alkaline chemical called potassium hydroxide. These chemicals, by reacting with each other, generate a strong depilatory agent which loosens up the molecular-bondings in your hair protein namely keratin. This way hair becomes weaker and can be wiped off easily with the spatula provided with the depilatory creams. These kinds of chemicals can be very strong in nature and may cause irritations to delicate skin.
To solve this problem Veet gives us multiple variants of the same product where the strength of the chemical varies as per the need of a particular skin type. That means the dry skin variant will have the strongest depilatory chemical whereas the sensitive skin variant will have the weakest.
List of Best Veet Products Available in India:
1. Veet Hair Removal Cream with Silk & Fresh Technology: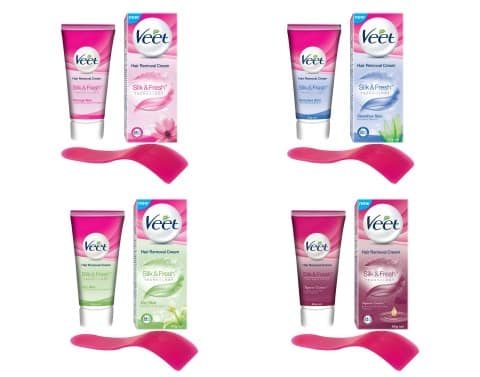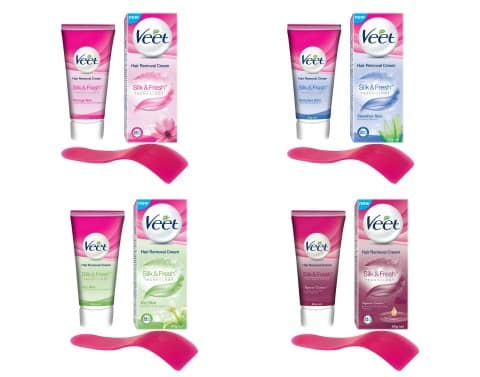 Price: Rs. 110 for 50 gm
This particular range is an improved version of Veet's Hair Removal Cream range. It was launched in April 2016. The previous collection had only three variants; the blue packaging one for sensitive skin, the pink packaging one for normal skin and the green packaging one for dry skin. The Suprem' Essence variant was a separate collection in itself. In the new collection, the formula has been upgraded using Silk & Fresh Technology and the last-mentioned variant is included in the range. This range is supposed to be the bestselling veet hair removal product in India. So, there are four different variants of veet hair-removal creams are there in this Silk & Fresh Technology range. They are,
I. Normal skin: This sweet floral fragrant product has pink outer packaging. This one is rich in the goodness of Lotus Milk and Jasmine.
II. Sensitive skin: This one comes in a blue packaging and has a mild floral smell. It is enriched with Aloe Vera and Vitamin E.
III. Dry skin: This variant has green colored pack. The formula is enhanced with Lily fragrance and Shea Butter present in it provides nourishment.
IV. Suprem'Essence: This one is specially designed for dry skin and has purple colored packaging. It's enriched with a blend of Essential Oils and scented with Velvet Rose that promises smooth and silky soft skin.
All of these Hair Removal Creams come in a box packaging. Each box of veet hair removal cream contains a cream tube, a spatula, and a leaflet. The leaflet has all the important information regarding application procedure in written as well as graphical format. For optimal performance, it is very important to choose the correct variant according to your skin type. Otherwise, the result is just satisfactory; not excellent.
2. Veet Sensitive Touch Electric Trimmer: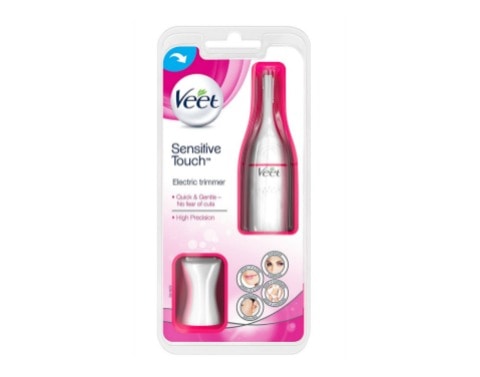 Price: Rs. 2250 for 1 piece
This electric trimmer is a versatile face and body hair trimmer. The trimmer looks very attractive and is quite effective as well. This trimmer comes in a kit form where there is a total of 7 accessories and an extra alkaline battery. There is a two sided comb for eyebrow combing and a two-sided precision head for trimming small hair. These two are basically eyebrow shaping and trimming accessories. There are two other head attachments too. One is a 20 mm trimming/shaping head and the other is a comb attachment which together with the trimmer attachment ensures gentle shaving.
Although the heads are water resistant they give you a soft synthetic fiber cleansing brush for dry-cleaning. A small and extremely travel-friendly fabric pouch is given with this veet sensitive touch trimmer set that can store the trimmer along with all the attachments. Overall veet sensitive touch is a good multipurpose hair removal kit that can replace your painful threading and bikini line waxing sessions and save a few extra bucks.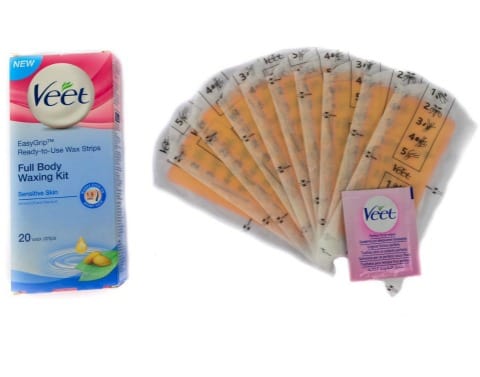 Price: Rs. 170 for 20 Strips
This revolutionary ready-to-use waxing kit has completely transformed my messy home-waxing experiences into an easy, quick and fuss-free process. With this veet waxing kit, you will be able to pull out even 1.5 mm short hair. You will be able to remain visibly hair-free for about 4 weeks after one application. This is the best veet hair removal product if you love long terms solutions for body hair removal.
In this kit, there are 10 pairs of wax-covered strips. The 20 strips are enough for one full body wax session as one strip can be reused for 4-5 times. Instead of following common procedures of cold waxing we need to rub a pair of strips in between both the palms until it warms up a bit. Then the pair can be easily ripped open. In this kit, some sachets of post waxing wipes are also included. These oil-saturated wipes help to get rid of any remainder of wax after application. Like the hair removal cream by veet, these cold wax strips also comes in 3 variants for 3 different types of skin. The variants are,
I. Sensitive skin: This blue packaged variant is enriched with almond oil and Vitamin E.
II. Normal skin: This kit is pink colored and has the goodness of Shea Butter and Berries.
III. Dry skin: This green packaged kit is augmented with Aloe Vera and Lotus Flower fragrance.
4. Veet Hair Removal Cream – Brightening: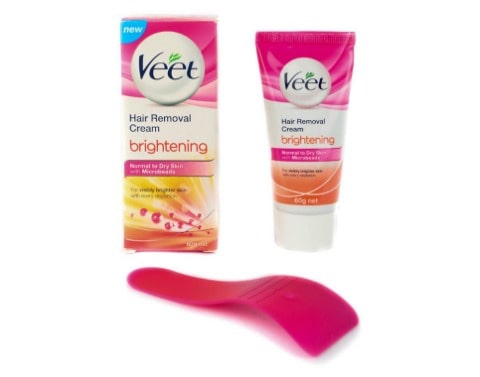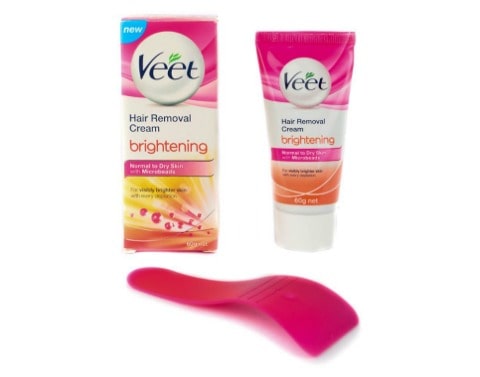 Price: Rs. 110 for 60 gm
This Brightening range from Veet is packaging wise very similar to the Silk & Fresh Technology range but this one promises to provide brightness to your dull skin and not darken it as oppose to the popular myth that hair removal creams darken your skin. The packaging mentions a Skin-o-meter that depicts how the skin will look post-application. This collection introduces Microbeads into the hair removal scenario to provide smoothness into the skin. This is available in two variants; one is for sensitive skin
and the other is for
normal-to-dry skin
. The best veet hair removal product available in Indian market if you have sensitive skin.
5. Veet Hair Removal Cream – Naturals: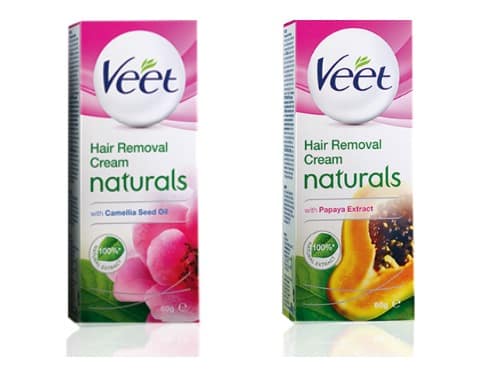 Price: Rs. 110 for 60 gm
The company says that this range of Veet is designed with 'a touch of nature'. Along with normal depilation, it commits to reveal bright and glowing skin lying underneath skin's outer dull and dead layer within 3-6 minutes. This dermatologist tested formula contains 100% natural extracts. Like most other Veet collections this range also has multiple variants. They are,
I. With Papaya Extracts: This one is for normal-to-dry skin. The main constituent of this hair removal cream, Papaya, is rich in antioxidants and nutritive compounds such as Carotenes, Vitamin C, Flavonoids, Vitamin B, Folate, Papain etc. They help to clear up the complexion and moisturize the skin.
II. With Camellia Seed Oil: This variant is for sensitive skin. Camellia seed oil extract has proteins, Vitamin E, and fatty acids, which hydrates the skin and smooths out rough and dry skin.
These were the best and most popular hair removal products from Veet. Since the arrival, this brand had won many hearts including mine by providing inexpensive yet quality hair removal products. Veet has many other exciting products like In-shower hair removal creams and body epilators which are not yet launched in India. I hope they would be made available in our country soon.
Read More:
Which is your favourite veet product? Share your reviews with us.