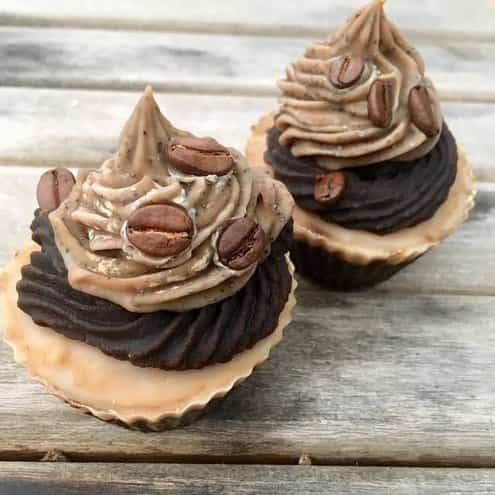 Top 10 Organic Handmade Soaps Available In India with Reviews and Prices
A staple in your bathroom and of course, bathing rituals- the good old soap cannot be done away with. To those who still smear and rinse chemical laden soaps on themselves out of misery or lack of options or due to insouciance, your quest for natural, organic handmade soaps ends right here right now on VNA. On that note, grab a notepad and jot down which all soap bars you need to add to your online shopping carts. These natural soaps are mild, moisturizing, created using essential oils and other toxin free natural ingredients.
No matter how fond you would be of your decadent body wash, how addicted you may to that exorbitant shower cream (which envelops you in its soothing creamy froth, awakening the hedonist in you) or how often you may be singing paeans in the honour of that aromatic body wrap which tugs you towards itself like a sultry temptress, that shelf you see in the bathroom where your soap is tucked away is reserved solely for it.
Times have changed. Why? While there were mainly 4-5 renowned soap brands in India a decade or so ago, we have different brands and their wonderful handmade soaps today. Not only that with increasing consumer awareness, today we have unprecedented information on what all nasty products we should strike off with a vengeance from our shopping list… And that includes our soaps too!
List of Must Have Natural Soaps Brands in India
1. SKINSENSE NATURAL LUXURY SOAPS
With a knack for crafting chemical-free safe skin recipes since inception, Rashmi was bolstered by her near and dear ones to launch her own line of toxin-free skin and body products. As she came back from Dubai with her family, the precipitous vagaries of weather unleashed a barrage of skin problems for her kin. Enter Rashmi with her trove of Ayurvedic remedies, which worked wonders for everyone.
Emboldened by the reception, Skinsense-Natural Luxury was born! Quite obviously, Rashmi Prithviraj is the face of SkinSense-Natural Luxury. All her body care products incorporate Ayurvedic principles and are aptly deemed 'skin food' by her customers. Till date, not even a single customer of hers has had a remotely underwhelming experience with any of her products.
Curated for a staggering 8 weeks with minimal lye, SkinSense-Natural Luxury's Nagarmotha soap
is in a league of its own. With oodles of glycerin added, it takes care of not only hydration but also addressees the needs of those with sensitive skin. A best-selling soap from her brand, give it a shot without a doubt. Their bath soaps are ideal for men and women both. Undoubtdely one of the best natural and organic bath soaps in Indian market.
PRICE- 300/- INR
AVAILABILITY- Facebook/email ID is skinsensenatural@gmail.com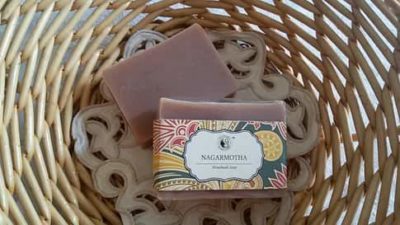 2. QUINTA ESSENTIA ORGANICS (QEO) SOAPS
First things first. I got a foodgasm on seeing that lip-smacking chocolate cupcake, the swirls of which compel me to roll my tongue in a similar fashion. Now, let me be a sadist and pop a bubble- THAT IS A SOAP. Curse Arti and Atika- the owners of QEO if you want to but the way the two churn out soaps won't just give your skin a whale of its time but also your eyes. Your tongue, unfortunately cannot savour it like your skin.
With nourishing oil blends, essential oils and cocoa butters added to their wonderful handmade soaps that are curated for at least a month, slathering them on your skin will rouse the inherent sybarite in you in addition to rendering it squeaky-clean. Give a shot to any of their natural cupcake soaps. They are all worth it.
PRICE- 500/- INR for the big-sized cupcake soaps. 100/- INR for the smaller ones.
AVAILABILITY- Facebook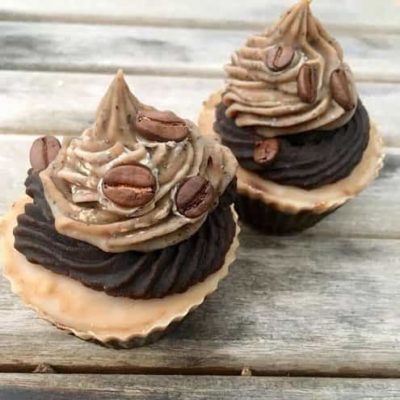 3. LA FLORA ORGANICS SOAP BARS
Employing trained rural women from India to handcraft organic soaps, replete with virgin oils and food grade colours, Mrs. Sithara Gerdes is at the helm of affairs of La Flora Organics. The USP of their creamy soaps is that they add some certified organic ingredients to them in addition to curing them for a minimum of 6 weeks.
Merely 5-6 natural ingredients are what you'd find in their ingredients' list but that should let the skeptic in you smirk for the list is complete. Nothing more than what has been mentioned is added. Give a shot to La Flora Organics Country Rose soap which is 80% organic and 20% natural. It is akin to daubing roses on oneself.
PRICE-180/- INR
AVAILBILITY- Amazon, Facebook, www.firstcry.com, www.organicshop.in , www.lafloraorganic.com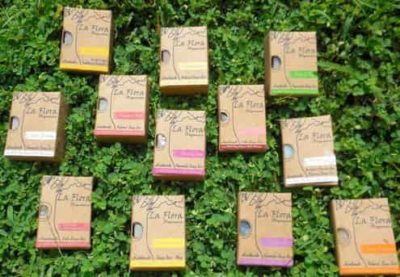 4. CAPE OF GOOD SOAP-
Let us firstly crown them for coining such a unique name- Cape of Good Soap, a Mumbai-based soap venture helmed by Manisha is a treat for all soap lovers. Handcrafted soaps in a multitude of appealing shapes, sizes and designs awaken the child in you. Each soap bar is carefully handcrafted with ingredients ranging from natural farm produce to herbs handpicked from across the world. They make one of the best handmade bath soaps ever.
Enriched with organic and pure ingredients, you'd be thrilled with the way COGS soaps transform your skin. Give a shot to COGS Breakfast Your Skin soap for if you and your skin wish to wake up in the morning with oodles of energy, this is your go-to soap.
PRICE- 220/- INR
AVAILABILITY- Facebook/call Manisha (owner) 090049 55557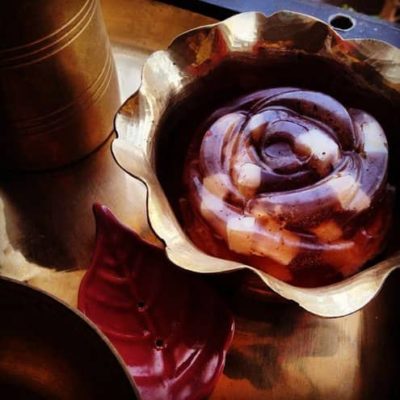 5. IDA NATURALS COFFEE SCRUB SOAP
Ace craftswoman Priya Iyer from Bangaluru is the person you need to touch base with if you wish to pamper your skin with all-natural bath and body goodies and are totally bewildered as to whom to consult with. Not only does she customize skin treats for you but also busts skin care doubts (even the most ludicrous ones!) with a smile. For those interested in being soap makers themselves, Priya takes soap making classes in Bangaluru. Head to her straightaway. She makes excellent organic soaps.
Ida Naturals' Coffee scrub bubbles soap is your go-to soap bar if you wish to exfoliate your skin mildly. It does what it claims to- moisturizes as well as scrubs (not scratch). Composed of ground coffee, brewed coffee and virgin oils like- olive, coconut, palm and sunflower, this soap exudes a mouth-watering dessert-like aroma that lulls into believing that are you actually dousing yourself in coffee at times!
PRICE- 240/- INR
AVAILABILITY- Facebook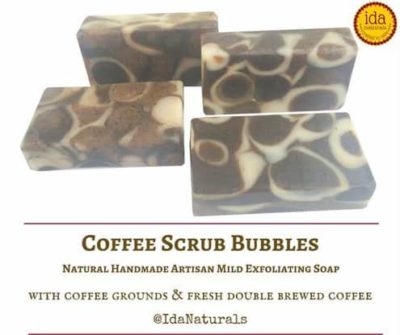 6. SUGANDA OLIVE CASTILE SOAP
Minimalism is what Suganda stands for and is evident through all their handcrafted goodies. Based out of Hyderabad, Bindu Amrutham's lavish range of skin care products spanning a luxuriant body moisturiser, lip balm, anti-acne mask and handmade soaps is a treat for all those desirous of pampering their skin the natural way. 'Go Au Naturel' is her motto and going by how efficacious her bath products are, no one's impugning.
Give a shot to Suganda Olive Castile Soap if you are beset with parched and dry skin that is crying for deep and long-lasting moisturisation. It quenches the thirst for intense hydration exceedingly well and is free from all the chemical ingredients that don't deserve to go on your skin.
PRICE-800/- INR
AVAILABILITY- Facebook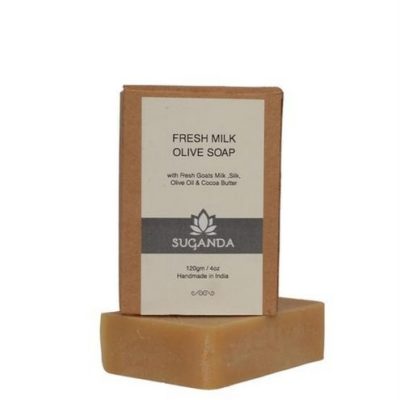 7. AROMA ESSENTIALS SOAPS
Mark my words- There is no turning back if you zero in on Aroma Essentials once. Ace artisan Madhurima Ramakrishna is driven by the desire to wipe out all chemical-laden bath products off your shelf. Insistent on catering to the beauty needs of people of all economic strata, she prices her products aptly so that anyone who would like to try them out can without hesitation. An experienced craftsperson, her products are all-natural with an uplifting aroma.
Coming to her soaps which will spoil you for choice, one should give a shot to Aroma Essentials Charcoal soap for its unparalleled cleansing ability. It detoxifies skin immensely well, leaving it squeaky clean and your mind as fresh as a daisy.
PRICE- 200/- INR
AVAILABILITY- Facebook, Instagram and WhatsApp Madhurima (7760988272)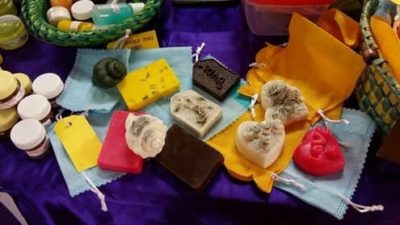 8. AMARA ORGANIX SOAP BARS
A frequent name at flea markets and a favourite too at that- Amara Organix, spearheaded by Mrs. Mehar Farhana boasts of decadent cold pressed soaps, deeply nourishing body butters, all-natural lip balms, sulphate free shampoos, mild conditioners and a lot more. Available in a wide assortment, their handmade soaps, crafted using the cold-pressed method are replete with vegetable glycerin which spells cheer for all those looking to hydrate their skin while having a bath.
A special mention goes to Amara Organix Chamomile & Moroccan Argan oil soap which gives you the feeling of having a splash in a tub of chamomile flowers. Croon to some soothing tunes as you get transported to a different world! One of my favourite handmade soaps in India.
PRICE- 240/- INR
AVAILABILITY- Facebook, Instagram, WhatsApp Mehar (+91 8056592923)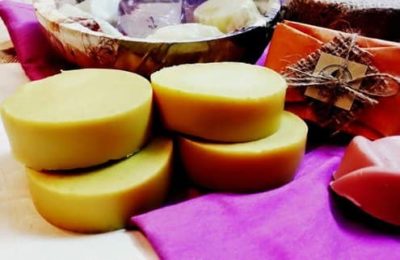 9. ORGANICMILL HANDMADE SOAPS
Cold-pressed soaps that are devoid of chemical fragrance, preservatives, chemical ingredients like- sulphates, petrochemicals, lanolin, linalool, alcohol and artificial colouring – Organicmill may be a new kid on the block but is raring to go. Handmade by Dishi Kumar, their natural organic soaps are simple, no-nonsense and as pristine as you can envisage.
Give a shot to Organicmill Mango soap for it follows the minimalist approach as is evident through its composition. Glycerin to hydrate, essential oils to elicit a frolicsome ride to your olfactory senses, lye to bind it (which is nullified as the soap is cured for weeks) and vitamin E oil to nurture your skin are all what make it to the list of ingredients of this little wonder.
PRICE- 100/- INR
AVAILABILITY- Facebook, Instagram, WhatsApp Dishi (+91 9971648091)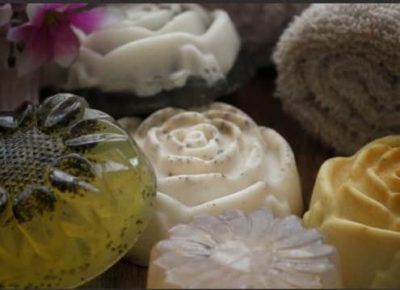 10. ANCIENT AYURVEDA NATURAL SOAPS
Free from chemical of any type, Ancient Ayurveda's soaps are the best bet if you are at the sea as to what to add to your cart. With each soap bar, you get a leaflet that informs one what all chemicals it doesn't come with and what should write off from your purchases too. Vegan and all-natural, their handmade soaps are free from sodium hydroxide, alcohol, propylene glycol, melt and pour bases, steric acid, perfume, chalk powder, palm oil, animal fat, synthetic fillers, EDTA, triclosan, perfume, paraben, talc, sodium silicate and any form of inorganic synthetics.
In my opinion, one should give a shot to Ancient Ayurveda Tailpatra woodash soap. With a very subtle aroma, creamy texture and no chemicals formulation, this bath soap ranks under the bestsellers of this brand.
PRICE- 238/- INR
AVAILABILITY- Amazon India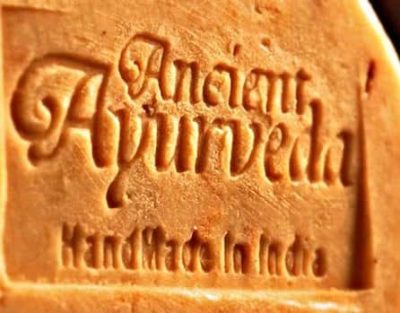 11. STAY WILD CHILD SOAPS:
With a name that is the exemplar of being free, untameable and unabashedly oneself, Stay wild Child makes a foray on our list. Their line of all-natural products run from body butters to lip balms (which are also customizable), from face packs and masks to toners and a lot more to get you hooked to them. They boast of handmade soaps that are 100% vegetarian, cruelty-free and handcrafted with lots of affection. A special mention goes out to Stay Wild Child Oatmeal soap. An all-natural exfoliator, this creamy oatmeal soap leaves one's skin tangibly smooth and soft in addition to mildly scrubbing your skin. It makes for an ideal purchase by those whose skin type is dry for oatmeal is renowned for working wonders on those with the same skin type.
PRICE-75/- INR
AVAILABILITY- Facebook, www.staywildchild.in and WhatsApp (+91 9899190649)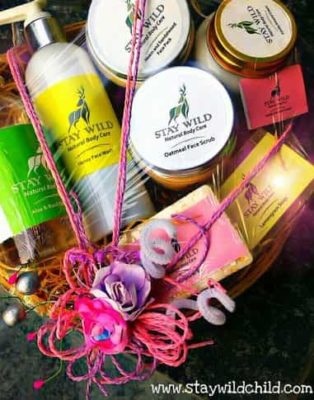 Which is your favoutite handmade soap? Share your reviews with us.