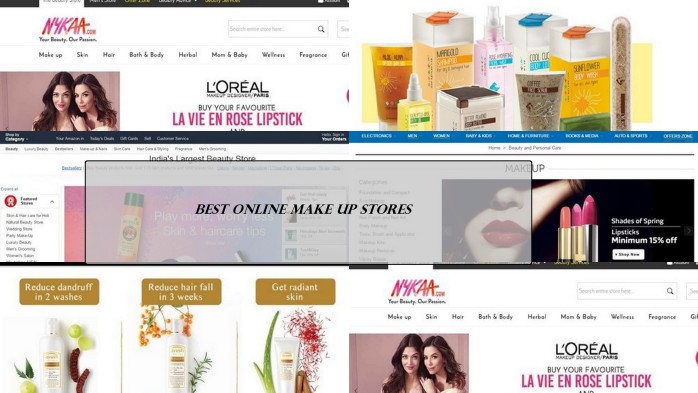 Top 5 Online Shopping Sites To Buy Beauty Products In India
If you ask someone do you prefer buying makeup and beauty products online or in a store, most would say "Online". Buying online has some pros and cons. Pros being, a) you don't have to find a parking spot (yes.. You know what I mean, if you own a vehicle), b) you get great discounts, trust me make up is all about experimenting and if you get make up on discount it is definitely a good thing and c) this is my favorite part, you can see many stuff and not buy it (you cannot do this at showrooms you know, sometimes SA's get very angry). With all these good things also finding your foundation shade is very difficult while shopping online.
Not just foundation shade, even lipsticks and eye shadow shades don't look the same in pictures and in real life. In situations like this I prefer beauty shopping in a physical store. It's all about balance girls. Also some of the best online makeup websites in India have very bad customer service. Very confusing right, don't worry this post will definitely help you find out some great shopping websites to fill your Vanity case.
List of Best Online Makeup Stores in India for Shopping
:
1. Purplle – India's #1 Beauty Shop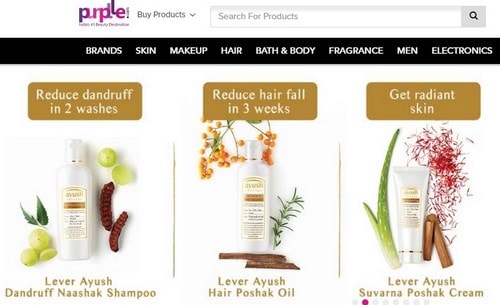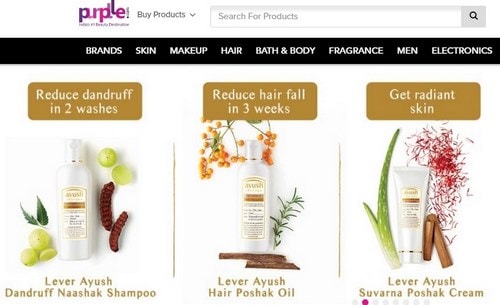 Hand's down the best customer service amongst the online beauty websites. Purplle offers great discounts on major brands like L'oreal, Maybelline, Lakme, Lotus etc. This website is little known in India because when this website was first started it had very bad service. Overtime purplle has grown into a very much trusted website. The founders of Purplle.com are IIT-Delhi alumnus Manish Taneja and IIM-Ahmadabad graduate Rahul Dash. Purplle.com has a team of highly dedicated IIT/IIM graduates. You can even book a salon or spa through this website and you get decent discounts. As mentioned earlier customer service is amazing, you will get prompt response and action for your emails.
The best thing about this website is the Packaging, when you open your shipment you will see that each product is bubble wrapped properly and also the cap of each and every product is wrapped with scotch tape as much as possible so that the product doesn't open in transit. Only downside of Purplle.com is that not many brands are updated frequently, even you may not find some line of products in a particular brand which is disappointing.
Website: http://purplle.com
Payment Method: COD, Debit and Credit card, net banking, E-Gift Voucher.
2. Nykaa – Buy Makeup Online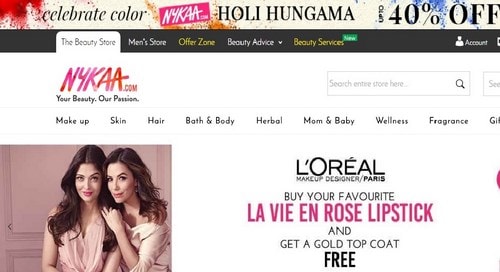 Nykaa.com has a very good collection of beauty products; you get almost all brands including some imported brands. Nykaa's categories are amazing, for e.g. you find separate categories for face concealer and under eye concealer category, you can also find an eye primer category. You can also shop concern in terms of skin care if you are not aware of what product to use. Nykaa has a sale for every occasion like Holi, Independence Day, Friendship day and what not. If you have a Holiday coming up (I don't mean weekend, Ladies. I think they have a sale on weekends too) you can check out Nykaa.com, I am sure you will find a sale.
Founded in 2012 by Falguni Nayar, this website sells over 300 brands and 20,000 products and serves more than 900 cities across India. Nykaa also gets updated with all the new launches in the market. This online beauty and personal care website even has store at Delhi airport, speaking of which has anyone visited this store? Nykaa has gone one step forward and launched their own line of cosmetics and personal care. For now Nykaa has launched their own nail polish collection (Nudes, Pastels, Shimmers etc.) which is indeed a big hit, recently they have also launched their bath and body collection. We are looking forward to many more products from Nykaa. In all these business expansions and promotions Nykaa has totally forgot about their existing customers.
You can enjoy ordering from this website as long as you do not have any issues. When you have an issues, that's when the problem starts. They mostly don't respond their emails, you have to call and tell your concern and when you call them they will ask you screen shots, I mean why should I send screen shots when you guys have track for everything. Once I mailed Nykaa and I waited for two days after which I called them, the executive said that their mail box might be full. Getting new customers is a different thing but you need to also make sure your existing customers don't leave (the world is so competitive to be honest). Nykaa also has a gift card option and the latest addition to their services is to Book a salon or spa.
Website: http://www.nykaa.com
Payment Method: COD, Debit and Credit card, net banking, Pay U Wallet
3. Amazon India – India's largest Online store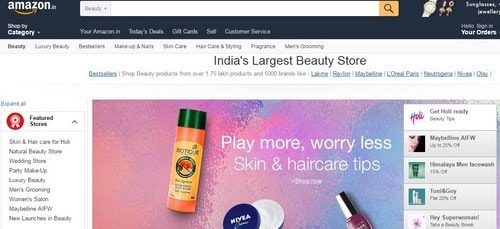 As the name suggests they are indeed a large online store. They sell make up, skin care, books, clothing and what not. When Amazon was started, the website primarily sold books and CD's (as we all know) and expanded into selling a variety of new stuff. When it comes to beauty and skin care Amazon sells a large line of brands starting from little known brands to major brands. Think of a brand and put it in Amazon.in search bar you will find it. They also sell imported brands like Kat Von D, The Balm cosmetics, Lancôme, Ofra which you may not find easily in shops in India.
You also get great discounts on Amazon.in. You also get all new launches easily on Amazon.in. Though this is not a website which is specifically meant for beauty, you get very good quality, authentic products in this category. Sellers in Amazon.in are verified and you even get feedback about sellers which is a very good thing. Being a giant in the e-commerce industry, Amazon.in never fails in customer service. The customer care executives are really kind. Packaging of shipment is also really good, the products are always bubble wrapped and the box is stuffed properly so that the product doesn't move.
One thing I don't understand with Amazon.in is that the cartons are sometimes too big. Once I ordered a lipstick from colorbar, the lipstick came in a box where 100 colorbar lipsticks can fit in (nicely packed though). Overall Amazon.in is an authentic website to shop beauty products.
Website: http://www.amazon.in
Payment Method: COD, Debit card and Credit card, net banking, Gift card
4. Flipkart.com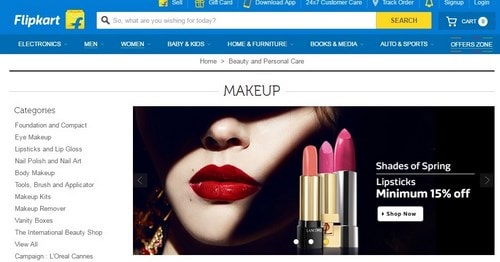 It was founded by Sachin and Binny Bansal in 2007. Flipkart has a wide range of products and their beauty collection is commendable. Flipkart's beauty collection includes all major brands like Maybelline,Faces,Lakme,L'oreal also Internationals brands (which are not available in India) like Kat Von D, Anastasia Beverly hills, colorpop, kevyn aucoin and much more. Flipkart website has gone through a series of criticism but still stood up and offers good service. You get great deals on Flipkart.
Flipkart's mobile app is pretty decent. I have mixed feelings about the sellers in Flipkart. Downside of this website is that sometimes sellers do bad packaging that you get a powder instead of pressed product in the pan. I ordered a Sivanna shimmer brick months back, the product came like a powder (this happens rarely with Flipkart), after this incident I stopped ordering pressed products from this website.
Website: http://www.flipkart.com
Payment Method: Debit/Credit card, Internet Banking, Gift Card, Cash on Delivery and Wallet
5. Fab bag – The Best of beauty in a monthly bag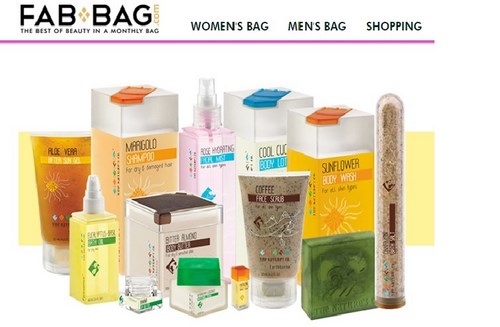 How can we forget our favourite beauty shop The Fab bag. Fabbag.com is not only a beauty subscription service but also a great beauty products store. Most of the international brands enter India through Fabbag. Fabbag has variety of makeup, skin care, hair care products and many more. Fabbag provides you decent offers during their clearance (don't worry, when you register to them you will get updates on sale). I got introduced to some great brands by browsing through fabbag.
Website: http://www.fabbag.com
Payment Method: COD, Debit/Credit cards, net banking, PayU, PayTm
Buying online saves you a lot of money and time. Now you have the list of best online stores for shopping for makeup and beauty products, let's go shopping laddies.
Which is your favourite online makeup store? Share your reviews with us.