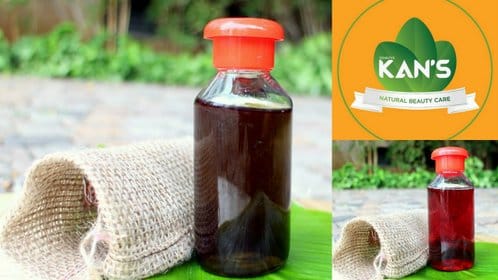 Top 8 Ayurvedic, Natural, Herbal Hair Oils in India with Reviews and Prices
A startling list of chemical ingredients go into the making of a typical hair oil that one may not be aware of. Without otiose fear-mongering, if you do not believe, go and check out what composes your go-to anti dandruff, herbal, natural, ayurvedic, hair growth hair oil that just doesn't work no matter how dedicatedly you slather it on your locks. But do not repine for there are some gems in India too which even though may demand your dedicated usage as well as patience (in truckloads), yet will leave you smitten with healthy shiny hair. Yes I am listing down all these best natural, ayurvedic and herbal hair oil brands available in India.
The icing on the cake is that all these brands retail via Amazon India. So, it is cock-sure to have one delivered to your doorstep at the click of a button. Cushy, isn't it? There is no dearth of chemicals in skin, hair and body care products these days so much so that the humble and supposedly innocuous hair oil too comes packed with the same. There is no reason to use such brands when we have some good natural oils made in India.
List of Bestselling Ayurvedic Herbal Hair Oil Brands in India
1. Tarika Ayurlabs Ayurvedic Hair Vitaliser-
What do you when you cross paths with an Ayurvedic and 100% herbal formula that aims to promote hair growth, arrest your receding hair line which are even thinning? Impugn! That's normal. But what if that hair oil comes from Tarika Ayurlabs? Renowned for crafting no-nasty; chemical, preservative, artificial fragrance, colorants and phthalates-free products (that's a rule applicable across all product categories), the brand is based out of Pondicherry and if they are coming up with a herbal hair oil, that they call an Ayurvedic Hair Vitaliser, better sit up and take notice. The best ayurvedic hair oil available in the Indian market.
Why? Replete with the goodness of amla, harad, bahera, madhu-yashti, anantmool, jatamansi, manjistha, wild turmeric, bhringaraj, cow milk and sesame oil – each natural ingredient works wonders to infuse life in your locks and stimulate hair growth. Their 100% natural, cruelty-free and vegetarian oil formula is the ideal weapon you should tuck away in your army of hair care products if you wish to bid adieu to hair loss and thinning hair. Of course, it involves regular and dedicated application. So, do not build castles in the air with mere 3-4 uses. Devote 2 months at least. It will spellbind you for sure.
Price- 280/- INR
Availability- Facebook, Amazon, www.ayurlabsindia.in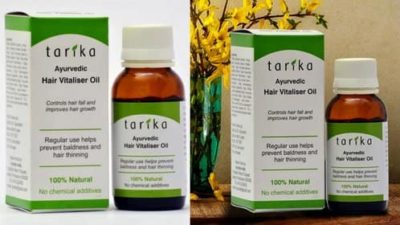 2. Raw Rituals Fortifying hair rituals-
Hands down, a phenomenal blend of cold-pressed carrier oils and therapeutic grade essential oils, the Fortifying hair rituals from the kitchen of Raw Rituals
is what you should lay your hands on to arrest hairfall, tame frizz, add luster and unprecedented softness to your mane. With a soothing aroma (not achieved via the addition of deleterious chemicals but essential oils), your olfactory senses would be well taken care of while it's being massaged.
Based out of the Boston of India (read: Ahmedabad), Raw Rituals is helmed by the lovely Mrs. Lovina Aggarwal and sells its products via Amazon India. So, if you are at the sea when it comes to buying the a forementioned hair oil in Indian market, it's readily available. Do not starve your mane of all the nutrition it can derive from the gem of a hair oil that works not just in the short-run but also in the long-run.
It goes without saying that no parabens, fillers, EDTA, propylene glycol, DMDM Hydantion or preservatives go into the making of the natural hair oil from the brand. It is cent per cent safe and natural. Ticks all the boxes of an ideal wonder hair oil for reduction in hair fall, doesn't it?
Price- 600- INR
Availability- Amazon India, Facebook and Instagram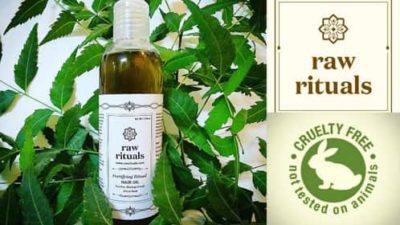 3. Iraya Neelibhringadi Tailam-
Operating from the Manchester of India aka Ahmedabad, here we have Iraya which for obvious reasons needs no introduction. Sourcing its raw ingredients from places far and wide and concocting nourishing skin, hair and body care recipes via their vegetarian, all-natural and fragrance-free products, this brand's magical hair oils are a testimony to the fact that ancient Ayurvedic formulations were way ahead of their time.
Iraya uses the finest quality herbs, with absolutely no synthetic colours, fragrances and fillers like Petrolatum, Mineral Oils or Parafins. Unlike the large scale modern oil extraction processes, which are known to strip oil of its nutrients, Cold Pressing (Chaki Oil) is the traditional but superior method of extracting oil. Currently, offering the Neelibhringadi Taila, Japakusum Taila, Keshawardhak Taila and the Arusnhikha Nashak Taila, their Ayurvedic Oil range features pure Ayurvedic recipes as prescribed in ancient texts.
My vote of approval goes to their Neelibhringadi Tailam. Created as per the Ayurvedic text Sahasrayogam, it is the perfect weapon for promoting hair growth and to get strong hair. Thick and voluminous hair that sways as you move is what you can picture after a few uses. Of course, the more dedicated use, the better the results. So, don't get bogged down within 2 or 3 uses. You need to devote it a good 1-2 months to see results. If you have an efficacious hair potion in your hands, better use it in a way that leaves your locks thanking you for the same!
Price- 200/- INR
Availability- Amazon India, Facebook and their official website www.athenalife.com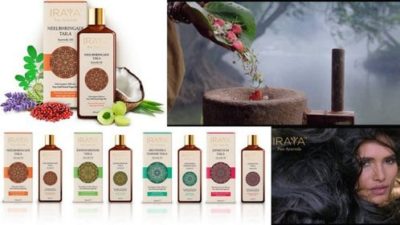 4. Earth Organic brahmi bhringaraj hair oil-
Here comes a brand that has a coveted USDA organic certification to its credit- something that brings it in league of its own. To those who don't know, an organic brand has to have a certification. Earth Organic, also boasts of NPOP & NOP certificates and is spearheaded by Mr. Amitabh Nangia. Offering USDA certified organic hair oils in three variants presently- the amla hair oil, amla-hibiscus hair oil and brahmi-bhringaraj hair oil, zero in on the ones that would cater to your need. Another of my favourite all herbal and ayurvedic hair oils.
Perplexed? Let me be of help, then. The amla hair oil would befit one who looks forward to darkening their premature grey hair. Now, that does not translate to using it on hair which has turned white/predominantly grey. By darkening, what is meant is that people whose locks are greying prematurely can look forward to Earth Organic's Amla Hair Oil.
The brahmi-bhringaraj hair oil would fit the bill for those whose hair bid farewell to them the moment a comb comes into contact that is, it is for those with brittle locks. Both the major ingredients- brahmi and bhringaraj are sterling when it comes to arresting inexplicable hair fall and hair loss.
And finally, comes the best of them all- The Amla-hibiscus hair oil. Sterling hydration and remarkable gloss, it's a saviour for those whose hair scream for moisture especially when the mercury goes down. Pssst… to those looking for a healthy substitute for their beloved tea Earth Organics has come up with an Organic Amla tea that deserves being tucked away in your kitchen's closet. Refreshing, energising and healthy, it ticks all the boxes right.
Price- Amla hair oil 300 INR, Amla-hibiscus hair oil (best-seller) 425 INR, Brahmi-bhringaraj hair oil 300 INR
Availability- Amazon, Flipkart, tijori.com, vegalyfe.com and their official wesbite www.earth-organic.com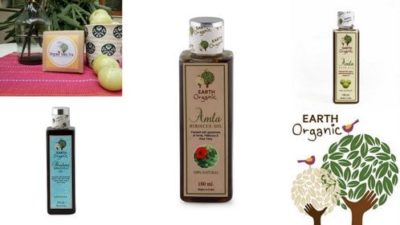 5. Greenviv Natural and Herbal Hair oil-
All-natural with no parabens, sulphates, phthalates, or artificial colouring, 100% vegetarian with a cruelty-free tag and handmade hair oil is what you would land at if you zero in on Greenviv's Natural and Herbal Hair oil which is composed of the bounties of amla (Indian gooseberry) and Bhringaraj. With so many feathers in its cap, there is hardly a reason to not give this little wonder hair oil from the kitchen of Greenviv, a shot. Based out of Delhi and owned by Ms. Meenakshi Thakran, this upcoming brand's range encompasses lip balms, lips scrubs, face masks, hair cleansers, cold-processed soaps, shampoos, conditioners, body scrubs and a lot more.
Coming to their hair oil, it's a wake-up call for all those who are smothering their greying hair with chemical-laden products in a bid to darken them. Instinct with the virtues of the powerhouse of Vitamin C- amla, this hair oil will help cover your premature grey hair. Of course, a lot depends on your lifestyle, diet and age, yet if you have the right products at your disposal, battling premature greying becomes less arduous. And that's exactly what this wonderful hair oil does- helps you bid farewell to premature greys (not the actual ones that arise as one ages!) Undoubtedly the best ayurvedic and natural hair oils in India.
Price- 399/- INR
Availability- Facebook and Amazon India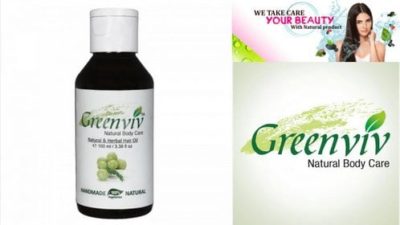 6. Prakriti Herbals Nourishing amla, hibiscus and fenugreek hair oil-
An experienced skin and hair enthusiast Mrs. Neeta Addappa had to been relied upon for long by her near and dear ones for skin and hair care advice. As her tips worked tremendously for those who sought them, she was emboldened to erect her own range of chemical-free skin and hair care products. And voila! Prakriti Herbals was born. With an expanding, eclectic and enticing range of bath, body, hair and skin care essentials crafted with utmost assiduity, the brand has managed to carve for itself.
Coming to the hair oil that took me by surprise was Prakriti Herbals' Nourishing amla, hibiscus and fenugreek hair oil. Retailed all over India and to some foreign countries too (for which you need to place an order on their official website/touch base with Mrs. Neeta), it is a sane investment for those looking to put the kibosh on brittle hair. All the three major ingredients- amla, hibiscus and fenugreek are renowned for their unparalleled ability to strengthen roots in addition to possessing myriad other benefits such as- hair growth, imparting gloss, lustre and softness.
Give a shot to Prakriti Herbals' Nourishing amla, hibiscus and fenugreek hair oil and devote at least a month to see results (which will obviously vary as per one's hair's fettle). It goes without saying that no chemicals make way into the package of the same. Gingered up, aren't you?
PRICE- 200/- INR for 120 ml (bigger bottles are also available)
AVAILABILITY- Flipkart, Facebook, Amazon India, www.prakritiherbals.in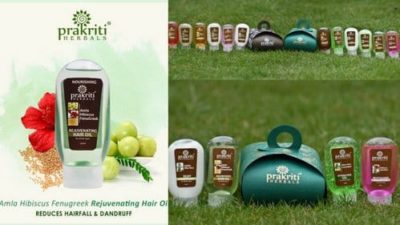 7. Kan's Natural beauty care Neem hair oil-
One cannot help but gawk with one's jaws dropped at how minimalist but magically efficacious Mrs. Kanchana S. Babu's natural, chemical and artificial fragrance-free products are. Kan's Natural Beauty care, all the way from Chennai epitomises transparency- each and every product's composition is disclosed, leaving one content for zeroing in on her products. Strictly against testing her products on animals, all her products are chemical free and cruelty-free in addition to being added with only what nourish. So, yes no harmful ingredients get to see the light of the day when Mrs. Kanchana is at work.
Within her range of hair oils, the Neem hair oil has to be eulogized. Imbued with the extracts of neem leaves and neem oil, which are used as a natural source for hair and scalp care since ancient times, the oil treats problem of hair loss, shields the hair and scalp a well as fights against the pesky dandruff and lice. With so many benefits packed in one herbal hair oil bottle and priced plausibly, if you are suffering from the aforementioned hair woes, you know now whom to touch base with. Go ahead!
PRICE- 230/- INR for 100 ml
AVAILABILITY- Facebook (drop a message on their official Facebook page)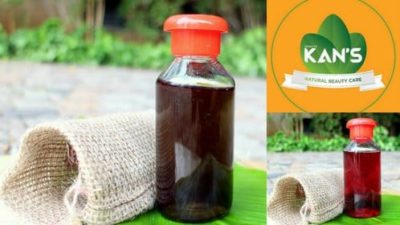 8. JULLAAHA Anti Dandruff Hair oil-
With wondrous natural ingredients like Svetakutajah, Tulsi and cloves prepared in the base of virgin coconut oil and no parabens or mineral oil added, we have Jullaaha's Anti-Dandruff Hair oil on our list for obvious reasons. A simple, no-nonsense and toxin-free formulation that seeks to rescue you and your shoulders from the infernal nuisance called dandruff, the oil can be availed even if you are running on a shoestring budget. One of the bestsellers from the house of Cholayil that pioneered the Medimix soap, Mrs. Jayadevi Cholayil's brand- Jullaaha has a clean and efficacious range of hair products at your disposal.
Aiming to banish not just dandruff but also the pesky flakiness concomitant and promote healthy hair growth with the same, give a shot to the aforementioned hair oil for it's crafted by experts who hold decades of experience in natural skin care. If you have ever tried any of Jullaaha's products, you would have already added this ayurvedic hair oil to your cart by now! One of the best ever herbal and ayurvedic oils for hair in the market.
PRICE- 150/- INR for 100 ml
AVAILABILITY- Facebook, Amazon India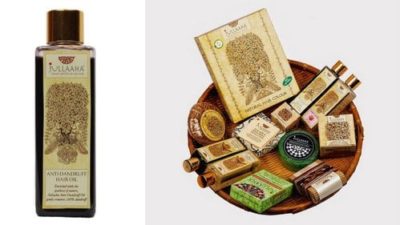 Read More:
Which is your favourite ayurvedic hair oil? Share your reviews with us.