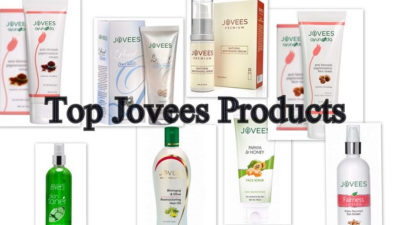 Top 8 Jovees Products Available in India with Reviews and Prices
As the title suggests this post is about some of the best products from the brand Jovees. Before we move into the post let's get into some introduction about this brand. Jovees is an Indian based herbal cosmetic company which was started with a handful of products in September 2004. Today the company has 125 skin, hair and body products. Jovees is one of those companies which constantly engage themselves in research activities so as to give quality products to us. Jovees has a solution to almost all your problems, be it skin related or hair related. I got introduced to this brand by their hair conditioners and facial kits.
Trust me, Jovees has some very good products and they are quite affordable. I have handpicked 8 best Jovees products which can solve a lot of your skin problems.
List of Must Have Jovees Products for Oily and Dry Skin
1. Jovees Herbal Natural Whitening Serum – 50ml for 420Rs: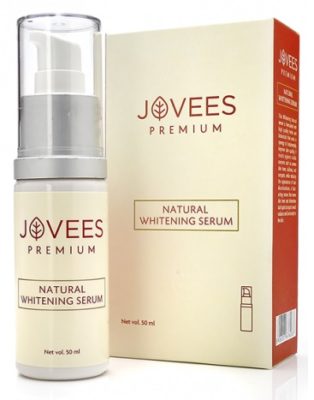 This is one of the bestselling products from Jovees in India. This serum is super effective in brightening up your face. This serum reduces dullness, discoloration and even sun spots. Jovees Herbal Premium Natural Whitening Serum for Bright & Glowing Skin also reduces fine lines when used regularly. Best thing about this serum is that it is water based and extremely light weight so it will suit all skin types. This serum penetrates your skin nicely but make sure to use a moisturizer as it is not much hydrating but good enough for summers though.
This contains licorice extracts which is proven to lighten the skin. It doesn't break you out but the only down side is that it takes a long time to show results. The packaging of this jovees serum is quite decent. Fragrance could be a little annoying (though it is floral).
2. Jovees Papaya and Honey facial scrub – 400gms for 455Rs: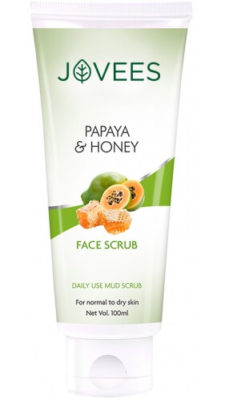 This is a very good alternative to apricot scrubs. Jovees Papaya and Honey facial scrub contains papaya seeds as the exfoliant. The particles are not harsh and they are very gentle, ideal for everyday use. Best thing is that it is a mud based scrub, so use could use it as a face pack as well to clear out the extra sebum on your face. Jovees Papaya and Honey facial scrub is not extremely drying unlike other mud based packs/scrubs in the market so it can be used by dry skin girls too.
This also contains Honey which is a very good emollient, this could be the reason for the hydration this scrub provides. Other ingredients are neem (margosa) with anti bacterial properties and fenugreek which soothes the skin. A little goes a long way.
3. Jovees Cucumber toner – 200ml for 150Rs:
Cucumber toners are really good for summers. They feel refreshing; Jovees Cucumber toner is one such toner that makes you feel fresh. Jovees face toner also contains aloe vera and chamomile. Aloe vera helps in soothing your skin. Chamomile neutralizes skin irritants. Jovees Cucumber toner comes in a spray bottle which is easy to use. This toner is really effective in removing excess oil and dirt from your skin which your regular cleanser can not remove. If you are looking for a pore minimizing toner then definitely this is not your thing. A very nice jovees beauty product to have in your kit.
4. Jovees Sun Screen Fairness Lotion SPF 25 – 100ml for 165 Rs: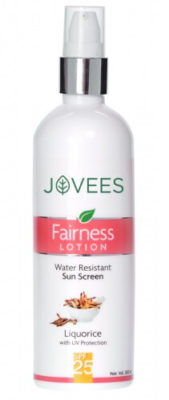 Jovees Water Resistant Sun Screen Fairness Lotion SPF 25 is one the best sunscreens available in the Indian market. It does a pretty good job of protecting your skin from harmful UV rays. It does even out your skin to a greater extend. You would only require a pea size amount for your entire face and neck. Jovees Sun Screen Lotion has got an impressive ingredients list like aloe vera, Carrot extracts, Chamomile extracts, Sandal extracts. Carrot extracts can even out your skin. You could use Jovees Fairness Lotion SPF 25 as a good day time moisturizer.
Though SPF 25 is very less for Indian summers, it does a pretty good job as a sun screen. If you are into outdoor sports or beach activities then won't recommend this sun screen. Also if your skin is oily then this sun screen is not recommended. Normal to dry skin girls can still enjoy the goodness of Jovees Water Resistant Sun Screen as it provides a considerable amount of hydration along with sun protection. Its one of the must have jovees products.
5. Jovees Anti Blemish Pigmentation Cream – 60gm for 200Rs: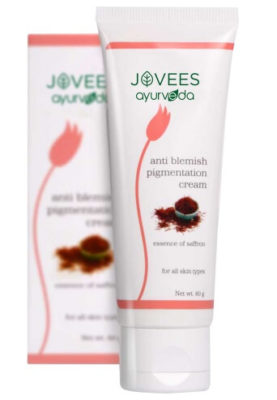 Jovees Anti Blemish Cream works really well on your pigmentation. This jovees cream reduces your dark spots and even acne scars to a great extent. Jovees Pigmentation Cream has a very nice herbal smell which will make you sniff the tube again and again. The tube is very travel friendly. The company recommends using it at night which is apt since it doesn't have any SPF and it makes your skin slightly oily. Also it is recommended to cleanse and exfoliate your skin to get the maximum benefits. A must have jovees product in India. Jovees Anti Blemish Cream has got saffron as one of the main ingredients which is responsible for the dark spot clearing ability.
6. Jovees Anti Blemish Pigmentation Face Mask – 120 gm for 195 Rs: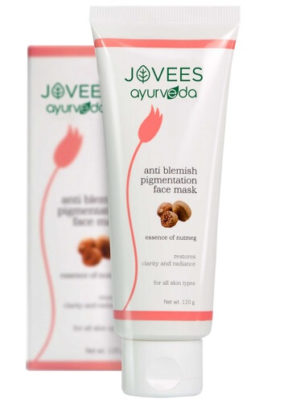 Jovees face mask contains nutmeg which is very good in clearing out dark spots and tan from your face. With the regular use of this face mask along with the pigmentation cream you will see a visible difference in your skin. Jovees pigmentation face mask also contains chamomile extracts (i think most of Jovees products contain Chamomile extracts) which soothes your skin and prevents it from getting irritated. Jovees anti blemish face mask also contains fuller's earth and China clay which could dry out your skin hence not recommended for dry skin on the other hand oily skin girls can use this happily.
7. Jovees Pearl whitening face wash – 60 ml for 195 Rs: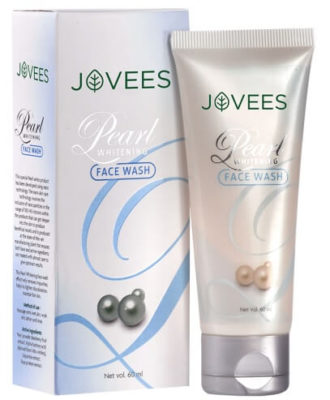 Jovees Pearl face wash is quite expensive for a face wash yet it lives up to its claims. Jovees face wash leaves your face squeaky clean and oil free. Oily skin will definitely love the way this face wash controls oil. Also Jovees whitening face wash gives instant brightening to your face. If you have dry skin you could try this face wash with a heavy moisturizer. Your skin becomes noticeably smoother and softer on regular use. Jovees face wash contains AHA derived from grapes which is a peeling agent. Jovees whitening wash also contains pearl powder, Bearberry extract and soya bean extract. There is also a scrub and also a face cream from the same range.
8. Jovees Bhringraj & Olive Intensive Restructuring Hair Oil – 110ml for 132 Rs: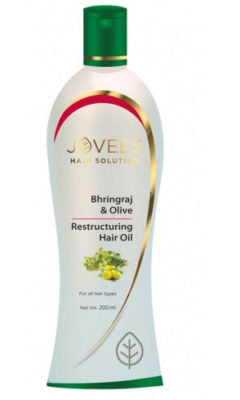 Jovees Bhringraj Hair Oil is a must have if you have dull hair. This definitely adds shine to your hair. The major ingredients are jojoba oil, bhringraj and olive oil which most certainly nourish your hair. Jovees Olive Intensive Hair Oil also contains henna which controls dandruff and hair fall. Its one of my top products from jovees herbals as it a light weight oil and you don't need extra shampoo to remove the oil from your hair. A mild shampoo would do the magic.
Those were the top Jovees products available in the market, if you are a lover of all natural and herbal products then you would definitely love the list. Jovees is a brand that requires a lot more attention considering the great products that the brand has. I have added some of these products in my repurchase list, hope you would too.
Read More:
Which is your favourite Jovess product? Share your reviews with us.