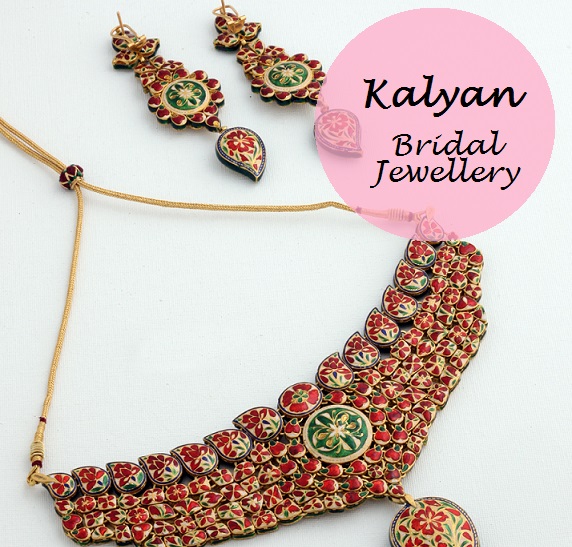 My Bridal Jewellery Picks from Kalyan Jewellers – Indian Bridal Diaries
The latest Kalyan Jewellers tv advertisement featuring Aishwarya Rai caught my attention. Finally a decent ad after that pressure cooker nonsense (jo biwi se kare pyaar wo cooker se kaise kare inkar? Really?!). A cousin of mine is getting married in September and these days I'm kinda hooked to looking up designer or beautiful bridal necklace sets online for his bride-to-be. That's when some pretty elegant and good bridal accessories by Kalyan Jewellers caught my attention. More because they just recently opened three stores in Delhi:  Pritampura, Defence Colony and Karol Bagh.
While looking up I found they supposed to be the largest jewellery chain in India. Their headquarter (see how I make it sound super cool!) is in Kerala. Ofcourse..when in doubt turn to authentic and cultural South Indian gold makers. No wedding in India is complete without lavish jewellery. I personally prefer dainty diamond necklaces but kundan and polki sets please me equally (And I hope Sailor is reading). Here are some of my favourite bridal designs from them. Have a look at these:
You can pair it up with your engagement gown. Would suit off shoulders or deep necks beautifully.
Pretty!
Just look at the leafy design. Totally a D-day piece
More understated diamond necklace. Okay honestly don't ask me about the cut work because I don't know much. I'm more like "ooh shiny..ooh prettyyy"
Love love this floral gold necklace. Who says gold is outdated? When it comes in designs like this no girl can refuse.
Love this peacock pendant and earrings set
Will go with any bridal lehenga
Okay I don't know the exact term but I am really loving the jaali work here. So delicate!
And I saved the best for the last..just just look at it
My precious! I am not a cuff fan but I NEED it now. Gimme my..my..precious!!
My favourite is the necklace set in the first photo. So jaipuri. So weddingy. So bridal. So jodka akbar. So vintage. So expensive!
I don't know the prices of these bridal pieces but if you want then I can call up the Kalyan guys and ask them. Let me know in the comments below if you like such posts and I will do more of them.
Which is your favourite Kalyan Bridal Jewellery? Share your views with us.