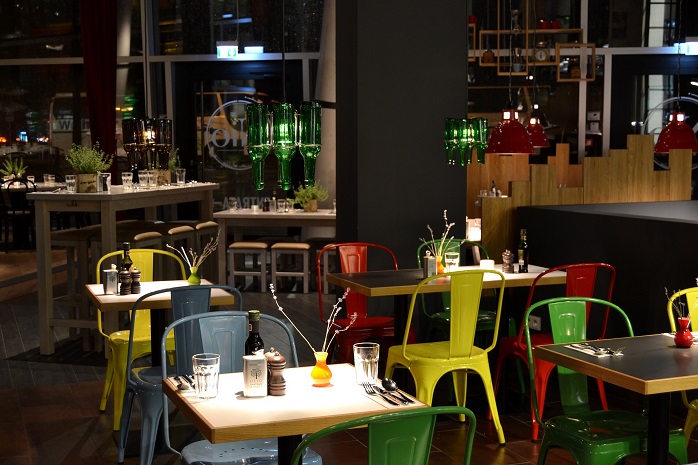 Top 10 Healthy Food Restaurants In Bangalore
Bangalore is the Silicon Valley of India. A lot of professionals from all over the world flock this place, fulfill their dreams and live a life full of envy. This crazy life comes with several health hazards as well. Insane working hours, long distance travels and a sedentary lifestyle creates many complications. This eventually leads to complications mentally, physically and eventually emotionally. Seeing this trend, there was a huge demand for healthy and nutritious restaurants in Bangalore, sans gluten and saturated fats.
There are a lot of top food joints in Bangalore which offer vegan, organic and healthy food options. They are a hit with health and diet conscious people, and only after you read my list, you will be able to figure out why these silicon valley eateries are so popular. But something does pain me a lot. Read on to know My list.
List of Bengaluru Restaurants Offering Healthy Food:
1. Health Zingo
Healthy food is not ugly food, or it does not really need to taste so. Health Zingo personifies this thought in letter and in spirit. You would love the options they have, ranging from whole wheat pastas to freshly extracted fruit juices. The best part is, they even have the calorie count mentioned against every dish in the menu. Options available in cuisines are North Indian, South Indian and Continental. You can also choose from a variety of salads. Idlis are made of Organic Rice.
Apart from this, Health Zingo also serves Burgers (healthy), Paratha, Veg thalis and chaat.
Yes, they are on Zamato, Foodpanda and Swiggy. Check their website and you will see what I mean. One of the best places to have healthy food in Bangalore.
Address: Green Glen Layout, Near HDFC Bank, Bellandur, Bangalore.
2. Yogi-sthaan
Located in Indiranagar, this is a house turned in a café. Part of it is Yoga studio, and the rest is a café. They serve fruit juices, and the best part is you can sip your health drink right after a gruesome Yoga session.
Most of the dishes are the ones we crave for after working out, however, the ingredients used are organic and freshly curated. They offer home delivery as well. Vegetarian food, work out and stay in facility, what else do you need? One of the best bengaluru healthy restaurants ever!
Address:
Plot no. 89, 11th Cross Road, 60 Feet Road, Stage 1, Indiranagar, Near BDA Complex, Bengaluru, Karnataka 560038
3. Carrots The Healthy Kitchen
The variety which they offer has got nothing to do with the Carrots. Carrots is located in Koramangala, they offer everything from soups to shakes and curries to stir your taste buds. All of this is healthy, of course.
The food items offered are vegan, organic and gluten free. Their values clearly state that they want to promote vegetarianism and hence, the concept of healthy living and healthy eating also comes into picture. Not only food items, they also sell wellness products. The website is great, and visit them once to join the vegan movement.
Address: No 607, First Floor, 80 Feet Main Road, Koramangala 6th Block, Bengaluru, Karnataka 560095
4. Booster Juice
If you are majorly into fluids, then this is the joint for you. This one offers juices for all the seasons. Booster Juice is not limited to juices either. Try their Smoothies and Shots and you will be happy to come back. For someone who is a lazy eater, this one serves the right shot every time. They have juices from every corner of the world and also offer exciting promotions. Just to let you know, they are present in three hundred cities already, across the globe. Another popular food joint in Bengaluru.
5. Vaathsalya Millet Café
Started by Jyothi Madinur, this restaurant serves Millet based dishes and beverages. She was invigorated by her passion for Millet. After doing a lot research, she came up with a range of foods and beverages, which are Millet based.
You will find a variety of items ranging from Khichdi to Choco Malt. The dishes are homely, free of any nonsense and you can digest them by sipping buttermilk. Go o this place to figure out what passion and mission combined together can do!
Click here to find out everything about them!
Address: 277, 15th Cross, Outer Ring Rd, KR Layout, J P Nagar Phase 5, JP Nagar, Bengaluru, Karnataka 560078
6. Lumiere Organic Restaurant
The name sounds French and the dishes they offer are no less! A buffet is also served, and you can eat to your heart's content. They have Chicken Soups, breadsticks, Paneer Tikka, curries and tossed up veggies. Every ingredient is of course organic. Loads of options to choose from if you love to gorge upon meat.
Address: 27/7, Sri Kote Ashirwad Towers, Outer Ring Road, Doddanekundi, Marathahalli, Bengaluru, Karnataka 560037
7. In The Pink Organic Bazaar & Restaurant
The name is Pink but the offerings are green. No non veg here. The set up is amidst lawns, you can see well maintained shrubs and plants, and the best part is – just thirty six seats! The Master Chef is always around to look after the guests, and you can choose from a variety of food items. The elements are all rustic and organic. They offer home delivery as well.
Address: 93, 6th Cross, N. S. Palya, Dollars Colony, 2nd Stage, BTM Layout, Off Bannerghatta Road, Bangalore
8. Tantraa // Organic Hand Baking
Tantraa offers freshly baked Cakes, Cupcakes, Pastries and a variety of pudding which are healthy as well as tasty. Ever heard of Moong dal cupcake? Well, go there to see and feel it.
Address: K.R.Colony, Domlur Village, Domlur, Bengaluru, Karnataka 560071
9. The Egg Factory
The Egg Factory is all about eggs. They offer Egg Paranthas, Omelet and also a variety of desserts. With an aim to stay away from meat in any and every form, this restaurant does a lot justice to Eggatarians. Mind blowing interiors as you can almost see egg art everywhere.
You can also try their egg curries with Naan and Rotis. The website is pretty interesting as well. Undoubtedly one of the best restaurants in Bengaluru for egg lovers.
Address: Ground Floor, White house, St. Marks Road, Bangalore
10. Hwealthcafe
Everything from Smoothies to salads and pastas adorn this eatery. They also offer sandwiches and quick bite items like hotdogs. Vegetarian in its fabric and appearance, Hwealthcafe clearly states that they stay away from processed sugar, cream, yolk, White rice and refined flour or Maida.
Hwealthcafe also offers customized smoothies in case you work out and need extra proteins in some form. The fruits used are fresh and the milk is low fat.
This is a comprehensive list however, I might have missed few names. Feel free to share your thoughts.
Address: Bhisma Pitamah Marg, A-272, Varun Marg, New Delhi, Delhi 110024
I was wondering that I would visit and stay in a place like Bangalore only for the sole purpose of delicious, low calorie dishes. The irony is that I am penning down a post which resonates what has gone wrong with the Corporate work culture of today's times i.e. erratic work times and low patience to cook good meals.
My initial thoughts were confused. I wondered why a place like Bangalore, known for idlis and a lot of low calorie diet products, has to opt of health conscious restaurants. But yes, the curse of working class spares no one in the circle, and all of us initially spend to eat and later on spend to undo what all we ate while earning.
So, don't go that far in life. Eat well, work well, but do not rot yourself. Enjoy with family, love the 'No Internet' zone, and sleep for eight hours (well, at least eight). It is not necessary to stay away from fats either. Fats are required to protect the body from harsh weather and skeleton damage. And yes, I can't wait to go Bangalore.
Image Source: 1
Read More:
Which is your favourite food joint in Bangalore? Share your reviews with us.