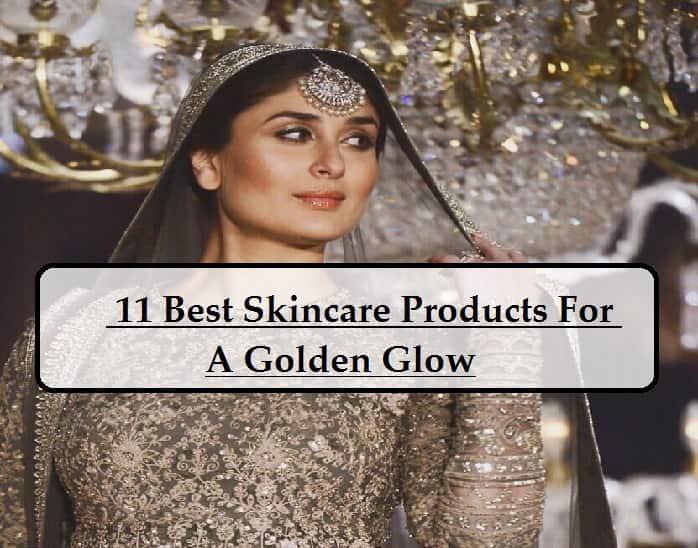 Top 11 Gold Skincare Products In India with Reviews and Prices
We all strive for a healthy & radiant complexion. As we look back in History, we can find that Gold has been used since ages to flaunt a glowing skin. It is widely known that Cleopatra used to sleep in a Gold face mask to wake up to a bright & luminous glow. Gold based products not only brighten up the complexion and impart radiance, but also reduce the early signs of ageing. Gold also boosts the skin elasticity and keeps it youthful. However, here I would like to point out that using gold based skin care products like face scrubs, gold face masks, gold facial kits, etc is just one aspect.
In order to maintain a natural glow from within, you also need to take a healthy & balanced diet, get adequate sleep & regularly work out as well. Now, let's move forward & take a look at some of the best gold infused products available in India to get that glow on this festive season!
List of Must Have Gold Skincare Products:
1. VLCC Gold Facial Kit:
A gold facial kit is a great way to pamper your skin at home especially during a crunch of time. The VLCC Gold Facial Kit is one of the best selling ones in the Indian market today and includes 6 sachets, namely Comfrey Cleanser cum Toner, Gold Cream, Gold Peel-off Mask, Gold Scrub, Gold Gel and Oil Free Moisturizing Gel. The gold products work well together and impart a healthy glow to the face. It also makes the skin soft & supple and removes dullness. All in all, an affordable way to flaunt a radiant golden complexion! Price: Rs 250 for 60 gm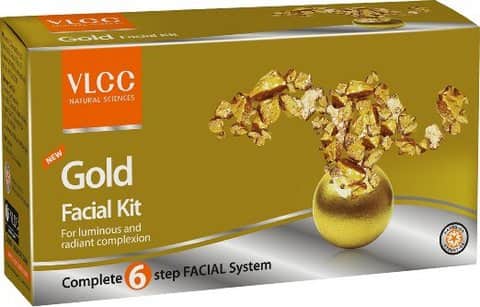 2. Khadi Gold Herbal Facial M assage Cream:
Like most Khadi products, this one too comes in a tub packaging that is sturdy and travel friendly. The gold massage cream is enriched with natural ingredients like Aloe Vera, Shea butter, Almond Oil, Wheatgerm Oil and Glycerin, among others. It has a rich creamy texture that is slightly on the thicker side. It spreads on the skin with ease & gets absorbed with gently massaging for a couple of minutes. It hydrates the skin really well and leaves it feeling soft & supple.
It also provides nourishment to the skin & adds golden radiance as well. And as the name suggests, it is a great pick for an at-home facial. Price: Rs 150 for 50 gm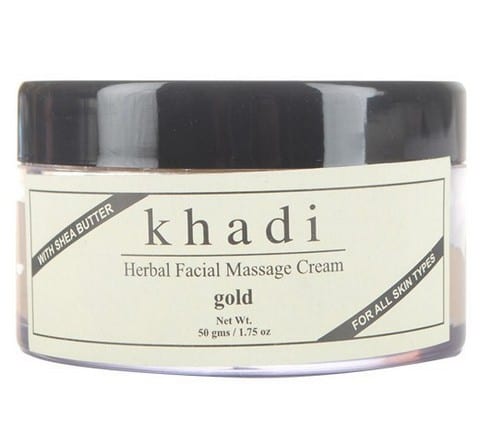 3. Oriflame Milk & Honey Gold Nourishing Hand & Body Cream:
This is one of the most popular products from Oriflame & one of my all-time favorite gold body creams too! The cream comes in a round chubby see-through jar packaging and contains organic extracts of Milk & Honey. It has a smooth and slightly gel-like texture and gets absorbed into the skin in a jiffy. Being lightweight, it feels comfortable on the skin & is absolutely non-greasy. It effectively hydrates the skin and keeps it silky smooth. And, the heavenly fragrance is just cherry on the cake! A must try! Price: Rs 599 for 250 ml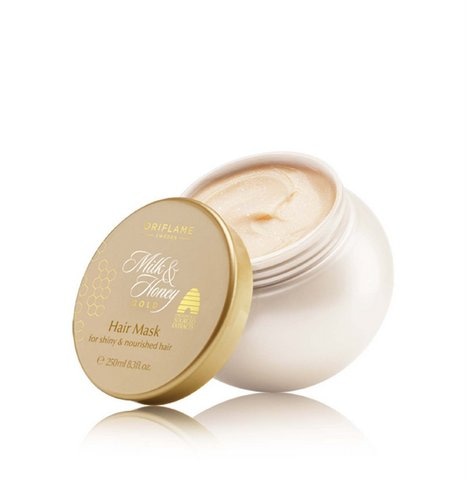 4. Ponds Gold Radiance Youthful Night Repair Cream:
A night cream forms a vital part of the night time skincare routine. After everything that your skin goes through during the day, it surely deserves some pampering at night. A good night cream prevents fine lines and wrinkles & also keeps the skin smooth & hydrated. The Ponds Gold Radiance Youthful Night Repair Cream is infused with real gold micro particles, gold dust and Vitamin B3 and is non comedogenic. It has a smooth & creamy consistency and beautifully blends into the skin without feeling heavy or greasy.
The gold night cream moisturizes the face well & keeps it soft & plump. It also adds a lovely glow because of the presence of gold particles & you wake up to a healthy & radiant skin. Definitely worth the price! One of the best gold skin care products in India. Price: Rs 899 for 50 gm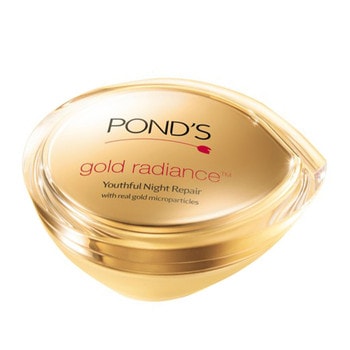 5. Everyuth Naturals Golden Glow Peel Off Mask:
The Golden glow peel off mask is one of the most popular products from the brand. It comes in a typical blue-colored squeeze tube packaging and contains Nano gold peptide and minerals. The formula is runny and contains tiny golden shimmer particles. It easily spreads on the face and keeps dullness at bay. The skin feels softer & refreshed after every use and it also imparts a natural glow. Along with this, the gold face mask is super affordable too, which is another plus! Price: Rs 75 for 50 gm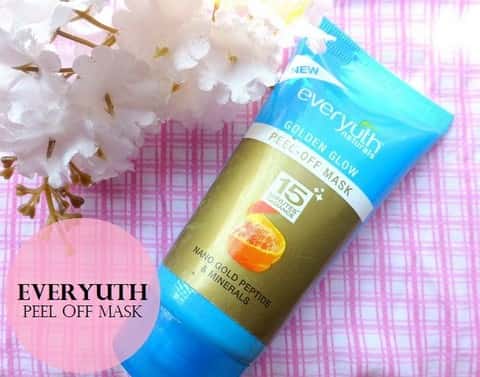 6. Jovees Gold Ultra Radiance Face Wash:
Say hello to clean & fresh skin with Jovess Gold Ultra Radiance face wash! It comes in a beautiful white & golden tube packaging that sure looks attractive as well as elegant. This is a gel-based face wash infused with loads of golden shimmer particles. It lathers well & only a small amount is needed for each use. It effectively cleanses the face and brightens it up as well. And, as far as the affordability is concerned, it is priced reasonably too! A promising gold face wash from the house of Jovees! Price: Rs 245 for 100 ml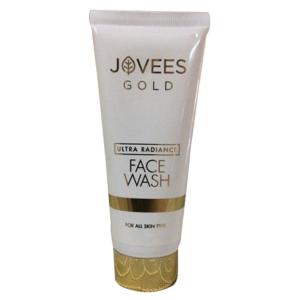 7. VLCC Gold Polishing Face Scrub:
This scrub forms a part of the VLCC Jewel Radiance range. Packed in a gorgeous golden tube, it looks really pretty & has a feminine feel to it. It comes with a flip top cap that shuts tightly which makes it hygienic to use as well as travel friendly. It is enriched with extracts of Aloe Vera, Sandalwood, Turmeric, Gold leaf and Vitamin E. The gold face scrub has a runny gel-like consistency and contains small gold colored granules along with shimmer particles. It easily spreads on the face and provides mild exfoliation.
It is very gentle on the skin and effectively gets rid of dead skin cells & impurities. The skin feels softer after every use & it also imparts a subtle youthful glow to the face. Price: Rs 180 for 80 gm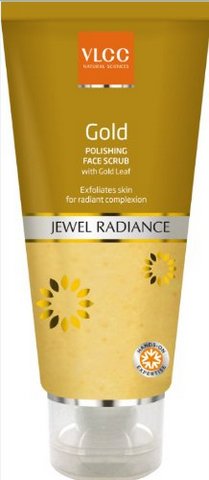 8. Ponds Gold Radiance Precious Youth Serum:
Enriched with Vitamin B3, the serum comes in a luxurious glass bottle with a dropper mechanism. It has a gel consistency and contains tiny glitter particles. It easily gets absorbed into the skin without being greasy. The ponds gold skin serum feels light & comfortable on the skin and makes it radiant. It also evens out the skin tone & keeps it soft & plump. Along with this, the face serum reduces the pore size as well. Another bestselling skin care product with gold. Highly recommended! Price: Rs 999 for 30 ml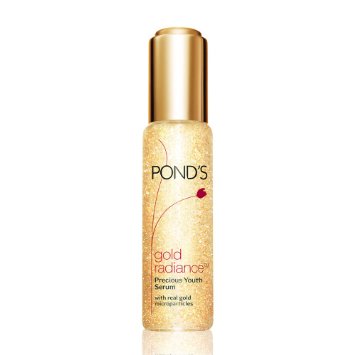 9. Oriflame Milk And Honey Gold Smoothing Sugar Scrub:
This is yet another popular product from the Oriflame Milk & Honey Gold range. Packed in a golden colored tube, it looks really pretty and is convenient to use too. The texture is gel-like and contains sugar granules. It effectively performs the job of exfoliation without being too harsh on the skin. It removes the layer of dead skin cells, thereby revealing a clean & fresh skin. It does not dry out the skin and instead, makes it soft & supple. And the pleasant mild fragrance is just amazing! A big thumbs up! Price
: Rs 549 for 200 ml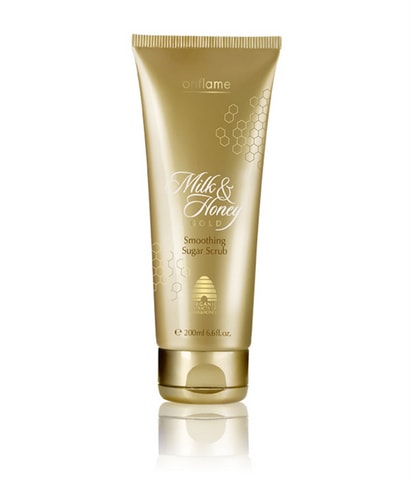 10. Forest Essentials Ultra Rich Body Lotion Soundarya With Natural SPF:
Next on the list is a body lotion from none other than our dear Body Shop. It is infused with 24 carat Gold Bhasma and also contains an impressive list of wonderful ingredients. Some of these are Sweet almond oil, Ashwagandha, Kokum butter, burnt Cane sugar, Saffron and Sandalwood. The gold body lotion comes in a see-through bottle form with a pump dispenser that makes it convenient to use. Being lightweight, it easily blends into the skin and keeps it well hydrated & nourished. Along with this, the body lotion also contains SPF 25 that protects you from the harmful UV rays of the Sun. Price: Rs 1875 for 200 ml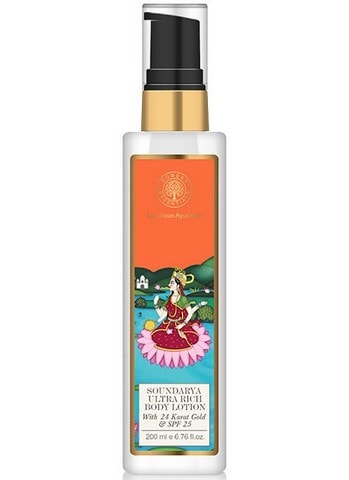 11. Jovees 24 Carat Gold Eye Contour Gel:
As the name suggests, this is a gel-based formulation meant for keeping the delicate under-eye area fresh & healthy. It comes in a squeeze tube form and is convenient & hygienic to use. It contains ingredients like Glycerin, Gold leaf, Sandalwood, Aloe Vera gel, Amla and Almond oil. The gold based gel keeps the under-eye area moisturized without being sticky or greasy and works well to reduce dark circles. Since only a pea-size amount of product is needed for each use, so it would go a long way. Price: Rs 285 for 20 gm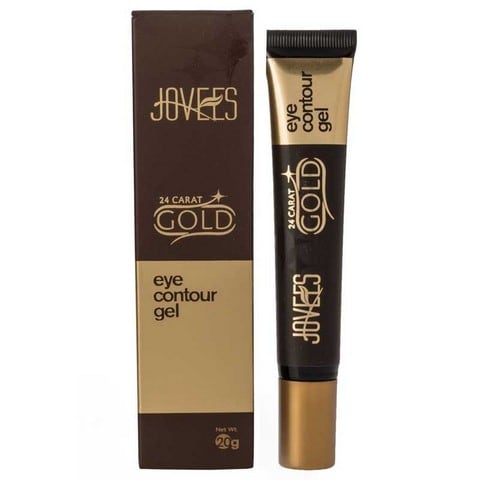 This concludes the list of some of the top gold based skincare products available in the Indian market. Do share with us how many of these have you tried?
Which is your favourite gold skin care product? Share your reviews with us.