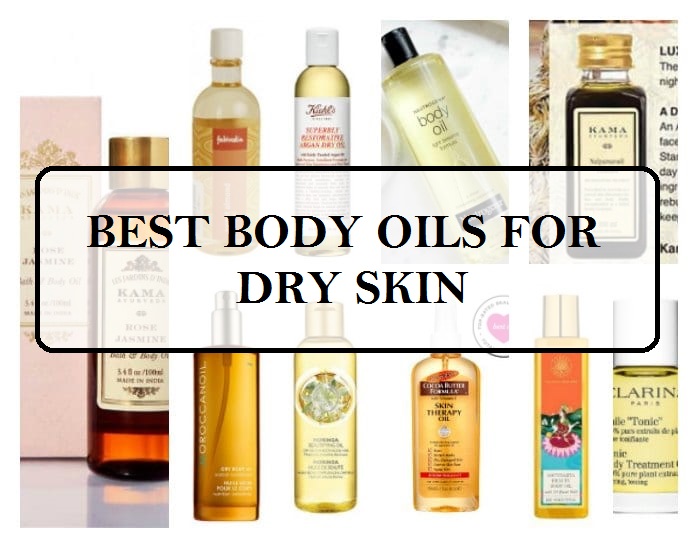 Top 10: Best Body Oils for Dry Skin in India with Reviews, Price List
Body oils have been an integral part of the skincare regimen since the time of Cleopatra where she used body wraps loaded with natural oils to moisturize her dry skin. In harsh winters, regular moisturizers do not provide the much needed hydration to the skin and that is when the deep penetrating body oils for dry skin come into picture. Continuous exposure to harsh abrasive scrubs, pollution and sun strips our skin of the natural oils and use of body oils provide that soft nourished skin
. So here is the
list of the 10 best body oils for dry skin
that are available in India to buy both online and offline. You need this post
if you have to dry to very dry skin
.
Since oils are warm by nature, they also help in improving blood circulation which in turn reverses signs of ageing as dryness is the common cause behind early ageing! As the skin gets old, the sebaceous glands secrete less sebum due to which the skin gets drier and hence, these oils help in proving extra nourishment.
List of Best Body Oils for Dry Skin
1. Kiehl's superbly restorative Argan dry oil- Price: 2300 INR for 125 ml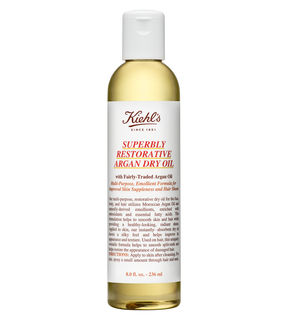 This Multi-Purpose restorative oil is made up of Moroccan argan oil and consists of naturally derived emollients. It is enriched with anti-oxidants and fatty acids to help nourish the skin. The main ingredients include Jojoba Oil, apricot kernel oil, avocado oil, sesame seed oil, almond oil and olive fruit oil. Although it is a bit expensive but kiehl's is one of the best skincare and hair care brands out there and its products are mostly true to their claims. One of the best body oils ever.
2. Clarins Tonic Body Treatment Oil- Price : 3800 INR for 100 ml
Clarins is another brand which makes very good skincare products. This body oils helps in preventing stretch marks and tones the skin with moisturizing it. The main ingredients include hazel seed oil, rosemary leaf oil and rosewood oil. The fragrance is a bit herbal but it leaves the skin silky smooth so i am sure we can accommodate the smell! If you have dry skin then this is the best body oil for you.
3. Forest Essentials Soundarya Body Oil- Price: 2425 INR for 200 ml.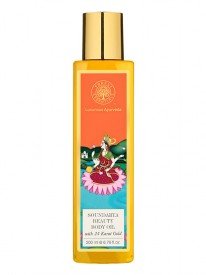 Forest Essentials is one of the best organic brands in India with each product carefully made in calm and serene conditions. Soundarya body oil contains 24 Carat gold Bhasma with almond oil and other ayurvedic ingredients. It also contains pure cow's ghee for intense nourishment and radiance to the skin. One of the best body oils available in India easily.
4. Palmer's Cocoa Butter Skin Therapy oil- Price: 765 INR for 150 ml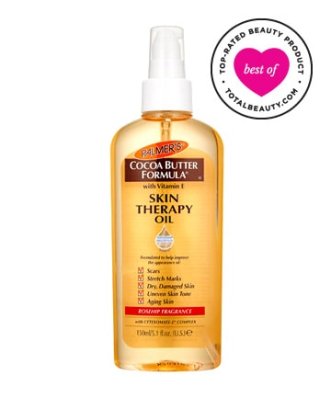 This is very famous body oil for scars and marks on the skin.  I have used this in winters and though it is runny, it absorbs well and provides hydration. Being a light textured oil, very dry skins will not get much benefit out of it but it is perfect for normal to dry skin. Main ingredients include sesame seed oil and cocoa butter. It also helps in shaving with razors as it prevents itching and irritation during shaving.
5. Fabindia Sweet Almond Body Oil- Price : 550 INR for 200 ml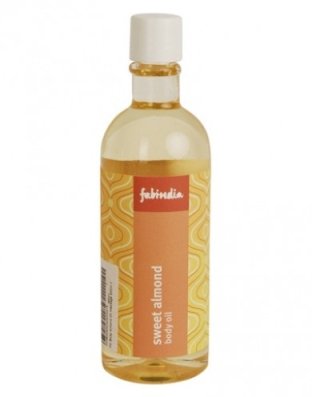 This is cold pressed almond oil from Fabindia. Fabindia is an organic brand which makes skincare and hair care products using natural ingredients. Almond oil has skin softening and moisturizing properties and this oil is so inexpensive that it is perfect for those who want to try out body oils before splurging. It is light so it can be used by all skin types.
6. Kama Ayurveda Nalpamaradi Thailam- price: 595 INR for 100 ml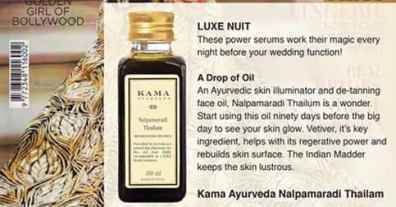 This breakthrough product from Kama Ayurveda is one of the best body oils for detanning and radiance. It is also one of the products included in the bridal skincare kit from the brand. Made up of sesame oil, vetiver, turmeric, gooseberry and Indian Madder, it is a perfect choice for brides who want a pre-wedding glow. At 595 INR for 100 ml, you cannot not try this!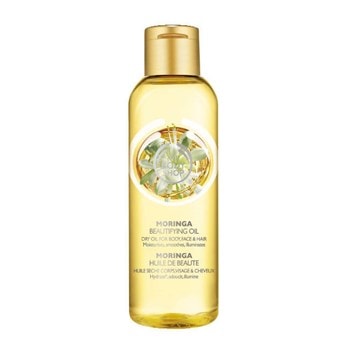 These are multipurpose oils from TBS which can be used for face, hair and body. It is made up of fair trade Marula oil and this moringa range smells absolutely amazing.  There are other oils also in this range like olive, strawberry and shea. Best thing about these oils is that they can be used in so many ways. When used on the skin before shower, they provide light hydration and the fragrance lingers all day. When used post shower, it provides better hydration to the dry skin and results in soft fragrant skin.
8. Kama Ayurveda Rose Jasmine Bath and Body Oil- Price: 795 INR for 100 ml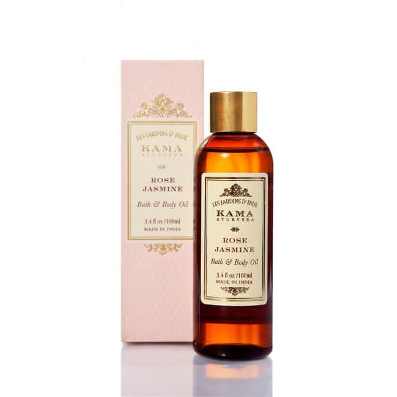 Another body oil from the house of Kama Ayurveda, this body oil is made up of pure essential oils of rose and jasmine. The oil also contains organic almond oil, soya bean, wheat germ and castor oils. Rich in Vitamin A,D and E, this is a very fragrant body oil which helps in restoring the skin's moisture with a subtle glow. Those who do not like ayurvedic fragrances can opt for this instead of the Nalpamaradi Thailam which has strong ayurvedic smell.
9. Moroccan Oil Dry Body Oil- Price: 2800 INR for 100 ml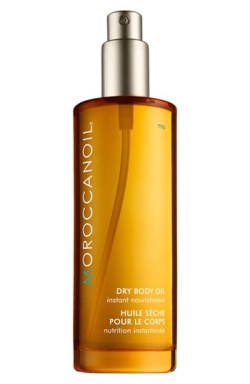 One of the most luxurious oils on the list, Moroccan Oil Dry Body oil is a blend of rich argan oil, olive oil and avocado oil. It is paraben free and gets absorbed into the skin quickly due to its dry texture. The essential oils help in moisturizing the skin without making it greasy or oily. The signature Moroccan oil fragrance is very soothing and spa-like. The price is on a higher side but pure argan oil costs a fortune.
This oil is something we have all seen in shops which stock imported skincare and i have always like the consistency. It is a richer oil than other very light oils but not too rich. It contains sesame oil as the label reads and the fragrance is also very calm and soothing. Only problem with this oil is that it takes time to get absorbed completely but the skin feels completely nourished and supple after usage. The quantity is also more than most of the oils so the price is worth it.
So this is my list of top body oils for dry skin. It is a common misconception that body oils are to be used only in winters and on very dry skins. These oils come with varied consistencies and ingredients. Lighter ones can be used for normal-oily skins and richer ones can be used for dry skins. These oils help in regeneration of cells of the skin and provide antioxidants which get absorbed by the skin directly. They also make the skin soft and supple. One more use of oils is that when you apply it before shaving with razor, it helps in smooth shaving and soothes the skin down which reduces the chances or nicks and cuts. These oils have been an integral part of skincare since the times of ayurveda and soothe the mind and body with the calming fragrance. They also help open the pores on the skin.
So next time when you want to treat your skin, splurge on a body oil from the list above and i am sure you will love the soft, smooth and healthy skin.
Read More:
Face Wash for Dry Skin in Winter Season
Anxiety and Stress Fighting Foods
Which is your favourite body oil for dry skin? Share your reviews with us.