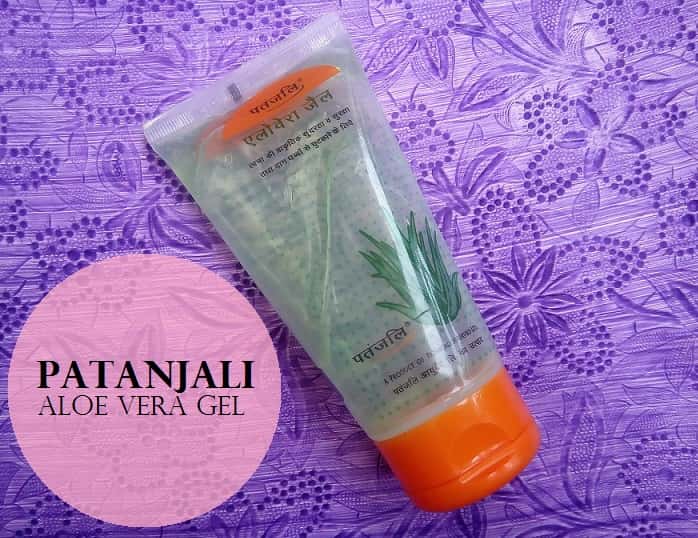 Review, Price, Buy Online Baba Ramdev Patanjali Aloe Vera Gel
Want shiny, glossy and absolutely drop-dead gorgeous locks? Simple, slap some Aloe vera gel, massage it and let it work its magic. Shuddered of running your fingers across your face for its so dry that you fear it'll fall off like wilted leaves off a tree ? (yes, that's exaggeration to a whole new level but sometimes, it is alright to let our imagination run amok, right? ) Slap some aloe vera gel. Being lazy I got a packaged one from Baba Ramdev called Patanjali Aloe Vera Gel which I will review today.
But really f you want gorgeous skin, head to your balcony (or to your neighbour's terrace/garden which should rather be called "sneaking" instead of "heading") , locate an Aloe vera plant and like Kim Possible (don't tell me that you cannot relate to cartoons. We all have a kid inside us. Let's keep him/her alive. By the way, Disney's cartoons are immortal. Period) and grab a few leaves of that Aloe vera plant. Extract the juice and let your face repair itself. Of course, it goes without saying that one has to be consistent.
"But I am a lazy soul. I won't even care to leave my bed even if there's an earthquake measuring 7 on the Richter scale", says a voice in our head right now, right? So, let's raid the market and find that one Aloe vera which nourishes our skin just the way we want. In keeping with this line of thought, I  zeroed in on Patanjali

Aloe vera one fine afternoon (afternoons, by the way in Delhi are as pleasant to normal humans like me as it would be for anything being grilled in an oven). You can smile if not laugh on that attempt of mine to build an analogy. Anyway without further ado, let's head straight to the review of Patanjali Aloe Vera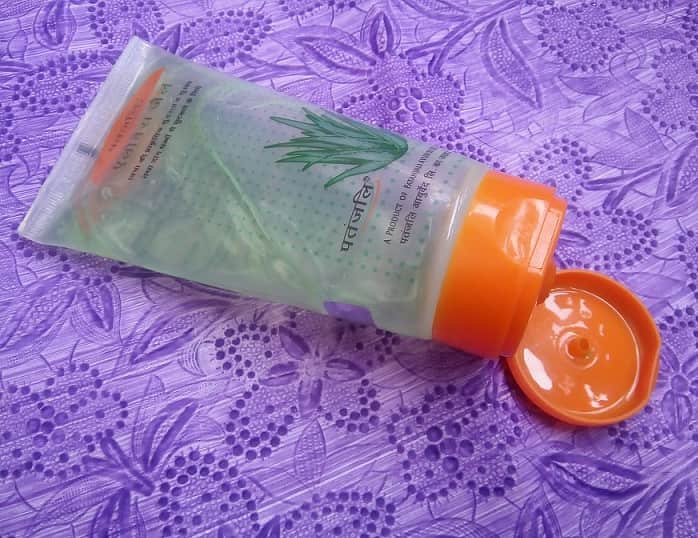 My review of Patanjali Aloe Vera Gel:
Baba Ramdev Aloe Vera Gel comes packed in a transparent plastic tube with a sturdy, leakage-free  flip-open cap that does not require you to explore the Hulk in you ! In short-it's leakage-free, sturdy, hygienic to use and easy to carry. All these make it on par as far as the packaging is concerned for me.
The aloe gel has a cool (not overly cool or icy cold) but slightly (mind you, I have written 'slightly') sticky texture. Real Aloe Vera gel is neither cool nor sticky, so to me this is fishy. Another point to be noted (makes me picture myself as a lawyer as I write this) is that the patanjali gel has a light green colour which is visible even from the pack. Now, again real Aloe Vera gel does not have any colour.
A look at the ingredients' list of Patanjali Aloe Vera gel and I couldn't turn a blind eye to the fact that it had colours (doesn't matter to me if they are permitted. Real doesn't have. Why do you want to add colours?). Never the less, I decided to go ahead with it and try it on myself (after all, I had by now invested Rs 75/-)
I pressed the pack gently and the gel came oozing out. A coin-sized amount of baba ramdev gel sufficient to cover one's face but the question remains if it worth being applied on one's face. Hold your breath! The answer is a big 'NO'. Why? Because it is not Aloe Vera in the first place. Its ingredients' list proudly flashes the addition of BHT (ButylatedHydroxytuloene), preservatives and fragrance (under the garb of which, a number of toxic chemicals are added).
So, why would I spend money to slap chemicals on my face in the name of rejuvenation? On the face of it, patanjali aloe gel does make one's skin appear bright and clear but that's all due to BHT which is skin lightening chemical that wreaks havoc in the long run on our skin. I didn't feel that it did anything noteworthy besides imparting transient radiance which mellowed down within minutes. As far as moisturisation is concerned, my dry skin remained dry even after being massaged with Patanjali Aloe Vera. As of now, it's lying like a stranded pirate in my shelf. Don't frown. I just watched Pirates of the Caribbean recently!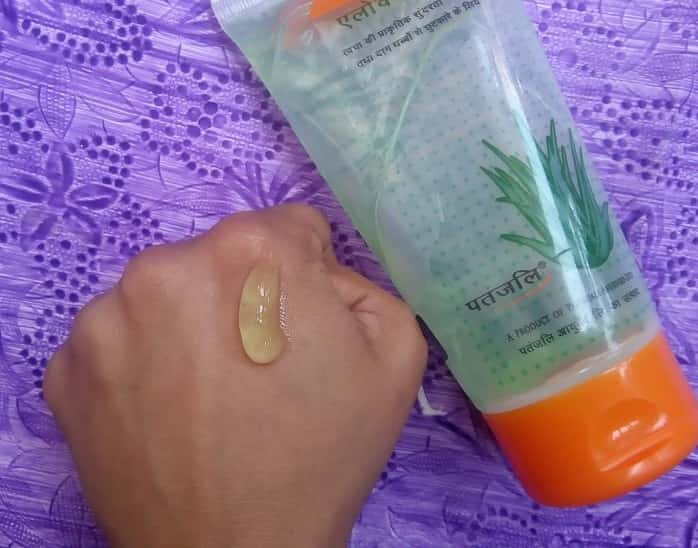 GOOD about Baba Ramdev Patanjali Aloe Vera Gel:
Economical
Easily available. If not at a Patanjali outlet, it is available online too these days.
Travel-friendly packaging
BAD about Baba Ramdev Patanjali Aloe Vera Gel:
By any stretch of imagination, it is not Aloe Vera gel. It is simply a green coloured, perfume and chemical laden gel which is marketed as Aloe Vera gel by Patanjali.
Does nothing remotely praiseworthy
Has BHT which gives one an illusion of having radiant skin but in actuality is merely a skin lightening chemical that is smothering our skin
Does not work in moisturising skin
Fragrance is mild and pleasant but again real Aloe vera has no smell, so that makes Patanjali Aloe Vera nothing more than an irritant.

Long shelf life. Confused as to why is this a con? Real Aloe vera is prone to spoilage within half an hour of being extracted. How can it then stay usable for 18 long months? This again proves that Patanjali Aloe vera is not real Aloe Vera.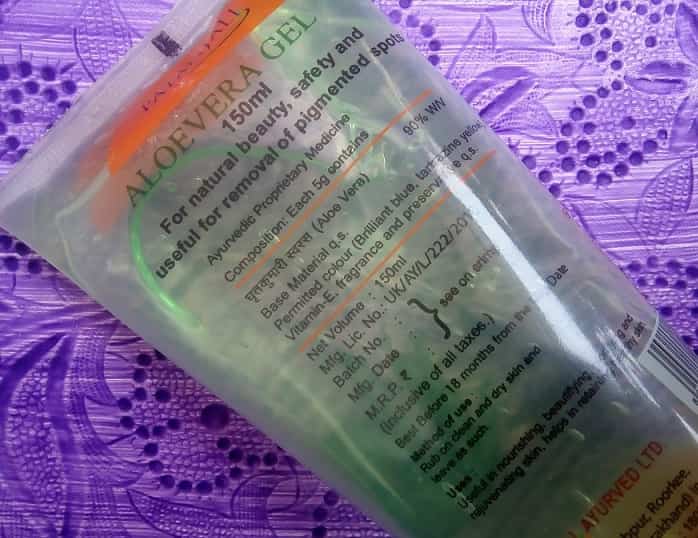 Price in India: Rs.75 for 150 ml
VNA Rating: 0/5 (Yes, I am ruthless)
Where to Buy Online in India: amazon.in
AVAILABILITY: Patanjali outlets
CONCLUSION: Toss this out of your beauty closet. This time look for a florist and buy a real Aloe Vera plant. It takes little maintenance and costs less than a single tube of this rubbish. It's your skin after all. Rejuvenate it and not pump chemicals in the name of rejuvenation.
By Contributor: Nidhal
Read More:
Salicylic Acid Products for Acne
Maybelline Blush Studio Blush 'em I'm Pop
Have you used Baba Ramdev Patanjali Aloe Vera Gel? Share your reviews with us.