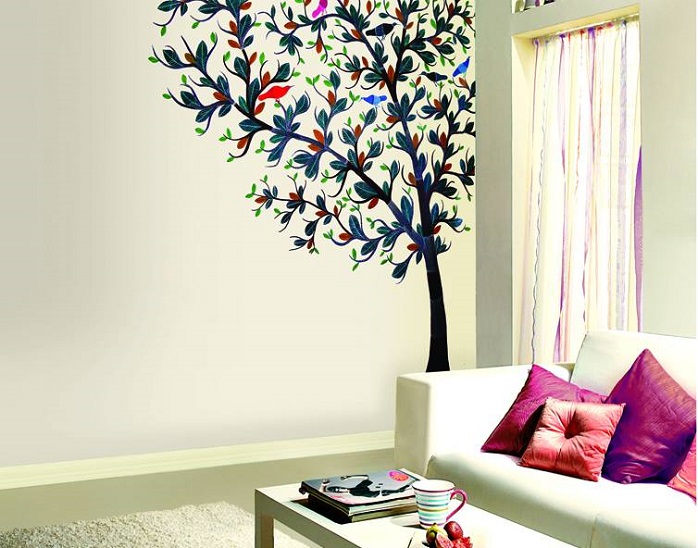 On March 30, 2016, Asian Paints initiated a special project Asian Paints Revisit: Indian Folk Art Revival. The event took place in Connaught Place, Delhi at the flagship store of Asian Paints, where they also launched a movement called Folk In Vogue, which is a collection of decor designs. The event was a private affair and by invitation only. The idea was to work with artisans from different mediums of Indian Folk art, by reviving the rich art forms and giving them a modern spirit that's reflective of the current times. 20 women were celebrated and asked to talk about their roots and how art plays a role in their lives.  The theme revolves around cultural art for your walls that is traditional yet contemporary. This helps bring the traditional cultural art creations of Indian Artists and crafts persons from rural villages into urban, modern homes. Colour with Asian Paints has succeeded in starting a movement where we can take a lot more pride in our heritage.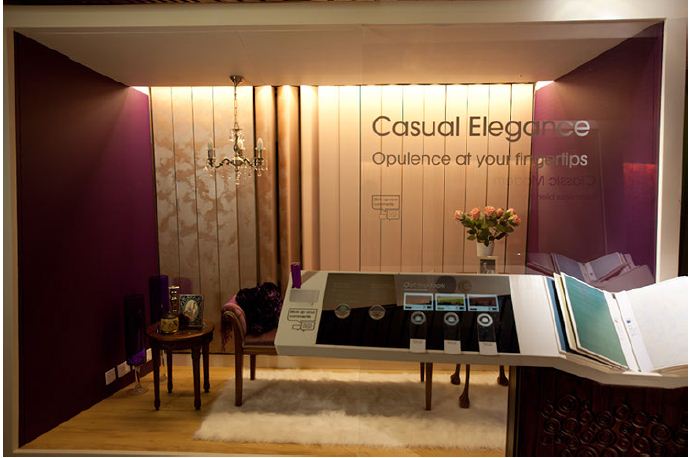 Colour with Asian Paints initiated a special concept called Folk in Vogue. It aims to revive old Indian artforms and give them a modern spin because Asian Paints feel that modern India is losing touch with its old traditional art. Folk in Vogue aims to support and work with varied Indian art folks and artisans because no other country has such rich beauty and diversity in its art forms. Some of the art forms which Colour with Asian Paints has revived are Gond, Warli, Orissa Pattachitra, Kalamkari, Bengal Pattachitra and Madhubani Art. These artists from remote villages have come together to create traditional and contemporary designs. The art forms boast of their vivid colours, brilliant textures, motifs and natural dyes. Support Folk in Vogue, support Indian kaarigars!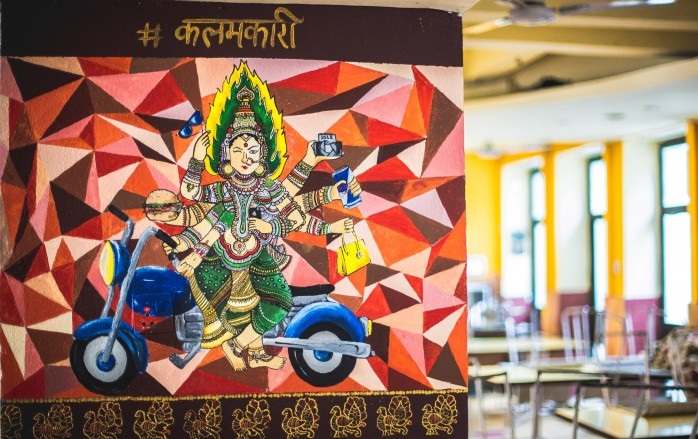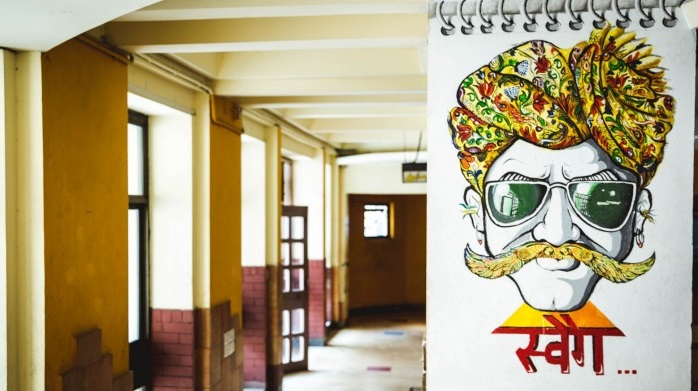 They also conducted a competition at the NIFT campus and asked the students to bring their creativity to life and paint the college walls with their ideas and vision.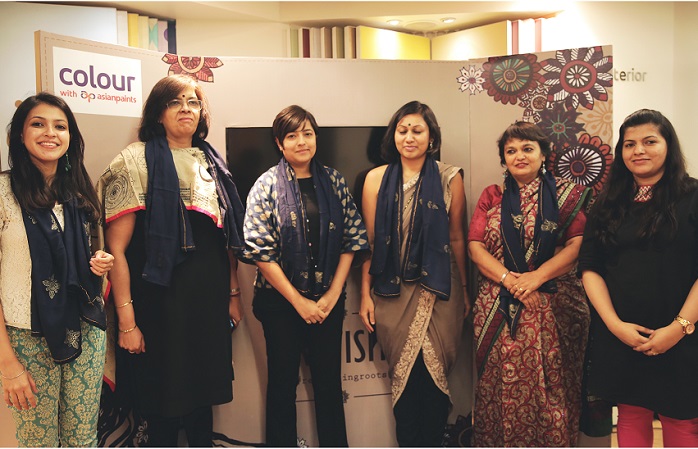 With Revisit, Asian Paints celebrated 20 phenomenal women who have remained true to their origins and have given the world something unique in their diverse fields. You can watch these women in action via some videos here
. Some of the women who attended and were celebrated are:
Rashmi Singh: an IAS officer who is well known for her work in human services, governance reforms and women empowerment. She is the founding Director of the Mission Convergence programme and Samjik Sangam in Delhi. She has also been the Executive Director in the National Mission for Empowerment of Women.
Ira Trivedi: an Indian novelist, yoga teacher, speaker and founder of Namami Yoga. Her written works include India in Love: Marriage and Sexuality in the century, "What Would You Do To Save the World?" The Great Indian Love Story and There is No Love on Wall Street.
Sumitra Senapaty: a well-known travel writer who started WOW, Women on Wanderlust, a group that encourages women to travel but helps provide safety in numbers whilst travelling, especially for solo women looking to experience a place for the first time. Her page has a following over 2,15,454 people.
Saloni Malhotra: a woman of many talents, she is the founder of the IT-enabled service company DesiCrew. It provides office support and service in rural areas of Tamil Nadu and Karnataka. She is also currently the VP of Paytm. Thank her for making your OLA rides hassle free.
Mridula Dang: a CFO of the company Shardul Amarchand and Mangaldas & Co. Shardul Amarchand deals with providing knowledge on elite-software designs for the legal industry. They are the largest law firm in India with headquarters in Delhi and Mumbai and offices in 8 cities.
Isha Dhingra: a fashion designer and Creative Director of The Old Prayer Claridges, she also has 18 more popular venue tie ups. She seems to be a fashion enthusiast and deals with weaves of multiple varieties.
Sukhmani Singh: Co-founder of Seek Sherpa, an online platform that connects locals with travelers to design and offer them new travel experiences and tours. Her page has a massive following of 19,832 people.
Anchal Shinde: a Founder of the Art and Aesthetic Art Gallery. The highlight is IMAGES juxtaposed, which is a group showcase representation of painting, prints and sculpture which focuses on emerging and prominent arts. It claims to bring together a melange of expression and sensibilities.
Reena Singh: known as the founding member of Spice Jet, ex HOA Pathways and now a sabbatical home-maker. She excels in her role of leadership and education.
Deepali Gupta Bhatia: The Editor-In-Chief at What's Hot India, this is a woman of many talents, being an author and Times Nightlife Guide writer for Delhi. She is also a Consulting Editor and assists with the Times Food and Nightlife Awards. Guess we can seek her for a recommendation on what's what.
Neeti Palta: Known as one of the foremost female comics in the nation, Neeti was a trailblazer in what was essentially a boy's club. Using her Delhi charm, this former advertising art director got sick of her job and moved onto greener pastures. She started writing for 'Galli Galli Sim Sim', the popular remake of American children's show 'Sesame Street.' After doing the show for four years, she attended a Brad Sherwood and Colin Mochrie show where she was asked at the last moment to do sound effects for the lines they delivered. The experience changed her and from then, she became well known in the stand up comedy circles as one of the first few female comedians.
Rachana Ramchand: described as a Social Impact Investor at Asha Impact during the day and a Musician by night, this lady is an accomplished pianist. She is also a dedicated event organiser and is a big time scrabble and puzzles enthusiast. Her particular interest in the arts is with the Thanjavur paintings that she used to find near her college.
Tritha Sinha: Hailing from Kolkata, Tritha is an indian classical singer who's been trained since she was 5. She is well known for her richness of sound, dusky tones and a very captivating voice. She is responsible for Tritha Electric, an Indian Classical meets Rock band and another one called Space, which is a women's collective that is dedicated to writing about women's empowerment and their issues. She mixes her roots with her rock band to create a fusion blend of what her identity means to her.
Vandana Narang: Born in Lucknow, she grew up in Delhi and attended the prestigious Lady Shri Ram college. She came to fashion by accident. Her parents were baffled by the decision, but she grew into it. Her mother instilled the value of independence and told her to be true to her roots. She is a firm believer in the power of Indian textiles and fashion. As the director of NIFT Delhi, this lady is shaping up the minds of today's top indian creatives and future fashion trendsetters at the university.
Sangeeta S Bahl: Sangeetha came from Jammu and always knew she was meant to do something different. She is an entrepreneur, image consultant, social activist and mountaineer. She started her business called Impact Image Consultants in 2005 and shortly after started an NGO called Impact Women Power. She is constantly juggling many roles as a mother and entrepreneur. She has climbed Mt.Kilimanjaro.
Sakshi Malik: a freelance make up artist, Sakshi has spent most of her life in Delhi, but her family placed importance to travel and adventure and would often take her around the country to explore. She came from a creative family, her father is an artist and her mother is a painter. She feels that it is a blessing to be born in this country because of the amount of creativity and creative minds that exist around us, whether in the traditional or modern sphere. She is a fan of indian textiles and fabrics. She would love to learn Madhubani.
Sairee Chahal: She is the founder of Sheroes.in, but has dabbled in many things, which includes running a start up, running a magazine, working with authors and documentary filmmakers. She grew up in a small town in India but is based in Delhi now. Her roots have connected her to the Worli arts and she loves attempting to paint it. She's also very fond of miniature paintings from the Mughal time. She believes in exploring diverse forms of Indian folk art so that we can get a more varied picture.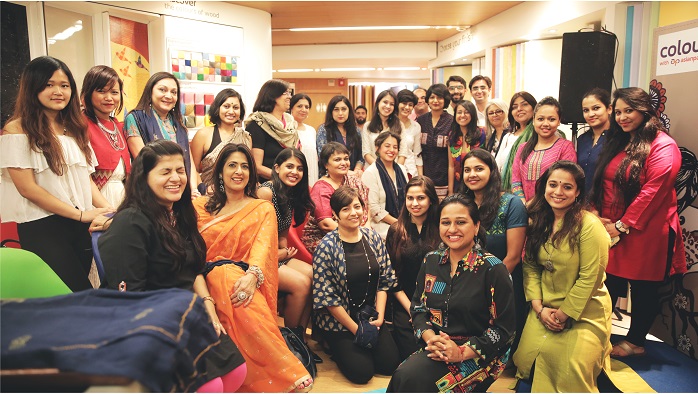 The event was a success to say the least and brought traditional art forms to the forefront. A lot of times we forget how beautiful and diverse our country is. With increased globalization, people often look to other nations and forget that we have our own rich and varied heritage that we can easily exalt and explore. This Revisit initiative brought the brightest minds together with artists who have been doing their craft for years. Bravo to Colour with Asian Paints!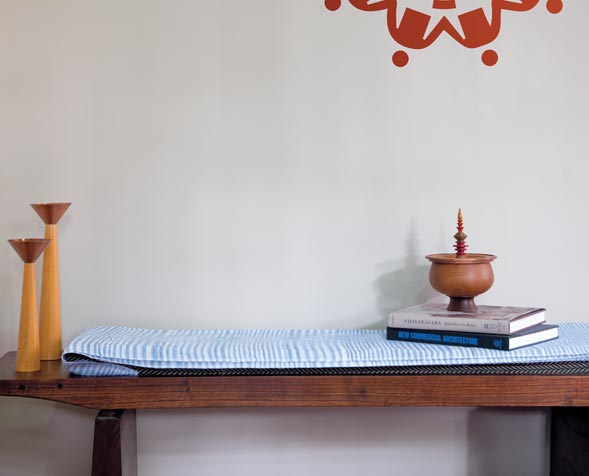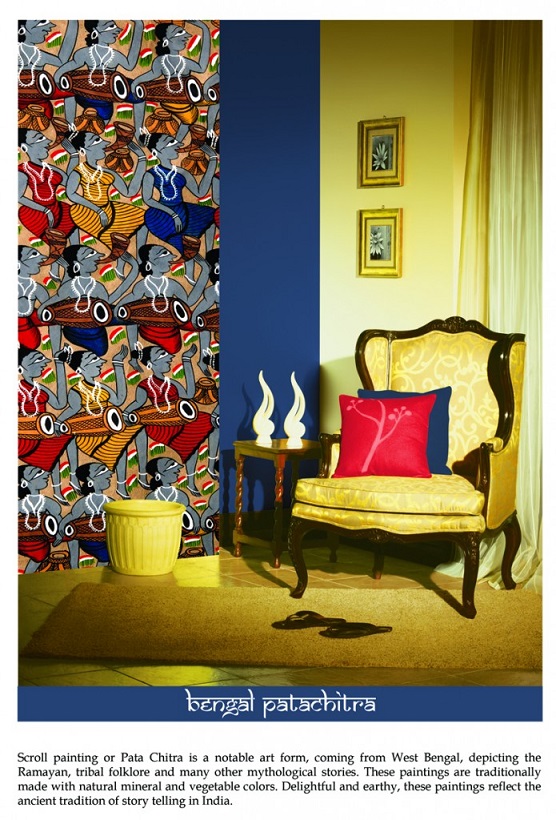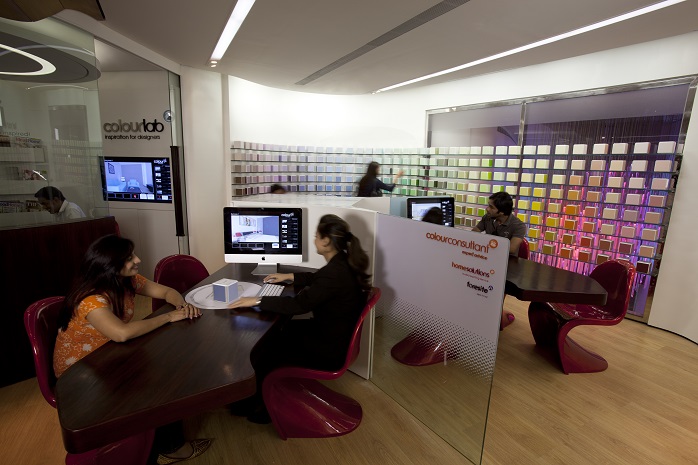 The signature Colour with Asian Paints store is located in Connaught Place, Delhi. They have experts there who help you out with interiors, colours, ideas, lighting, etc. They let your imagination run wild and let you experiment with colours and visual and put it all together in your dream home. They have different customization options via which you can play with your favorite colors, patterns, memories and get them to your dream wall. They also have a 3D technology which gives you a virtual tour to better understand your ideas. Along with all that, they have a kids corner where your little ones can enjoy while you are busy turning your home into a wonderland. With so many talented designers, features and facilities available at the store, you can bring your imagination to life. To us, its a wonderland of home decor!
Asian Paints Colour Store Address: Kashi House, A-3/8a, Radial Road, Connaught Lane, New Delhi, DL 110001
Tel. 011-41501676, 011-41501677
Store Timings: 10.00am – 9.00 pm