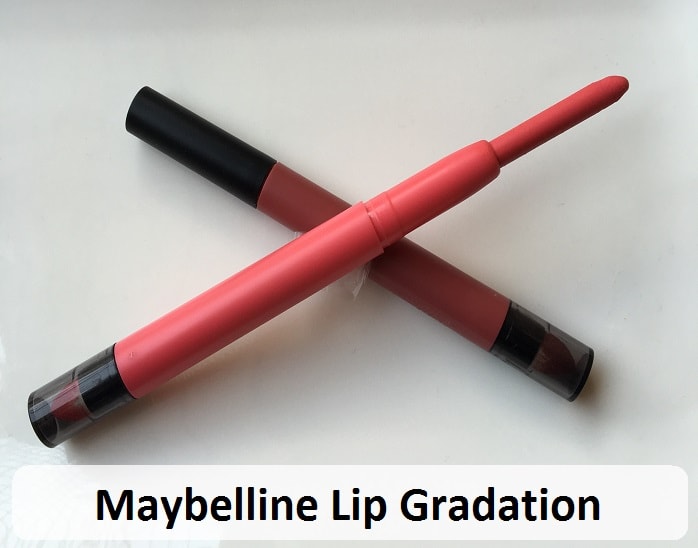 Reviews, Swatches, Shades, Price, Buy Online Maybelline Color Sensational Lip Gradation
Maybelline New York, a drug store brand name that is not new to anyone.  Off late Maybelline has really stepped up their game. They have launched some really good stuff, like their nudes eye shadow palette and the fit me makeup range. Their latest launch is their lip gradation by colorsensational! Abroad it's known as colour blur! Today I will review and swatch the lip gradation by maybelline colorsensational in Coral 1 and Mauve 1. But I also have swatches of all the shades for you to choose your favourire shade from the lip gradation range.
Gradient lips is a major Korean trend, it is simply a way to use your lipstick in a way that looks like you have been sucking on a Popsicle and keep it looking like that for hours. It can look extremely natural if you use a pink or a red shade. I have been eagerly waiting to get my hands on these from quite a while and when Maybelline put up a teaser on their Instagram page I was really excited.
SHADES AVAILABLE: They have 8 matte shades for you to choose from. The options are: red 1, red 2, pink 1, pink 2, mauve 1, coral 1, fuchsia 1, orange 1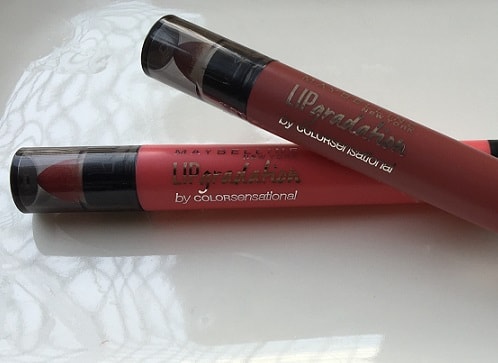 THE PACKAGING 
Let's talk about the maybelline lip gradation more in detail shall we! It is a slender stick, It is a double sided lip product! On the retractable  side is the actual product it doesn't need to be sharpened and I find it easy to use, it is slender enough to line my lips very nicely in the inner corners and the cupid's bow and the other side has the cushion blender tool. This tool is used to smudge the product on your lips to create a softer look. It is very sturdy and travel friendly .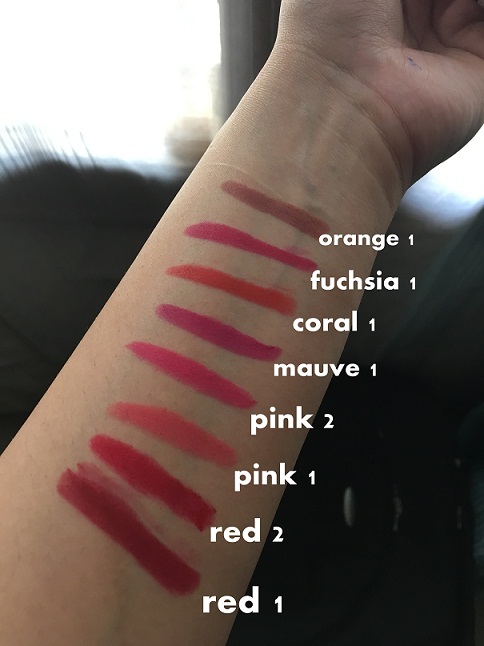 Swatches from bottom to top: red 1, red 2, pink 1, pink 2, mauve 1, coral 1, fuchsia 1, orange 1
THE TEXTURE 
The lip gradation lipstick is quite pigmented just one swipe on your lips and you are good to go. It is very creamy and glides on very easily on your lips. It is a matte lipstick so it has no shine whatsoever. It does not settle in the lip lines. It feels very soft and very comfortable on the lips. Maybelline colorsensational lip gradation Doesn't feel heavy on the lips and it is not very drying. The lasting power of colorsensational lip gradation is also pretty good. It will last you a good 3-4 hours with light meals. It has no fragrance.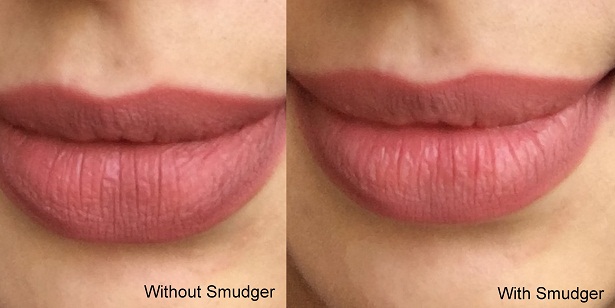 swatches of lip gradation mauve 1 on lips
I own 2 shades, coral 1 and mauve 1 in lip gradation range and I must say I do love them. I like the coral 1 more than mauve 1. The lip gradation mauve 1 looks a little brownish on me and I am not a very big fan of brown lipsticks. The coral1 on the other hand is a very soft orangish pinkish colour. I pair lip gradation coral1 with nice bold eyes. It gives a very natural colour to the lips.  It is very easy to use, just one swipe you do get amazing result on the lips. But if you find it very bold that's when the smudger comes in use, it absorbs the excess product on your lips and leaves behind a stain. I personally didn't like the smudger much it didn't do nothing that a tissue won't do, so I don't see myself using the smudger  much, again I feel cleaning it would be an issue.

swatches of lip gradation coral 1 on lips
I did use the mauve 1 as a lip liner with Mac kinda sexy which looked pretty awesome. You can also use 2 shades to give an ombré effect! Like the red and the orange it would look pretty good. You can line your lips with red and fill in a little with the orange and use the smudger if you wish or a plain tissue would the trick or your fingers to help you blend them together and voila it would look really good! It will give you a cascading effect!
PROS OF Maybelline Color Sensational Lip Gradation:
Great quality, very affordably priced at Rs.500

Very smooth and creamy texture doesn't dry out the lips
Travel friendly
Long lasting
Easy to use
Multiple use can be used as a lip liner as well
Strong pigmentation
It comes off with ease when you are taking it off
CONS OF Maybelline Color Sensational Lip Gradation:
Has the same colours as Maybelline's other ranges
Not much use of the smudger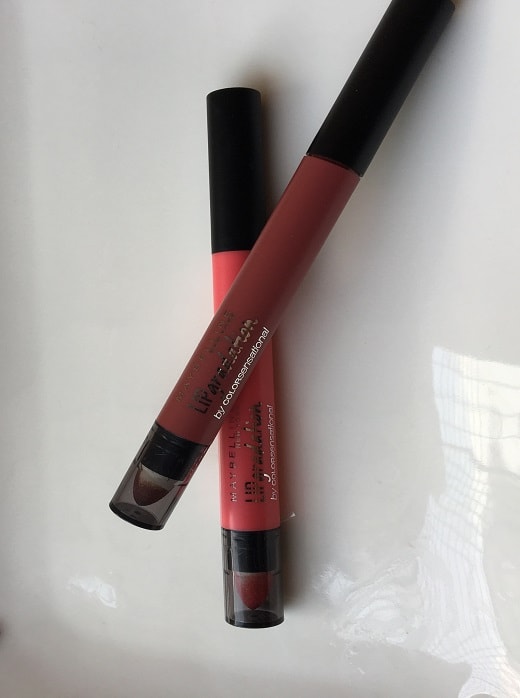 Price in India: Rs.500 each
VNA Rating: 4/5
Where to Buy Online in India: jabong.com
CONCLUSION: I do like this lip gradation. You can try it if you are looking for a lip product with a smudger. Would I repurchase it again? Maybe not! Would I recommend it to others, definitely!  You can create some new and fun looks with it.
By Contributor: Ghousia
Also Read:
Review, Swatches, Dupe Of MAC Magenta Lip Liner
Preview and Swatches of Bobbi Brown Art Sticks
Review, Swatches, Dupe Of MAC Teen Dream Patentpolish Lip Pencil
Lipstick Collection of a Beauty Blogger!
Have you used Maybelline Color Sensational Lip Gradation? Share your reviews with us.