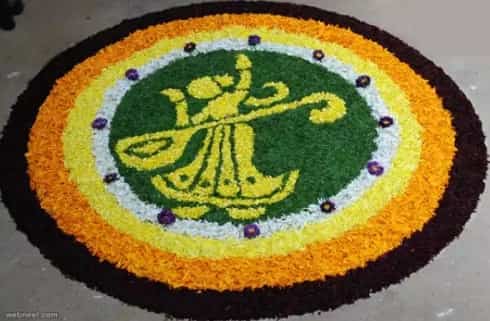 Top 50 Latest Makar Sankranti Rangoli Muggulu Designs
Being basically an agricultural country, a common festival in India is the harvest festival. Bengalis call it Makar Sankranti, Punjabis call it Lohri, Gujratis call it Uttarayan and Tamils call it Pongal, Malayalis call it Onam. In this post we'll discuss about the best rangoli designs that are made in South Indian households during Sankranti and Pongal which are known as Pongal Kolams and Sankranti muggulu designs respectively. It is the first day of the spring. This year Makar Sankranti will be celebrated on the 14th January 2017. This is the day all the south Indian houses will be decorated with flowers, diyas, colours, sugarcanes, pulses, rice and rangoli patterns at their doors.
Festivals are an integral part of India. The Land of Festivals- that is what India is commonly known as. There's a popular Bengali saying which goes as-"Baro mashe tyaro parbon", which means in India there are thirteen festivals in twelve months. The first thing that comes to a person's mind when festivals are mentioned is of course holiday from work, lazying at home or an outing with family and friends(whatever that person prefers). The first thing that comes to a normal woman's mind is shopping for new clothes(only shopaholics will understand).
But festivals are a lot more than just holidays and new attire.  Festivals mean colors, new clothes, guests at home, gourmandish savoring of festive delicacies, hullaballoo; in short lots of enjoyment. Simple rangoli designs are made using dots and lining them with colours. Women especially love to make muggu designs at their schools, colleges, offices and homes. Most schools organize rangoli competitions for the most creative muggulu designs for sankranti. And I'm here listing some of the winning rangoli patterns to help you win at these competitions! These are easy, simple yet unique in their own. Also these latest kolam designs use dots, flowers, colours and diyas.
Pongal is four-day long harvest festival celebrated in Tamil Nadu. For as long as people have been into farming, there has been some for of harvest festival. The Pongal Kolams that are made as a part of cleaning and decorating the house, traditionally depict the various aspects of the Pongal festival, their beliefs and their rituals. But these days other colourful Kolams are also made as people like going beyond traditional barriers. Below is a list of 50 most beautiful south Indian rangolis:
50 New and Latest Muggulu Designs for Makar Sankranti 2017
1. Floral Rangoli Design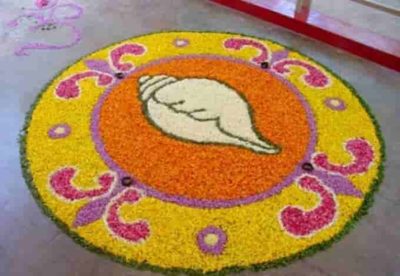 The conch shell in this pookalam emanates an aura of sanctity. The colors of petals used in this pookalam is serene.
2.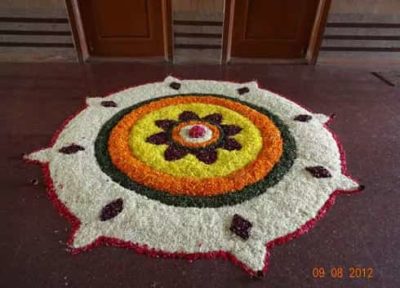 The white colored petals used in this pookalam brightens up the whole deal. This pookalam is simple yet extremely beautiful to behold.
3.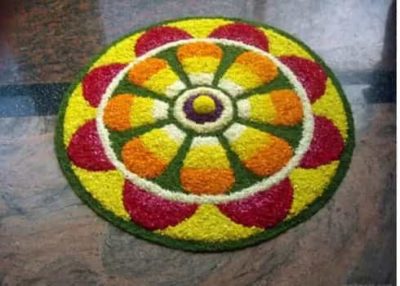 This bright pookalam emanates an aura of festivities and pomp. Notice how seamlessly the colors blend into its neighbours in this colourful rangoli design.
4.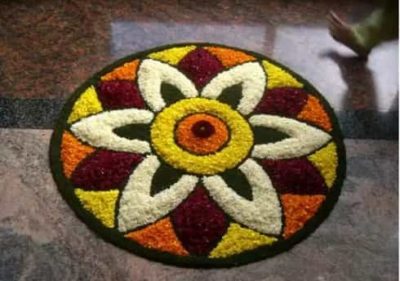 The maroon and white combination is very eye-catching, and how perfectly the boundaries have been made!
5.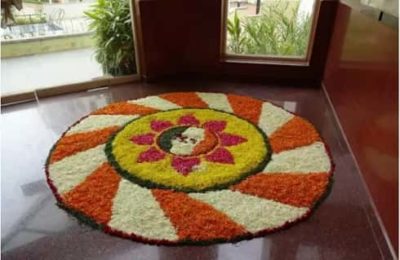 A very patriotic person must have made this piece of art. So if you consider yourself to be patriotic at the same level even you can give the traditional pookalam a touch of your chauvinism.
6.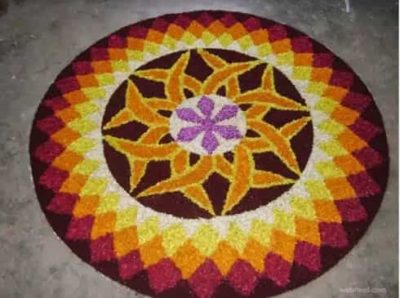 A unique muggulu design at the core.
7.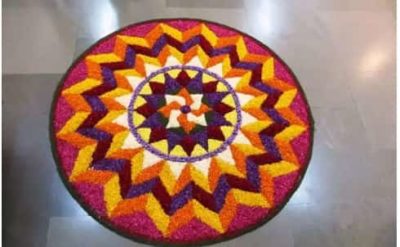 This artwork is so intricate and bright, but not at all gaudy. Beautiful colors have been juxtaposed to give rise to a colorful blend of hues.
8.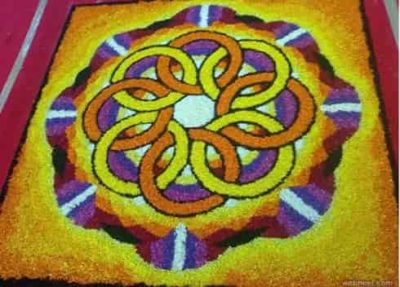 A very unique design, a bright plethora of colors; notice how shading is brought about with the help of flower petals alone.
9.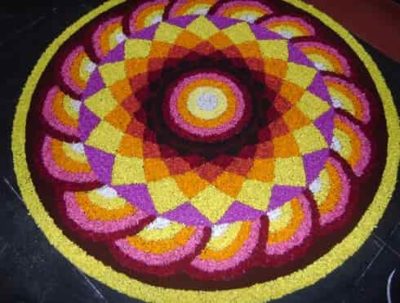 And the colors used are so beautiful.
10.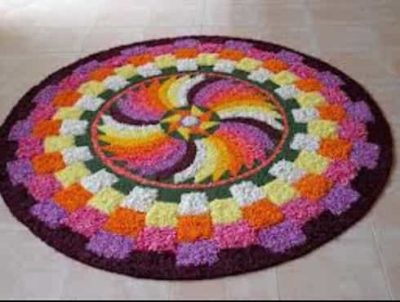 Many bright colors-darkest shades to the lightest shades have been used and the result is simply marvelous.
11.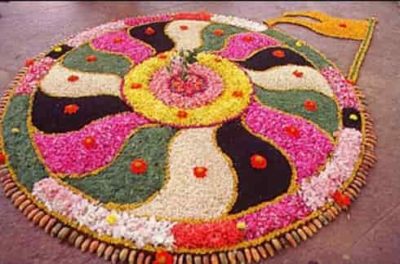 Unique combination of colors have been used in this flower muggulu and the result is absolutely endearing.
12.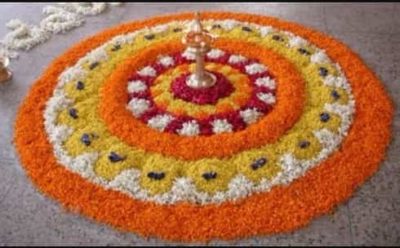 The choice of colors is very sober which is in no way dull or wan.
13.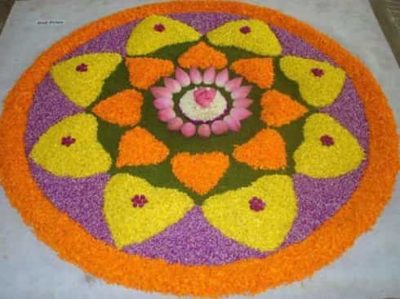 This is one of the easiest sankranthi muggulu designs to make for beginners.
14.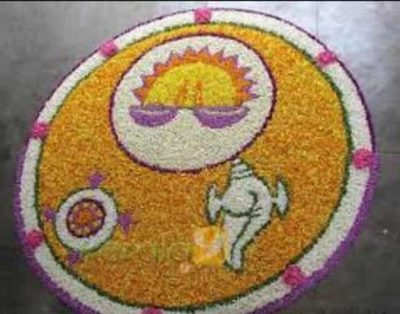 Such a beautiful artwork with flower petals! This muggulu just shouts the festival of Sankranti.
15.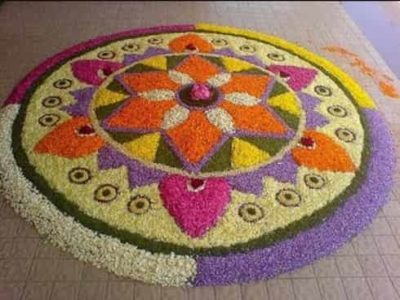 The pattern in this pookalam is very symmetric and pretty much common. What is attractive about this design is the color combination of the petals used.
16.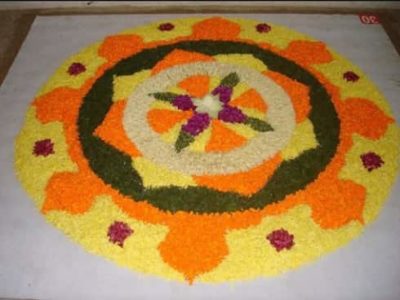 Blend of orange, yellow, dark pink and green make up for a lovely visual effect.
17.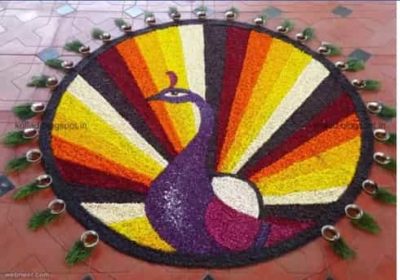 This is an indoor sankranti rangoli design with peacock and what a colourful peacock.
18.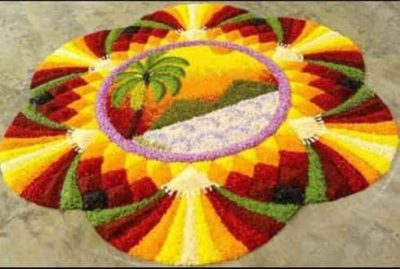 If you are looking for professional rangoli designs then this might be right up your alley.
19.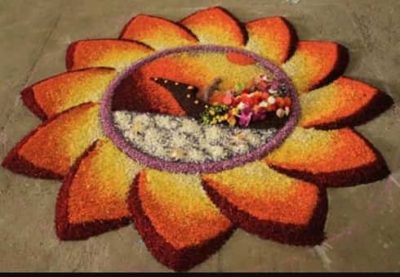 A modern twist is given to the traditionally circular pookalam
20.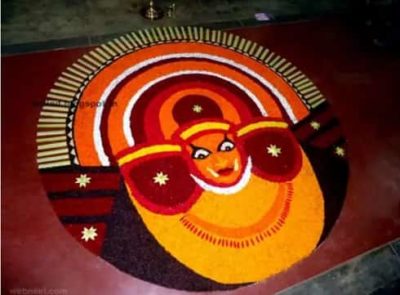 This depiction of a Kathakli dancer's make-up in the rangoli is a refreshing change from the usual geometric pattern. The vibrant colors used, makes up for a treat for the eyes.
21.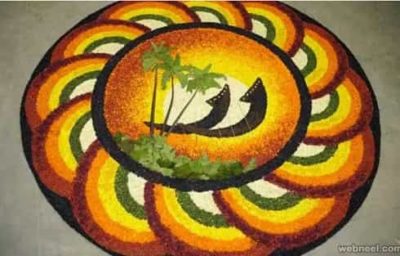 Another Sankranthi muggulu to ogle at.
22.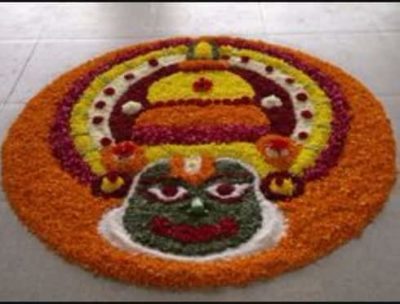 Again the face of a Kathakali dancer brands this pookalam as an indigenous product of the state of Kerala.
23.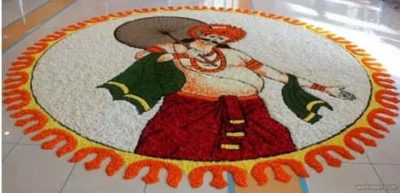 And here's the man Himself- The great Mahabali!
24.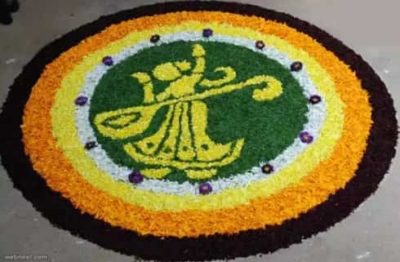 The depiction of a woman with a veena in this pookalam is unique. The shades of boundary colors used is also a bit different. This muggu design with just two to four colors looks very beautiful.
25.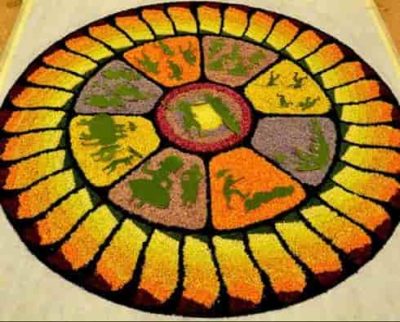 The various aspects symbolising Kerala are depicted in this floral pattern- from farming to regatta to Kathakali. The hues of petals used is very sober yet it creates an impression in the minds of the beholder. And seamless blending of colors in the border design is impeccable.
26.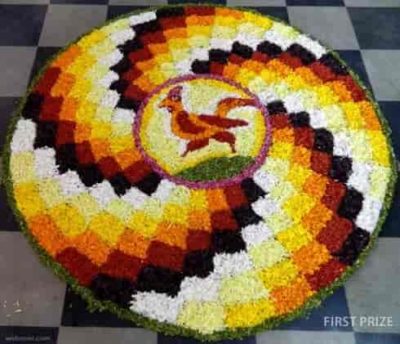 The reason to ogle at this muggu pattern is the blending of colors. The different colors block design is pretty much confined in their respective boundaries. Yet it seems to blend smoothly with each other, so intelligently the hues are juxtaposed!
27.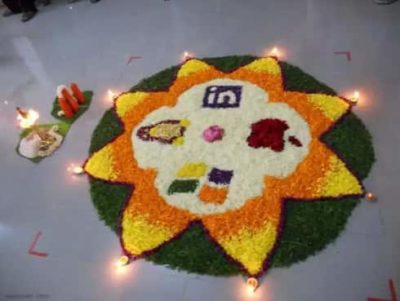 A creative chukkalu for sankranti- defying yet adhering to the traditional ones. The drawings of symbols of the modern technologies inside will surely make you appreciate the creativity of the artist.
28.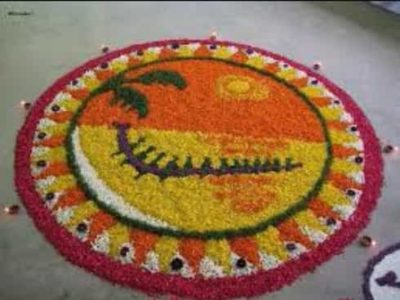 A chukkalu describing a regatta. The shades of the flower petals chosen is appreciable.
29.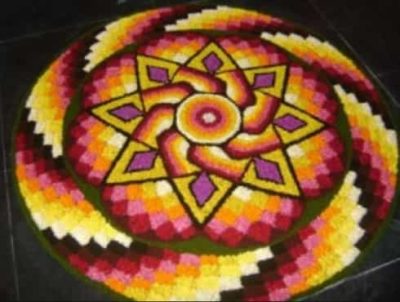 Colored petals confined in blocks again, yet seamlessly gliding into the other colors makes up for a treat for the eyes. Beautiful color combination used. Everything about this muggulu spells a bright and festive affair.
30.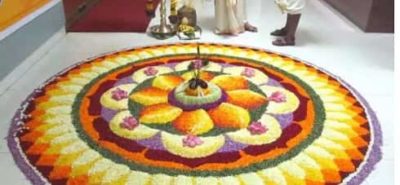 Rangoli with diyas and ombre shading
31.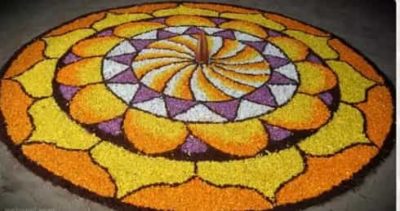 The shading done in this pookalam with flower petals is so beautiful. I like the usage of mauve colored petals.
32.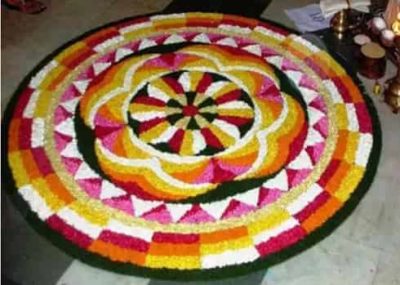 Bright colors have been used which seem brighter due to the white colored petals used. The juxtaposition of the light and dark colors is what sets this makar sankranti design apart.
33.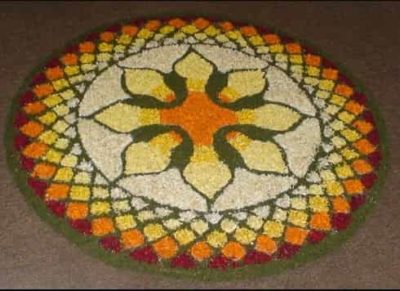 This muggulu is sober going on the brighter side. The design on the boundary is intricate, and a lot of effort must have gone to put the boundaries.
34.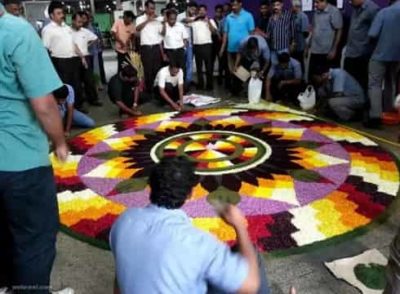 This picture depicts a huge and latest muggulu design and also the amount of effort required to make such an artwork. No wonder the result of the effort is so beautiful.
35.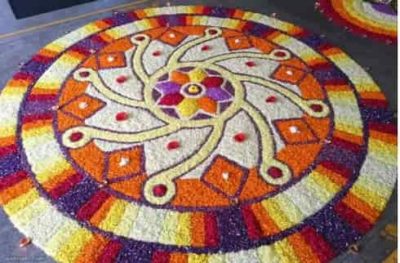 The colors in this rangoli blend so gracefully and they are so bright too. The artwork is also excellent. We can get a taste of the magnificence with which Onam is celebrated in Kerala from this pookalam.
36.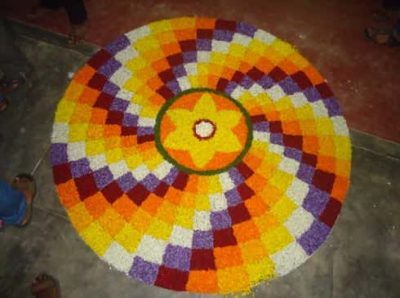 Such a complex yet best quality rangoli design for sankranti.
37.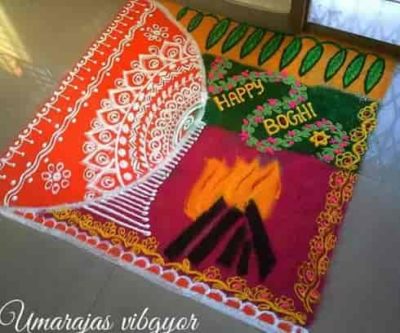 It says Happy Boghi. If you are from Punjab you can write Happy Lohri.
38.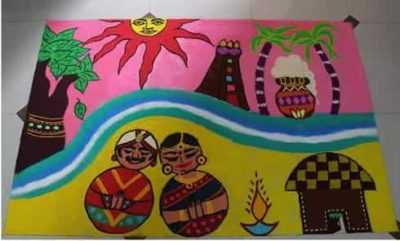 Sankranti designs in Andhra Pradesh depict sugarcanes as its one of their major harvested crop.
39.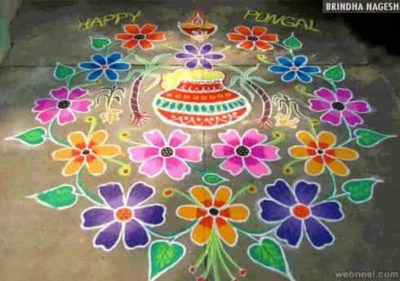 This sankranti pattern has stuck to the traditional ones but also added an artistic touch to it.
40.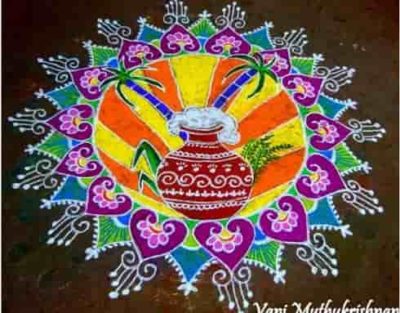 Again in this muggulu we see the rice boiling ritual. Presence of sun is felt with the background of sun rays. The sugar canes and turmeric plants are also painted.
41.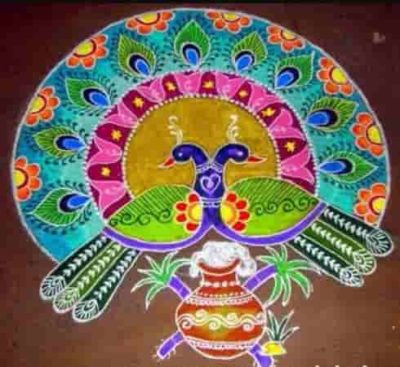 Another description of rice boiling, with sugar canes and turmeric. But the wow factor in this chukkalu is the inclusion of peacock design. The embroidery of the pattern is designed similar to a peacock's feather and the color combination is also as bright and eye-catching as peacock's feather.
42.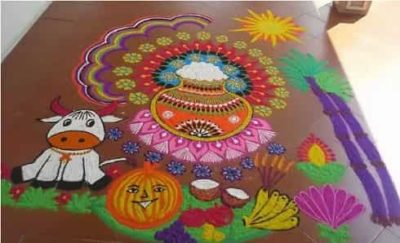 A very traditional and colourful muggulu for makar sankranti.
43.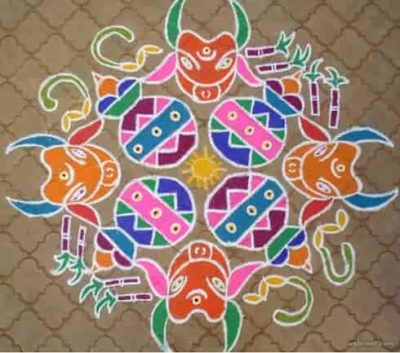 This explains the second and third day's rituals of pongal in a nutshell. The pongal is described along with the sugar cane plants and turmeric plants. We also observe the sun in the center. This is how a dot rangoli design looks in South Indian homes.
44.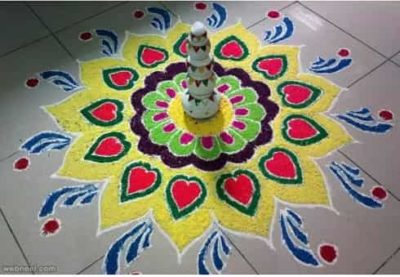 A beautiful kolam, where instead of drawing the earthen ware pot containing the pongal, an actual pile of pots containing pongal is placed in the center. And the design around the pot is so MAGNIFICENT! The color-contrast,symmetry,pattern- what's not to love about this. A traditional kolam with a modern twist.
45.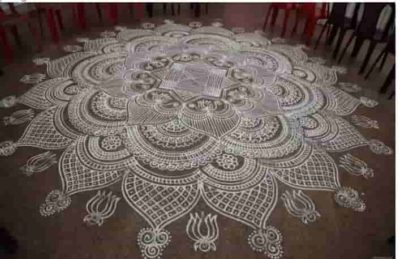 This dot rangoli design lacks color, but the intricacy of the artwork is fascinating and makes up for everything. It speaks of the effort put behind it and also of the deftness and patience of its maker. One word for this sankranthi muggulu dots pattern-stunning! In a very literal sense.
46.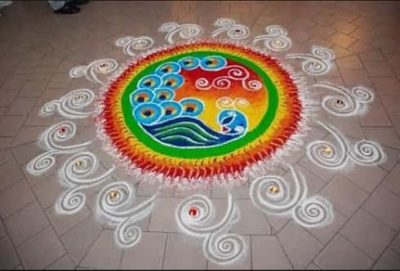 If you are a fan of peacocks then try this one
47.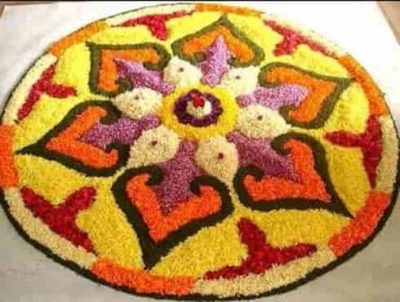 A tremendously beautiful athapookalam made entirely with flower petals. The choice of the color of petals is also so impeccable. Bright and beautiful describes this!
48.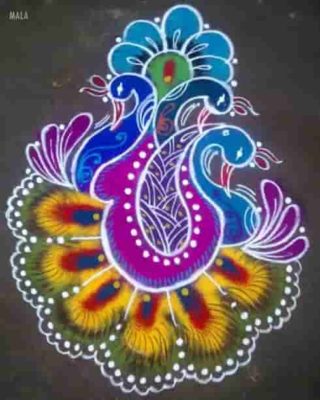 Peacocks again!
49.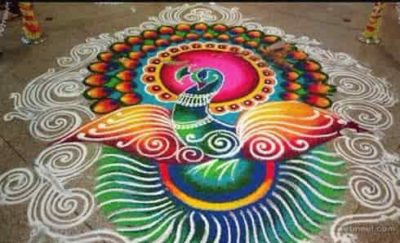 Another beautiful peacock kolam which is not left just at beautifying the peacock. The designs surrounding the peacock complements the beauty of the peacock as does the peacock complement the beauty of it surroundings. The colors used in the tail are so very stunning.
50.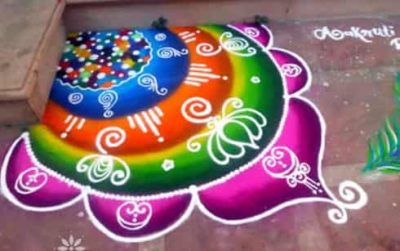 A kolam to be made at the corners of your home.
So now you can choose from this wide plethora of muggulu designs for the new year Makar Sankranti, Pongal, Onam and Lohri. Add your individual touch to these artworks and rest assured people won't be able to stop gushing about Athapookalams.
Image sources: 1, 2, 3, 4, 5, 6, 7, 8, 9, 10, 11, 12, 13, 14, 15, 16, 17, 18, 19, 20, 21, 22, 23, 24, 25, 26, 27, 28, 29, 30, 31, 32, 33, 34, 35, 36, 37, 38, 39, 40, 41, 42, 43, 44, 45, 46, 47, 48, 49, 50
Read More:
Which is your favourite sankranti muggulu? Share your reviews with us.