Top 50: Best Bridal Mehendi Designs for Hands for your Wedding
Wedding season is here and there is nothing which screams "I am a bride" more than the bridal mehendi. Such beautiful patterns and traditions attached with it make the Indian bridal mehendi one of the most important parts of Indian Culture. A lot of Brides-to-be opting for a less extravagant and elegant minimalist designs which stand out. So here is the list of the best bridal mehendi designs for hands where there is something for everybody. Whether you like grand traditional mehendi designs or soft minimal patterns, arabic or mughal mehendi, geometric or intricate, these henna designs will make you want to get married right away! Brides-to-be bookmark this page!
Tips to Keep in Mind before and after applying mehendi:
There are some tips which should be kept in mind while bridal Mehendi is applied. These will ensure that the colour is richer and darker and stays for long:
Avoid washing your hands with water after the mehendi has dried and removed. Water makes the colour lighter and lighter after every use.
Apply vicks vaporub to the mehendi after it dries. Vicks produces heat which makes the colour richer.
Avoid using creams and lotions on the hands before application of mehendi. Mehendi doesn't stick properly to the skin if there is a cream or lotion applied.
Waxing or shaving after the mehendi is applied makes the colour lighter. hair removal should be done 3-4 days prior to the Mehendi application so that the skin is not red or itchy when the mehendi is applied.

Mehendi is best applied 1-2 days prior to the wedding. It gets the best colour after 1-2 days so by the time your wedding day is here, your mehendi is the darkest!
Keep your mehendi overnight as longer duration of the mehendi gives a better colour.
So these were the tips to keep in mind on your mehendi day. Lets get to the best designs!
List of Top Fifty Mehendi designs for Hands for Indian Brides:
1. Geometric design
The combination of geometric lines and mughal pattern makes this a gorgeous design.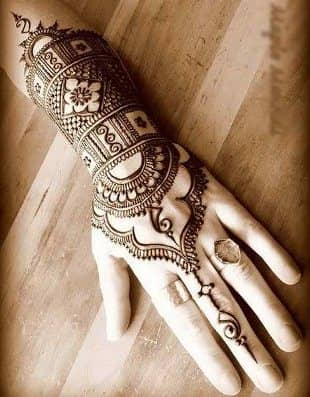 2. Minimal henna:
This design is perfect for those girls who like minimal designs.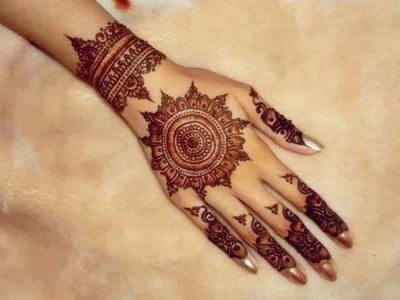 3) Mehendi on fingers:
I love this finger design in the form of Midi rings which look perfect in photos.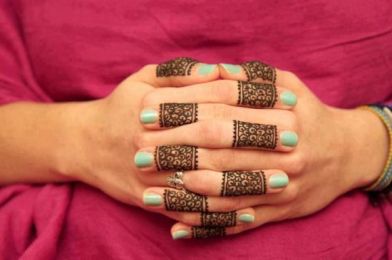 4) Design at the back of hands:
Mehendi at the back of the hand stays for longer period than the palm so it is always better to get these pretty royal designs which look great with the haathphools which the bride wears on the wedding day.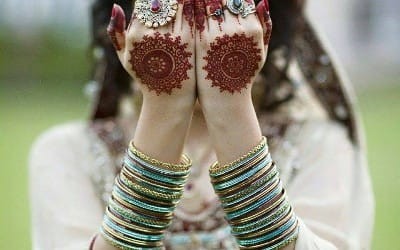 5) Flower design:
Intricate patters with flowers make an elaborate design which makes your hands look full.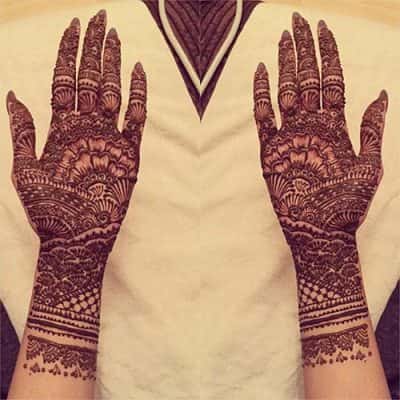 6) King and Queen Mughal Mehendi:
Raja-Rani designs are very popular these days with elaborate wedding procession figures with palki etc in the mehendi.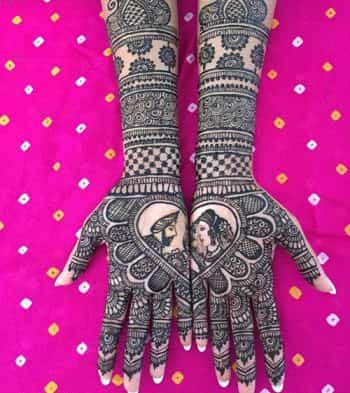 7) Arabic henna:
Arabic Design looks classy and striking because of the skin showing through the mehendi.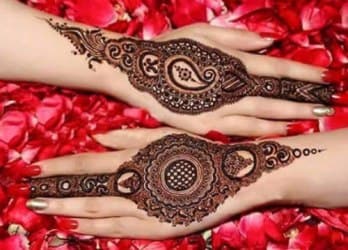 8) For bridesmaids:
This design is perfect for the friend of the bride or the sisters as it is not so grand but really intricate and pretty.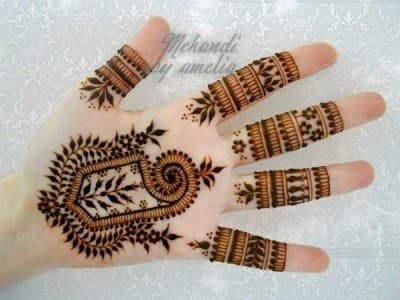 9) Hand accessories or jewelry inspired henna:
Jewellery-inspired mehendi designs make it look like you are wearing haathphools and elaborate kadas.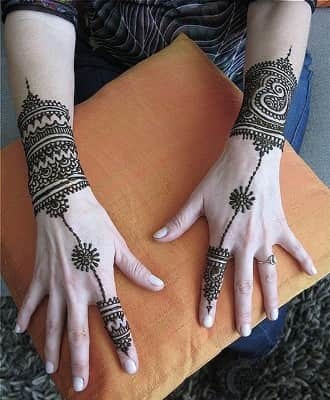 10) Traditional mehendi:
Grand elaborate bridal mehendi for girls who like all things traditional.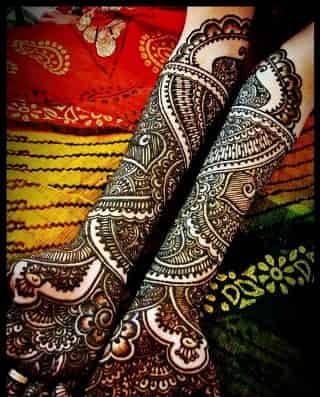 11) Lotus henna:
This lotus inspired design is my favorite with the neat lotus flowers and the Jaali pattern.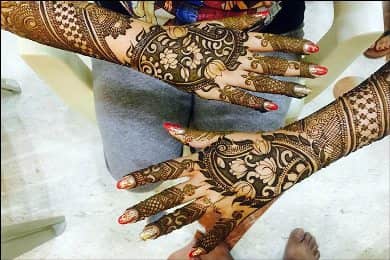 12) Symmetrical henna design:
Mostly design on both the hands are different but matching designs make for a great photo. Perfectly symmetrical patterns make this design a stand out one.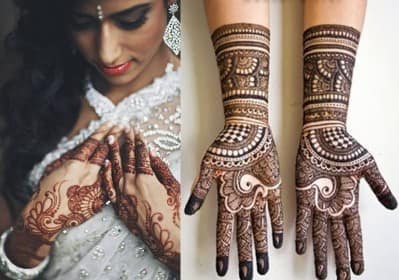 13) Flowers and leaves inspired:
nature inspired pattern with shading.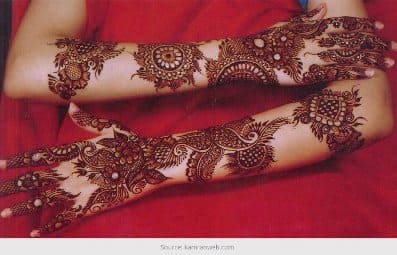 14) Beautiful mehendi:
Another intricate symmetric design.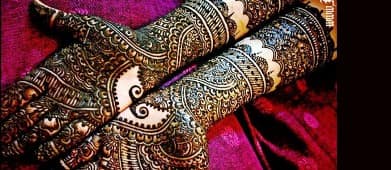 15) Stunning royal mehendi:
Raja-Rani desing with jharokas and peacocks make this design perfect for a royal wedding!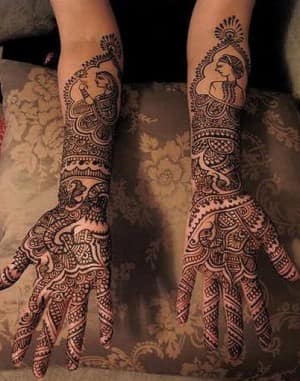 16) Minimal henna pattern:
A floral "bale" on the back of the hand with shading and leaves.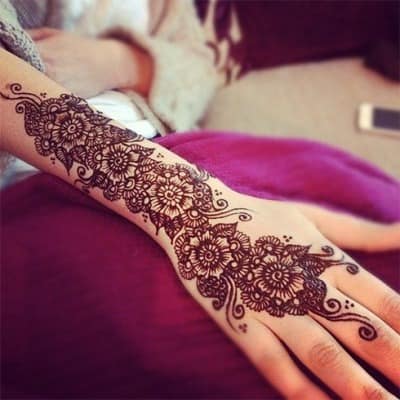 17) Mehendi design for marriage:
Bride-Groom portrait mehendi which is the most sought-after design these days.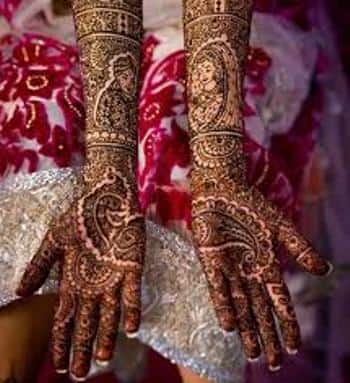 18) Potrait mehendi pattern:
Another portrait design which mughal designs and bride-groom pattern.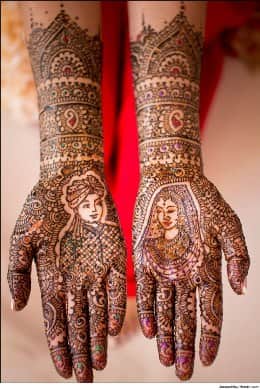 20) Moroccan geometric design:
It look very pretty in pictures and this design is perfect of you are going for the elegant minimal look.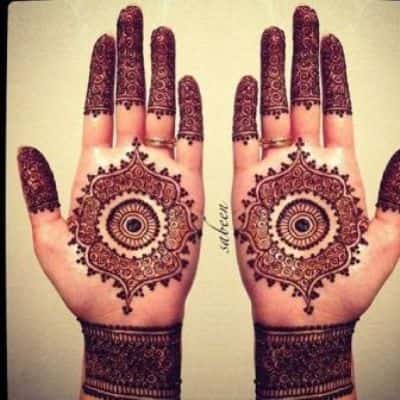 21) Tribal mehendi:
clean neat patterns are making their way into the bridal mehendi scene these days.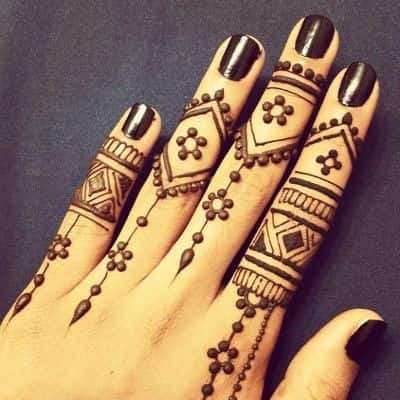 22) A perfect palki with a dulhan design for the little royal touch to your mehendi.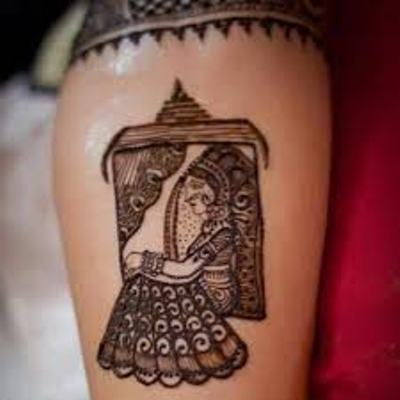 23) A royal scene depicted in the mehendi with mughal influence.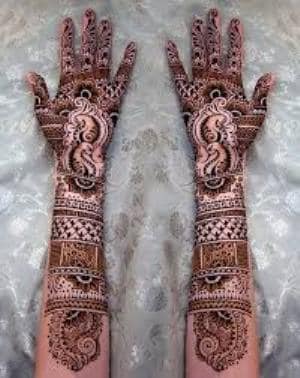 24) Sophisticated and modern design for the modern bride.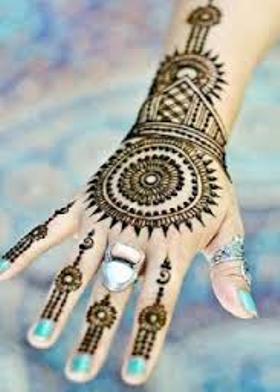 25) A haath-Phool design with a diya in the centre.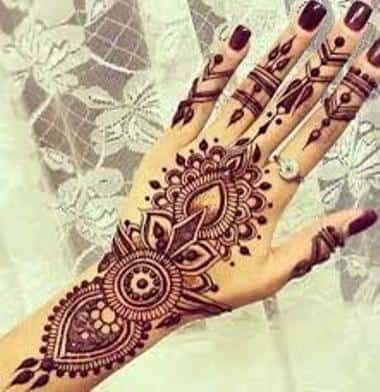 26) Arabic mehendi with hearts around the central design which makes this design so romantic and chic!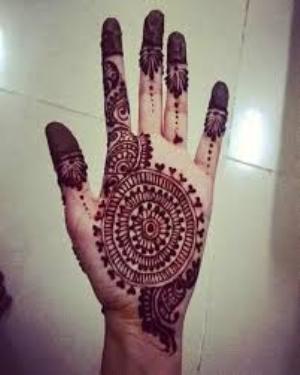 27) Design depicting a marriage scene with dancers and dholkis with the bride and groom. The lotus flowers at the end add to the charm of the design.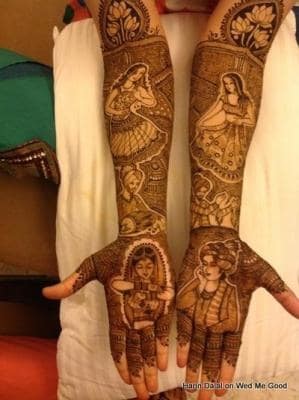 28) Symmetrical design with little diyas in the finger tips.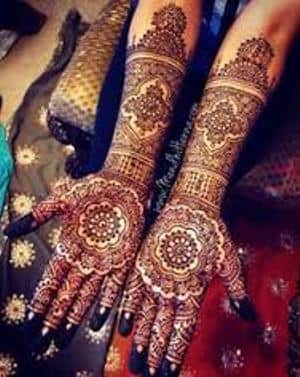 29) A chain inspired pattern for the back of the hand.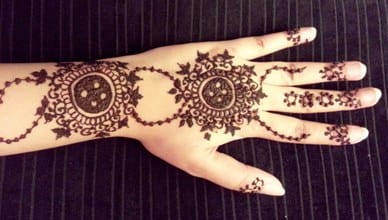 30) Beautiful henna pattern on fingers:
This is my favorite design for the back of the fingers. Classic french manicure with neat pattern makes this design so elegant.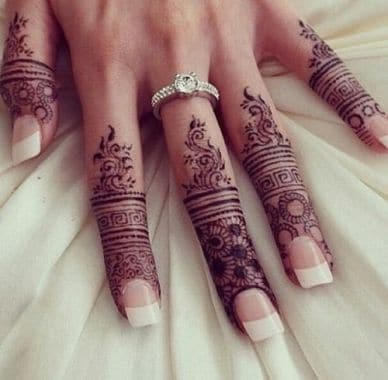 31) For brides who like a grand design on the back of the hand too, this pattern will look great.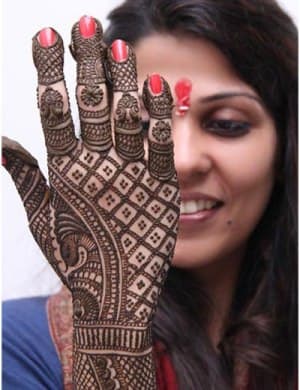 32) A shaded henna with clean geometric lines and patterns.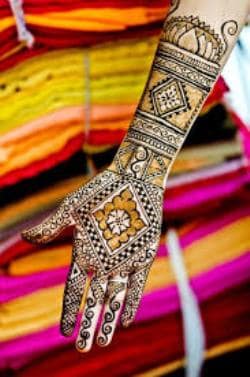 33) Sun inspired design with finger detailing on your wedding day.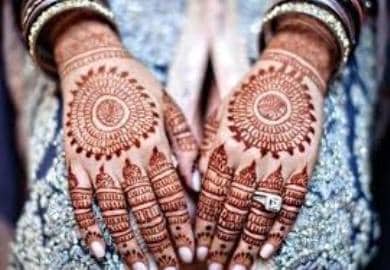 34) This is such a detailed design with elephants and peacocks. The cute elephants at the end look so unique on hands.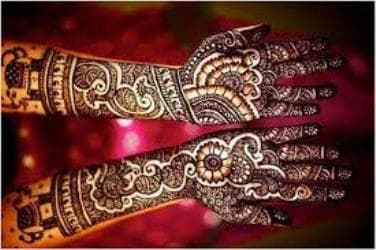 Another picture of the same design: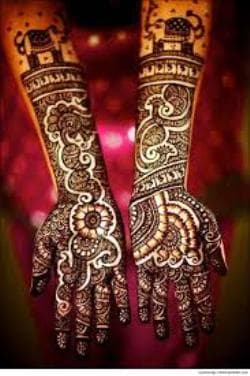 35) Asymmetrical henna design on the back of the hands make for an interesting photo.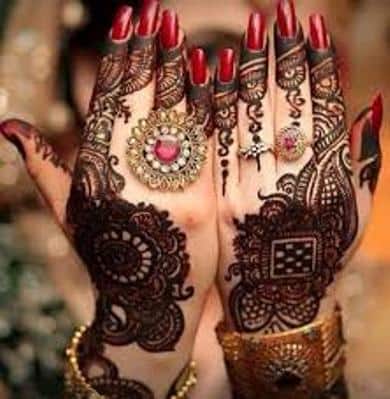 36) This design features radha-Krishna sitting in a lotus pond. I have never seen such an intricate and thoughtful henna on hands. It also features swans and dancers.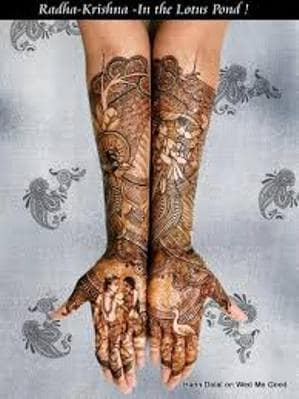 37) Little Ganesh Ji with Om pattern marks the occassion in such a fitting way for brides.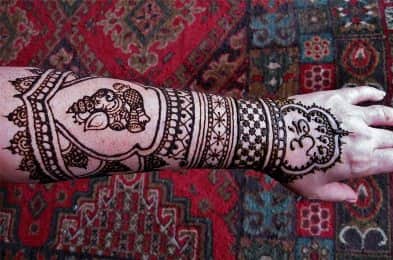 38) Arabic nature-inspired design for brides-to-be.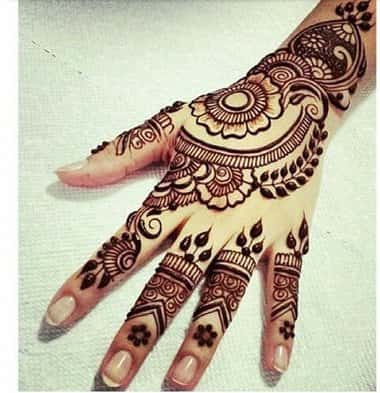 39) A bride in the Palki with the groom in the full finery for indian weddings.

40) A stunning hand harness design with neat patterns for your engagement.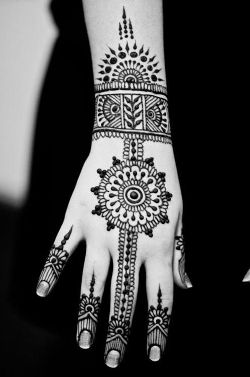 41) The minute detailing in the design for the fingers. These intricate designs look great in the photos with the engagement ring on your hand.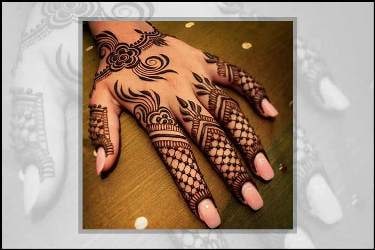 42) An intricate henna design with the scenes of radha-Krishna and the varmala scene of the bride and groom in indian weddings.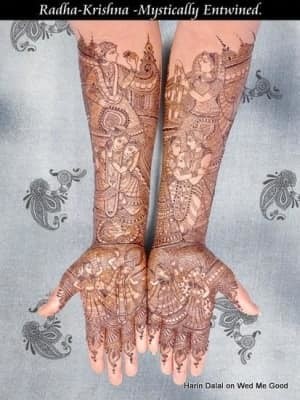 43) Other Radha-Krishna mehendi designs for hindu brides.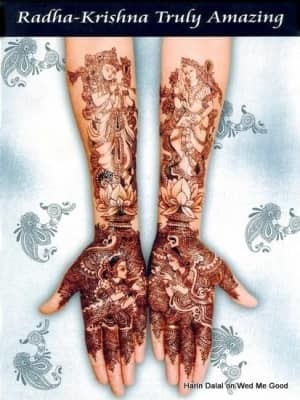 44) A very beautiful mehendi pattern for your wedding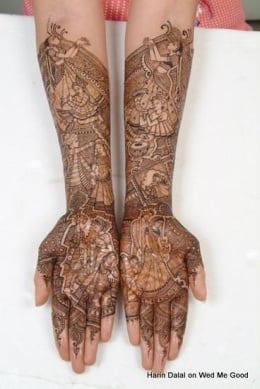 45) Grand back hand design in the arabic pattern for D day.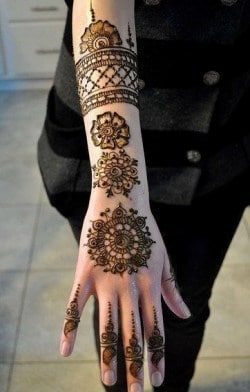 46) Stunning bridal henna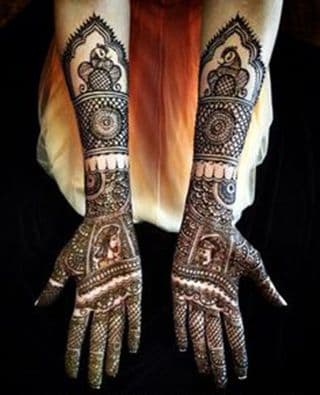 47) A scene in which groom is filling the bride's maang with sindoor is depicted in this design.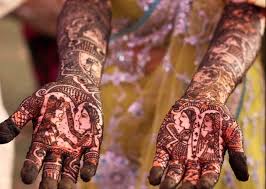 48) Coloured mehendi is also in fashion these days. Though it takes the old world charm of the mehendi, funky brides can opt for these!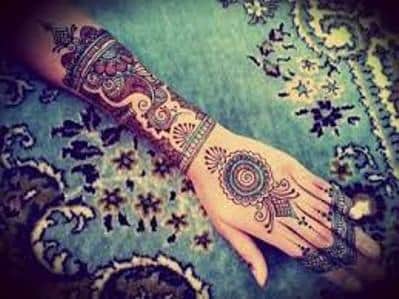 49) Another coloured mehendi design for your wedding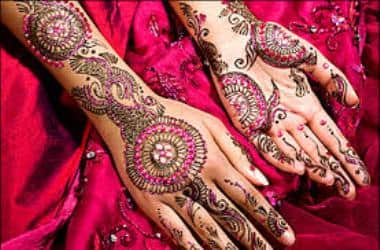 50) A lace inspired design to go with beautiful lehengas and sarees.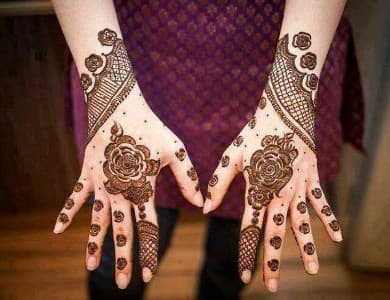 So these are the top 50 beautiful indian bridal mehendi designs for hands which include every pattern and designs in fashion these days. Mehendi is a part of the Indian Culture and symbolizes the deep love between the newly married couple and is a symbol of fertility. So choose the best design and let your photos shine. Also make sure that you show these designs to your mehendi artist and i am sure you will be the talk of the occasion!
Read More:
Which is your favourite mehendi design? Share your reviews with us.