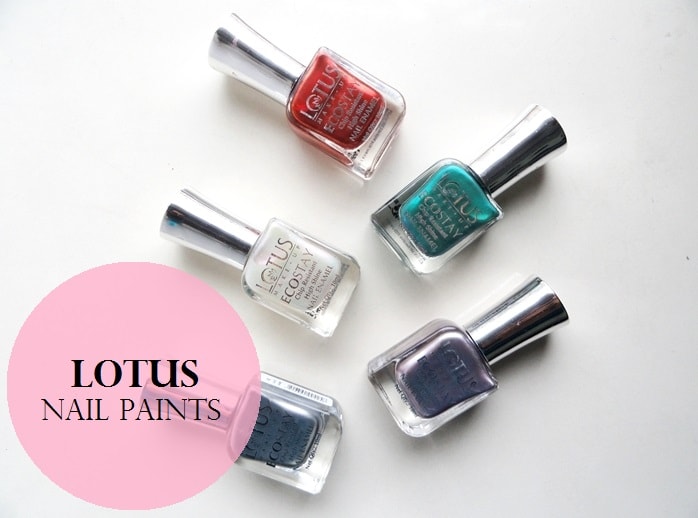 Top 5: Best Lotus Herbals Ecostay Chip Resistant High Shine Nail Enamels: Review, Swatches, Price, Buy Online
When I think of the first makeup/ beauty item I remember using, even before I knew much about what makeup is, when I was probably younger than even 10 years old, I think it's got to be a nail paint. I'm pretty sure for most girls out there, their first memories of makeup would be of a nail paint. Didn't we just love sneaking into our mother's vanity and putting on some bright pink nail paint? I recently tried out the new Lotus Make-Up Chip Resistant High Shine Nail Paints and I will review and swatch 5 of those nail paints for you today: Crystal Shine, Angelic, Ruby Desire, Silver Chrome, Jade Green. Keep reading to know how these nail enamels fared on me.
Usually for me, there are makeup phases. Meaning, a couple of moths I would only be into lipsticks, then another set of months I'd only buy eye liners. But if there's one constant, It's got to be nail paints. I personally love nail paints and I'm someone who changes her nail paints every two- three days. So naturally, when a brand like Lotus Herbals comes up with a new range of nail paints, I just have to try out.
My review of Lotus Make-Up Ecostay Chip Resistant High Shine Nail Enamels:
This was my first time trying out Lotus nail paints so I really didn't have any pre- conceived notions about these nail paints. I have been using these lotus nail paints for over a week now so I think it's the right time to share an honest review. First things first, the packaging of these nail paints. These Lotus makeup nail paints come in a classic chunky glass bottle with a metallic silver brush handle. I think the packaging is pretty good and in fact much sturdy than a lot of other nail paints in the market that fall into the same price- range category.
The brush is what I really, really like about these lotus ecostay nail paints. It's got a generous number of bristles; the brush is quite dense, and slightly tapered at the end. Applying the nail paint is so much easier with the brush that comes with these Lotus nail paints. The brush gives a very neat and precise application.
Now coming on to the shades,
Lotus Herbals Ecostay Nail Enamel Crystal Shine Review, Swatches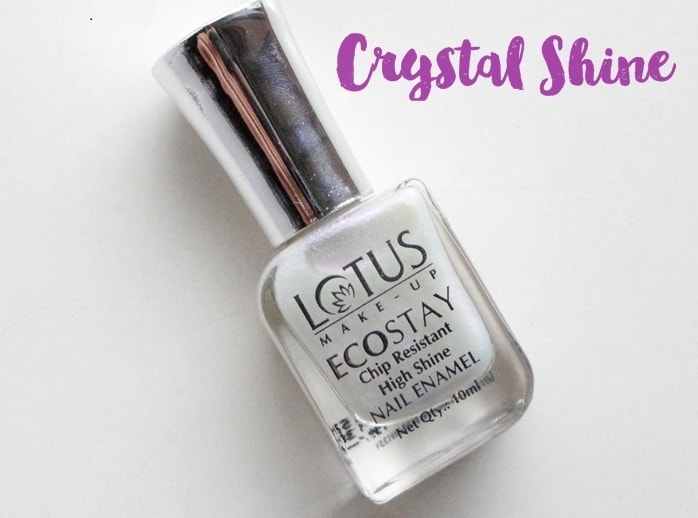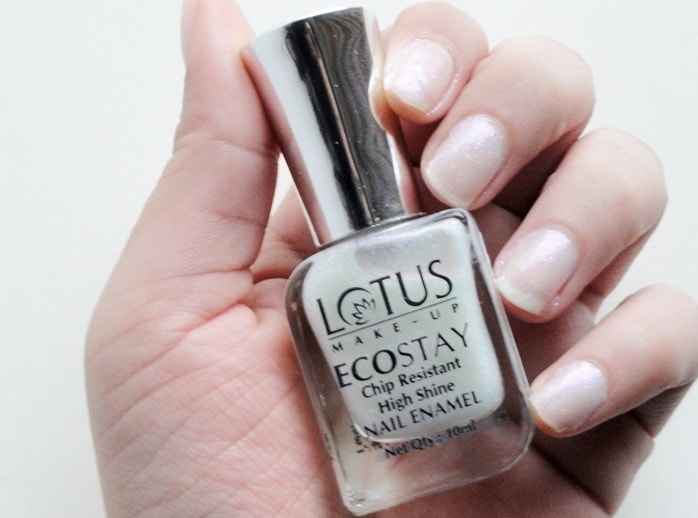 Crystal Shine is sheer, iridescent white nail paint with a touch of pink/ purple sheen in it. I think it looks absolutely gorgeous on the nails. It is one color that I can see myself wearing all around the year. Really beautiful color.
Lotus Chip Resistant High Shine Nail Enamel Angelic Review, Swatches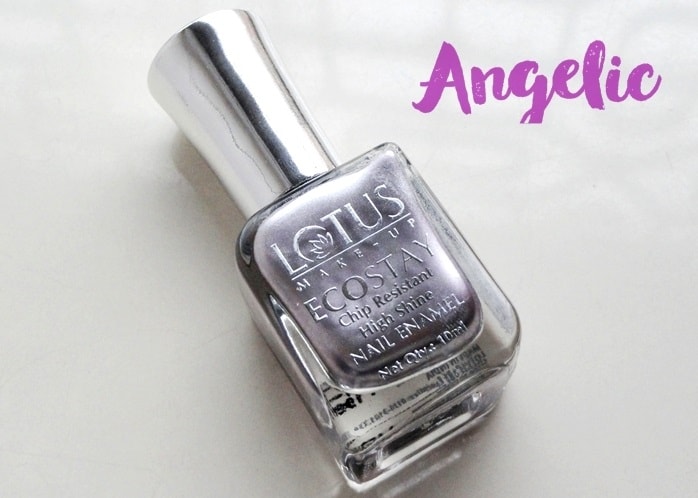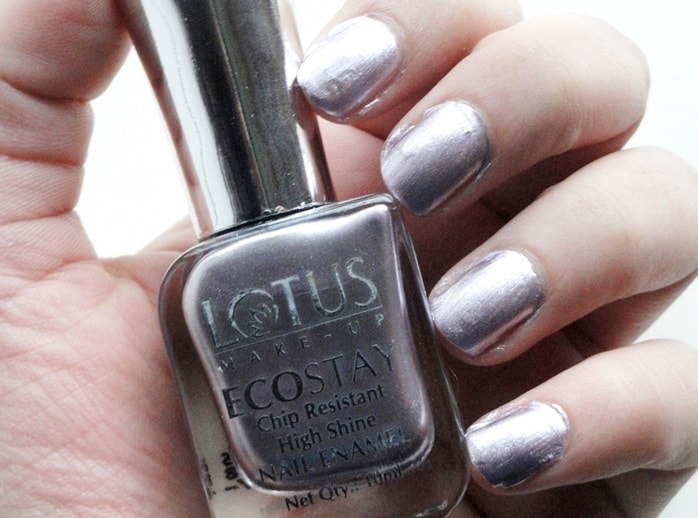 Angelic is a metallic, almost chrome kind of purple nail paint. It has a very grunge vibe to it and looks absolutely gorgeous on nails. This nail paint can be teamed up with maybe silver glitter nail paint on an accent nail and it would totally look very glamorous. Like this shade too!
Lotus Herbals Ecostay High Shine Nail Enamel Ruby Desire Review, Swatches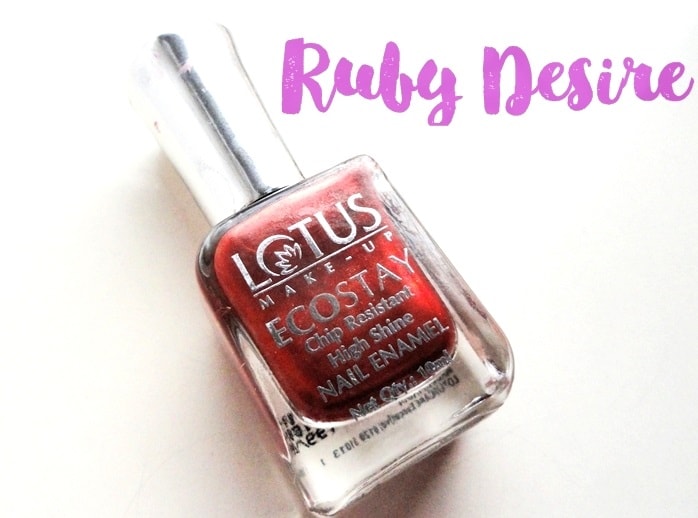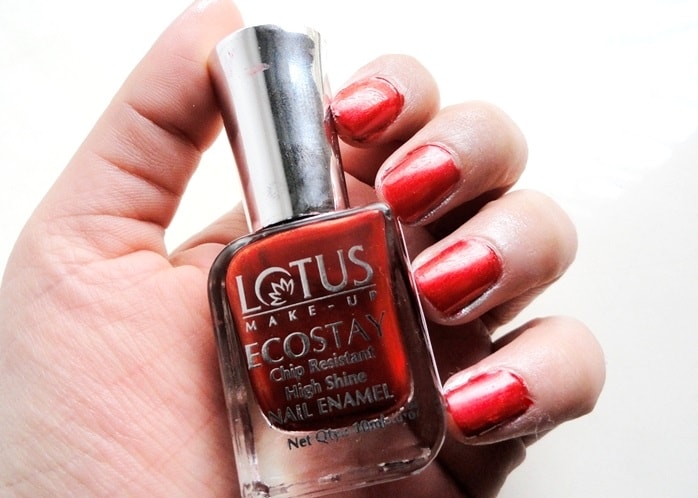 Ruby Desire is a orange/ red kind of color. I think it's a great shade for the festive season. It would go really well with Indian clothes.
Lotus Chip Resistant High Shine Nail Enamel Silver Chrome Review, Swatches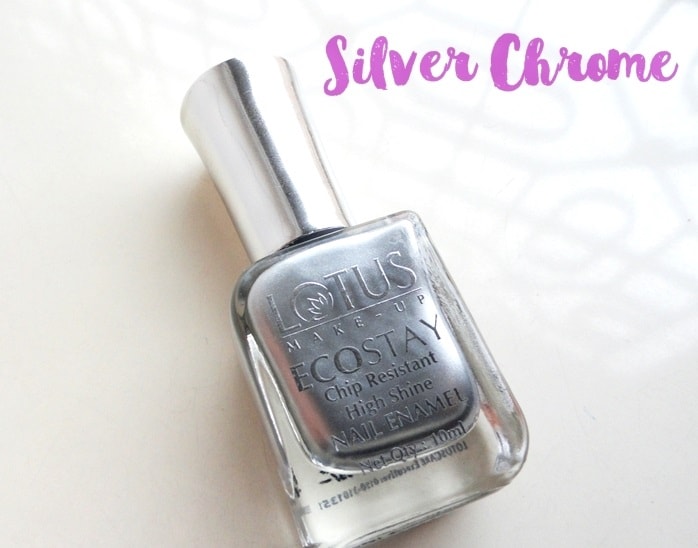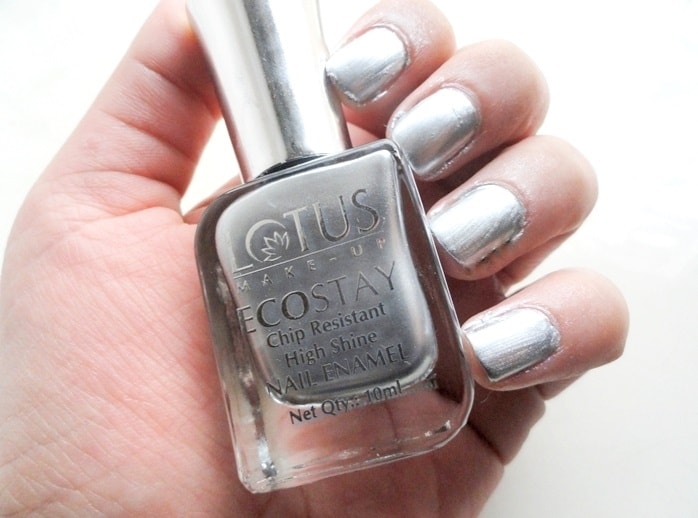 Silver Chrome is my personal favorite shade of these all nail paints. It is the most gorgeous chrome color nail paint I have ever used. It looks really pretty on the nails. The best part about this is that it will suit every skin tone and it can be worn all year round, it is one such color. I can see myself wearing this nail paint a lot in the coming months.
Lotus Ecostay Chip Resistant Nail Enamel Jade Green Review, Swatches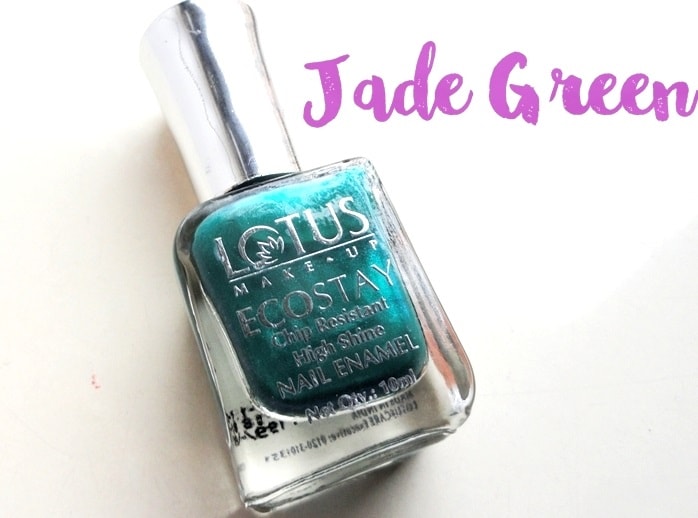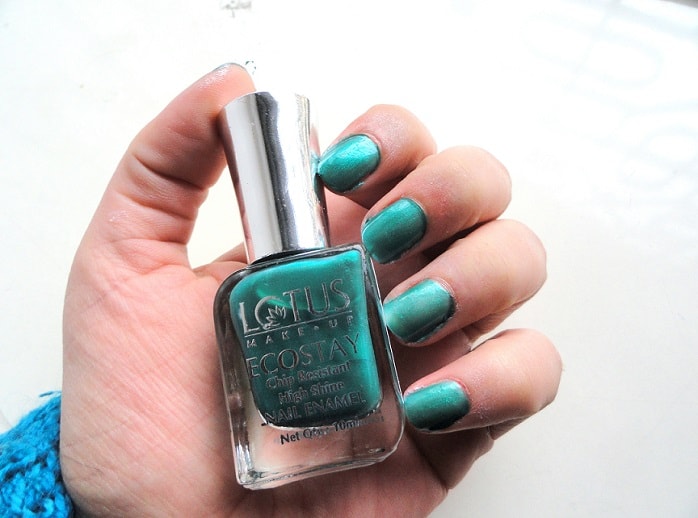 Jade green is true green nail paint. it is however, slightly on the sheer side. You need at least three good coats of this nail paint. it is not really a color that I would normally go for and I haven't really owned such a shade in the past so maybe now that I have this shade, I'll wear this one because change is always good, right?
Coming to the texture- these lotus high shine nail paints are quite runny in my opinion, not that it's a major issue, but I would have certainly liked these a tad more if they weren't runny this much. The nail paints apply smoothly onto the nails however one coat comes a bit streaky. So normally I would do like 2-3 thin coats.
The color payoff is pretty good. Shades like Angelic, Ruby Desire and Silver Chrome are super, super, super pigmented and only one coat would be sufficient too if they don't appear a bit streaky in one coat. The other two shades- Crystal Shine and Jade Green are a bit less pigmented but nonetheless, I'm really impressed with the color payoff of these nail paints. These ecostay high shine nail paints dry up super quick and give a really smooth finish once they've dried off. These nail paints do not feel sticky in any way on the nails. They have a beautiful shine to them. I wore the shade Angelic for almost 4 days and it didn't chip even a little, so I can say that these nail paints stand true to their claim of being chip resistant.
Pros of Lotus Herbals Ecostay Chip Resistant High Shine Nail Enamels:
Sturdy packaging
For the quality of these nail paints, they are quite affordably priced.
These nail paints are chip resistant. They stand true to their claims.
I'm really impressed by the high shine finish.
Most shades in this range are quite nicely pigmented.
Don't have a weird smell to them. Yay!
Give a very smooth finish on the nails.
Nice shade range.
Cons of Lotus Herbals Ecostay Chip Resistant High Shine Nail Enamels:
Some of the shades such as Jade Green are not as pigmented as I would have liked them to be.
These nail paints are a bit runny in texture.
Price in India: Rs.199 for 10ml each
VNA Rating: 4/5 (-1 for the runny texture; otherwise these nail paints are really good)
Conclusion: If you like high shine nail paints that last for days on your nails, try these Lotus High Shine, Chip resistant nail paints. You won't be disappointed!
By Contributor: Trisha
Have you used Lotus Herbals Ecostay Chip Resistant High Shine Nail Enamels? Share your reviews with us.