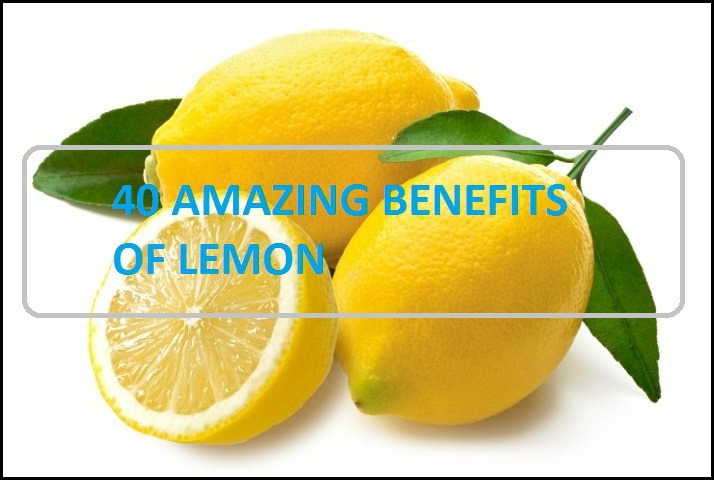 Top 40 Uses of Lemon Water and Lemon Juice
Lemon comes from a tree which is originally found in Asia. This fruit is rich in many nutrients like pectin, vitamin C, calcium, potassium and its full of antioxidants. Most of us are familiar with traditional advantages of lemon water to cure sore throats and its therapeutic properties which helps to maintain our immune system, protecting us from various diseases. However, there are many uses of lemons juice which you haven't heard about which makes it so versatile. So let's discuss some amazing health benefits of lemon. And I am sure after reading these facts on lemon juice you would likely want to stock up lemons in your fridge 24/7.
Wonderful Benefits of Lemon Juice:
1. Curbs Bad Breath
Lemon can solve your dental problems like toothache or bad breath. Just apply lemon juice to the painful area and you are done and  For bad breath you can swish some lemon juice
2. Hair Highlighting:
Do you want saloon worthy highlights at home? if yes then all you need ¼ cup of lemon juice and 3/4th cup of water rinse your hair with this mixture and sit in the sunlight until your hair dries up.
3. Cleans for nails:
Clean your nail with lemon juice. Add ½ lemons into 1 cup of water and soak your fingertips for 2 minutes.
4. Keeps moth away:
This a French custom to keep closet free from moth, all you need to do is take a ripe lemon and stick some cloves all over the skin. The lemon juice will dry keep your closet and room smelling fresh.
5. Remove Warts:
You can remove warts easily with some lemon juice just apply some lemon with a cotton swab at the affected area and keep repeating for several days until the warts gets completely dissolved.
6. Removes bad odor:
Freshen the fridge by dipping cotton in lemon juice and placing it in the fridge for several hours to absorb the bad odor.
7. Lighten scars:
With a Q-tip apply lemon juice to your scars and it will lighten them overtime leaving your skin clear.
8. Lighten underarms:
Mix some lemon juice and baking soda and apply it on your underarms it will lighten them gradually and keep them sweat free.
9. Stomach issues:
Lemon water can treat an upset stomach. The healthiest drink ever.
10. Clear Skin:
Add some honey to ½ a lemon and rub it all over your face to keep your skin clear and glowing
11. Cleans microwave:
Clean your microwave by taking some lemon water in a bowl and microwave it for 5 minutes. You'll notice that all the build up and dirt will come off easily.
12. Polishes furniture:
You can make a homemade furniture polish by mixing some lemon juice and olive oil together
13. Skin aging:
Lemon water is calorie free and reduces the production of free radical which causes skin aging
14. Removes dandruff:
If you are suffering from dandruff and itchy scalp then take some lemon and massage it on to your scalp and rinse with water. Repeat until your dandruff disappears.
15. Smooth elbows:
For super smooth elbows and knees mix some baking soda, lemon and honey. Rub it all over your elbows and knees. Taadaaaa ! your skin will get super smooth and moisturized
16. Dry Cleans:
Ditch dry cleaning with this simple trick. Take some lemon water and scrub it over stained shirts or blouses and you will notice that the stain fades away leaving your clothes smelling nice and fresh
17. Exfoliates body:
Make a sugar and lemon scrub for your body. All you need is some sugar, lemon juice and some honey. Mix all the 3 ingredients together and you can use it as a scrub. You can also store this scrub in the refrigerator for a week.
18. Removes the onion smell:
After chopping onions Use lemon juice and salt to remove smell of it from your hands. Every time I cut onions I always do this.
19. Removes blackheads:
Lemon has antibacterial properties, they can help to remove blackheads really soon. Just slice a lemon and rub the lemon peel over your nose and all the blackheads will start to fade before you notice.
20. Fights acne:
Add a couple of drops of tea tree oil in 1 cup of water water and use it as toner. It will help in fighting acne and will keep your skin clear.
21. Lemon water drink:
Mix juice of half a lemon with one glass of water and make it your every morning drink, it helps in flushing out toxins from the body and prevents c onstipation and diarrhea.
22. Hydrates:
Have a glass of lemon water after your gym as it helps in replenish body salts after strenuous workouts
23. Prevents cancer:
Lemon has 22 anti-cancer compounds so include lemon in your diet as it prevents cell division in cancer cells.
24. Controls oily skin:
Oily skin beauties can add few drops of lemon in their home made face pack as it can reduce excess oiliness from the skin.
25. Prevents gray hair:
Mix a few drops of lemon juice with amla juice and apply this mixture on your scalp every night before going to sleep and it will prevent premature graying.
26. Cleans steel:
To clean steel sinks and pots apply lemon directly on the stains and rinse after a while.
27. Treats acne:
You can treat acne with lemon by diluting it with a little water so it doesn't sting. Apply the lemon water over the acne for 30 minutes and wash it off with cold water.
28. Strong immune system:
Lemon has a high amount of vitamin C which helps to keep our immune system strong. So consuming lemon water helps to prevent viral infections like flu and cold.
29. Foot relaxation:
Lemon has aromatic agent and is known for foot relaxation. Pour some lemon in warm water and dip your feet for instant muscle relaxation.
30. Adds shine to hair:
To add extra shine to your hair, take 1 tablespoon of lemon juice and add 4 cups of water, and mix well. Rinse your hair with this lemon water mixture after shampooing.
31. Lemon peels:
Add some lemon peels in to your garbage bin to avoid that foul smell.
32. Hair removal:
Mix some lemon, sugar and water and boil this mixture to get an amazing sugar wax for hair removal at home.
33. Salad dressing:
If you are not a fan of vinegar than you can replace it with some lemon juice and add it to you salad dressing.
34. Lumps on the skin:
Lemon can easily dissolve lumps on the skin so it can be applied on the skin which has hardened up like palm of your hands or soles of the feet.
35. Stronger nails:
Lemon juice can make your nails brighter and stronger. You can directly rub a lemon peel on to your nails to get the desired results.
36. Brightens up skin:
Make some lemon water by mixing it with coconut water. This mixture makes an excellent moisturizer as they both hydrate and brighten up the skin.
37. Lip Scrub:
Lemon is an amazing exfoliator for your lips. Rub a half lemon on your lips and wash off in the morning. It will not only exfoliate your lips and make them super soft but will make your lips lighter.
38. Rub Lemon Peel:
You can rub half a lemon on faucets to remove water stain easily.
39. Disinfects:
You can disinfect your humidifier by adding 2-3 tablespoons of lemon juice into the water. It will replace the odor with lemon fresh fragrance.
40. Helps with Asthma:
Taking to tablespoons of lemon juice before every meal and before retiring can reduce asthmas symptoms.
Now when life gives you lemons you can do much more than making lemonade.
SOME SIDE EFFECTS OF LEMON
If you have dry skin then it can make your skin more dry and flaky.
Do not apply it on cuts because it will cause irritation as lemon has acidic content.
Frequent contact of it with your teeth can decay and erode protective enamel layer.
Image source: pinterest
Read More:
Which are your favourite lemon water uses? Share your reviews with us.