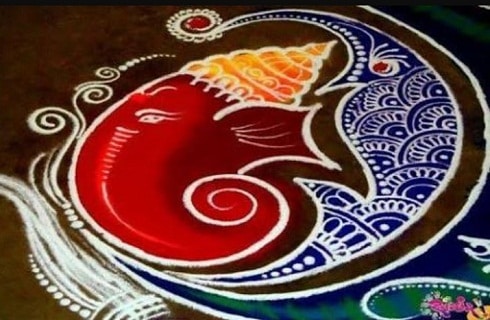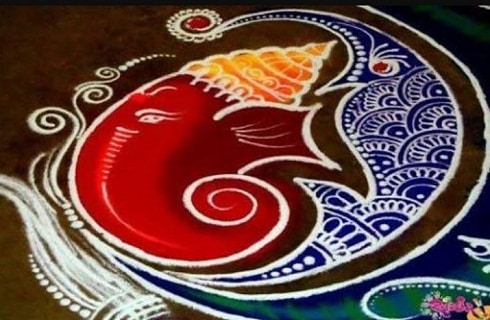 Top 30 Corner Rangoli Designs Images for Diwali with Flowers, Dots, Freehand
The Land of Festivals- that is what India is commonly known as. India is the abode of people of diverse cultures and each culture has their own set of festivals and the summation of festivals of all the cultures results in a myriad of festivals. Making rangolis at the entrance of homes is a common tradition during any festival in India be it Diwali, Dussehra, Onam, Pongal, Holi, etc. Nowadays the trend of making rangolis in the corners of frontyard has spread beyond the need of a festival. In this post, I've compiled 30 beautiful corner rangoli designs with images which can serve as an inspiration for your next diwali rangoli for corner. Some of the images have been cropped from central rangoli images, because the designs are so beautiful, they can always serve as an idea and can be morphed into a corner rangoli design.
The endless queue of festivals in the life of an Indian unceasingly paints his life with hues of joy and prosperity, rejuvenated with an all new vigor to cross the hurdles of life again. Festivals in India mean colors, new clothes, guests at home, decorations, gourmandish savoring of festive delicacies, hullaballoo; in short lots of enjoyment. Festivals are harbingers of the commencement of a new chapter of life; it is a rebirth- where we leave the failures and troughs of last year behind us and move forward into a new year with renewed hopes of success and well-being. Festivals ensure we repaint our lives with colors of joy and prosperity.
Any celebration or get together can be an excuse for the traditional art of rangoli on the floor, no matter how minimal it is. Simple Corner rangolis serve a good purpose for not-so-big-occasions. It makes the house look beautiful, at the same time it doesn't restrict movement about the house by occupying the central position.
30 Simple Rangoli Designs for Corners during Festivals:
1. A lot of colors have been chosen for this colourful corner rangoli which does half the work in making the rangoli beautiful and so it doesn't need much complicated designs. The way the colors have effortlessly glided among themselves is worth noting.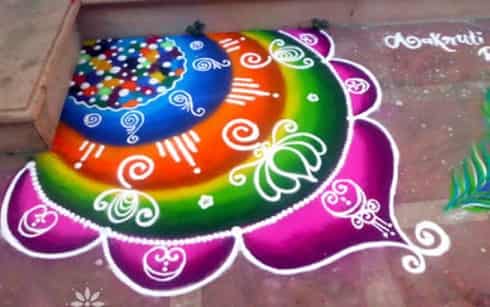 2. A corner rangoli that can be crafted for any auspicious occasion. It is replete with pious symbols and shlokas. The color contrast is also eye-catching. The designs are simple and can be easily emulated.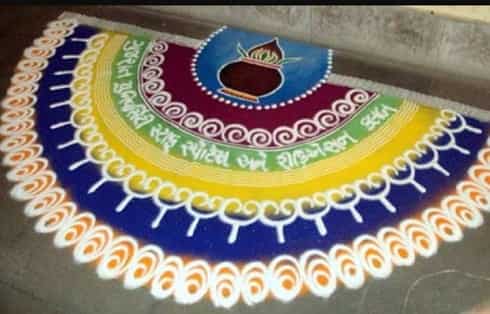 3. A peacock rangoli, so beautifully made and the colors also aren't too bright. It's pleasing to the eyes. The detailed painting of the tail is worth appreciation.
4. Diya Rangoli:
A sort of a diya rangoli design for corners achieved by using various things. The tub full of floating petals and diyas calls for the most attention and is definitely the limelight grabber in this design. Not much time and effort goes into making this, yet it looks so beautiful.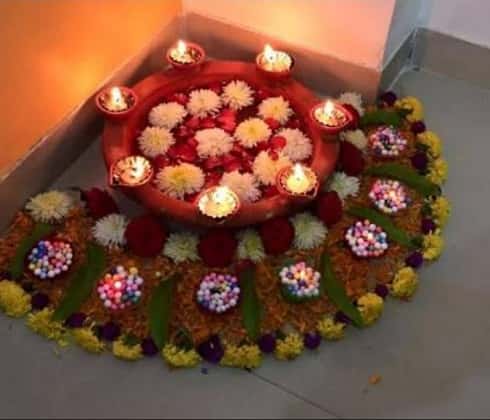 5. The pattern in this rangoli art is very symmetric and pretty much common. The simple corner rangoli design has been made with crushed flower petals. What is attractive about this is the color combination of the petals used. The light colours have been used with other darker colors, so it is complementing the dark colors.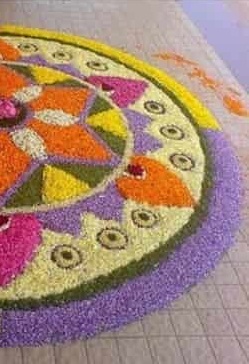 6. A very intricately designed corner rangoli. The effort of the creator is pretty evident.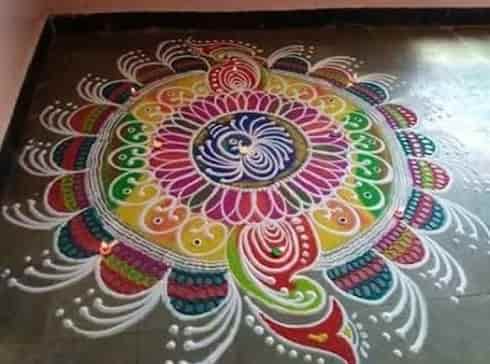 7. The shading done in this design of rangoli with flower petals is so beautiful Mostly petals of commonly found flowers have been used, so this design would not be very difficult to put into form. I like the usage of mauve colored petals.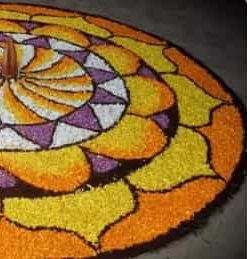 8. Very few colors have been used, to be specific just three, yet the colors look so beautiful when juxtaposed. The rangoli pattern is very complex and intricate and it will definitely brighten up the corner of a room.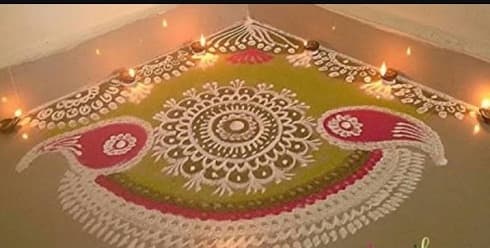 9. This is basically a snip of a Pongal kolam. This kolam design has incorporated a twist, where instead of drawing the earthen ware pot containing the pongal (boiled rice), actually a pile of pots containing pongal is placed in the center. And the art design around the pot is so BEAUTIFUL! The color-contrast, symmetry, pattern- what's not to love about this kolam. A traditional kolam for pongal with a modern twist. The corner design can beautifully serve as a rangoli design, because minus the earthen pots, it is basically a rangoli only.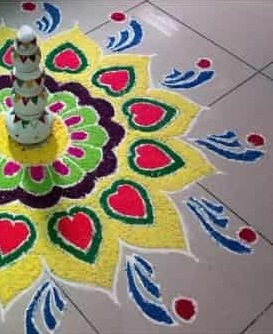 10. A corner rangoli, where very bright colors have been used for contrast. The design is more or less simple. But one of the best diwali corner rangoli designs.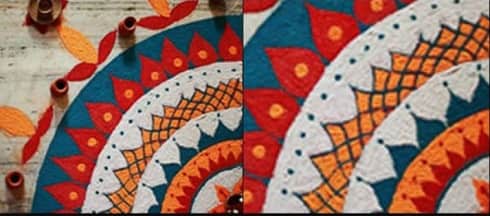 11. Free hand design of rangoli:
Unique combination of colors have been used in this free hand rangoli, the contrasting is flawless and the result is absolutely endearing.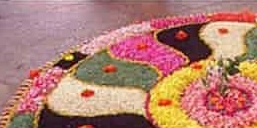 12. Border Rangoli for Corner:
A very fuss-free border rangoli, can be easily made yet can make a room look more beautiful. This rangoli is ideal for decorating the corner of house for light get togethers.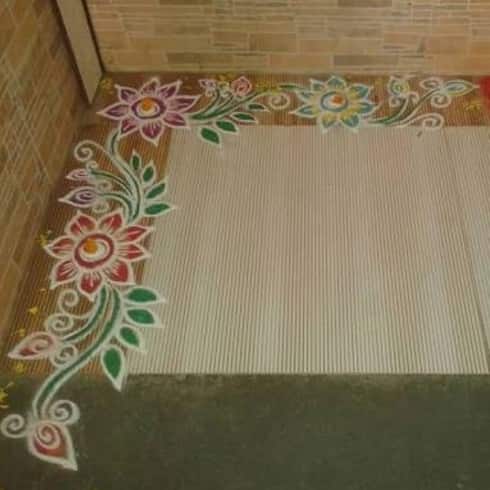 13. The otherwise light and dull off-white colored petals brighten up the dark colored petals used in this rangoli. And the way the colors in the core flower merge with each other-WOW!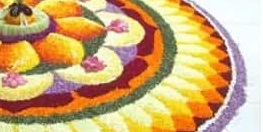 14. Peacock rangoli design:
An extremely stunning peacock rangoli where a lot of effort has been put in painting the peacock and its even more beautiful tail. The blending of colors in the tail as well as the body is inexpressibly smooth. Not very easy to make, but would also be marveled at if made.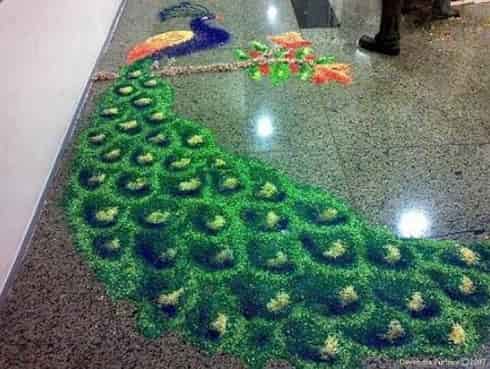 15. Quarter of a Circle Design:
This beautiful combination of colors of flower petals brighten up this flower petal rangoli. The choice of colors is very sober which is in no way dull or wan. This can serve as a very beautiful and very simple corner rangoli design.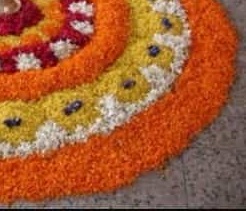 16. The usage of mauve petals in this one, sets it apart from all others. And lotus buds have also been used. The pattern is beautiful so is the color combination.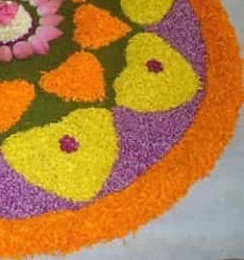 17. Blend of orange,yellow, dark pink and green make up for a lovely visual effect.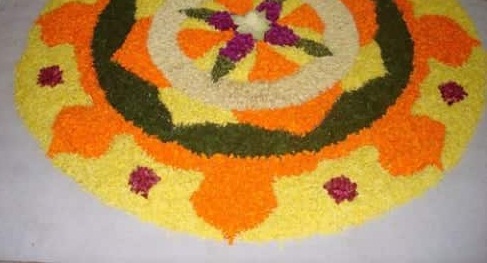 18. The colors in this rangoli blend so gracefully and they are so bright too. The artwork is also excellent. This is actually a snip of a pookalam (the Keralite form of rangolis), made during Onam. We can get a taste of the magnificence and pomp with which Onam is celebrated in Kerala from this pompously colorful pookalam design .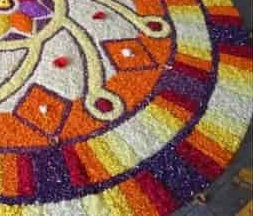 19. Again a block patterned rangoli made with crushed flower petals, yet I never seem to get tired of seeing it. And each and every time that I see it, I marvel at how extraordinary this artwork is and how such extraordinary artists reside in every other household of India. How so very beautifully the colors glide among themselves!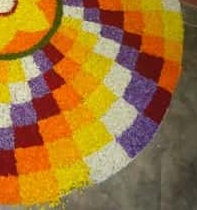 20. Rangoli with Dots
Another rangoli with dots depicting a masterpiece. The design within isn't a result of random scrawling with lime powder, but a very symmetric and deeply thought about pattern, which at first glance might seem random but is extremely symmetric. The intricacies of this rangoli pattern makes up for the lack of colors.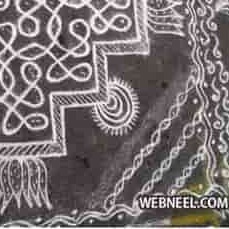 21. A beautiful rangoli with very minimal but just the right combination of colors. It speaks highly of the person behind this creation. Even the nitty-gritties inside the corner rangoli have been done with equal deftness.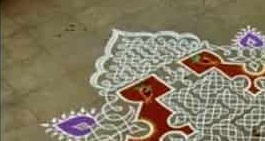 22. Another peacock rangoli for the corner of room where a lot of effort has been put in painting the peacock and its spaced tail. The blending of colors in the tail is inexplicably smooth. Not very easy to make, but would also be goggled at if made.
23. This rangoli, entirely made with heaped up flower petals, is simple to make and stunning to behold. The maroon and white combination is very eye-catching, and how perfectly the boundaries have been made!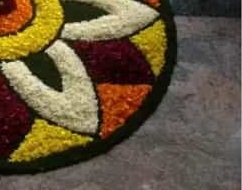 24. It is incredible that such a creation can be achieved with flower petals manually. The flower design emanating from the corner looks totally computer generated- such is the level of perfection generated by the artist. And the colors used for this corner rangoli design with flowers are so bright and beautiful.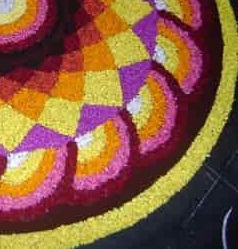 25. This traditional rangoli for diwali is sober going on the brighter side. The design around the fringe is intricate, and a lot of effort must have gone to put the flawless boundaries. The blending of the colors is beautiful.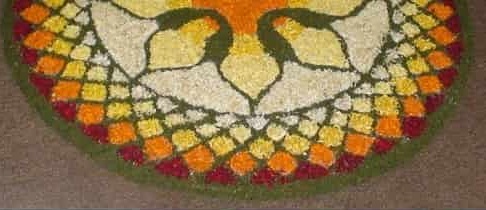 26. A tremendously beautiful rangoli for diwali made entirely with flower petals. The choice of the color of petals is also so impeccable. Bright and beautiful it is!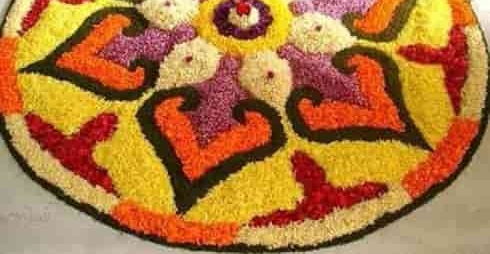 27. Bright colors have been used in this simple rangoli for corners which seem brighter due to the white colored crushed petals used. The intelligent juxtaposition of the light and dark colors is what sets this rangoli apart.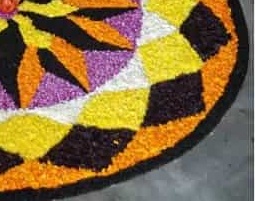 28. A very simple design for onam, made unique by the bright plethora of colors used; notice how shading is brought about with the help of flower petals alone.

29. A unique flower design emanating from the corner. A work of art accomplished with a delicate touch and a highly artistic sense of tone and contrast.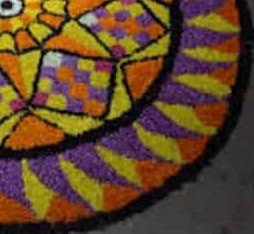 30. This bright rangoli design emanates an aura of festivities and pomp. Very simple to make but extremely beautiful to behold. Notice how seamlessly the colors blend into its neighbours.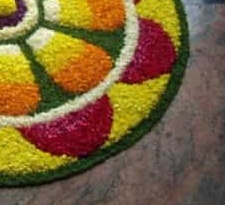 You can choose from this wide plethora of designs for your next rangoli for diwali, onam, pongal, holi, dussehra, new year, etc and add your originality to these artworks. Flaunt your house in a brand new avatar with these beautiful corner rangoli designs, and rest assured people won't be able to stop gushing about how beautiful your house looks.
Read More:
Image source: 1, 2, 3, 4, 5, 6, 7, 8, 9, 10, 11, 12, 13, 14, 15, 16, 17, 18, 19, 20, 21, 22, 23, 24, 25, 26, 27, 28, 29, 30, main