Reviews, Swatches, Shades, Price, Buy Online FACES Ultime Pro Eye Shadow Crayons
You have already seen the review of the FACES Ultime Pro Lipstick Crayons and they are no less than bombshells. Next for me was the FACES Ultime Pro Eye Shadow Crayons which I will review and swatch today. My tryst with Eyeshadow crayons started with the NYX Jumbo Pencil and Rimmel Scandeleyes crayons and it is so nice to see that an Indian brand like FACES is bringing more and more color in the Indian Market. They are so easy to apply because you don't need so many brushes, it blends flawlessly even with a finger and also stay put the whole day without smudging. I have 3 shades: Dancing Queen, Staying Alive, She's Got D Look.
Faces Claims: Get gleaming eyes with the launch of the all-new Ultime Pro Eye Shadow Crayon from FACES Cosmetics that will light up your eyes in an instant.  This new age multi-tasking eye shadow crayonin a pencil format doubles up both as an eye liner and an eye shadow, promises to be your go to makeup item to glam you up any time of the day.
Shades Available: Dancing Queen, Last Christmas, Night Fever, She's Got D Look, Staying Alive, Uptown Girl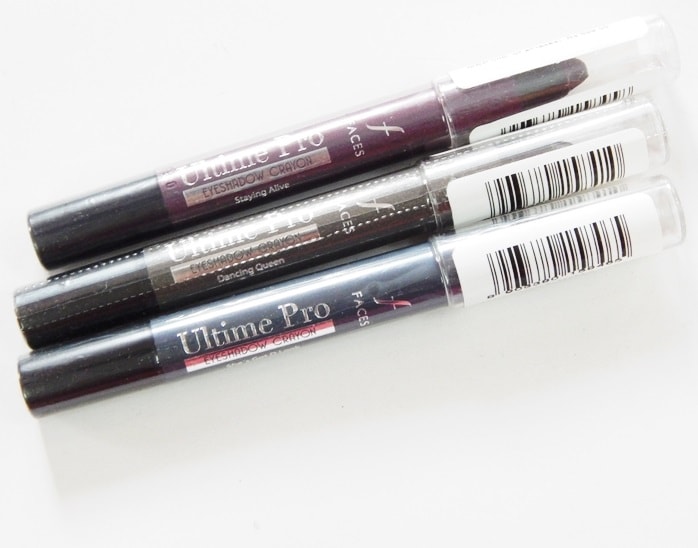 My Review of Faces Ultime Pro Eyeshadow Crayons:
FACES have released some awesome makeup items in 2015 and each of them are praiseworthy. Today I am going to review three shades from the newly launched FACES Ultime Pro Eye Shadow Crayons, namely – Dancing Queen, She's Got D Look, Staying Alive. I adore the beautiful crayons which can be used for both eyeliner and eyeshadow. Let us see these pretty little crayons in details.
Packaging– the FACES Ultime Pro Eye Shadow Crayons comes in a chubby crayons with a transparent cap from where you can see the shade clearly. Moreover, the crayons are color coded and hence you won't have to ransack the whole kit for the desired shade. The faces eye pencil are sharpenable and a sharpener comes with it. Due to the sharpening factor, there is some product wastage involved if you are not careful enough. Nevertheless, I found the faces eye pencil quiet convenient to travel with and the cap is absolutely fuss free as well.
Pigmentation– in all the shades, the pigmentation is good in my opinion. You would require 2 swipes to bring out the opacity of the color and gives a nice finish. With single swipe are simply get nice wash of color but not completely opaque. I am too lazy all the time to use a primer and therefore I only tested the pigmentation without primers. The shimmers are also well deposited and I have not noticed any kind of uneven application. I have used it as a liner and eyeshadow and it works incredibly in both the sections. There is a faint whiff of wax crayons but it is so feeble you have to bring it closer to your nose to smell it.
Texture – the texture is creamy and glides like butter. It doesn't tug or pull the eyelids at all and hence you literally won't feel anything at all. All the shades I shave reviewed have shimmers more or less but it doesn't feel coarse or irritating at all. The blending is seamless and you can even blend it with fingers if you want.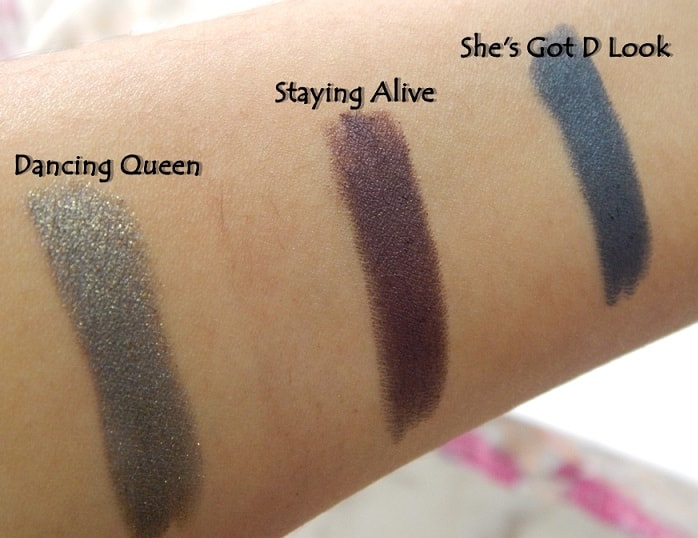 Shades in detail:
FACES Ultime Pro Eye Shadow Crayon Dancing Queen Review, Swatches: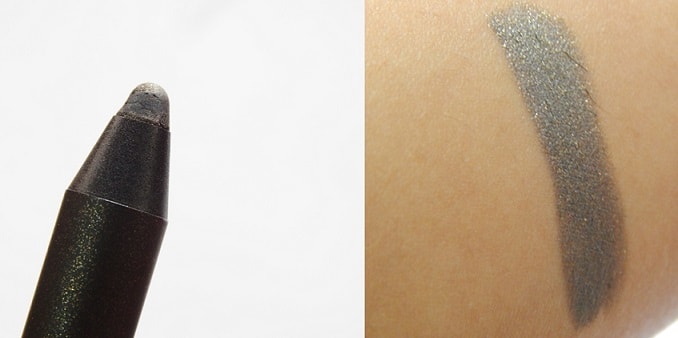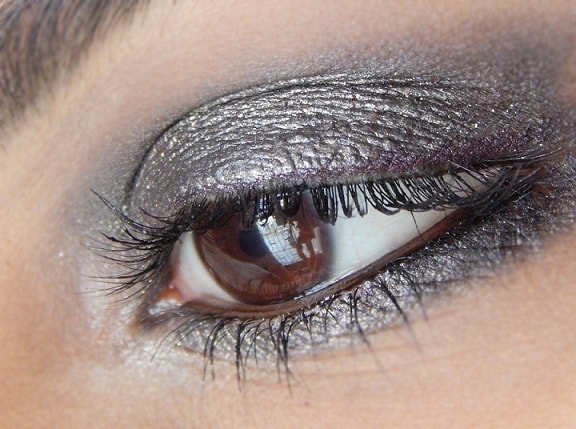 Dancing Queen is a beautiful dusky grey taupe with champagne gold shimmers. The shade is definite gorgeous to the core with a metallic touch to it and extremely tough to describe in words.It is perfect for fall season, weddings and parties. The shade has its own beauty and you can't easily find a dupe of this. I won't say this a shade for neutral or everyday look but it is a must have for special occasion. The color is so versatile that it goes with both bold and neutral lips.
FACES Ultime Pro Eye Shadow Crayon She's got D Look Review, Swatches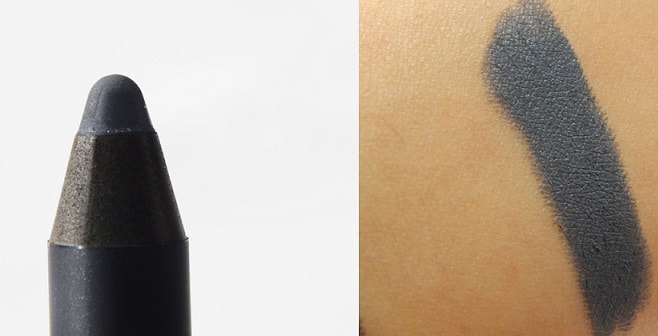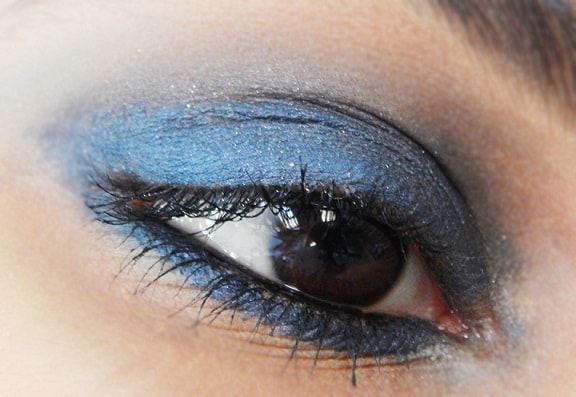 This is a dusky navy blue with no shimmers at all. It is a very wearable shade for any event – be it a party or everyday look and look stunning with a peach or pink lips. The color will suit every skin tone and doesn't look gaudy. This is also excellent for creating smoky looks as well.
FACES Ultime Pro Eye Shadow Crayon Staying Alive Review, Swatches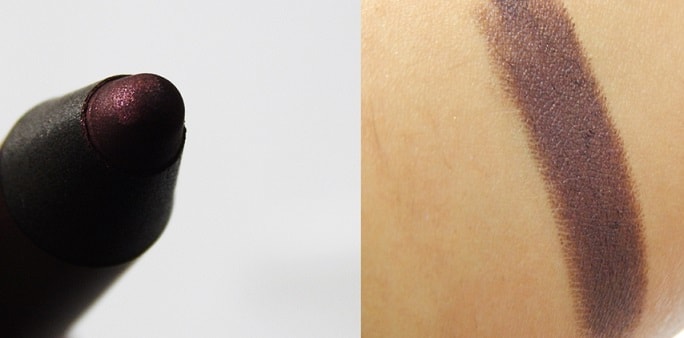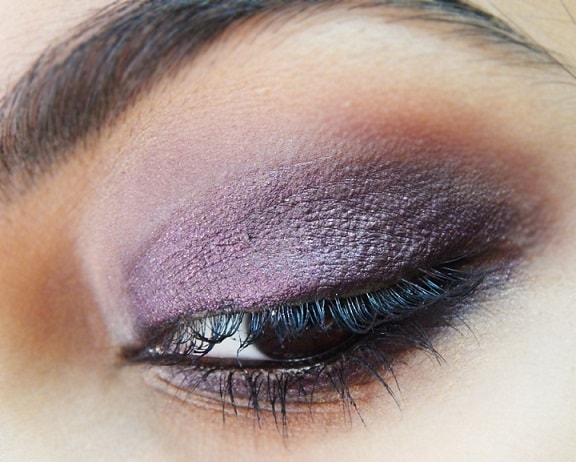 A darkened purple with very fine shimmers. The shimmers doesn't look flashy and hence makes the color very wearable for any event. It complements the eyes very well and also works great for smoky eyes. The color is warm tones and suits the Indian complexions. Purple is a very dupable color but the darkened base and fine shimmers makes it an extraordinary one.
Finish and Formula– these creamy eye shadow crayons have a nice sheen finish. You can blend as much as you want and then it settles down and doesn't budge at all. You can also layer with powder eyeshadows on top for creating different looks and it acts as a nice base for that as well. The eye crayons are smudge free once it sets and also waterproof. I use it as a lower lash liner and it doesn't smudges at all. I have dry eye area but for oily eye lids it might smudge after a considerable amount of time.
Staying Power: the staying power of these faces eye crayons are around 8-9hours flat and after that I noticed some fading but on my dry lids it never creases. If you have oily eyelids, it might crease after 6-7hours during summer or humid days. The color are waterproof and hence you require a nice oil based eye makeup remover to remove the. Although it was easy to remove Staying Alive and She's Got D Look, Dancing Queen was tough due to the shimmers. It spreads a lot and hence time consuming.
PROS of  FACES Ultime Pro Eye Shadow Crayons:
Nice packaging with a sharpener provided.
Beautiful collection of shades for every occasion.
The shades are mostly neutral toned which is well suited for Indian skin tones.

Clear, opaque and even pigmentation with two swipes (without primer).
Can be used as Eyeliner and Eyeshadow.
Creamy texture, applies like a dream and blends even with a finger.
It gives a sheen finish and doesn't budge when it set.
Smudge proof and water proof.
Staying power is approximately 7 hours, depending on eyelids and weather conditions.
Quality is worth the price.
CONS of  FACES Ultime Pro Eye Shadow Crayons:
Shimmers are difficult to remove.
There should be more shades. (Well, this isn't a con but the Greedy Me wants more shades to be available for such awesome quality)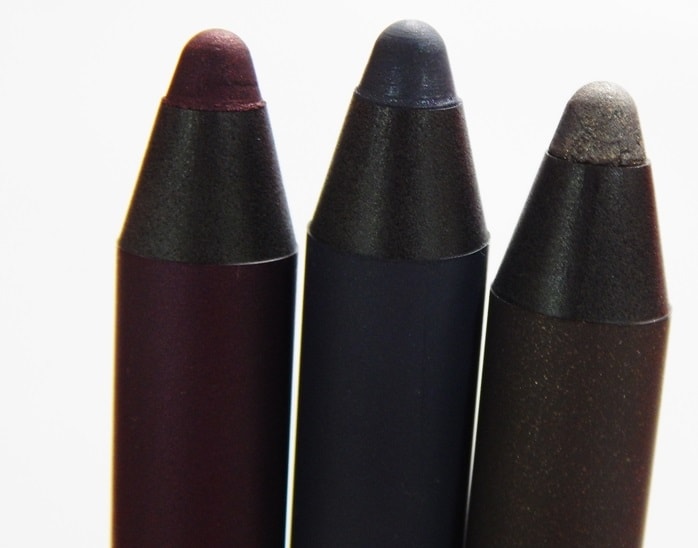 Price in India: Rs.599 each
VNA Rating: 4.8/5
Where to Buy Online in India: amazon.in
OVERALL: I love all the three shades and their beautiful quality is incontestable. I would definitely recommend you to buy at least two shades especially the Dancing Queen and She's Got D Look which screams exquisiteness from every swipe. For the price, the Ultime Pro Eye Shadow Crayons are total steal.
By Contributor: Sanchita
You May Also Read:
Quad Review, Swatches Of FACES Glam On Color Perfect Eyeshadow 
Review, Swatches Of Inglot Eye Shadow: Pearl 438
Review, Swatches and Dupe Of MAC  Expensive Pink Eyeshadow
5 Best Ways to Apply Brown Eyeshadows
Which is your favourite FACES Ultime Pro Eye Shadow Crayon? Share your reviews with us.