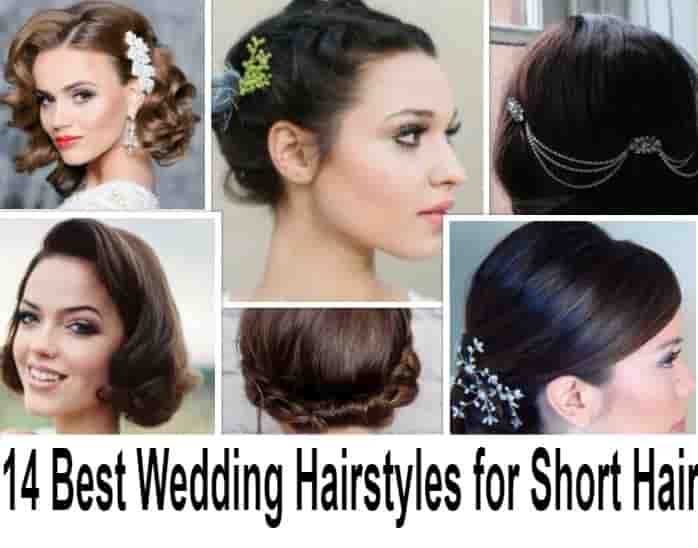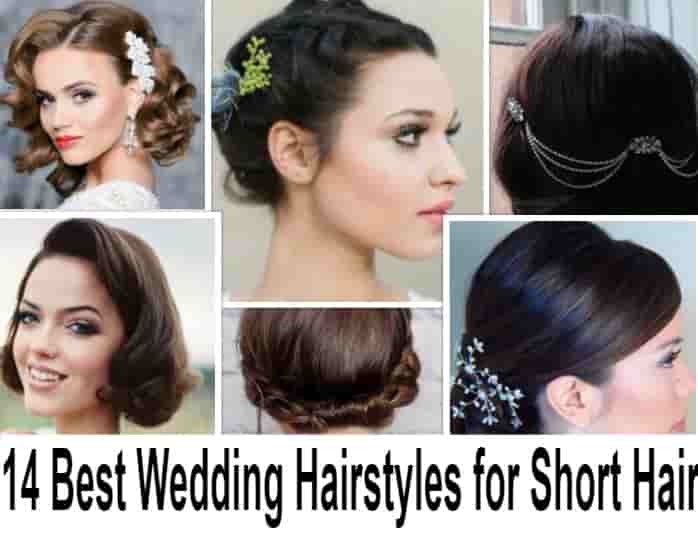 Top 14 Beautiful Indian Bridal Hairstyles for Short Hair with Pictures
Most women feel uncomfortable with the idea of having short hair for attending a Indian wedding and if they are getting married, they wait till their hair grows or they go for hair extensions. They feel that brides with long hair have so many options. And it is justified isn't it? Women with long hair can go for braids, or a messy bun, or getting soft curls and what not! I have rounded up some of the best wedding hairstyles for those indian women with short hair which you will love, and I can assure you, these hairstyles are not only easy to achieve, they look so beautiful and yet so traditional. Hope you enjoy this list!
In the present day, a lot of Indian women are opting for short hair or a bob, because it is not only hassle-free and easy maintenance; they look incredibly boho and chic. No matter what your face cut is, you can rock shoulder- length hair or even a bob, and this is one hairstyle that really looks good on everyone. And yes, you can rock short hair on indian style weddings too if you know how to accessorize your hair nicely with some jewellery in a way that it does not look overdone and too blingy.
List of 14 Different Short Indian Wedding Hairstyles:
1. Braided Bun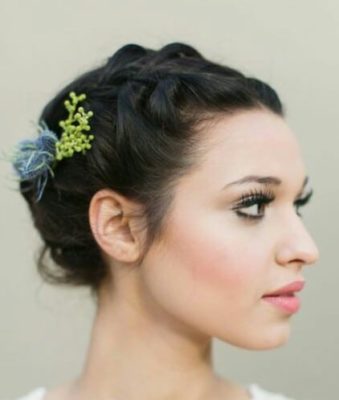 This indian bridal hairstyle looks good, and is easy to achieve. Choose the side, from which you want to start your braid, take three strands and make a French braid, include all of your hair and pin up the ends for a clean look. Make sure you properly tuck all of your stray hair, use a serum or hairspray if needed. You can either accessorise your braid or you can go for heavy earrings or a neck piece, either way, this indian wedding hairstyle will surely win a lot of hearts!
2. Braid with a side bun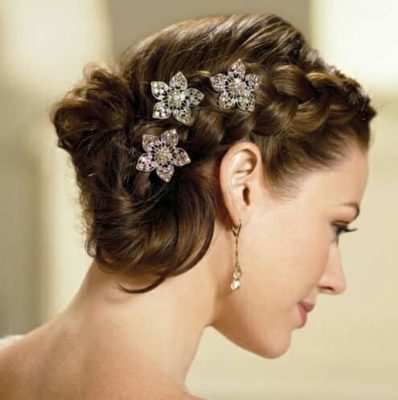 You can go for a middle parting or side parting, take the strands and braid your hair, and make a make a side bun. You can use fresh flowers for your bun (Most women use a red rose for their bun, but there is no compulsion. You can choose whichever flower looks and smells good.) or keep the hairstyle simple and let your bridal dress and the jewellery do all the talking!
3. Messy updo with twirl ends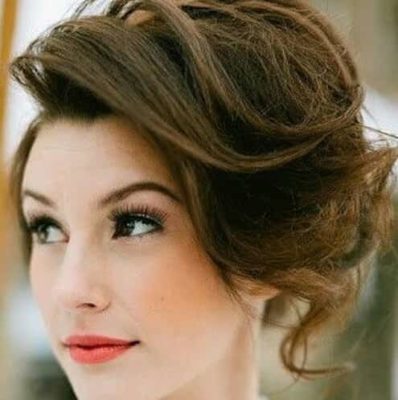 This indian bride-to-be hairstyle needs some effort, but then, no pain no gain. This would best suit those who have shorter hair on the front and longer hair at the back. Gather up all your longer hair and make a bun, leave all the shorter strands. Use a straightener or blow dry your shorter strands and twirl them at the ends. Use serum so that your shorter strands don't look frizzy and stay in place.
4. Fringe and a low pony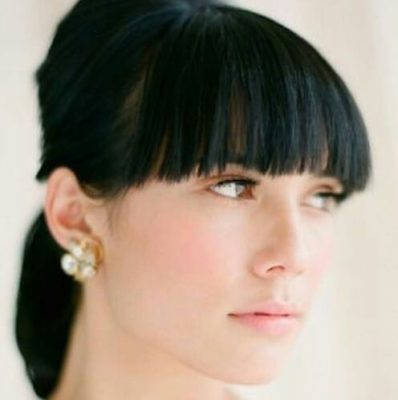 Fringes and a low pony look sophisticated yet beautiful. No effort is needed, and you wouldn't have to worry about your hair getting messy! This short hairstyle will look good even at those pre-wedding festivities.
5. Well defined waves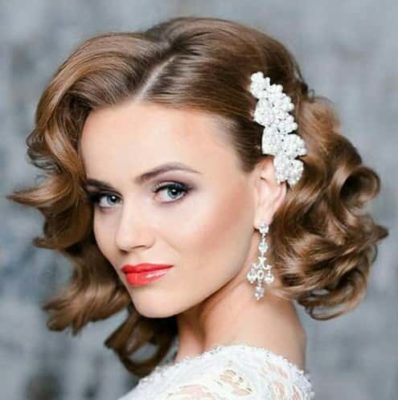 This hairstyle for brides is inspired from the yesteryear's divas! If you have natural wavy short hair, embrace your waves. Define your waves well using a serum and a curling iron, if required. Accessory or not, this short hairstyle will grab everyone's attention!
6. Twisted Braids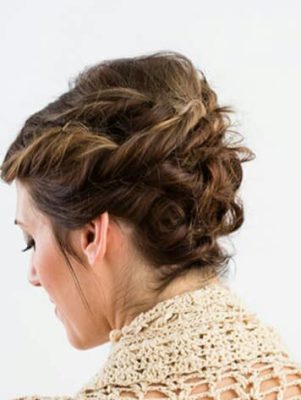 It couldn't get easier than this one! You just have to divide your hair in equal parts (it depends on how many braids you want), twist them enough so that they are tight, and pin up the ends. The more twisted braids you make, the better it will look.
7. Low chignon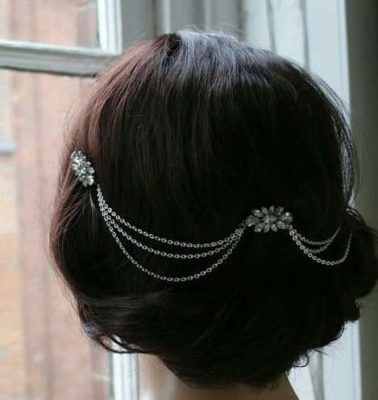 Chignon- sounds like a fancy French brand isn't it? Chignon is a low bun, and is considered a hairstyle for traditional or formal occasions, but that does not mean you cannot rock it casually. A chignon is basically achieved by twisting the hair into a bun and securing it with bobby pins. Metallic head chains can be used to accessorise the chignon. You can leave out the shorter strands if you want a messy chignon.
8. Volumizing the ends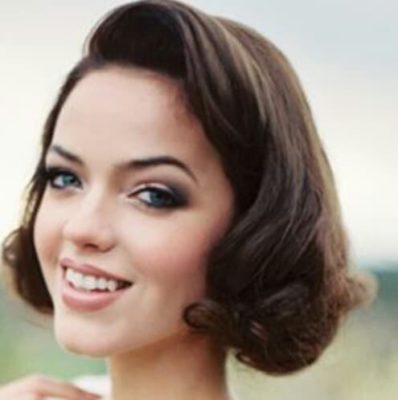 Volumizing the ends is a great way of styling your sleek hair. You can use blow-dryer and some hairspray to volumize the ends. It is easy to achieve, yet looks amazing. If you want all the attention on your wedding outfit or jewellery, then this is a great choice for you.
9. Simple sleek hair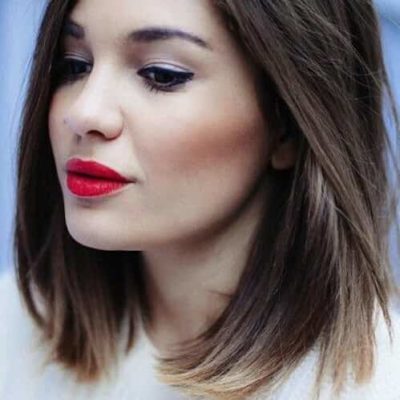 Sleek short hair or lob- you cannot go wrong with this one. No efforts needed, no accessories needed, this hairstyle, although very simple, looks so chic and gorgeous. You can rock this bride-to-be hairstyle with any indian outfit, be it ethnic or lacy dresses, in case of Christian weddings! Use serum to avoid the hair from straying.
10. The Pixie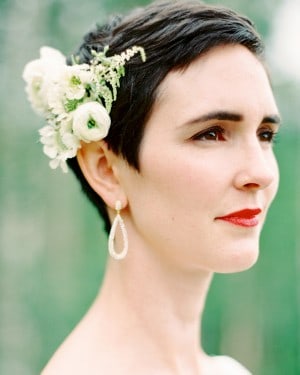 It looks short and simple, but brides all over the world love this cut! Undoubtedly, it looks so neat and adorable, and you wouldn't have to struggle for hours to achieve this. Use some flowers or embellished accessories to style your pixie.
11. The faux bun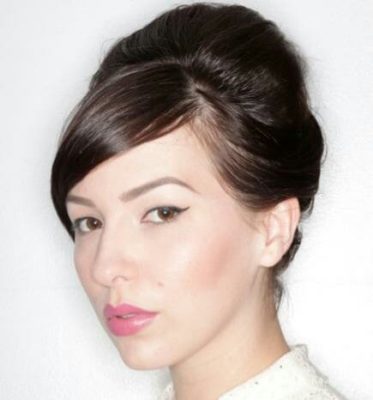 The perfect high puffed up bun and clean side swept strands, it might be difficult to achieve on short hair, but it's not impossible. Use loads of serum and bobby pins to keep all your hair in place and rock this all-time-favourite retro indian wedding hairstyle!
12. Braids and twists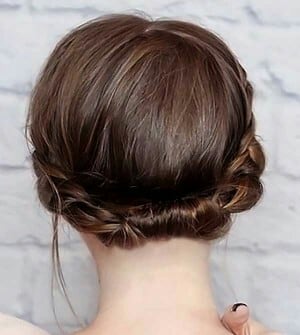 Middle part your hair, make braids on both sides, and twist the ends. If you want this short hairstyle to be a little messy, poke out the hair from the braids accordingly.
13. Simple low bun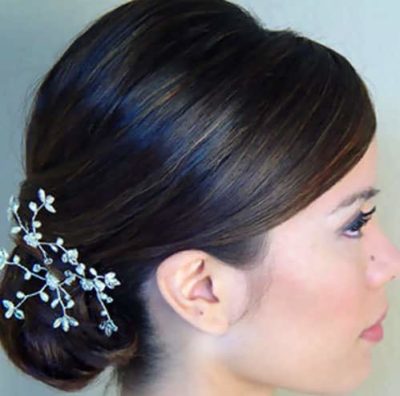 This hairstyle requires minimal effort, but the low bun looks good and trendy. If you want a messier look, poke out a few strands, but make sure you don't overdo it else you will be left with a small bun. You don't have to constantly worry about your hair going places with this hairstyle, although a small amount of serum might be needed to keep all your hair in place. This hairstyle for indian brides suits those with curly hair as well.
14. Puffed-half up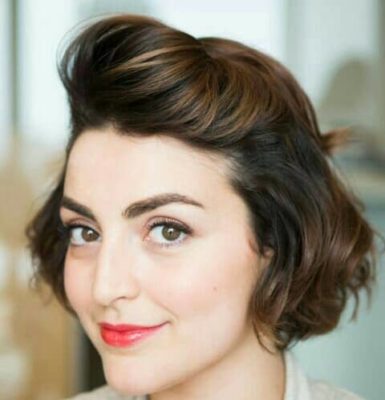 This hairstyle would suit even those indian brides with super-short hair. It's hassle free, although you may need to blow dry your hair to get that big and perfect puff.
Weddings are traditional, but believe me; you don't need long hair to look traditional and beautiful. No matter what outfit you choose to wear, you don't have to worry about your short hair not complementing your attire, because the short hairstyles on this list will surely help. The things to remember is choose your hair accessory in a way that looks elegant and beautifully complements your outfit and the rest of your jewelry. Like, you just can't use a heavy embellished accessory for your hair along with heavy earrings and a heavy neck piece, and no, not even for a big fat Indian wedding.
If you are wearing heavy jewelry, use fresh flowers for your hair. It is straight from the old eras, but it is still charming. Also, taking care of all the small and baby hair is frustrating, but make sure that all the baby hair, along with the smaller strands, are in place and neatly pinned if you want a neat hairstyle. Go ahead, love and embrace your short hair, curly or straight, it doesn't matter. Love it, and you will rock it on your wedding.
Read More:
Which is your favourite bridal hairstyle? Share your reviews with us.