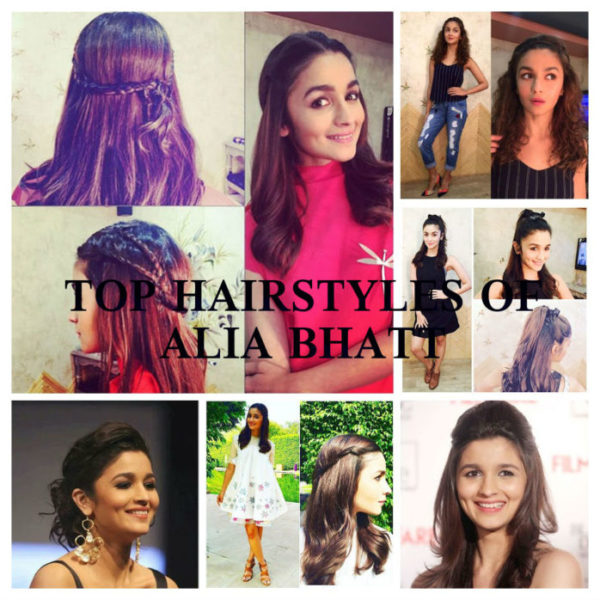 Top 13 Alia Bhatt Hairstyles for Teenage and College Girls
Alia Bhatt stands tall for the quote, 'Age is just a number'. At the tender age of 19 she started her film career and since her launch in Student of The Year, there has been no look-back. With ups and downs, Alia Bhatt has always managed to make her fans happy and has been a great co-actor to work with. However, the most anticipating moment for all her fans is her public appearances during the promotions of her upcoming films. Alia dresses to kill and looks awe-inspiring, every time she is out in public. She gives all the girls fashion goals with her impeccable sartorial choices and not to forget her cute and funky hairstyles. Oh my-my, every time Bhatt comes in public, there is a brand-new and peppy hairstyle, that makes us all gape at her. Which is why I'm compiling a list of some of her best hairstyles during award functions, movie promotions and hanging out.
She is definitely the youth icon, inspiring everyone to be exuberant and vivacious. Love you Alia Bhatt for that message, all your fans are definitely following your iconic fashion sense. However, if you have noticed, she doesn't limit her exuberance to her apparels, she plays with her hair and brings innovations and creativity which is worth noticing. We absolutely loved her unique looks and hairstyles in 2 states, humpty sharma, shaandaar, farah ki dawat..basically everywhere. If you haven't noticed yet, then take a look, we are presenting her top 10 stylish, cutest and fabulous hairstyles which we are sure, you girls would be inspired to try for your college, office and parties.
List of Alia Bhatt Hairstyles to Get Inspired From
1. The tiara braid: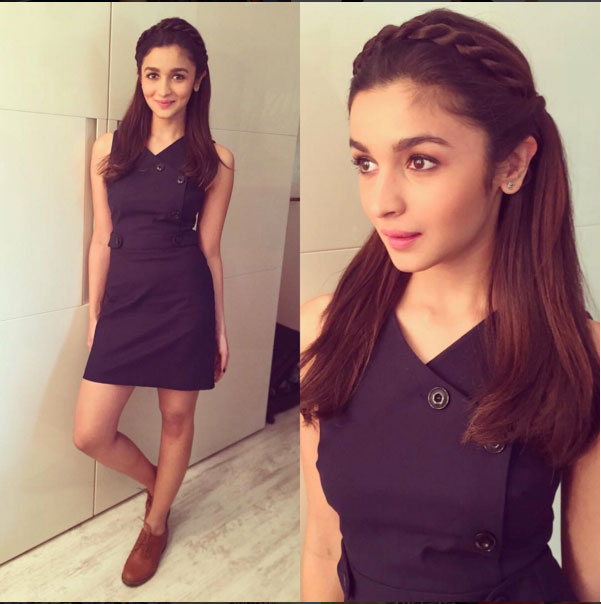 We call it the Tiara braid, as the braid is fashioned like a crown, and also gives an illusion of hairband. We love the cuteness that emanates from Alia's look, even you can look like a cute princess and try this hairstyle with your ethnic and western outfits. Have a date night? Then try this princess braid hairstyle and surprise your guy with your fabulous look.
2. The easy twist hairstyle: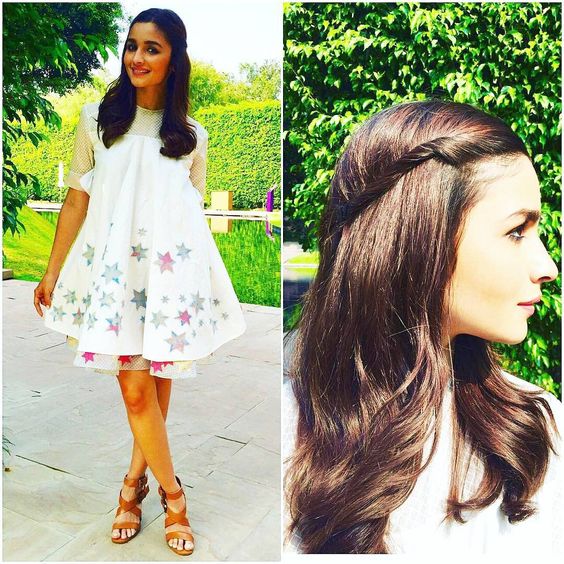 Who knew that a simple change can make you look haute and fashionable? Alia Bhatt looks effortlessly modish with the easy peasy tw ist with her front hair and then pinned them at the back of her head. What makes this hairstyle unique is that it is simple and quick, so if you are late for your work, just twist your hair the Alia way and look effortlessly beautiful.
3. Nonchalant yet chic look: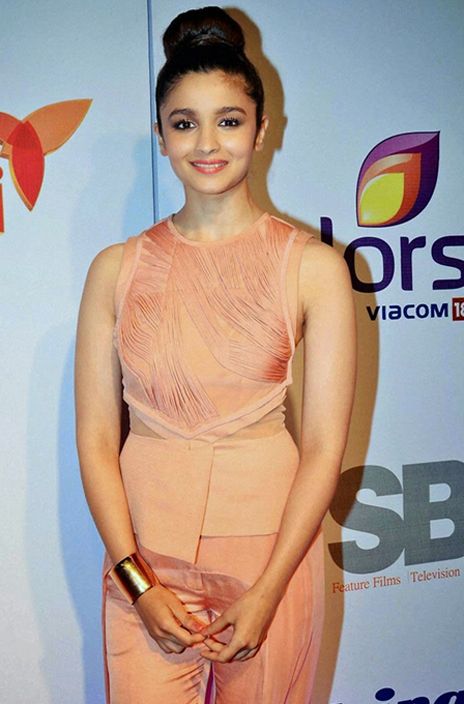 Top knot hairstyle is one of the famous styles in the west as well as of our B-town celebrities. So, if you were wondering, whether the top knot would look lovely or not, then take a look at our stylish bollywood actress, she looks incredible in this nonchalant hairstyle. The hairstyle is perfect for dinner parties or even when you are having a bad hair day and no time to shampoo. We recommend you to wear statement earrings with this chic hairstyle.
4. Ponytail which has an 'O':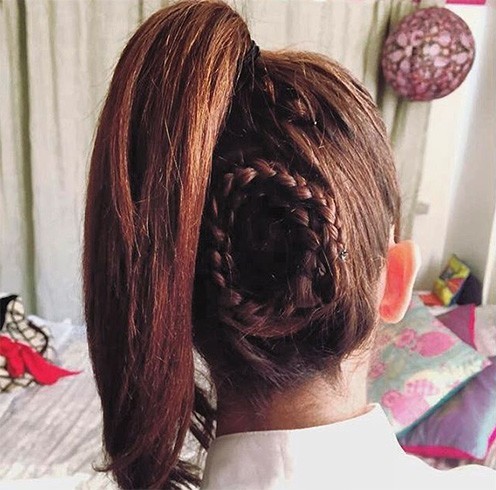 Now if you want to add some fun element to your hairstyle, then this style would totally appeal you. Alia Bhatt loves experimenting new looks, but the sleek ponytail with O braid took her experimentation to a whole new level. During the promotions of her picture Kapoor and Sons, Alia tried different alphabets braid with her hair such as she braided her hair into the letter 'P' and 'S', but the ponytail with O was the one which brought a wow element.
5. The Alia style of Boho look: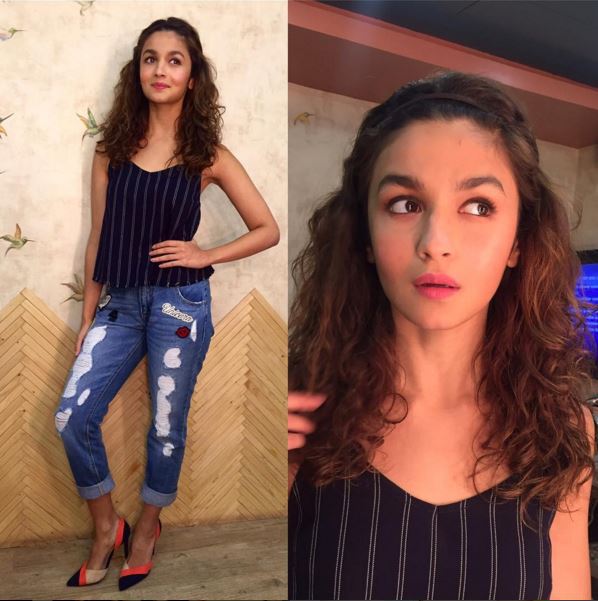 Why we love this look? Because it is simple and every girl can style up her hair in this boho hairstyle. The free-spirited look and hairstyle of our sweetest celebrity Alia complements her western look. When nothing strikes you then top knot hairstyle would be your savior. Also, girls with frizzy hair can definitely go for this hairstyle and look like a Boho angel.
6. The necklace braid: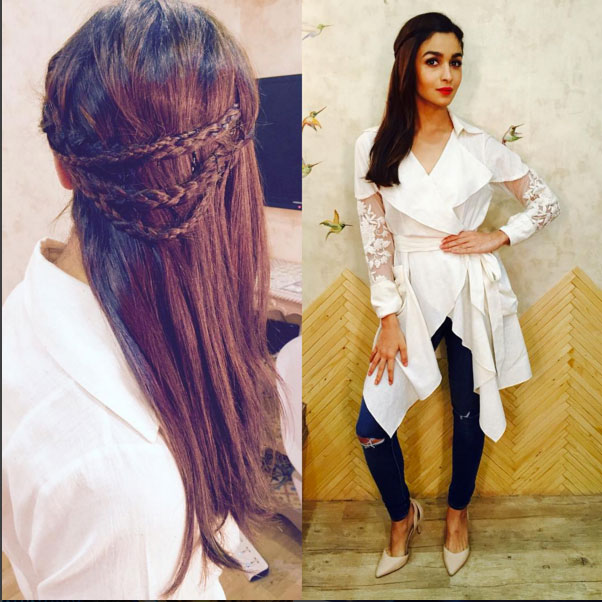 We guess Alia loves braids and that is why we often see her in a refreshing braid hairdo. The three layers of braids gives an illusion of necklace fashioned in hair. While we were obsessed with the side sweep, the young actress surprised us all with her amazing necklace style braid, and yes, we are gushing over this high-end hairstyle too. If you want this look, then we recommend you to try this cute braid hairstyle for weddings, parties and even for college.
7. The messy hair bun: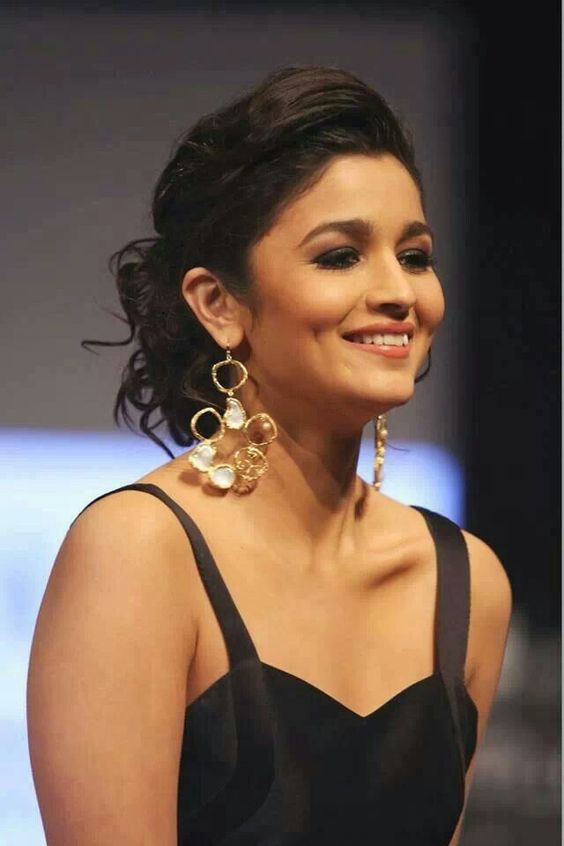 The Shaandar actress looks sophisticated and enticing in the messy hair bun. Oodles of elegance radiates from Alia's hairstyle and we love the messy hair bun which is not a mess at all, but is a complete sassy hair bun. This hairstyle look would be ideal for dinner dates, evening parties and even wedding functions, make sure you wear your statement earrings with bun hairdo.
8. Heart braid: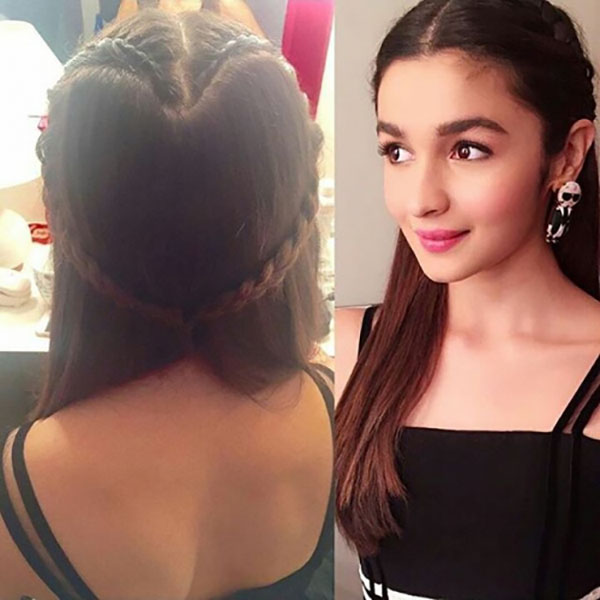 While people speak their mind through their clothes, Alia Bhatt speaks her mind with her hairstyle. Take a look at this heart style braid, we completely heart it and feel that like Alia's vivacious nature, the heart braid hairstyle perfectly suits her personality. This Alia's hairstyle looks adorable and is a creative way to send messages of love. Heart braid anyone?
9. Braids to fall in love with: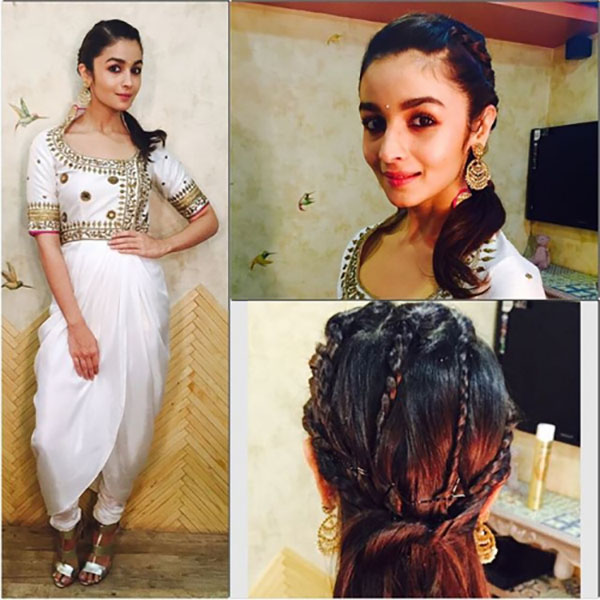 The multi braid hairdo is challenging task, but the end result is going to be mind blowing and Alia Bhatt looks spellbind. We feel she has the patience to style her hair in this fashionable and creative braid. Girls, if you have bouncy hair, then you can definitely try this spectacular hairdo with your ethnic wear and look fascinating like Alia Bhatt. This hairstyle would win you loads of compliments wherever you go.
10. The headgear braid: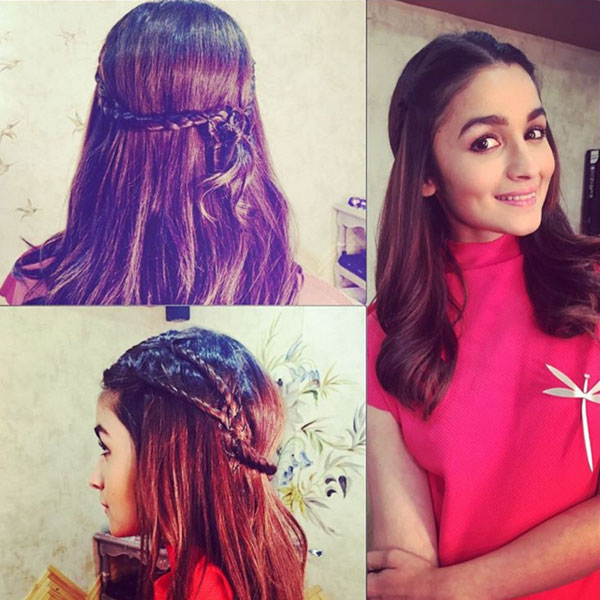 Alia's hair stylist keeps elevating her look every single time, and this time, the innovation was splendid. The dazzling blend of a headgear and double braid hairstyle adds a wow factor. Who needs a headgear if you can braid your hair into it? Add some butterfly clips or a cute bow and the complete hairdo would look incredible.
11. Half braid style: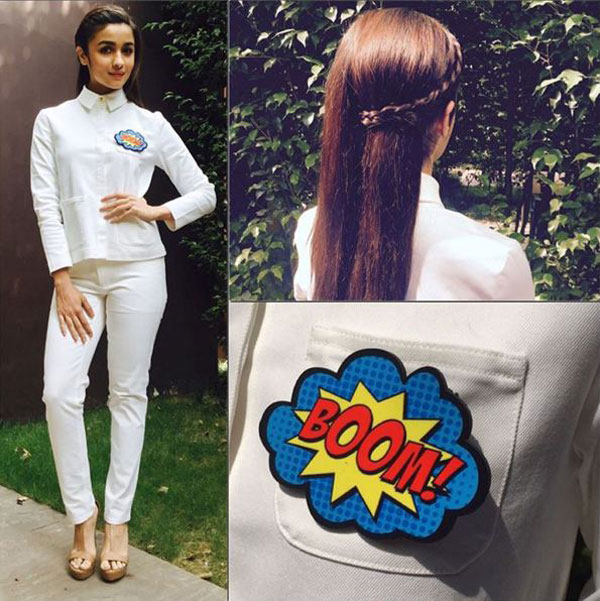 Another fashionable hairstyle which is worth admiring. Who knew that braids could be so much fun, we love the way she has side partitioned her hair and fashioned her hair into braid and instead of a headgear like above hairstyle, she has made the braid look like a rubber band, now this is surprising and completely unique, which would look uber-chic for parties and dinner dates.
12. Vintage Hairdo: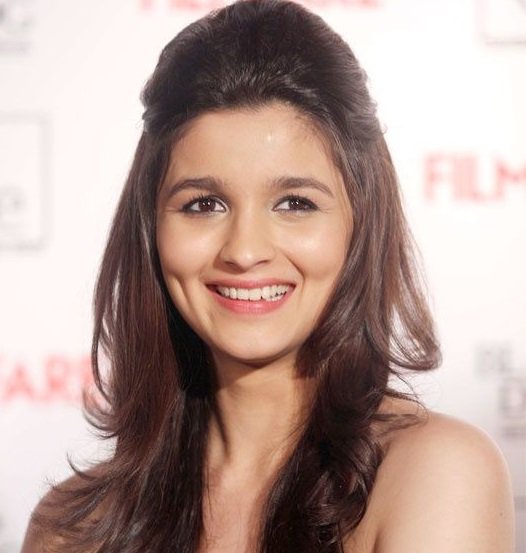 Alia looks adorable, chic and elegant in the stylish half hair up and half hair down hairdo which gives an appeal of the vintage look. She looks charming and so can you, the hairstyle is easy, quick and you can sport this look when you are out for a brunch with your girl gang or even for wedding ceremonies of your BFF or your cousins.
13. The Bow Fashion: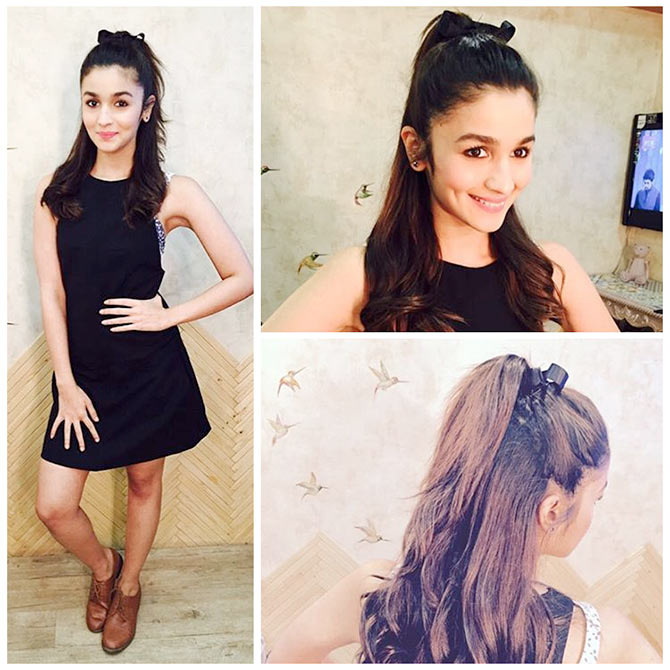 Who said bows are for kids and teenagers alone? Alia Bhatt showed how to look super cute in the half ponytail hairstyle. Half ponytail hairdo comes to our rescue when nothing strikes us or when we are late, so you can bring a pretty look to your half ponytail by wearing a cute bow clip. It is an amazing hairstyle as it would effortlessly make you look wow, and you can try this hairdo with both your ethnic and western wear. Still having double thoughts over bow clip? Then get inspired by Alia Bhatt, we bet you would look cute and lovely like her.
Do share with us, which of the hairstyles of Alia Bhatt are you gushing on.
Image Source: instagram.com/aliabhatt
Read More:
Which is your favourite alia bhatt hairstyle? Share your reviews with us.