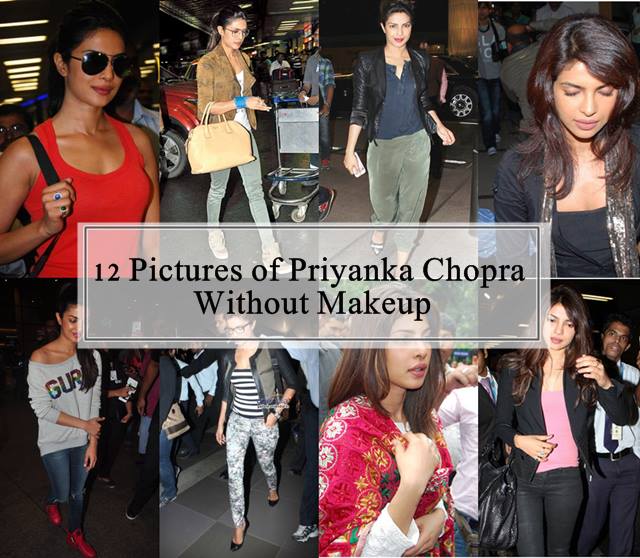 Top 12: Best Pictures of Priyanka Chopra without Makeup
So today the actress who we have on our radar is Priyanka Chopra. Her makeup is usually on the neutral side, she goes for more earthy tones, being a dusky beauty. She often wears kohl and mascara and this combo helps bring out the brown in her eyes even more. Lipstick wise she mostly wears nude lipsticks or lipsticks in shades of earthy browns or reds. She keeps the rest of her makeup minimal too with subtle blush and decent highlighting. I am a huge fan of Priyanka's look in her recent American show, Quantico. She has gone for a very subtle no makeup, makeup look. She is wearing what you would call the bare minimum in terms of makeup, in that show yet she is looking absolutely gorgeous and her skin, ever-so-flawless. Other than Quantico, there are also times when we have spotted Priyanka Chopra wearing absolutely no makeup. So I've done a round up of photos of 12 times Priyanka Chopra went without makeup looking fabulous!
She is one of those rare actresses in Bollywood who doesn't put too much effort into dressing up, because let's admit, our dear PC looks good in every single outfit she wears that she doesn't need to! From her designer sarees and desi attires to evening gowns and jeans and tees, whatever PC wears, she rocks her outfit like nobody else does. She has that confidence in her personality! I personally love to stalk Priyanka Chopra's outfits and makeup and makeup wise too, I have never (not in the recent years at least) seen Priyanka Chopra wearing a lot of makeup or looking tacky because of her makeup.
List of some pictures of Priyanka Chopra without makeup:
 1. The plaid and leather look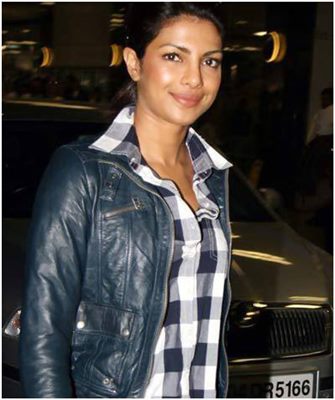 In this look, Priyanka Chopra is dressed in a plaid shirt paired with a blue leather jacket. This picture appears to be quite old. Priyanka's hair is slicked back and she barely has any makeup on, though one can definitely see some blush on her cheeks. Overall, this is the kind of no-makeup makeup look that any college girl would wear. It is simple yet has a touch of colour to it (in the form of a blush).
2. The quirky 'Gurl' at the Airport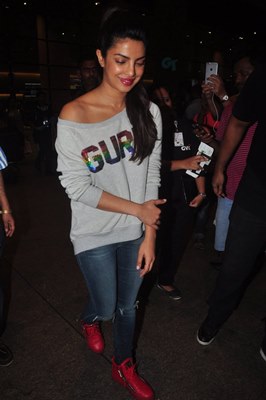 Priyanka Chopra was recently spotted by the paparazzi at the Mumbai airport oozing her swag, wearing a very cool sequined sweatshirt with a shoulder off and a pair off denims. I love how she is wearing bright red sneaks with this look and has her hair in a ponytail to attract attention to the shoulder detailing. Her face has no makeup except for a lip balm, it looks like.
 3. Nerdy Chic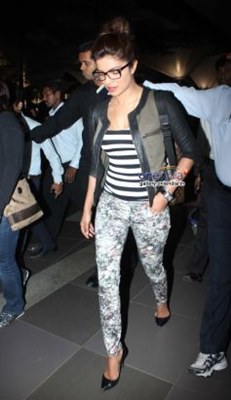 In this photo of Priyanka Chopra without Makeup, she has gone for a rather nerdy look, what with the oversized glasses and hair in a bun. She is wearing a striped tank top with a black and olive jacket and printed pants. Although I don't personally like this outfit that much (I think, it's got a bit too much going on), I definitely like Priyanka's natural makeup look. She is wearing a subtle lipstick and the rest of her face is bare but her skin looks flawless.
4. Powder blue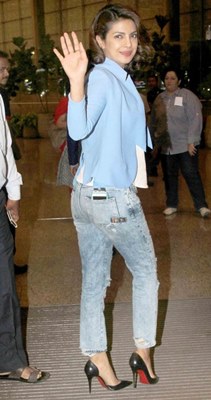 Here, Priyanka is dressed in a powder blue and white outfit and has paired her sky-high Louboutins with it. Her hair is curled and she is wearing minimal makeup. For makeup, she just has a flush of color on her cheeks and a rosy lip color on. She looks beautiful, nonetheless!
 5. The cute graphic tee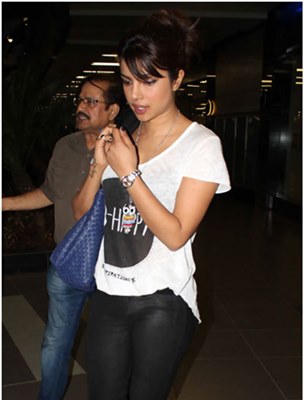 Here Priyanka is actually dressed like a college girl, wearing a cute graphic tee with an owl on it and some quirky font and she's paired it with a pair of black skinnies. Her hair is in a bun and I'm totally digging the fringe and her black nail paint. Piggy Chops is not wearing any makeup other than a neutral lip shade here.
 6. Classy earthy tones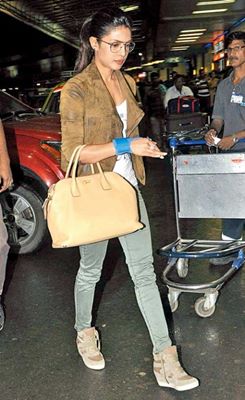 Here Priyanka Chopra is dressed in a very classy attire- a brown jacket, light blue denims and a beige bag. I really like the neutral tones she has incorporated into her outfit. She is also wearing a pair of oversized retro glasses that alleviates her whole look and takes attention from the fact that she's wearing no makeup at all.
7.  Business-like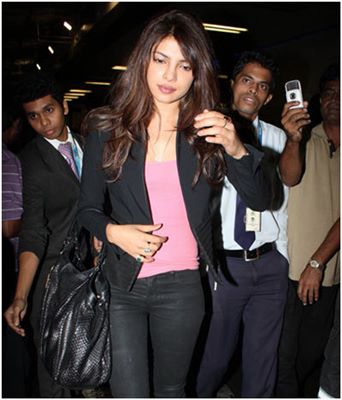 This is another one of Priyanka Chopra's airport looks with bare minimum makeup. She is looking very business-like here, wearing black coat, black skinnies and a pink top underneath. She is carrying a black handbag that happens to be her only accessory in this picture. Her hair looks silky yet natural and her face has no makeup.
8. Blast from the past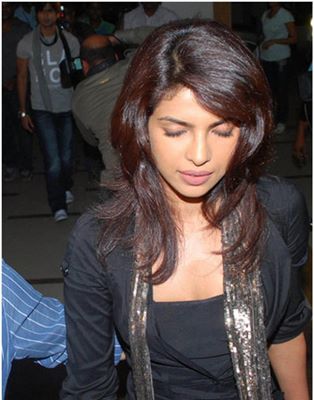 This is a shot that looks quite old, considering Priyanka Chopra sported this hairstyle back in the days of Dostana. She is dressed in a fancy top and her hair is bouncy and shiny. She is not wearing any trace of makeup here yet she looks naturally beautiful. Her skin looks radiant and her lips have a touch of pink! Overall, I like this look.
9. One from the election time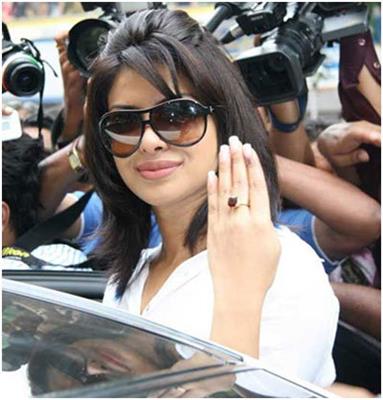 This looks like a pic from an election day since Priyanka Chopra is very proudly showing off her inked finger, proving she's a responsible citixen. Surrounded by Paparazzi, Priyanka Chopra is all smiles. She is dressed in a white outfit and oversized sunnies. She is definitely not wearing any makeup in the picture but that doesn't take away any confidence from her!
10. Desi girl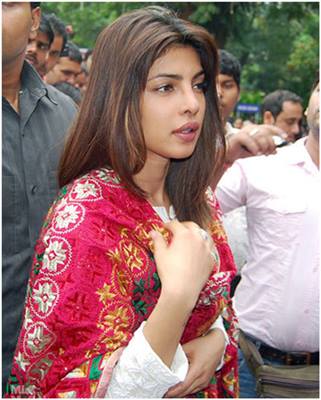 In this picture, Priyanka has got her Desi on! She has styled a white plain kurta with a colourful red thread-work dupatta. Her hair is blow dried straight and is looking kind of natural in fact. PC is without any makeup in this look but her skin looks flawless like a true diva!
11. Black and red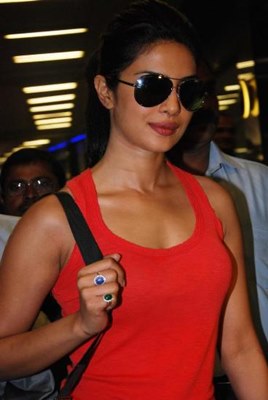 Here Priyanka is giving the whole "Khatron ke Khiladi" vibe (remember she hosted a season in the series?). She is spotted at the airport wearing a red tank top and a pair of black aviators (maybe to hide the fact that she's not wearing any eye makeup). She looks rather relaxed and comfy here
, in her travel attire.
12. Black beauty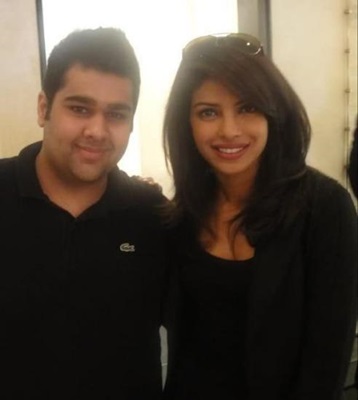 I absolutely love when Priyanka steps out wearing an all black outfit. It is definitely "her" color. Here too, Priyanka is dressed in all black and she couldn't look prettier! Her hair is giving me major hair goals, what with all the bounce and shiny texture. Her skin looks flawless and radiant even with no makeup on.
So this was my list of times when Priyanka Chopra was spotted without any makeup. Despite the fact that Priyanka Chopra is not wearing makeup in any of the pictures above, she is looking quite beautiful. She's a natural beauty, one of those rare Bollywood actresses who look absolutely stunning without any makeup too. However Priyanka Chopra is dressed, she totally owns her attire like a boss! She is stunning, both with and without makeup. A stellar combination of beauty and brains, indeed!
Read More:
Which is your favourite Priyanka Chopra no makeup look? Share your reviews with us.